Software, hardware, cloud applications, you name it – network engineers work with them all. These specialists make sure networks are running efficiently, and they're ready to jump into action when any problem rears its ugly head.
Now, maybe you're wondering, "What is a network engineer?" or "How do I become one?" or "Should I add one to my team?" Below, learn everything you should know about network engineers and the many skills they bring to organizations and IT teams.
What is a network engineer?
Also known as a network architect, a network engineer is a technical team member who's in charge of overseeing an organization's computer networks. They work closely with project managers and other IT engineers to create and implement plans that keep networks secure and high-performing. They also troubleshoot issues with the organization's data, video, voice, and wireless services.

Run efficient meetings, come to a decision, and get back to work
Level up your engineering meeting habits to boost engagement and productivity with a collaborative meeting agenda. Try a tool like Fellow!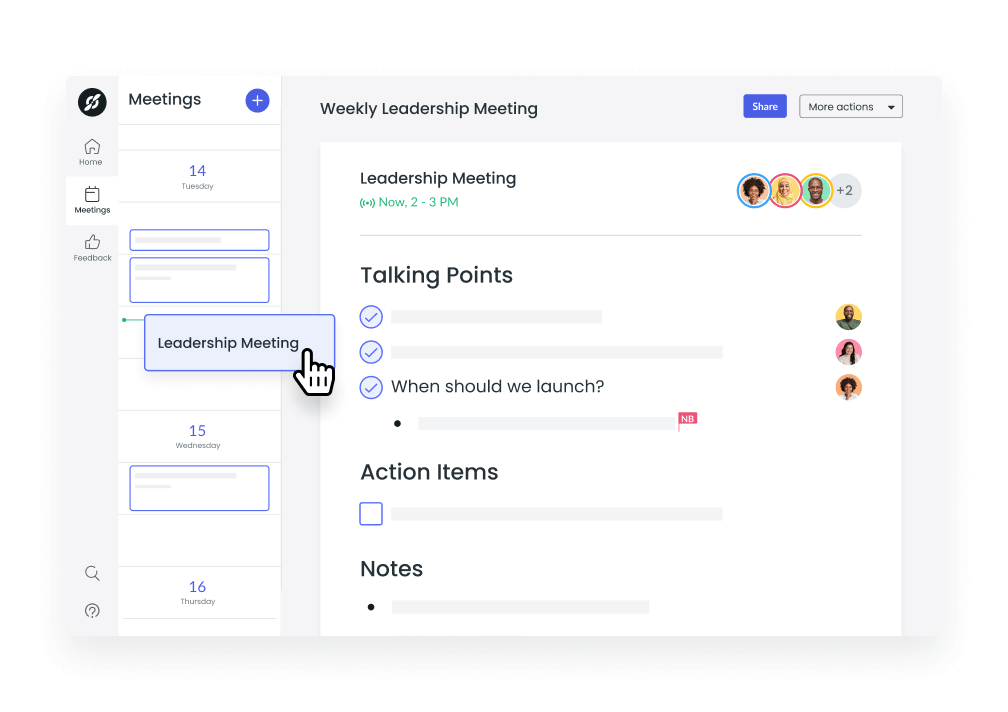 Where do network engineers work?
Just about every industry uses computer technology, and computer systems need functioning networks to transmit data across all points. That's where network engineers come in – they make sure the network has everything it needs to keep things running. Below are just some of the many fields where you might find network engineers.
Telecommunications
Information technology
Education
Finance
Healthcare
Government
Military
Entertainment
Social media
Retail
Network engineer's core responsibilities
No matter the field they work in, network engineers have some key responsibilities, including the below.
1Create network infrastructure
Network engineers create systems that allow networks to function properly. They also make sure the networks are running as intended. This means they use software and hardware tools such as firewalls, routers, and servers to keep everything synced and communicating effectively.
2Secure network data
Network engineers protect networks and the data running through them. They create security systems to safeguard network data and operations. They also develop processes to streamline bug and issue tracking and squash any potential security threats.
3Find and resolve issues
Network engineers identify issues that could stop the network from operating properly or breach its security. From there, they develop, test, and implement solutions.
4Run routine maintenance
Network engineers continuously monitor networks to figure out when it's time to upgrade outdated systems or install completely new ones. They make any fixes necessary for a reliable, uninterrupted network.
5Offer customer and technical support
When a system experiences anything from a minor problem to a major hiccup, network engineers get the call to find solutions ASAP. They address network users' concerns through remote or on-site support while pinpointing – and solving – the issue.
6Manage IT team members
Network engineers who have been around for a while are often in charge of overseeing a whole team of IT members. Experienced network engineers might be responsible for training new hires and getting them up to speed. This way, everyone 100% knows all the processes and standards that keep the network running smoothly.
7Test new systems
Before they tweak existing systems, network engineers test these changes to make sure they won't get in the way of the current network. They run tests on software, hardware, network scripts, and applications and go over the results.
Network engineer's qualifications
Below are some key qualifications and skills typically needed to land a network engineering role.
1Education
Network engineers need at least a bachelor's degree in fields such as information systems, IT, network security management, computer science, or computer or network engineering. Network engineers often also need on-the-job training to gain more hands-on skills necessary for their work. Many network engineers go on to get a master's degree to qualify for management positions and higher-paying opportunities.
2Industry knowledge & Field Experience
Network engineers should be familiar with the technical systems they'll use to resolve complex issues. Knowing programming languages such as Ruby, Python, and JavaScript is just about essential. Network engineers should also know how to work with local and wide area networks (LANs and WANs) and be experienced with network infrastructures and firewalls.
3Problem-solving skills
When there's a problem, engineers are the first on the scene to solve it. This means they need to think on their feet to find solutions that support the network and its users.
4Leadership
Network engineers in senior-level positions should know how to effectively train and lead their team members through everyday processes or special projects. These network administrators might also mentor engineers at earlier points in their careers and help them develop key skills.
5Teamwork
Managing networks can be a lot of work, so network engineers typically don't work alone. Whether they're a manager or a team member, a network engineer needs to know how to collaborate with others to properly carry out technical processes.
6Multitasking
Network engineers often have to look over several networks at once. While an update is running for one network, they might need to investigate an issue on another network. These IT specialists' multitasking skills need to be sharp as a tack to keep networks running smoothly.
7Organization
Creating and organizing computer networks, scheduling upgrades, maintaining wireless networks – it all requires lots of processes and tools. On top of that, network engineers also have to manage both digital and physical files. This all means that these specialists need top-notch organization skills.
8Communication
Customers and stakeholders often want to be involved throughout projects, network updates, and maintenance. Network engineers need to inform them of their plans, progress, and potential problems. They must also communicate effectively with fellow team members so that everyone stays on the same page.
Career path for network engineers
Once network engineers have the necessary skills under their belts, they often become major assets to all kinds of organizations. Here are some career opportunities available to qualified network engineers.
1Cloud networking architect
A cloud network architect creates, launches, and manages an organization's cloud and its applications. They handle network automation, and they're there for any technical support needed.
2Local and wide area network engineer
This type of engineer oversees LANs and WANs to keep the networks up and running. They install and update the right programs to keep network systems properly communicating with each other.
3Network security specialist
A network security specialist is responsible for maintaining a network's security. They build protocols for responding to threats that could compromise the network. They also create security reports explaining how they addressed any issues.
4Network manager
A network manager oversees all of an organization's computer systems. They manage various IT teams and train team members on procedures and practices. They also plan and schedule software updates to keep the network running without interruption.
5Network specialist
Network specialists manage an organization's IT infrastructure. They design, deploy, and maintain software and hardware for networks and monitor the network's performance, security, and connection. These specialists also track server capacity to make sure the network can handle its traffic.
6Network solutions architect
Network solutions architects design data communication networks. They stay up to date on an organization's network processes and install new software and hardware to improve the current networks.
7Computer engineer
A computer engineer builds, tests, and maintains computer components and applications to keep networks up and running. They develop and install software systems and work with hardware such as circuit boards, computer processors, and memory devices.
8Software engineer
As you might have guessed, software engineers work entirely with software applications. They write code to build and launch these systems. They must also test these programs and troubleshoot them if they spot any issues.
Organize your network engineering systems with Fellow
Maybe you want to become a network engineer, or maybe you're preparing to add one to your team. Either way, organization and productivity are key to getting the most out of the role. Fellow can help you build your network engineering team around these skills.
With Fellow, your team members can access meeting notes, presentations, and other important resources all in one place. When large projects are in the works, you can easily track objectives and key results (OKRs) and minimize micromanagement. And with tools for creating collaborative meeting agendas, Fellow simplifies follow-up and check-in meetings. This way, you can train network engineering teams and keep track of their progress.
Testing software and deploying updates is just half the battle with network engineering. With Fellow, you can achieve the ultimate goal: training and managing an efficient team that always does great work.