It's time to hire for an open position at your organization. Your team needs to fill this job posting ASAP, but the recruiting process can feel overwhelming. There's so much to do and not enough time to get through it all – or is there?
We'll admit that, yes, there's a lot to do, but you can totally be more efficient and organized about it. Below, learn how to streamline the hiring process and find the best people.
What are the steps in the hiring process?
Here, you'll find an overview of the steps in the hiring process.
1Deciding to hire
The first step is making the decision to hire a new team member. This can come about because there's an open position or the team simply needs more help. You should figure out your hiring budget, employee benefits, and the role's basics before going any further.

Meetings worth showing up to
A well-run meeting can foster communication and collaboration by including an agenda the whole team can contribute to. Try using a tool like Fellow!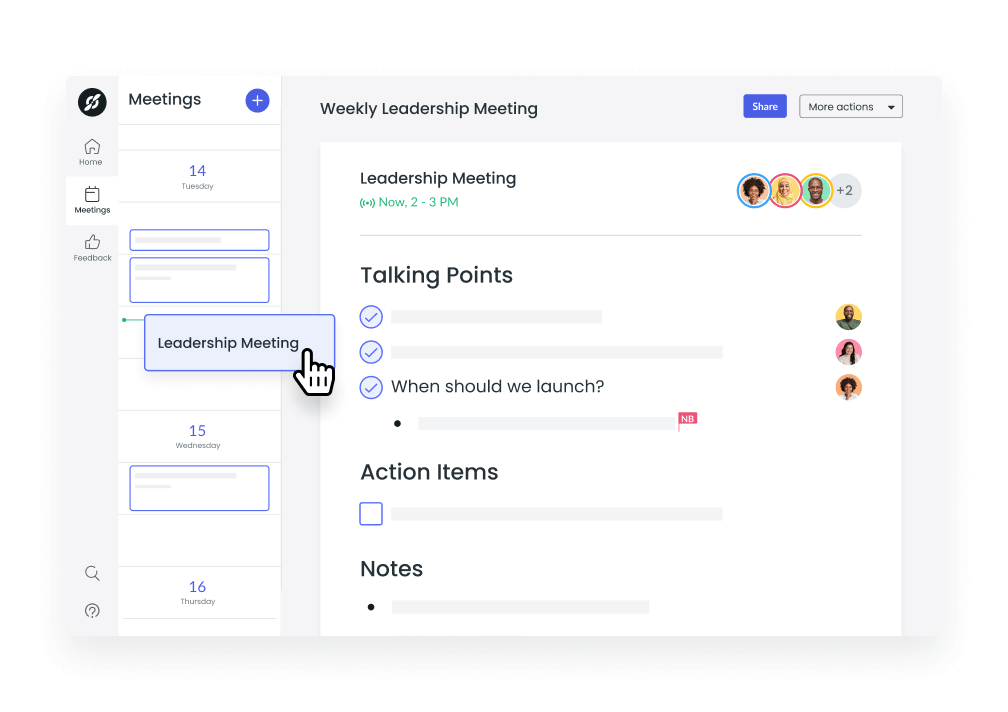 2Creating a job description
When writing a job posting, you should include relevant keywords, the job responsibilities, and an idea of who would qualify. If your job posting is clear, you're more likely to get applications from the right kinds of people. You can share job postings on your organization's website and social media, not to mention job boards.
3Screening applicants
You can streamline this step through an applicant tracking system that screens resumes and determines who qualifies for the role. You can then review these candidates' applications and do a quick phone screening to see whether everyone's on the same page. The screening process can also involve a background check.
4Interviewing candidates
The next step is to interview job candidates. These should be only the standout people who made it through your screening process. Depending on your organization, you might need to hold several rounds of interviews before offering the job.
5Making your offer
When you've found the right person for the job, it's time to make your offer. You can present the offer in writing via email and allow time for negotiation. If you're serious about this decision, you should extend the offer letter ASAP.
6Onboarding and orientation
The onboarding process should include a clear plan for getting new team members up to speed with your organization. The more time you spend coming up with a clear orientation plan, the more quickly new team members can adapt.
7Training your new hire
Where the onboarding process is the new hire's general introduction to your organization, training is specific to their job. When you spend enough time on training, you can set new team members up for success. Their role may change and grow over time, so training meetings will always play an important part in keeping your favorite team members around.
5 ways to streamline your hiring process
Now that you know what the hiring process looks like, here are five ways to streamline your hiring process.
1Think about the number of interviews
When scheduling interviews, you might be tempted to involve every team member who might interact with the new hire. But you should hold back – that'll quickly become way too many interviews.
It's best practice to hold at most five interviews, though fewer are probably better. The more interviews you hold, the more the candidate might start losing interest.
2Select the decision-makers
You know what they say about too many cooks in the kitchen – and it also applies to the hiring process. To avoid roadblocks and keep the process moving, you should decide who ultimately has the final say. You can give an additional person or two the power to chime in, but you don't have to involve everyone who interviews the candidates.
3Conduct a great interview
When you come prepared to conduct a job interview effectively, there's a better chance it'll go well. This means developing thoughtful questions beforehand, knowing what's in the job description, and studying the candidate's resume.
You should follow roughly the same interview format each time to give everyone a fair chance. You should also practice moving with the flow of the conversation – as in, pivoting as needed if something unexpected and interesting comes up. Ask any follow-up questions you think might be meaningful too – the real gold often lies down these untrodden paths.
4Recruit the right people
Finding the top candidates can start with a LinkedIn search for people with relevant job titles. These people might have the most relevant backgrounds and skills for your job opening. You can also hire a recruiter who will find candidates for you and reach out to them on your behalf.
5Bring people in with opportunities
An interview is your candidate's chance to learn more about your job opening and sell themselves. It's also the time for you or your hiring manager to sell the candidate on the position.
To attract top talent and find a good hire, during your interview, go deep on how your role can bring value to the job candidate. Talk about mentorship opportunities, career development plans, employee benefits, and anything else the candidate might not quite get elsewhere.
5 hiring best practices
Follow the below best practices for hiring to streamline your process and avoid bad hires.
1Find out the needs of your organization
Hiring the right people starts with knowing what the role involves and what your organization needs. If you spend time upfront looking at what makes someone an excellent cultural fit, you'll have a clearer picture of your ideal top choice.
2Look at internal candidates
It's always a good idea to look internally (as in, on your current team) for great candidates. This can save you so much time on onboarding since your current team members already know the ropes.
Share job openings with your team first, before anyone else, to gauge their interest. You never know who on your team might be looking to make a move and expand their horizons.
3Ask for referrals from team members
Another best practice is to ask team members for referrals and give them an incentive – for example, a bonus. This can be helpful because your current team members might already have a good idea of who would make a perfect fit. And if you've built trust with your team, you should feel confident that the people they're referring are great for the role. That can save you time on background checks and seriously streamline your hiring process.
4Prioritize clearly interested candidates who come prepared
If a candidate shows genuine interest from the initial screening all the way through the final interview, keep them at the top of the pile. You'll know someone is truly interested if they clearly know about your organization, show up on time, and ask you meaningful questions.
5Shake things up
While standard best practices and hiring processes are a great starting point for streamlining your hiring process, don't be afraid to change your approach. As things evolve, you might need to reconsider who's a cultural fit or hold fewer interviews. Trusting your gut when reshaping your hiring process will often take you in the right direction.
Find the right people
The hiring process can be a breeze when you take the time to streamline your hiring process. With some planning and an internal review of your current process, you can find the right people for your open positions. Fellow can help you stay organized and make the most of your interviews with prospective candidates. With Fellow's meeting management features, you'll always have space to jot down notes during job interviews. You can also ask for feedback on your interview skills. With Fellow, you'll always be at the top of your game – and so will your hiring process.