If you've been called in for a job interview, then congrats – you're halfway there! Now, you need to wow the hiring manager during the interview process. That can take a lot of time and preparation – after all, you need to really impress someone for them to offer you the job. Read on to learn how to properly prepare for a job interview and find some example responses to the most commonly asked questions.
How do you introduce yourself in an interview?
When the hiring manager first greets you for the interview, you should stand up, smile, and give them a firm handshake. When you shake their hand, introduce yourself using your full name. Then, once they repeat the gesture, you should say, "it's nice to meet you," then follow with their name.

If you have a video interview, you should still say your full name and repeat theirs once they mention it. Keep this all up once the interview starts – strong body language and eye contact are key to appearing confident.

Have productive interviews
Increase effective communication and foster a productive interview with a collaborative agenda that everyone can contribute to. Try using a tool like Fellow!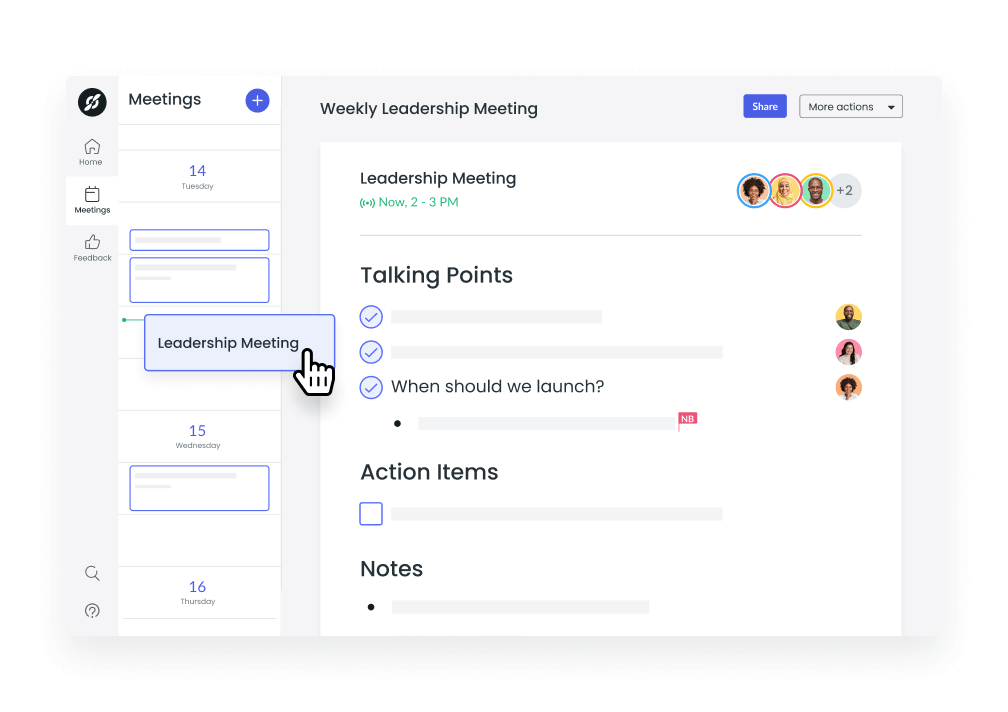 8 tips to help you better prepare for a job interview
Preparing for a job interview goes far beyond reviewing the job description and jotting down a few notes. If you really want to leave a lasting impression on your interviewer, follow these eight tips to help you succeed.
1Research the company and industry
Before your interview, you should research the organization offering you the job and also its industry. Try to answer questions such as: What's the organization's standing in the industry? Who are the organization's main competitors? Is there any recent news about the company? Ideally, you should have all the answers before your interview so you can see the organization's big picture.
2Study the job description and role responsibilities
Before you tell the interviewer why you're a good fit for the position, you should know what they're looking for in a new hire. That should be a breeze – you can easily find all this information in the job posting. For example, what skills and qualifications is the organization looking for? Once you find your answer, make sure to talk about it during your interview.
3Explain why you want this specific role
Knowing the responsibilities of a job is a great start, but it'll only get you so far. On top of this all, you should tell the hiring manager why you want a job with these responsibilities. You could talk about what originally interested you in applying. You could also talk about why you really like the company culture or the organization's values – be sure to name something. At the end of the day, if you don't show interest in the job, you likely won't get it.
4Come prepared with your resume
One thing you should always bring to every interview is a copy of your resume. Even if you sent yours in with your application, you should still bring a copy for the hiring manager to have on hand. This simple gesture can show your interviewer that you came prepared – and that you're ready to show why you're a great fit.
5Line up some questions for the interviewer
At the end of your interview, the hiring manager will likely ask whether you have any questions for them. The answer should always be yes – always.
If you're unsure what to ask, do some research ahead of time and jot down your questions. You'll likely find common interview questions online that you can ask, but you should also ask some that are specific to the organization and role. Here are some common questions you can ask:
Will I have opportunities for advancement?
Can you talk about my day-to-day responsibilities?
Can you tell me about your company culture?
6Make your selling points clear
Selling yourself can be one of the most challenging parts of a job interview, especially if you don't like to talk about yourself. But presenting yourself in a good way doesn't have to feel sales-y. After all, you already have the work experience and skills needed for the job – otherwise, you wouldn't have gotten the interview. That means you don't have to sell yourself like you're shouting on an infomercial. Instead, focus on how your skills and experiences are great for the role and the whole organization.
7Finish on a positive note
Before you get up and head out the door, make sure you thank the interviewer and remind them that you're highly interested in the job. If the hiring manager knows how much you want the role, they might choose you when it comes down to just you versus someone else. You can say that you were interested in the position before the interview and that, as of the interview, you're sold. Or you can be bold and ask for the job offer right then and there.
8Practice multiple times
It's one thing to take notes and mentally prepare for your interview, but once you're in front of the interviewer, it's a whole different story. Once you're with the hiring manager, you may begin to feel anxious and start speaking at a million miles an hour. To ensure this doesn't happen and that you go in with confidence, you should do a few mock interviews. Either practice interviewing with a friend or own your own until you feel absolutely great about your responses.
Zoom interviews vs. in-person interviews
The best way to prepare for your interview will vary based on the type of interview – namely, whether it's in-person or virtual. If your interview is in person, then you should follow the steps above and formally greet the hiring manager and bring your resume with you.
A virtual interview can feel less stressful – you can be in the comfort of your own home – but it has its own challenges. For example, you should be sure you have a strong internet connection and good lighting beforehand. That'll save you time later and make the interview go more smoothly.
Top 7 most commonly asked interview questions – with answers
Let's say the interviewer asks you to describe yourself. Maybe you can do that in a breeze, or maybe you'll panic and look like a deer in the headlights. If you're unsure how to answer a specific interview question, keep the below templates in your head for guidance.
Question: Tell me about yourself.
Answer: I graduated in [year] with a degree in [name your degree]. After graduation, I worked for [name of company] where I developed [name skills related to the job you're applying for]. During my time there, I overcame many challenges, such as [name the challenges you faced]. These challenges taught me [name what you learned and achieved]. Now, I hope to advance my skills and challenge myself more as your [name the potential job's title].
Question: What is your greatest strength?
Answer: My greatest strength is [name your best quality]. I think [name the strength] would help me succeed in this position because [name some reasons why your strength will help you succeed]. At my last job, I [relate your strength to the work you did], which has helped me [list some things you achieved in your last position].
Question: What is your greatest weakness?
Answer: My greatest weakness is [name a quality of yours that isn't the best]. I've gotten a lot better at it over time through [name some ways you've gotten better at it]. I realize it'll always be a work in progress, so I consistently work on it by [name some ways you still work on it]. And if I catch this weakness in real-time, I [name some ways to tackle it in real-time] to counter it. With enough time, I hope to turn this weakness into a strength.
Question: Why should we hire you?
Answer: You should hire me because I [use "have + action verb" to talk about any prior work experience that relates to the position]. I am also [name qualities about yourself that match the job description]. I want to challenge myself, and I am willing to put in the effort to be your ideal [name the role you're applying for].
Question: What's something positive your boss would say about you?
Answer: One positive thing my boss would say about me is [name what they would say]. They often rely on me to [name what your boss has expected of you due to your strengths and skills]. They've been especially pleased with my [name quality] and my ability to [discuss how the quality helped you achieve work-related tasks].
Question: What are your salary expectations?
Answer: Given my skills and prior experience, I'm hoping for a salary of [offer a salary range]. I feel that I should start at [name amount] because [list your skills and qualifications]. That said, I'm willing to negotiate.
Question: Why are you leaving your current role?
Answer: I'm leaving my current position because I want to learn more and challenge myself. I feel like I've grown – and achieved – a lot in my current position, and I am ready to take on a new set of responsibilities. I know you're looking for someone who can [name things that will challenge you that you're willing to work for]. I'm really excited to learn the ropes. [Note: Keep your answer positive and do not dwell on any previous work conflicts or problems.]
Find advice on how to succeed with Fellow
Ensuring you're a shoo-in for the position means doing the right research before your interview. With Fellow's productivity blogs, you'll learn how to set goals for yourself and create action plans so you can better prepare for your interview. Use these blogs as a guide to help you plan out your interview and get the job you deserve.