As any manager knows, performance reviews are an important part of growth and development, both for individual employees and for the organization at large. While performance reviews are essential, they're often not something leaders look forward to getting done because they're somewhat of a time commitment and require significant effort, if you want to get comprehensive employee feedback and a true reflection of an individual's performance.
The good news is, there is an easier way to get on top of all of your performance reviews.
Performance review software helps managers and HR professionals conduct performance evaluations to make the entire review process a lot more seamless. These tools can help you streamline the employee performance review process by implementing features like that automate and customize your approach to performance evaluations. 
For that reason, Fellow has gone ahead to create a comprehensive review of the best performance review software on the market that will help you optimize time and ensure quality employee feedback and insights.
Get started today with understanding how this type of software could be exactly what you and your team want and need.
What is Performance Review Software?
A performance review software acts as a tool to help leaders and human resources employees track, measure and evaluate employee performance.
These systems allow the organization to identify and attract talent based on the gaps and opportunities in your existing team. The ability to track the goals of your individual employees and of the company is going to make the steps to accomplishing these milestones much more clear and therefore, achievable.
What to look for when picking performance review software
There's a couple of things you should look out for, while you're picking a performance review software. Check out these major considerations below:
1) Determine your must-have features
Often a performance review tool is a component of a larger management system that includes payroll bonuses, compensations, training opportunities and skill advancement options. For example, maybe you want to prioritize an applicant tracking feature within the software.
However, if your company doesn't need all these features, then a larger management system might not be the right fight for you. Instead, look for software that focuses on performance reviews and feedback.
2) Company and individual goals
Goal setting is an essential feature of a performance review software. Think about how you usually set short-term and long-term goals and see if the system can support your style, if it's something that you feel is working well for you and your team.
3) Feedback style
Consider your company culture and the way in which you give and receive feedback. For example, if your company is looking to implement a 360-degree feedback cycle, make sure that this is something that the tool supports. Make sure that the performance review system you're thinking of integrating can support the way in which you and your team communicate.
4) Performance review process
It's a good idea to think about your current review process. If it's not working as well as you'd like it to, brainstorm what kinds of changes might be effective to improve it. Then, when you're looking at different performance review software, make sure that the system can support what you're looking for, whether it be to maintain an existing performance review process that works really well, or to implement necessary changes that have been identified. Most review software consider the initiation or beginning of the review period and then can automate and track the rest of the process.
5) Overall cost
Of course, money matters and you'll have to consider how much this performance review system is going to cost the organization. Create a budget that is dedicated to your future management system and define if it is strict, or if you have some wiggle room to pay for additional features that would be beneficial to you and your team. Moreover, there are different types of costs that can be associated with performance review softwares that you should be aware of. Make sure that you're aware if the software charges a pay-per-user fee, a pay per-employee fee, or if you pay per-appraisal. Think about which payment model would be the most financially feasible for the company and go from there.
6) Ease of use
When it comes to anything tech related, we all look for the magical words "user friendly". Of course, you want to select a performance review software that's going to be easy to navigate and that is easily adapted to. Doing your research on different systems (or reading this article!) is important so that you can read different reviews of software and gain an understanding of the user-experience for these software systems.
A lot of performance review software provides free demos that you could actually demo today! Make sure you do your research and if you're impressed by a few in particular, a demo is a perfect way to get a taste and see how you feel while you learn more about the software. Certain things may give an edge over another, such as really solid customer service support available.
14 performance review tools to check out this year
Now that you know what a performance review software is, and what to look for while browsing for the right one, we've created a list of the best review softwares out there in 2021. Check out what these employee management tools have to offer and why we think they might be the right fit for you and your team.
1 BambooHR
Cost: $4.95 per user per month
Description: Bamboo is an all-inclusive HR software and is often rated the highest among other HR softwares. It covers just about every kind of HR function which may need to be organized and executed. The functions include applicant tracking (AT), benefits administration (BA), employee onboarding, HR reporting, time-off tracking, and of course, performance management.
Type of performance review supported: BambooHR supports a process in which you and your employees can frequently and consistently track goals and performance. You can schedule reviews, give employees trackable goals and set up self and manager assessments. These assessments are composed of a few simple questions that aren't time consuming and are right to the point. If you want to include goals for your employees, they get a monthly reminder email about what they should be working on to achieve those goals that you've set. The entire process is simple and there are many templates you can choose from to find the best fit.
2 Fellow
Cost: Free for teams < 10 (then $5 per user per month for the Pro version)
Description: Fellow is a team management software that really puts focus on meeting inclusivity, collaboration, and empowering employees. Fellow focuses on meeting management and employee development through effective team and one-on-one meetings.
If you're looking to improve the quality of your interactions with employees (and as a consequence, their performance!), this is probably the software for you!
Companies like Shopify use Fellow's feedback feature for their 360 review cycles. You can ask people on your team about the person you're sharing feedback with and then share that feedback with them. What's more, is that all your one-on-one meeting notes are in one place, so it's easier to look back and prepare for performance reviews.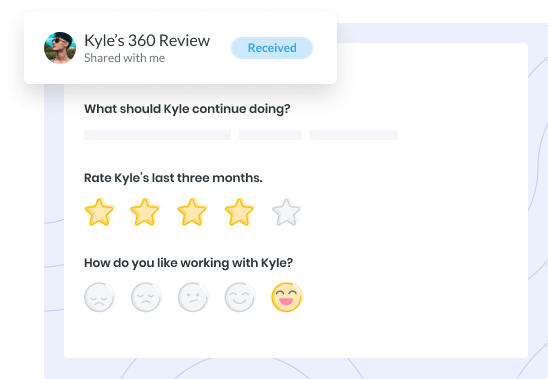 Type of performance review supported: Group and individual performance reviews are both supported through Fellow's framework. You can create goals collaboratively, in a meeting agenda and then monitor the progression of those goals in subsequent 1:1 or team meetings, depending on the nature of the goal. Because you can record your decisions, you can hold individuals and your team accountable to deliver on their responsibilities.
3 Engagedly
Cost: Pricing information unavailable; Must contact directly
Description: Engagedly is probably best if you're looking to focus on employee engagement (shocking, we know). It's best for services-based organizations with larger employee groups. They have implemented a research-driven talent management platform for their performance management, 360 peer reviews, feedback function, employee recognition and goal management. Engagedly provides an engaging approach to performance with their main objective being to improve employee engagement.
Type of performance review supported: If you're looking for a fully encompassing performance appraisal, Engagedly offers a pretty impressive package. This employee review software includes: compensation management, custom rating scales, customizable templates, individual development plans, ongoing performance tracking, peer appraisals, review cycle tracking, self service portal, self-appraisals, skills assessments and weighted performance measures. This software system fully equips you with all of the tools that you need to customize your approach to performance reviews to drive engagement amongst your team.
4 UltiPro
Cost: Pricing information unavailable; Must contact directly
Description: UltiPro is an HR, payroll and talent management software. It simplifies processes and seeks to improve work experiences for all employees by creating easy-to-use functions for everyday use on performance management. You can manage people (HR) data with ease so that you can ensure that your team feels engaged and productive from the onboarding process, forward. With UltiPro, you can deliver personalized recruiting and onboarding experiences, guide employees through important benefit decisions, simplify administrative payroll functions, and manage time and attendance needs throughout the organization.
Type of performance review supported: UltiPro customizes our performance review and is jam-packed with all the features you'd hope for from an HR system that also serves as a performance review system. This software tool provides a 360-degree feedback option, appraisal history tracking, compensation management, custom rating scales, individual development plans, objective/goal setting, on-going performance tracking, peer appraisals, self service portal, self-appraisals and overall skills assessments.
5 Workday
Cost: $100 per user per year
Description: Workday describes themselves as a "Human Capital Management" system. They support leaders and HR gain better visibility into all organizational operations and also strive to help your company grow and further develop. The system enables users to custom-build teams of employees, based on their individual skill sets by finding individuals through talent searching and job profiles. They enable organizations to search the job market for the best talent, and support leaders from day 1 of onboarding all the way to planning individuals' retirements. This system isn't specifically centered on performance management reviews, but certainly incorporates performance appraisals into its functionalities.
Type of performance review supported: The performance appraisal features that we think are really valuable to leaders include: compensation management, individual development plans, objective/goal setting, a self service portal and various skills assessments.
6 Zoho people
Cost: $4 per user per month billed annually

Description: Zoho people is a tool where Human Resources professionals can track hiring, onboarding, attendance management, time tracking and appraisals.

Type of performance review supported: Identify employee strengths and weaknesses. Human Resources professionals can set goals, gather 360-degree feedback, and review performance.
7 Sage HR
Cost: $5.50 per user per month

Description: Sage HR helps leaders set aspirational goals that challenge your workforce, keep track of progress & align team efforts with your company vision.

Type of performance review supported: Sage's 360 feedback feature allows employees to paint a holistic view of their own performance with inputs from peers, managers and subordinates, gathered transparently throughout the year.
8 HRweb
Cost: $39.95 per month

Description: HRweb makes it easy for small businesses to manage their attendance, time tracking, PTO, and onboarding.
Type of performance review supported: Set goals and track the progress made by the employees. Analyze the progress and use the statistics to prepare performance reports and reviews.
9 Cornerstone Performance
Cost: To tweak the solution according to company specifications, configuration starts at a one-time charge of $1,000 for Learning only and $2,000 for Performance only, depending on the size of the organization.

Description: Cornerstone helps you ensure that your workforce is agile and ready to mobilize. Identify high performers, assess capabilities, and close skill gaps for a stronger talent pipeline.

Type of performance review supported: Evaluate skills organization-wide to identify the right people for the right roles. Reward high-performers and address skills gaps to ensure your organization is always at its best.​
10 Synergita

Cost: $5 per user per month

Description: Synergita employee performance management software covers goals management, multiple performance appraisals, and continuous feedback.

Type of performance review supported: Nominate direct reportees, peers, managers, higher-ups and clients to give feedback on your performance, competencies and discover your strengths and areas of improvement from a holistic perspective.
11 EmployeeConnect
Cost: Starting at $8 per user per month

Description: EmployeeConnect is a recruitment and Applicant Tracking Software that has been streamlining HR processes since 1998.
Type of performance review supported: Capture all the information you need about your people to make the HR process simpler and more effective. Use your reporting structures to drive integrated workflows and easy configuration options to make Human Resources Information Systems (HRIS) work for you.
12 Darwinbox
Cost: Demo required

Description: Darwinbox is a cloud-based Integrated HR platform that automates HR processes from recruitment, Core transactions (Leaves, Attendance, Directory), Payroll, Employee Movement, Employee Engagement, Talent Management and People Analytics, it engage & empower employees while automating and simplifying all HR processes.

Type of performance review supported: Darwinbox's goal cascading tool helps you maintain a sense of alignment of your team's efforts. You can also accommodate different performance assessment frameworks for different positions in the organization to match your needs easily.
13 NEOGOV

Cost: Demo required

Description: NEOGOV's three modules – Recruit, Develop, Manage – meet the unique needs of public sector HR teams by automating the entire employee lifecycle and streamlining processes.
Type of performance review supported: NEOGOV's performance management software automates annual and probationary employee evaluations, allowing your HR team and department heads to identify skills gaps and areas of improvement in their employees.
14 Performly Talent
Cost: $2 per month per user

Description: Performly helps you streamline, manage and automate all of your HR processes and workflows through Preformly Talent, Intra & Payroll.

Type of performance review supported: Defined competencies where you can send & receive feedback on and pull them directly into performance & later to a development plan.
Closing thoughts
The performance management review software that you select is going to largely depend on the need that you are trying to fill within your organization. It's essential that you ensure that whichever software system you're going with can fulfill your employee performance review vision, whether it's a focus on goal-setting or setting a tone of continuous, bi-directional feedback within your team.
Make sure to take your time, do your research and do the demo so there are no surprises after you've handed over your corporate credit card number. A demo is also the best way to understand how user-friendly a tool is, first hand. We hope this article has been helpful in explaining what performance review softwares are, why they're beneficial, what to look for and some of our favourite product suggestions. It's been a pleasure, as always.
We'll see you next time on the Fellow blog!