So, what is staff engineering? As individual contributors, staff engineers are typically senior engineers that fall under several job titles throughout various organizations, such as tech leads, architects, solvers, and right-hand software engineers. An individual in the staff engineer role is responsible for designing, building, and testing structures, systems, or products; these individuals also tend to specialize in mechanical, electrical, industrial or civil engineering.
For any engineer who is interested in advancing their career, it's important to learn about different types of engineering management roles, such as the staff engineer position, so you can identify the skills and competencies you need to work on and gain an idea of whether the staff engineer role is a well-suited position for you. This article highlights what a staff engineer is, their roles and responsibilities, their skills, as well as different types of staff engineers in the industry.
What is a staff engineer?
A staff engineer typically leads complex and sometimes high-risk projects while also controlling the entire team's communication and collaboration. Staff engineers focus on supporting their team and the business by providing context and technical specifications, documenting processes, and giving precise technical direction. Only a small portion of their day is actually spent coding, since they're engaged with their managers to support team priorities, allowing them to focus on the highest priority tasks. Staff engineers tend to also take on somewhat of a coaching and mentoring role, as they share best practices with other engineers and help them acquire new skills and competencies. The staff engineer's role is highly autonomous; a staff engineer controls their own day-to-day activities.

Run delightful engineering meetings
Increase meeting engagement and productivity with a collaborative agenda that the whole team can contribute to. Try using a tool like Fellow!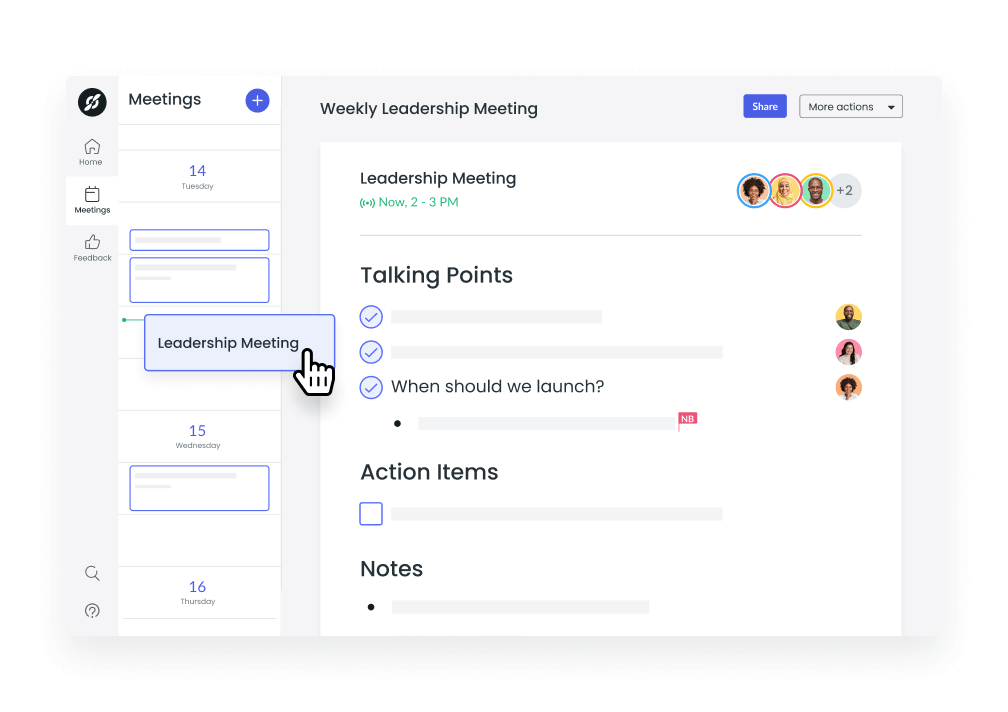 Staff engineer roles and responsibilities
1Assess technology
First, staff engineers are responsible for assessing the efficiency of technologies, instruments, and equipment. This means that in this role, you have strong technical skills and have acquired a significant amount of experience understanding the different tools and technologies that are available to enhance and improve various projects. Technological assessment needs to be advanced to the point where the staff engineer is extremely comfortable teaching, explaining, and demonstrating concepts to others on the team.
2Use software
Central to the staff engineer role is using software to efficiently plan, design, and develop projects. Leveraging different software can improve time management, productivity, and efficiency. A software tool like Fellow allows you and your team to have productive, organized meetings and meaningful one-on-ones, build collaborative meeting agendas, record decisions and action items, and keep each other accountable throughout each project so you can attain your team and company goals more effectively.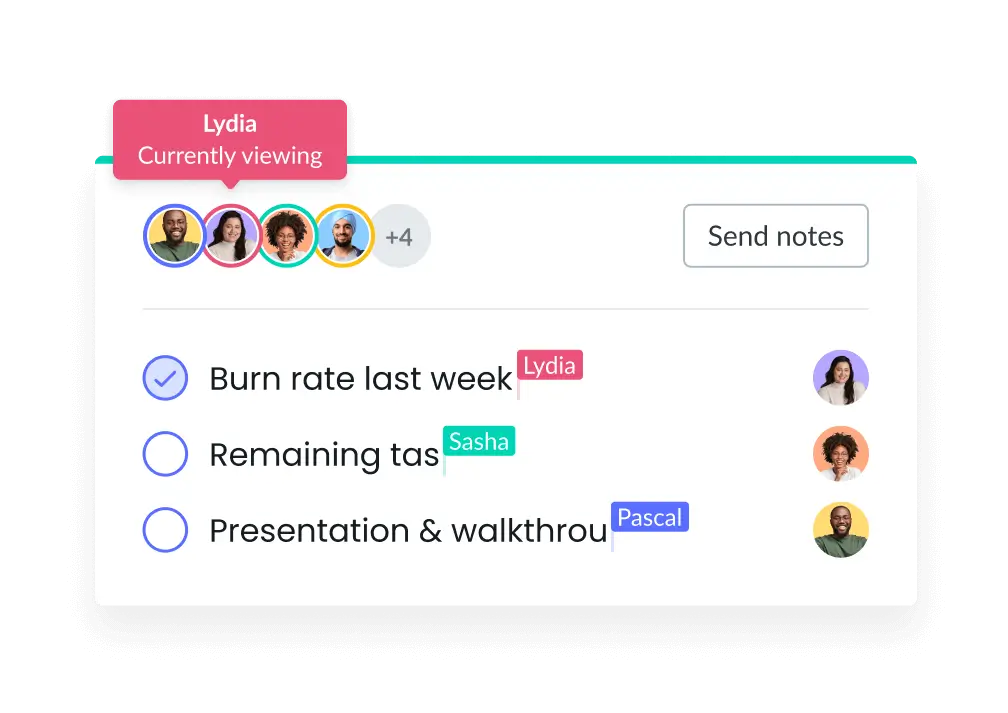 3Collaborate with other engineers
Staff engineers are also responsible for collaborating with other engineers. Collaboration is done at each level of each project being worked on, but it's especially important for staff engineers to collaborate with the engineering team on prototype development. Collaboration is important for several reasons; not only does it allow everyone to work more productively, but it's also a great opportunity to share knowledge with others and for the team to continue to learn and grow together.
4Improve processes
Another principal responsibility of a staff engineer is to build, set up, and improve systems, procedures, and equipment that the team is using or may be leveraging in the future. In an ever-evolving industry, it's extremely important for the staff engineer to be able to identify areas of opportunity and improvement so the business can remain competitive amongst other organizations. As staff engineers problem solve and discover ways to improve the workflow, their efforts simultaneously improve productivity and efficacy across the entire team, which then trickles down to the rest of the organization.
Staff engineer skills
1Creativity
Creativity skills are important for staff engineers because they are tasked with the responsibility of supporting their teams in overcoming mechanical issues that arise. This means that they need to use their creativity and imagination to think critically and identify issues as they come up, evaluate the plausible causes for them, and then come up with some feasible solutions that can be implemented to ensure a high level of quality and efficacy in their work. The ability to think outside of the box and on the spot is essential to diffusing any mechanical obstacles and pivoting quickly towards a solution that is effective and not too time-consuming.
2Communication
Certain soft skills are also essential for staff engineers, one being strong communication skills. Because staff engineers are responsible for disseminating information throughout the organization, at various levels, communication becomes crucial for this role. On a daily basis, staff engineers coach and mentor more junior staff, update and problem solve with managers, and assist in making important decisions with company leaders. Working on enhancing communication means that staff engineers will be better equipped to train, teach, collaborate effectively, and give the most suitable and easily understood advice to others.
3Management and leadership
To be a strong staff engineer, you need to develop strong management and leadership skills as well. These skills are important because in this role, you're constantly guiding engineering teams, advising management, and helping executives better understand the details behind each project to justify their approach, implementation, and delivery. As such, staff engineers need to have not only the expertise but also the confidence to step up and stand up for what they believe will be the best decision for the team and for the organization as a whole.
4Engineering
Of course, every staff engineer needs to have strong engineering skills—we hope this doesn't come as a surprise! The ability to design, such as programming or computer-assisted drafting, is essential. In addition, the ability to develop technical products (for example, different software, engines, and circuits) is needed to be successful in this role. Staff engineers need to be able to maintain several different machines, equipment, and hardware as well as have a strong understanding of how to update technology to ensure they are focused on continuous improvements and conducting work in the most effective way possible. If you'd like to be a staff engineer, you also need to have the ability to solve complex problems through mathematical equations which guide clearly defined decisions.
5Problem solving
Lastly, problem-solving skills are essential to being a successful staff engineer. Staff engineers need to be results-oriented, collaborative problem solvers who can lead cross-functional teams through complex problem-solving structured methods and tools. To teach effective problem solving, you need to of course be able to problem solve independently and effectively; staff engineers are often tasked with solving complex problems that require innovative solutions. The more teams collaborate, the more they can work together to solve problems effectively, which is why it's important that staff engineers have all of the aforementioned skills—combined, these skills help staff engineers to be as effective as possible in their role.
Types of staff engineers
1Staff mechanical engineers
There are several different types of staff engineers. First, staff mechanical engineers are those who tend to work in the manufacturing industry or in fields that are related to manufacturing. Staff mechanical engineers typically provide advice to the engineering team while also managing any teams that develop commercial or consumer machines. This means working with products like elevators, washing machines, refrigerators, microwaves, automotive engines, and sometimes even robots.
2Staff electrical engineers
Staff electrical engineers work across several different industries, whether in manufacturing, architecture, transportation, or electronics. They are responsible for guiding teams to create equipment that supplies electricity to products or parts, which can include things like lighting, wiring, circuits, motors, and computer processors. Electrical engineers also tend to be trained in using specialized tools like spectrometers to identify areas of opportunity, to evaluate, and to make suggestions for the improvement of a given range of electrical products.
3Staff industrial engineers
When it comes to allocating personnel and equipment for a specialized product or project, staff industrial engineers tend to take charge. They are also responsible for evaluating product designs and ensuring quality at every phase of the development process. Staff industrial engineers also tend to be tasked with certain management and leadership duties, in that they support teams in creating project budgets and identify opportunities to boost productivity.
4Staff civil engineers
Staff civil engineers tend to work for construction companies, architectural organizations, or sometimes for government agencies and departments. They are tasked with overseeing infrastructure development projects that risk affecting natural environments, such as bridge building or sewer construction. This type of staff engineer needs to have strong experience in determining how the weather and how different materials or types of builds may wear or affect a structure over the years. They also tend to be responsible for determining project costs and determining a final budget for each given project.
Parting advice
Staff engineers are leaders who are tasked with managing and providing technical guidance to the rest of the engineering or development team. Often, they provide mentoring and coaching to more junior employees as they pass their expertise down the line. Central to staff engineers' responsibilities are the prioritization, development, and completion of tech projects that require a strong technological aptitude, good collaboration skills, and clear communication. Staff engineers frequently coordinate several projects simultaneously in collaboration with other types of specialized staff engineers that we mentioned: mechanical, electrical, industrial, and civil engineers. Now that you know what it takes to be a staff engineer, you can begin to draft a learning and development plan for yourself, so you can successfully achieve your career goals.