One of the trickiest parts of being a manager is equipping your employees with the correct tools and guidance to thrive in their roles and grow in their careers. If you want your team to operate like a well-oiled machine, you'll need to determine each individual's strengths and create systems that work for everyone.
You can encourage your employees to practice a growth mindset by conducting regular leadership assessments. Let's take a look at the different assessments you can do with your team to help discover and nourish your colleagues' unique skill sets!
What are leadership assessments?
Leadership assessments are any tools that can be used to evaluate skills. Many leadership companies have introduced these assessments as part of their catalog of services to help managers identify and evaluate potential leadership candidates, increase self awareness of company employees, and analyze their own traits and strengths. These assessments also serve as excellent team-building activity for teams who are simply trying to get to know new colleagues or learn more about one another.

Level up your leadership skills
Foster a productive workplace by giving and receiving feedback. Try a tool like Fellow today to start leveling up your leadership skills!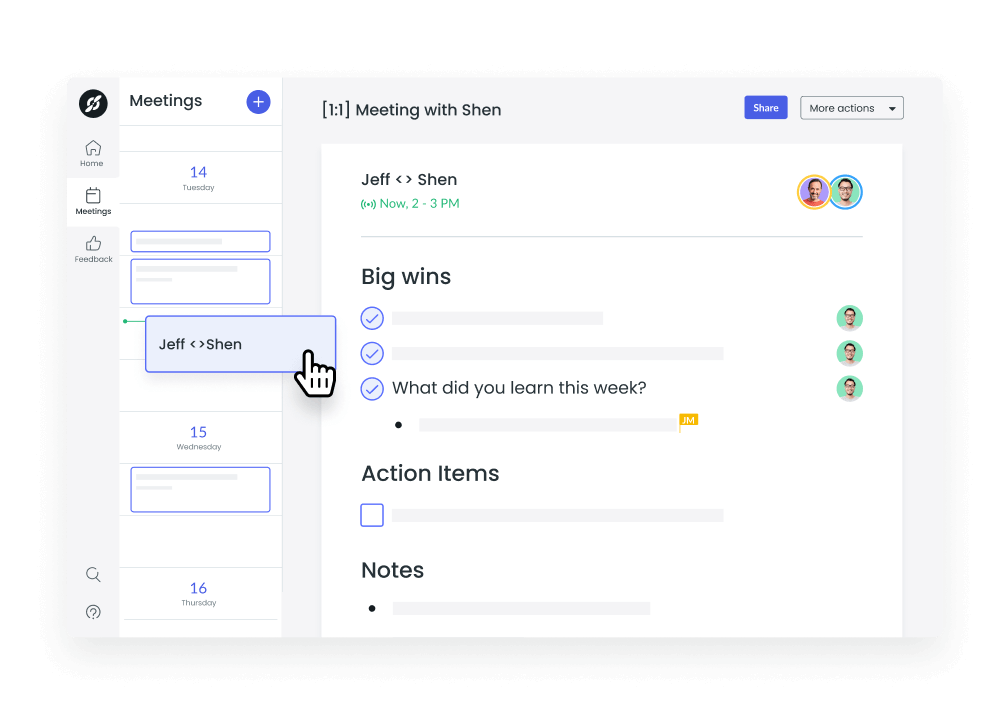 Why are leadership assessments important?
Help identify team strengths and weaknesses: Leadership assessments can provide valuable insight into an individual's best and worst traits. Understanding your employees' skills will help you recognize where each teammate is excelling, and where individuals may require additional development. You can also align assessment results with your existing observations to give positive and constructive feedback to members of your team.
Search for employees who possess leadership qualities: These types of assessments can identify management qualities within your employees. For example, if you're looking for an internal employee to move to the next level of the company, you can conduct a leadership assessment to see which teammates have the skill set best aligned with the job description.
Evaluate current leaders: You can use leadership assessments to evaluate your own leadership and that of other members of the management team within your company. Using your own results, you can increase awareness of personal strengths and capitalize on challenges you need to overcome to succeed.
11 types of leadership assessments
1DiSC Assessments
DiSC is a personal assessment tool that aims to help improve communication, teamwork, and productivity in the workplace. Over one million people and 15,000 teams—including Apple and Nestle—use DiSC every year, making it an incredibly popular choice for teams. Each person who takes the assessment is given a personality profile that can be used to promote understanding of different behavioural patterns at work. In episode 98 of Supermanagers, Business and Leadership Coach Jen Hope tells Fellow that DiSC assessments can "be a really helpful tool to have as a leader or as a teammate to know who I'm sitting across from."
2Myers-Briggs Type Indicator (MBTI)
The MBTI is one of the most common types of leadership assessments used in the modern workplace. This assessment uses the theory of psychological types described by the late psychiatrist and psychoanalyst C. G. Jung, and is understandable and useful in people's lives. Each individual who completes the MBTI is assigned one of 16 distinctive personality types using four of eight possible letters derived from the following traits: extraversion (E) or introversion (I), sensing (S) or intuition (N), thinking (T) or feeling (F), and judging (J) or perceiving (P). The overall goal of this assessment is to celebrate and appreciate differences between people.
3Passion Profiler
The Passion Profiler from Purpose Linked Consulting is a tool that assesses your purpose as specific work-related passions. The assessment views each assigned passion as a tool that you can use to hone new skills, think more creatively, and thrive in your career. Each person who completes The Passion Profiler is assigned one of 10 passion archetypes, including: the altruist, the builder, the connector, the conceive, the creator, the discoverer, the healer, the processor, the teacher, and the transformer. At work, this assessment can be used to help align work assignments with each employee's existing passions to improve team engagement.
4CliftonStrengths
CliftonStrengths Assessment from Gallup is a series of 177 paired descriptors from which users select based on how they would respond to a number of outlined circumstances. The assessment has been used by over 26 million people to maximize their potential in the workplace. Each person who takes the assessment receives their own five personalized strengths they can apply to succeed in their career and personal life. As a manager, you can use this type of assessment to embed a strengths-based culture within your team.
5Hogan Assessments
Hogan Assessments provide data-based personality insights that can help maximize your organization's success. Hogan assessments are currently used by companies like General Motors, Intel, Microsoft, and Coca-Cola to improve performance in both leaders and their employees. If you're a hiring manager or work in talent acquisition, you can use Hogan personality assessments to predict performance of candidates by understanding how they will approach problems, think tactically, and use their strengths in the workplace. If you're looking to cultivate self-awareness among members of your current team, these assessments can help your team unify goals through targeted development plans that align with company values and increase efficiencies in your day-to-day practices.
6Kolbe A Index
The Kolbe A Index measures how each individual takes action when they strive to reach their goals. The test has been completed by over one million individuals and was featured in Time, The New York Times, Forbes, and The Oprah Magazine. The Kolbe A Index evaluates your instinctive way of performing tasks to give you a result called a method of operation. The 36-question assessment helps you understand your natural strengths so you can build better relationships with coworkers, learn to stop doing things that don't work for you, and refocus your time on the goals that truly matter.
7Emergenetics
Emergenetics believes that who you are is a powerful combination of genetics and lived experience. The company provides a variety of professional development learning opportunities for teams, including an assessment that measures three behavioural attributes (expressiveness, assertiveness, and flexibility) and four thinking attributes (analytical, structural, social, and conceptual) to help individuals better understand themselves. Using assigned attributes, employees can set their intentions and take time to establish their "why" when developing new workplace habits and goals.
8Saville Wave
The Saville Wave Assessment by Anahat is a predictor of workplace performance and potential. This suite of assessment diagnostic tools can help managers hire new employees, build exceptional teams, and lead high-performing operations at work. The company's Wave Behavioural Framework examines 108 measurable behaviours that predict performance at the modern workplace across geographies, cultures, industries, and roles. Using this assessment, managers can evaluate the drivers for success in specific roles and enhance the quality of candidates throughout company hiring processes. To further develop employees, the assessment can be used to conduct talent audits and align existing talent with business demands.
9Enneagram
The Enneagram Personality Test from Truity assigns each person one of nine personality types. The assessment is a system of personality typing that showcases how individuals interpret different experiences and manage their emotions. The nine outlined enneagrams include: the giver, the achiever, the individualist, the investigator, the skeptic, the enthusiast, the challenger, the peacemaker, and the perfectionist. As a manager, you can use the nine-pointed diagram that illustrates how each type relates to each other to showcase how employees can work collaboratively, regardless of conflicting personalities.
10TINYpulse
Did you know that organizations with high employment engagement are 23 per cent more profitable than companies with low staff engagement? TINYpulse by Limeade aims to give managers the tools and resources they need to build an employee engagement strategy that actually works! This assessment is different from others in that employees use it to report feedback and complete surveys so managers are able to drive workplace change. TINYpulse promotes the habit of giving feedback on a regular basis so you can build a work culture with engaged and satisfied employees.
11Mind Tools
Mind Tools is an online learning platform that has been helping individuals and teams reach their objectives and enjoy success for over 25 years. The subscription-based website offers countless resources for professional development, including assessments on topics like team effectiveness, workplace behaviour, and leadership motivation. If you have a team that enjoys having ongoing access to professional development tools, or want to promote the use of effective workplace resources to your employees, Mind Tools may be your answer.
So many assessments, so little time.
Use leadership assessment tools to your advantage at work. Whether your goal is to make your team more productive by identifying strengths, or simply to get to know everyone, these resources are an excellent way to keep employees engaged and collaborative! Think of assessments as the engine that can drive employee learning. When you're learning how to improve as a group today, you're modifying your ability to succeed tomorrow.