Simply put, finding and retaining top talent for your company is hard – taking a lot of time, energy, and money.
In 2019, the average cost and time of hiring a new employee was around $4,000 and 24 days. So it's not ideal to lose that person.
What can leaders do to find and retain top talent?
Well, it's all about addressing why people leave. Research shows that, of the 1 in 4 people who left their jobs in 2018, 1/3rd was related to unsupportive management and a lack of development opportunities. The people analytics team at Facebook had similar findings – noting that people were leaving because they felt that their skills weren't being utilized and there was a lack of career growth. In a 2018 HBR article, the authors commented that:
"At Facebook, people don't quit a boss – they quit the job. And who's responsible for what the job is like? Managers."
At large companies, this loss of talent may not be debilitating, but at start-ups, it can have a giant impact. Justin Schiefner, Director of People and Culture at Arkose Labs, acknowledges that opportunities for growth and career development are key to attracting top talent. It's no longer all about the "wow factors" of snack filled kitchens, cool offices, or great benefits.
In this #ManagementHeroes interview, Justin emphasizes the importance of one-on-one meetings, feedback and company culture in helping employees stick around.
The importance of 1-on-1s to retain talent and reduce turnover
Justin notes that employees aren't always enticed by some of the cool office perks. Most don't just want a job – they are looking to join something that is cutting edge and want to have the opportunity for career development and growth. To support this, Justin finds it ideal to have career development conversations that are written down so people can refer back and hold each other accountable.
"They want to see career development and growth. It is so important to them. They don't want just to have a job."
Justin finds one-on-ones a great way to conduct these conversations and encourages all managers at Arkose Labs to schedule recurring one-on-one meetings with their direct reports.
Over the course of the month, the team at Arkose has two types of one-on-one meetings. One is more like a triage one-on-one addressing what needs to be done, and what is upcoming. The other one is more focused on career development. This meeting is more reflective and fits well into a career development and continuing education plan. Some questions managers ask during career conversations include:
What learnings have you accomplished?
What skills do you need to help accomplish your goals?
How to encourage managers to conduct 1-on-1s
If your company does not have a culture of one-on-one meetings, it can be challenging to get buy-in from all the people on your team. At a high growth company like Arkose Labs, there never seems to be enough time in the day. But Justin encourages managers to conduct one-on-one meetings by emphasizing how critical they are for growth and development. He also leads training sessions to help communicate the importance of these meetings to individual contributors, with some tips and tricks to prepare and make the most of them.
Now, one-on-one meetings have become an essential part of the company's culture and everyone on the leadership team uses Fellow.app to track notes, feedback, and action items from these conversations.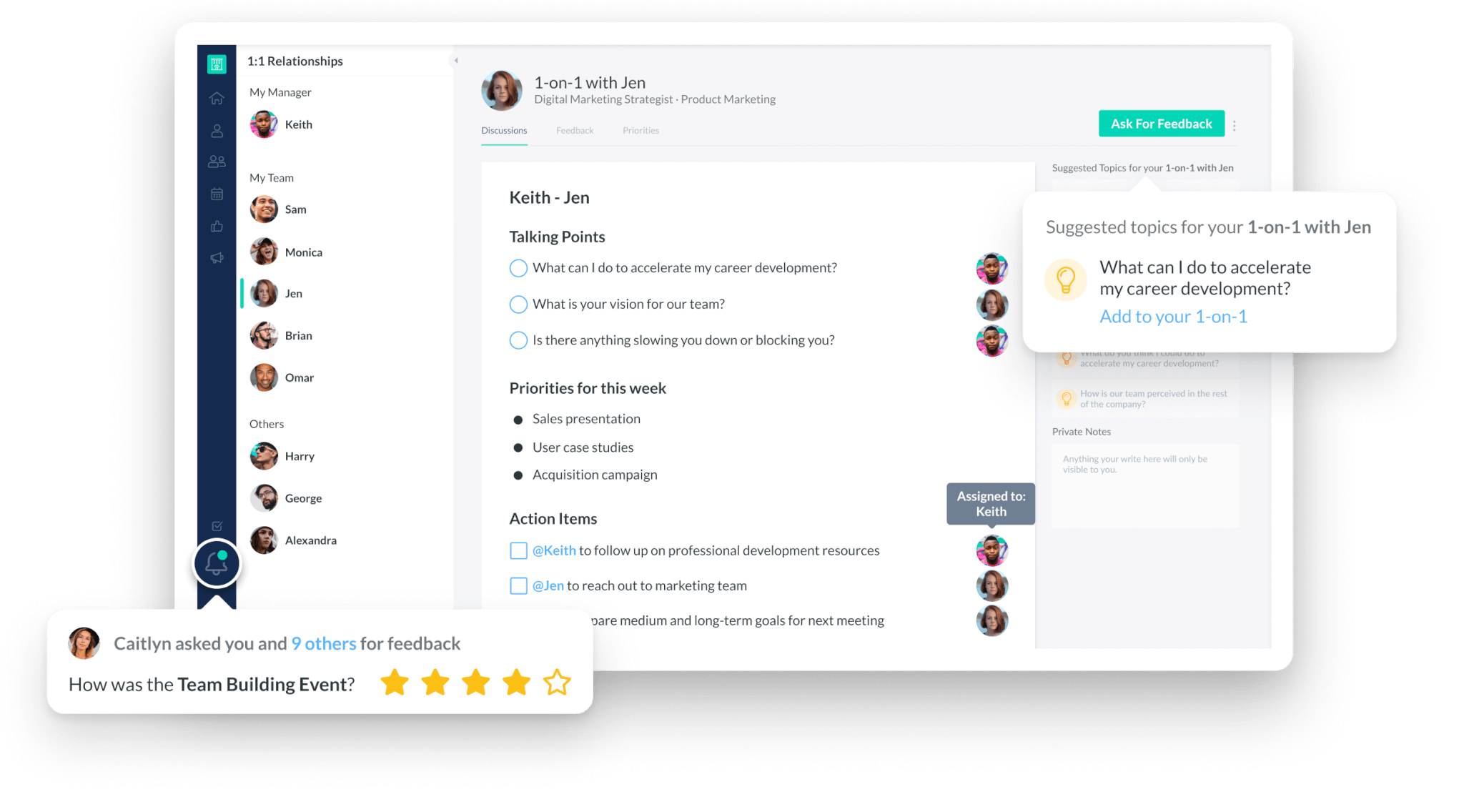 Encouraging real-time feedback and personal growth
When hiring people, one of the things that Arkose Labs looks for is for independent, out of the box thinkers. There is trust that they will do a great job in the daily activities, but Justin just wants to check that some more overarching goals like personal growth are also accomplished.
"It is my job to ensure that they're actually growing as professionals, and that there are milestones that they want to hit and goals that they want to accomplish."
Another benefit of one-on-one meetings is that they're the ideal scenario for individual contributors to get real-time feedback from their manager. According to Justin, when someone leaves a company, there are two scenarios that expose flaws in performance management:
Not knowing what you are doing wrong until it's too late and there is no time/opportunity to succeed.
Not knowing how appreciated and valuable you were until you decide to move to the next opportunity.
"Employees need to know if things are not going well, and they need to be afforded the opportunity to do better. Those one-on-one conversations really tie into performance management."
Justin encourages managers to take notes in Fellow.app, so they can remember the conversation. If it's done during the one-on-one, then there is less chance of items being lost in translation or lost in communication.
How to make skip-level meetings less scary
As a Director of People and Culture, Justin meets regularly with members of the leadership team, medium level managers, newly promoted managers, and key culture drivers.
He also schedules skip-level meetings and encourages other leaders in the company to do the same.
When a Head of People or your boss's boss schedules an unexpected meeting with you, it's natural to feel uneasy. It feels as if you are being summoned to the principal's office.
To help ease the employee's mind, Justin calls his skip-level meetings "sync-ups" and includes a note in the event description. He adds talking points directly in Fellow so that the person already knows what they are going to talk about. It eases the sense of dread that this meeting might involve the employee leaving with a box with their personal belongings.
"By having the talking points already in Fellow, they already feel more relieved."
Building culture in a start-up
When asked about when to bring a dedicated People and Culture person on the team, Justin notes that a lot of tech start-ups make the mistake of waiting until they've grown a lot. But Justin argues that culture is not something that can be forced after the fact.
"Culture is not implemented, culture is grown. It is absolutely a marathon and not a sprint. And something that you need to build from the ground up. It needs to be immersed in your company values and in your performance OKRs."
Andrew Chamberlain and the team at Glassdoor also note how important culture is for employee retention, saying that "employees who see clear career paths for themselves and who feel committed to a company with a positive value system are statistically less likely to leave for their next role."
. . .
As the Director of People and Culture at Arkose Labs, Justin values being able to support and nurture his team to help them grow and develop.
In order to help his team reach their goals, sometimes Justin has to hold others accountable (like reminding managers to conduct meaningful one-on-one meetings). However, it's all worth it, because his work has an impact on the personal and professional growth of every employee in the company. 🌱