Have you ever stopped and asked yourself if there's a better way to evaluate employee performance? What if we told you there were several? Conducting traditional performance reviews is no longer an effective way to gauge success. Performance review alternatives boast many benefits, including ongoing feedback, coaching, and regular check-ins.
What are performance reviews?
Performance reviews are assessments that work to evaluate employees' strengths and weaknesses to provide actionable feedback that positively impacts future performance. These reviews are often conducted by a supervisor or manager and may include an assessment of the employee's job duties, productivity, communication skills, ability and willingness to work in a team, problem-solving skills, and adherence to company policies and procedures. In addition to analyzing past performance, performance reviews can be used to identify areas of improvement and set new objectives accordingly.

Run efficient meetings, come to a decision, and get back to work
A performance review meeting requires preparation with collaborative talking points. Use a tool like Fellow so everyone can contribute to the conversation and show up prepared before getting back to important work.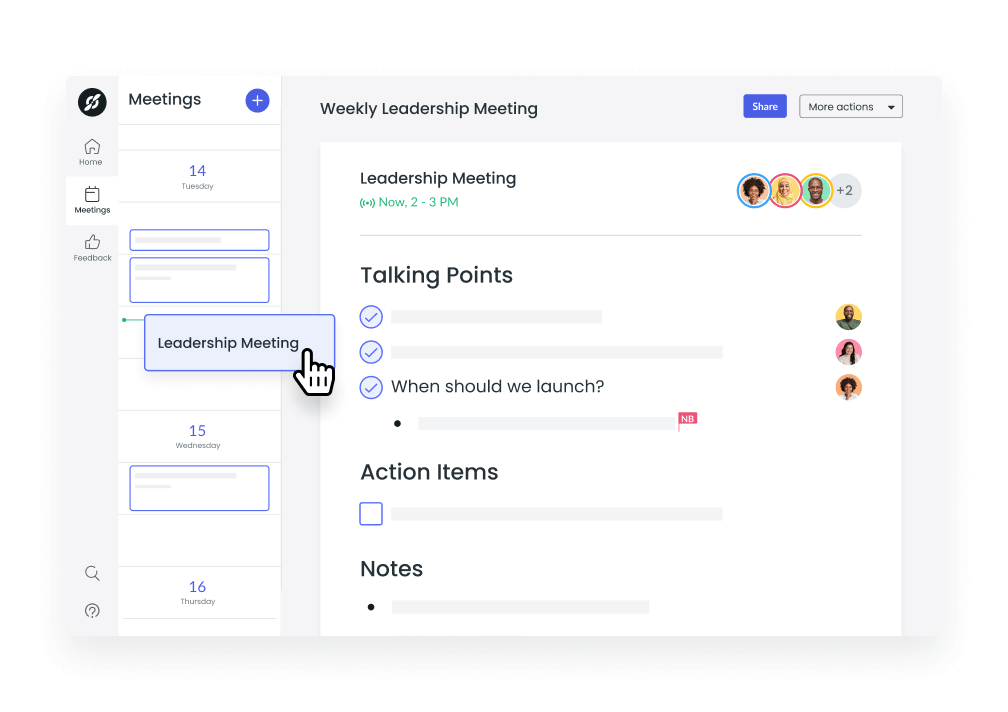 4 disadvantages of traditional performance reviews
1They are time consuming
Managers are busy; they constantly have a full plate between managing their team and crossing items off their to-do lists. As a result, it's incredibly important for managers to be able to effectively make use of every moment. One major pitfall of traditional performance reviews is the amount of time they take to prepare for and conduct. Carving out time to prepare for, conduct, and document multiple performance reviews for everyone on their team can be extremely time consuming, which is why managers need to explore alternatives to traditional performance reviews.
2They are biased
Unconscious biases in the workplace are bountiful. Even if managers don't think they hold any biased opinions, the reality is that everyone has their own unconscious biases, especially if you haven't received training to learn how to assess employees objectively. Unconscious biases such as age, gender, race, or personal preference can affect the assessment, especially when using traditional performance reviews.
3They are demotivating
As a people manager, it's important to learn how to provide feedback gracefully. While someone may not be living up to your expectations, it's important to let them down easy and refrain from being harsh or disrespectful. You may be tempted to say it as it is, but what you may not realize is that there are always underlying causes for an employee's poor performance. Performance reviews can be extremely demotivating for employees who receive negative feedback or a low rating, which may lead to decreased productivity, poor engagement, low job satisfaction, and increased turnover.
4They are inaccurate
The inaccuracies are one of the major downfalls of traditional performance reviews. Traditional performance reviews may not accurately depict an employee's contributions or potential. When leveraging a traditional performance review, it often becomes apparent that this framework doesn't reflect the complexities of the employee's job duties. The traditional performance review may also only account for a specific time frame, meaning details may be missed.
7 performance review alternatives
1One-on-one meetings
A one-on-one meeting is a dedicated space in your calendar that you can leverage to connect with your employees, one at a time. One-on-ones should be used to provide feedback, hone in on coaching opportunities, and speak to the strengths and weaknesses of those on your team. The purpose of hosting a one-on-one meeting is to make sure you're aligned with your direct reports while staying in the loop about priorities, upcoming projects, or even potential roadblocks that may be getting in the way of your team doing their best work.
Fellow is the best one-on-one meeting software for managers and their teams. As the best one-on-one meeting software, Fellow helps you and your team stay organized, show up to meetings prepared, save time, and exchange feedback.
2Continuous feedback
Continuous feedback is a powerful tool that can be used to create a feedback loop between management and employees to improve employee performance and engagement. By providing regular feedback and coaching, managers can help ensure employees stay motivated, engaged, and on track. This allows the employee to improve their performance in real-time as opposed to waiting for a performance review. 
Fellow creates a culture of feedback by enabling you to share real-time feedback on meetings, projects, and performance.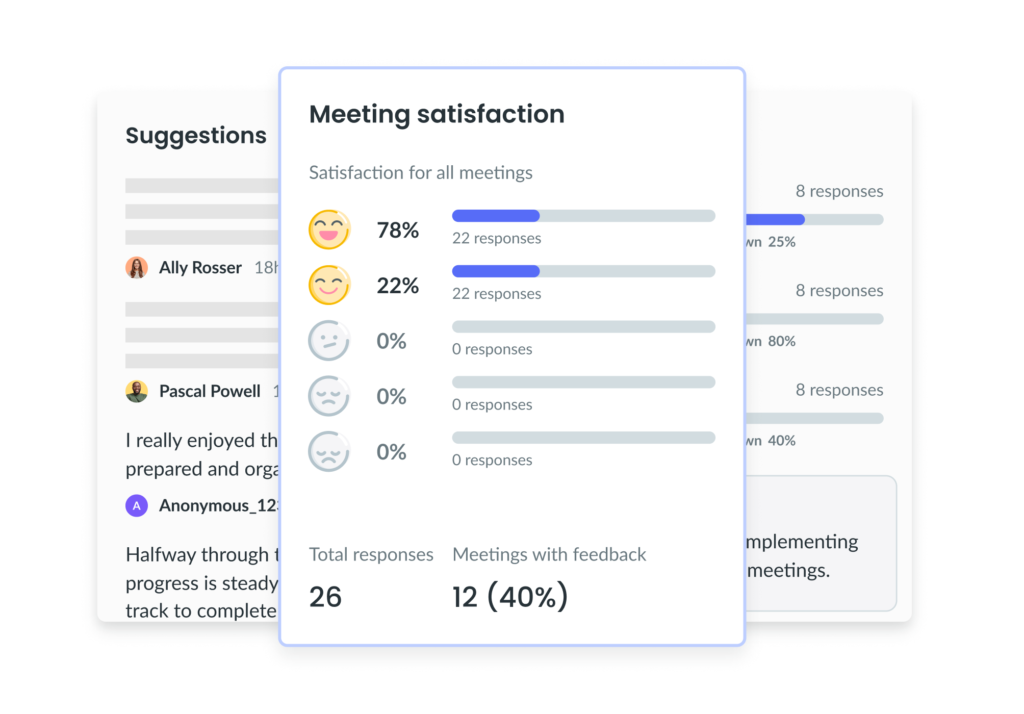 3Quarterly check-ins
Quarterly check-ins are meetings that occur between an employee and their supervisor every three months. Quarterly check-ins provide managers with an excellent opportunity to track progress and gauge success over time. These check-ins are often used as an attempt to understand past performance while simultaneously planning for the future. Quarterly check-ins create an open dialogue where both the employee and the manager can meet freely and discuss performance. The insights derived from these meetings are then used to shape future decisions and set goals for future performance.
4Self-assessments
Self-assessments are assessments that are completed by an individual in an attempt to gain an understanding of how the employee in question perceives their performance. Often used as part of performance reviews or other evaluation processes, self-assessments prompt the individual to answer questions about their job duties, accomplishments, challenges, and areas that need improvement. They may also ask questions relating to the individual's perception of their communication skills, ability to work in a team, time management, and leadership skills.
5360 feedback
360 feedback refers to the practice of gathering feedback on an employee from a variety of sources—including their supervisors, peers, direct reports, and external stakeholders. 360 feedback is often collected by leveraging a questionnaire or survey that asks recipients to provide feedback on the employee's, skills, behaviors, and work-related traits. Similar to other performance review alternatives, 360 feedback nullifies the need to use a traditional performance review as this method provides a comprehensive review of the individual's performance.
To gather information. you can leverage the 360 feedback tool in Fellow to "batch" send out requests in one organized package. For example, if you're collecting 360 feedback about your direct report, four types of requests need to be sent out: a manager assessment, an assessment from their direct report, a general request for peer feedback, and a self-assessment. This can all be done seamlessly with the click of a mouse in Fellow.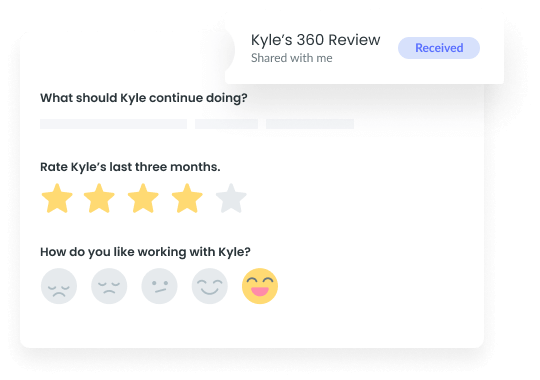 6Objectives and key results
Setting objectives and key results (OKRs) can eliminate the risk of needing traditional performance reviews by helping individuals hyper-focus on what matters most. If the process of setting OKRs is time consuming, frustrating, or difficult, your team will be less likely to create and follow up on these goals, so it's important to leverage tools that streamline the process. Fellow makes it easy to create new objectives, specify key results, track progress, and update key contributors. Each team member can create their own private or public OKRs or create team-wide objectives.
OKRs are typically ambitious goals that need time and focus to be achieved, so it's important to catch at-risk goals early while there's still time to fix them. But if you only review your OKRs sporadically, at-risk objectives can easily go unnoticed. With the Objectives tab in Fellow, you and your teammates can link your objectives with a team meeting—making it easy to review progress, resolve challenges, and keep all OKRs on track.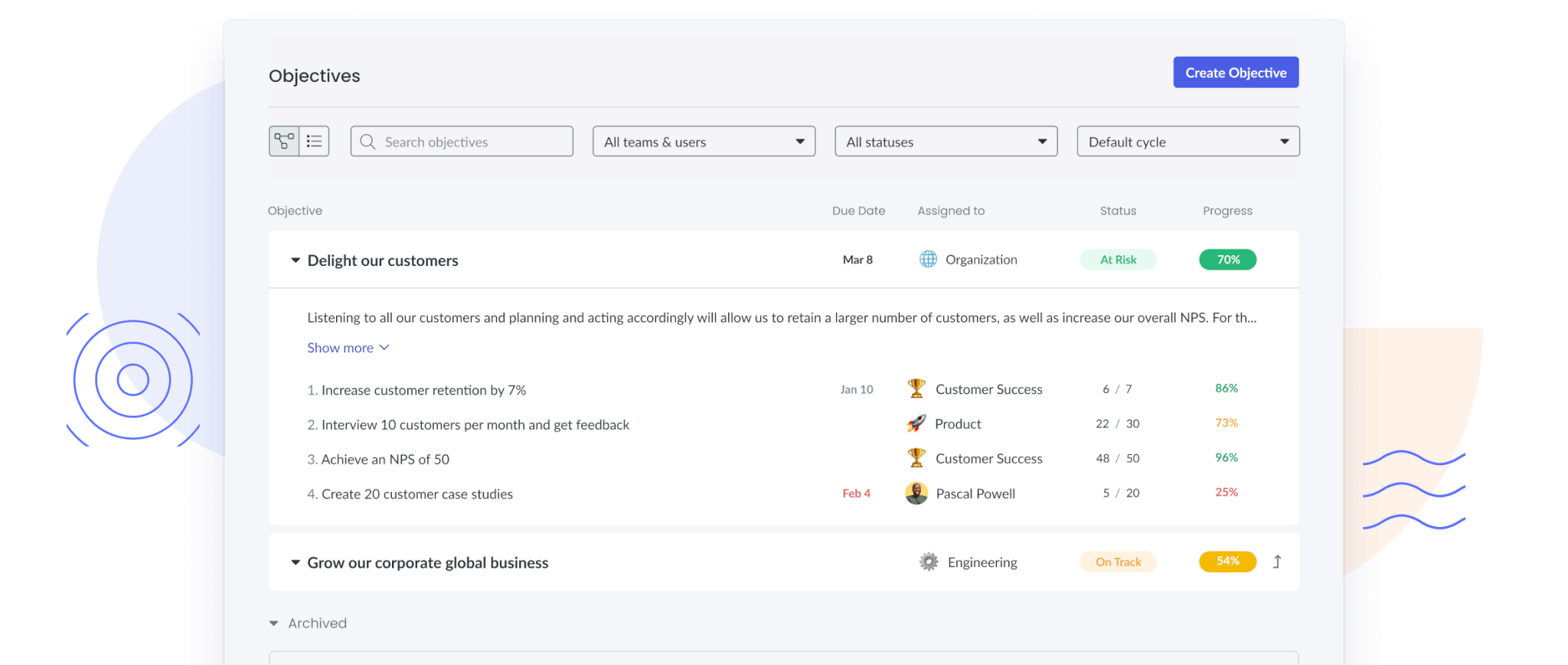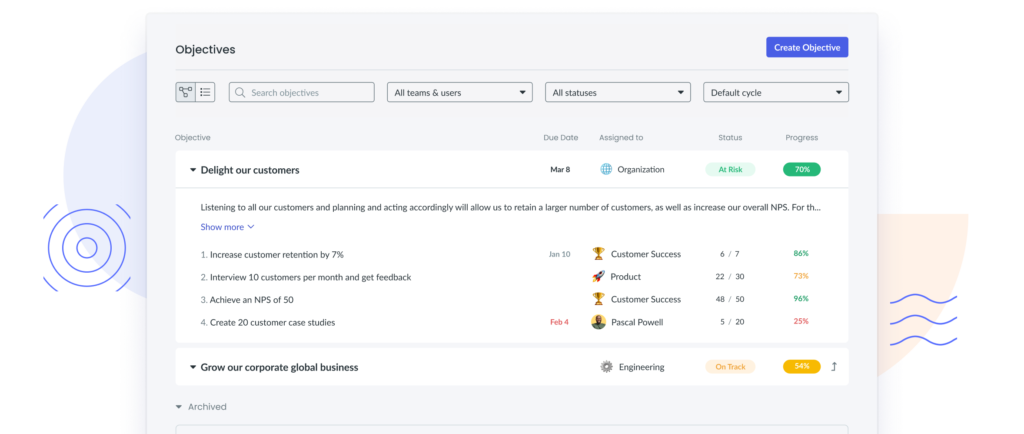 7Performance improvement plans
A performance improvement plan (PIP) is a framework employers use to gauge employee success. Often used to help employees improve performance, PIPs come into play when an employee may not be performing to the best of their ability. A comprehensive performance plan will detail what is expected of the employee, what they must improve on, and how they can improve with step-by-step guidelines. 
The purpose of leveraging a performance improvement plan is to provide specific feedback so the employee knows exactly what went wrong and how to improve. Following the PIP framework will ensure there's little to no room for error, so the employee in question has the knowledge and resources they need to turn their performance around. If the employee doesn't meet the expectations outlined in the PIP, it may result in disciplinary action or termination.
Why Fellow is the best alternative to performance reviews
Fellow offers a more flexible and continuous approach to employee feedback and development when compared to traditional performance reviews. With Fellow, you can easily create performance development plans for your employees by setting clear goals and tracking progress over time. The platform also makes it possible to provide ongoing feedback and coaching, enabling managers and employees to provide and receive feedback in real time, which helps identify and address issues before they become bigger problems and fosters a culture of continuous improvement. Using Fellow, companies can move away from the limitations and biases of traditional performance reviews and create a more agile and responsive approach to employee development.
Boost performance and productivity by leveraging performance review alternatives
Out with the old and in with the new! Alternative approaches to performance reviews are more flexible than traditional methods; they allow organizations to tailor their feedback and provide consistent coaching to meet the unique needs of each employee, as opposed to taking a standardized approach. When it comes time to conduct employee performance reviews, consider leveraging one of these seven performance review alternatives we've listed above to enhance results.