If you're wondering how to create the best hybrid work policy to ensure that your employees know what is expected of them, look no further! Learn how to create one and see examples from world-class companies like Google and Facebook.
According to Satya Nadella, CEO at Microsoft, "Hybrid work represents the biggest shift to how we work in our generation. And it will require a new operating model, spanning people, places, and processes."
Unless you live under a rock, you'd know that the current pandemic has caused employers to close offices and turn to remote work environments. However, as we finally reach towards the end of the pandemic, companies are beginning to return to in-person workspaces.
So, how can we accommodate those who are eager to get back into the office and those who are anything but eager? We implement hybrid workspaces!
What is a hybrid work policy?
If you are considering a hybrid workplace for your company, implementing a hybrid workplace policy is important. This policy will outline the guidelines that employees must follow either at the office or working from home. This will ensure that your employees know what is expected of them.
Wondering what to include in your hybrid work policy? Here are 9 things to include:
Security Measures: what security measures need to be considered with having some employees in the office and some working from home?
Safety measures: what are the safety measures put in place for employees in the office? Ex, masks and social distancing.
Productivity: how will the company measure the productivity of remote workers vs in-person workers?
Flexibility: are the work hours the same for remote workers and in-person workers?
Equipment: what equipment do the remote workers need and will the company provide it?
Communication: how will team meetings be held and how will decisions be made? Ex, in-person, remotely, or both.
Availability: will employees get to choose if they want to work remotely or in person, or is it dependent on their position in the company?
Dress Code: are remote workers expected to have the same dress code as in-person workers?
Benefits: will the benefits be the same for remote and in-person employees?
Why hybrid working is the future
The COVID-19 pandemic has forever changed the future of work and meetings as companies were forced to quickly adapt to remote environments. However, after over a year of the pandemic, many companies have mastered remote work, finding new ways to keep employees engaged and productive; For example, implementing coffee chats, icebreakers, and interactive team meetings.
So, now that we are starting to see a finish line for the pandemic and more things are starting to open, it is only natural that we would return to in-person work. But, not everyone wants to. Some people are uncomfortable returning to work because of COVID-19 and others have just gotten adjusted to remote work and don't want to go back.
On the other hand, some people cannot wait to get back to in-person work environments, counting the days until they can return. Therefore, to accommodate both sides of the argument, hybrid work is the key!
Hybrid work allows people to work both from the comfort of their home or in their office, providing employees with flexibility. This flexibility will ensure that nobody is forced out of their comfort zone and that everyone is happy in their work environment; Those who are worried about catching COVID-19 at work or simply enjoy working from home more can stay at home and those who are eager to get back in-person can enjoy their office once again.

Pro tip
Use a meeting management tool like Fellow to have a meeting agenda that all the team members can contribute regardless of their location.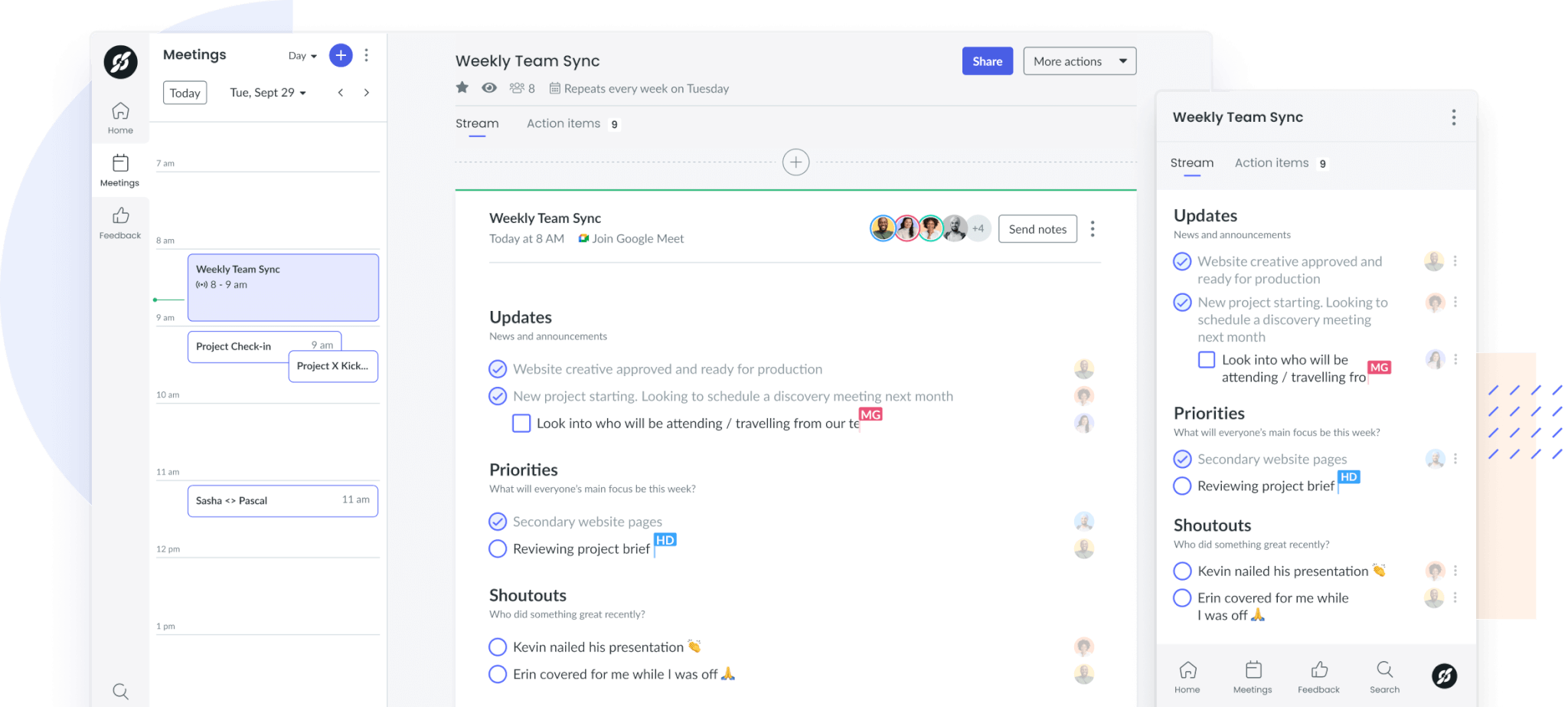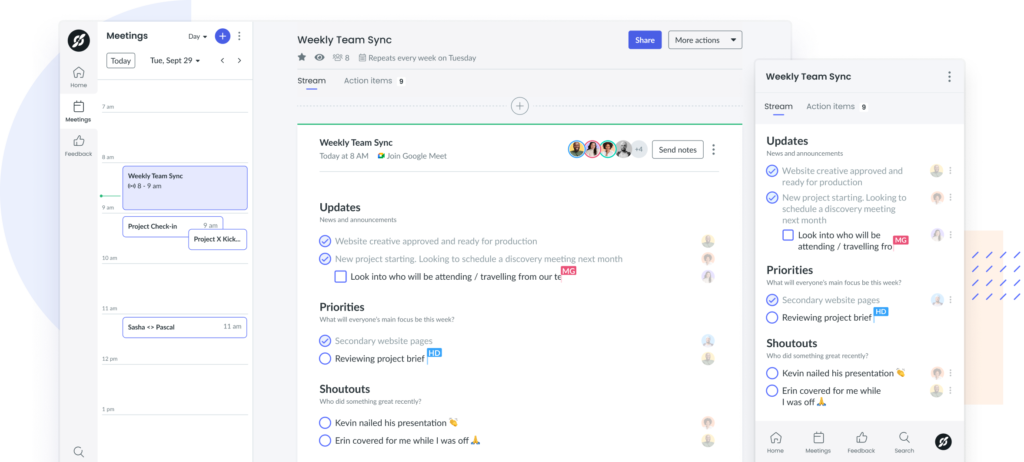 What some of the world's best companies are doing
If you still aren't convinced that hybrid workplaces are the future of work and meetings, see for yourself how some of the world's best companies are implementing hybrid workplaces…
1 Google's Campfire Method:
As of right now, Google has expanded its work from home policy until October 18, 2021. Afterward, if comfortable, "Googlers" can return to in-person campuses if they are fully vaccinated.
Google's CEO Sundar Pichai says that his goal is to create a hybrid workplace where around 60% of his employees work in-person at the campuses, 20% working from new offices, and the additional 20% working from home.
To accommodate hybrid workplaces, Google is experimenting with the "campfire" method. This method involves hosting meetings in a circular setting with remote employees on their own screen in the circle. Their goal with this experiment is to create equal participation for both remote and in-person workers.
"​​The future of work at Google is flexibility. The majority of our employees still want to be on campus some of the time yet many would also enjoy the flexibility of working from home a couple days a week"

Sundar Pichai, CEO of Google.
2 Facebook's Pre-Pandemic Remote Plan:
Before the pandemic, Facebook had set goals to start having more employees work from home. And, for the majority of the pandemic, Facebook employees were completely remote. So what will Facebook do now that people are beginning to return to their offices?
Facebook has extended its work from home policy until 2022 because of concerns about the COVID-19 delta variant. When they do open their offices back up, Facebook is expecting their employees to work both from home and in the office, using the hybrid workplace model.
3 Slack:
When Slack's offices open back up, they will be encouraging employees to work from home permanently. They will also be hiring more remote employees to further encourage this. However, current Slack employees who do not wish to work from home can return to their office when they open.
Slack plans to focus less on their offices and more on enhancing remote environments; the goal is to "fewer amenities such as catered lunches and coffee bars, less focus on in-person meetings with colleagues, and more options for focused solo work,"

according to Kristin Stoller
4 Microsoft's Data-Driven Approach:
Like Google, Facebook, and Slack, Microsoft will join as another company to implement the hybrid workplace model post-pandemic. Microsoft will be taking a data-driven approach to their hybrid workplace model, researching how to make remote environments productive.
For example, they have found that back-to-back meetings are hard on employees' well-being and that having breaks in between may solve this issue. Using this data, Microsoft can ensure that their employees are not stuck in back-to-back meetings and that they are given breaks regularly during longer meetings.
Microsoft is also using technology to their advantage to better enhance remote workplaces:
"We're taking the same approach to our smaller focus rooms, too. We are installing cameras at eye level for participants to maintain eye contact, and will incorporate spatial audio so voices come from the specific person speaking in the gallery view,"

said Satya Nadella, CEO at Microsoft.
5 Salesforce's 3-Step Plan:
As offices start opening up, Salesforce will follow their 3 step plan to get workers back to the office. Step 1, "Volunteer Vaccinated Cohorts", allows fully vaccinated employees to work with 100 people or less on a designated floor, step 2, "Phased Reopening" involves offices opening from 20% to 75% capacity and welcoming both vaccinated and unvaccinated employees, and step 3, "Fully Open", opens offices to 100% capacity for all employees.
While they are working at opening their offices and encouraging employees back to work, they also understand that everyone has a different comfort level. Therefore, Salesforce is currently using a hybrid workplace model giving employees the freedom to decide when they want to return to the office.
"We'll put Who, What, and Why before Where work happens, whether that be in an office, at a customer site, or in a cafe."

– Brent Hyder, President & Chief People Officer, Salesforce.
6 HubSpot's Transition from Remote-ish to Hybrid:
HubSpot is yet another company to implement the hybrid workplace model by asking their employees to choose their preference of 3 choices:
@office: This option means that employees must come to the office at least 3 days a week. They will also have a designated desk and workspace.
@flex: This option means that employees can only come into the office 2 days or less a week. When they do come to the office, they will be given a "hotel desk". They are also provided with work from home equipment.
@home: This option means that employees work also entirely from home and are provided with all the necessary equipment to have a remote workspace.
Before the pandemic, HubSpot began to transition to remote, with about 10% of the company working remotely – they referred to themselves as "remote-ish". Now, HubSpot is giving employees the choice to choose which of the 3 options is best for them which allows them to cater to all of their employees' needs by creating a hybrid workplace.
"We're building a flexible, hybrid company at HubSpot because as our Culture Code says, we want to make work-life harmony a reality"

– HubSpot
Parting words
If you take anything away from this article, let it be that hybrid workplaces are the future of work. Even pre-pandemic, companies like Facebook, Slack, and HubSpot were planning on transitioning to hybrid workplaces. And, with many companies forced to transition to remote work for the past year, it has pushed more companies to choose hybrid workplaces as offices begin to reopen.
If your company is unsure of how to move forward as offices begin to open up, take another look at the pros and cons of hybrid work and consider the impact that your choice will have on your employees. Giving employees the flexibility to choose how and where they want to work is the ultimate goal of hybrid workplaces as it will foster more productivity and allow employees to have a healthier work-life balance.