It's more crucial than ever for companies to invest in digital tools that make everyone's work more manageable. Two popular tools—Leapsome and Lattice—are favored by teams across the globe that want to train, engage, and retain their employees.
Read on to explore the two people management platforms and see how you can use both to maximize employee productivity. Additionally, learn what experts are saying about Leapsome and Lattice, compare their pricing, and discover our alternative solution to optimize efficiency at your company.
What is Leapsome?
Leapsome is an all-in-one people management platform for performance reviews, objectives and key results (OKRs), engagement surveys, learning, and more. The platform aims to help employees grow in their roles, enables managers to become better leaders, and empowers CEOs to build great work environments. Some of Leapsome's key features include aggregated feedback statistics and timelines for personal profiles and individual teams, templates for classic performance tracking, and leadership 360-degree review capabilities. Leapsome is a web-supported platform and is well-liked by small, mid-size, and large businesses.
What is Lattice?
Lattice is a people success platform that empowers leaders to build engaged, high-performing teams. With the platform, teams can identify objectives, set and track goals, perform check-ins, and review progress. The tool combines human resources processes with current technology to create a collaborative virtual environment for employees. The system tracks employee progress and records satisfaction levels on the job. Some platform features include analytics, performance management, and employee growth reporting tools. Leapsome is supported by the web and mobile.

Run efficient meetings, come to a decision, and get back to work
Level up your meeting habits to boost engagement and productivity with a collaborative meeting agenda. Try a tool like Fellow!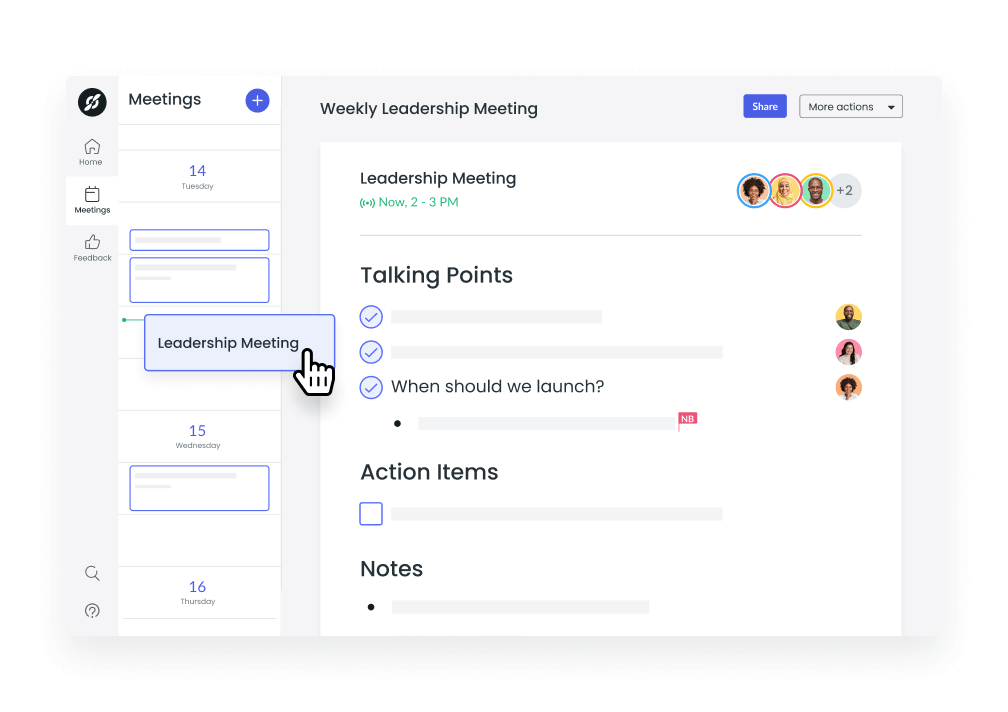 Comparing features: Leapsome vs. Lattice
1Performance management
Performance management is an ongoing, continuous process of communicating priorities, performance expectations, planning, and development. Both Leapsome and Lattice help managers monitor and evaluate employees' work. Leapsome allows users to run performance and agile project reviews and anonymous leadership reviews. The platform offers assistance to set up the review process and an array of customizable templates and frameworks. On the other hand, Lattice's platform offers performance reviews as well as features that help managers set up continuous feedback and review cycles to effortlessly track improvement.
2Objectives and key results
OKRs are a goal-setting methodology that teams can use to set and track measurable goals. With Leapsome, teams can drive progress by setting up recurring goal cycles with fixed timelines. As they work towards the objective, individuals can share and request feedback on goals and leave comments that provide added context and discuss goal progress. Leapsome OKRs can be shared with individuals, specific teams, or the whole company. Lattice integrates your company OKRs into your team's routines to encourage strong performance. With Lattice's Objectives feature, users can also inject OKRs into everyday moments like one-on-ones and status updates.
Pro tip: Stay on top of your team's goals by clearly recording, defining, and tracking the progress of your OKRs in Fellow's Objectives tool. The best part? You can quickly review those objectives during your team meetings!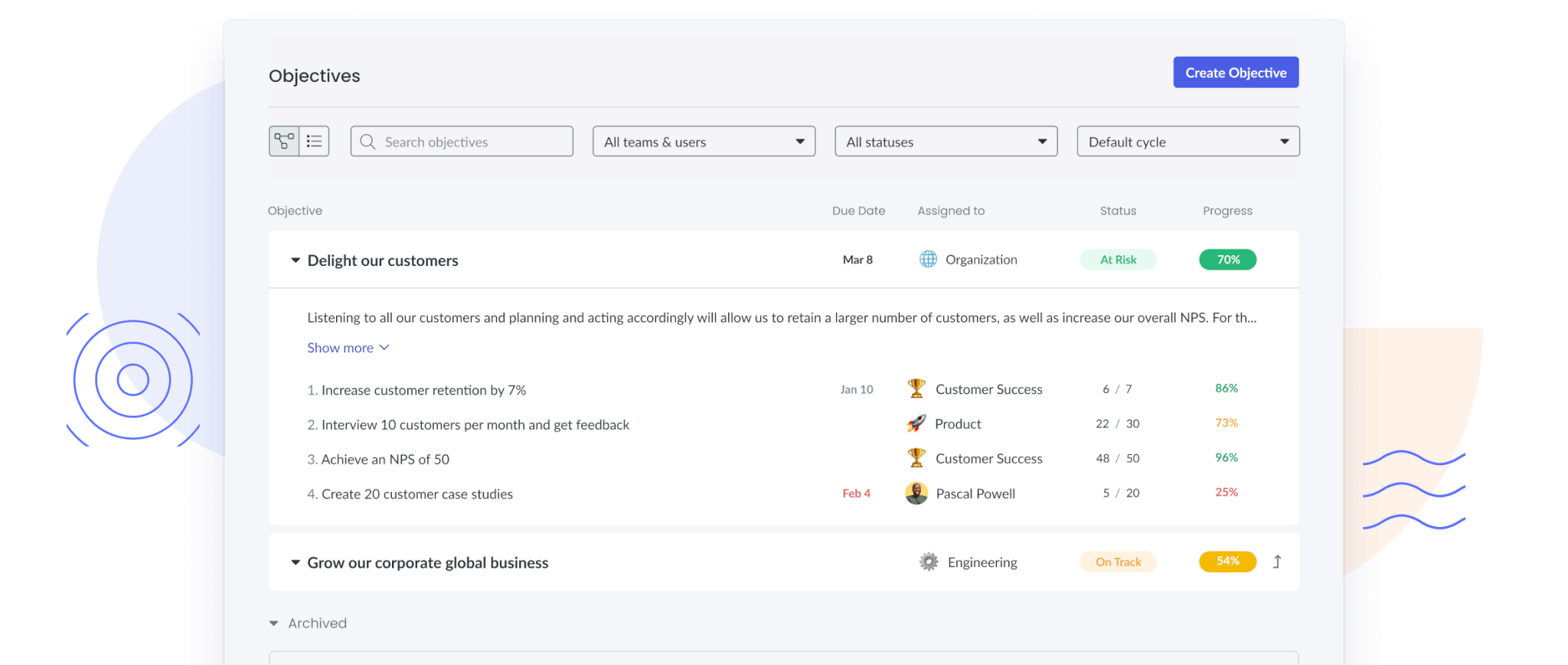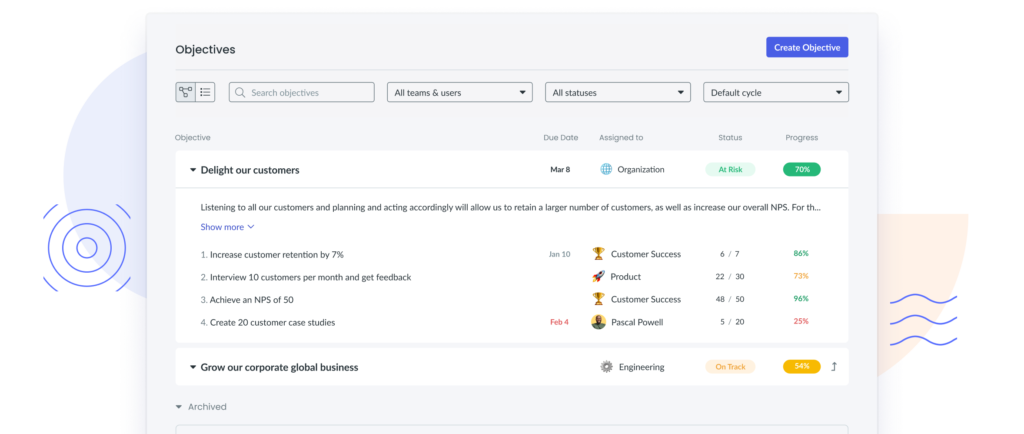 3Employee engagement
Employee engagement is the function of the relationship between an organization and its employees. Organizations with high engagement have a strong and healthy workplace culture where leaders care for employees and employees feel a strong sense of purpose. Both Leapsome and Lattice offer surveys that employers can use to collect meaningful feedback and drive engagement. With Leapsome, you can create custom questions or use the platform's templates to send anonymous surveys that track changes in engagement levels. Using Lattice, employers can send surveys, use employee net performer scores (eNPS), and onboard employees in a way that monitors engagement.
Comparing pricing: Leapsome vs. Lattice
1Leapsome
While Leapsome doesn't publicly display all its prices, it does offer tiered packaging about which prospective customers can request further details on the company's website. The platform's modular pricing starts at $8 USD per person per month when billed annually. Here are details about the five packages Leapsome currently offers:
Perform: This package has all the basics for companies that are beginning their people management journey. It offers features like performance and 360 reviews, review analytics, review automations, one-on-ones, and team meetings.

Align: The Align package is the one for teams looking to track goals and OKRs. This package gives users access to an activity feed, goal tree, goal analytics, OKR check-ins, and more.

Engage: This package is centered around surveys, engagement best practices, benchmarks, and feedback tools.
Learn: If you plan to use Leapsome to teach and onboard staff, this package may be for you. Features include onboarding and learning paths, quizzes, a content library, and learning analytics.

Enterprise: The Enterprise package is for those who want a flexible people management platform with additional dedicated support for their complex needs.
2Lattice
There are four pricing packages outlined on the Lattice website. In addition to the features listed below, all Lattice products include personalized one-on-one agendas and tracking, regular status updates, real-time feedback, and employee praise and recognition features. Here is a breakdown of the packages:
Performance Management and OKRs & Goals: Lattice's base package offers a wide array of features and costs $11 USD per person per month. At this price point, users have access to performance management features like 360-degree, manager, and peer performance reviews; custom question templates; performance reporting and analytics; and more. OKRs & Goal features include customizable goal weighting, goals, OKRs visualizations, and a variety of progress-tracking integrations with Jira and Salesforce among other features.

Engagement: For an extra $4 USD per person per month, users can gain access to features like employee engagement surveys, automated pulse surveys, question banks and survey templates, AI-powered sentiment insights, and more.

Grow: For teams looking to grow their operations, Lattice Grow costs an additional $4 USD per person per month. This plan offers growth plans, competency matrices, individual development plans, levels and expectations, and other features to help teams and companies expand their scope.

Compensation: This package is for any team wanting to review their compensation set-up or run thorough compensation reviews. This add-on costs an additional $6 USD per person per month and includes features like salary, bonus, and equity in compensation cycle tracking; bonus and commission planning and distribution; and manager, supervisor, and admin review and approval processes.
Comparing reviews: Leapsome vs. Lattice
G2—a trusted platform for software reviews—has thousands of reviews for both Leapsome and Lattice. According to G2's website, Lattice has a 4.7/5 star rating with nearly 3,500 user reviews. Leapsome has a 4.8/5 star rating with just over 1,000 reviews. All reviews were calculated using data from verified product users.
According to G2, reviewers felt that Leapsome was the preferred people management platform and overall better choice due to the direction of its features and roadmaps. However, it's important to note that both platforms have excellent reviews, so prospective users should research and/or try both tools before deciding which is right for their team or company.
Alternatives for employee engagement and one-on-one meetings
While Leapsome and Lattice can help you manage employees, another tool can do that while leveling up your meeting habits: Fellow.
With Fellow, managers can create a meeting culture that engages employees and drives real results. Collaborate on meeting agendas, assign action items, and exchange regular feedback that keeps everyone accountable. Encourage employees to centralize action items from different meetings in one personal to-do list so they feel empowered to move projects forward.
With improved productivity comes real engagement. There's no doubt that Fellow is the better alternative.
1Fellow pricing plans
Here is a breakdown of our simple pricing plans:
Free: $0/month (for teams of up to 10 people).
Pro: $6 USD/month (billed annually) for teams of up to 50 people wanting to manage their one-on-ones and meeting notes.
Business: For companies that need a hub for all their meetings and one-on-ones across teams (request a demo for pricing).
Enterprise: For organizations looking to implement a holistic management system across meetings, one-on-ones, feedback, and goals (request a demo for pricing).
2Fellow reviews
Fellow is rated the number one meeting management software on G2 and is loved by some of the world's greatest teams. Our most common reviews say that Fellow replaces other feedback, meeting, and notes tools while improving overall meeting productivity.
Not convinced? Check out our latest testimonials and customer stories to see what customers love about our app.
Leapsome vs. Lattice—but why not Fellow?
Now that you know all about two of the most popular people management platforms and their features and pricing, it's time to decide what will work best for your team. Leapsome and Lattice both have a multitude of great features but can feel overwhelming for new users.
Get started by focusing on a tool that prioritizes ease of use. Fellow is a straightforward application for leaders to manage performance, track goals, and improve overall employee engagement. If you're not sure how to move forward, we recommended trying Fellow to build great meeting habits before anything else.