The first few months of onboarding a new manager is key to their success at your organization. To help your new manager feel prepared, comfortable, and welcomed, you should take them through an onboarding program. This program should remain the same for every new manager and go over everything they should know. Read on to learn what you should include in your new manager onboarding checklist.
The 5 C's of New Hire Onboarding
Every new manager onboarding program should have five parts – also known as the 5 C's – to help the manager get up to speed. Here are the 5 C's you should include in your program so your new hires get the most out of their training. 
1Culture
Your new managers should learn your company culture right away. After all, they should be leading by example. It's a lot easier to get your team behind your culture if everything the manager does falls in line with it. 
This all means you should immerse your new hires into your organization's culture during the onboarding process. Take time to get them up to speed with your organization's mission, values, vision, and history. You also should teach them how to communicate effectively with their team members, their supervisor, and other managers.

Level up your management skills
Level up your meeting habits to boost engagement and productivity with a collaborative meeting agenda. Try a tool like Fellow!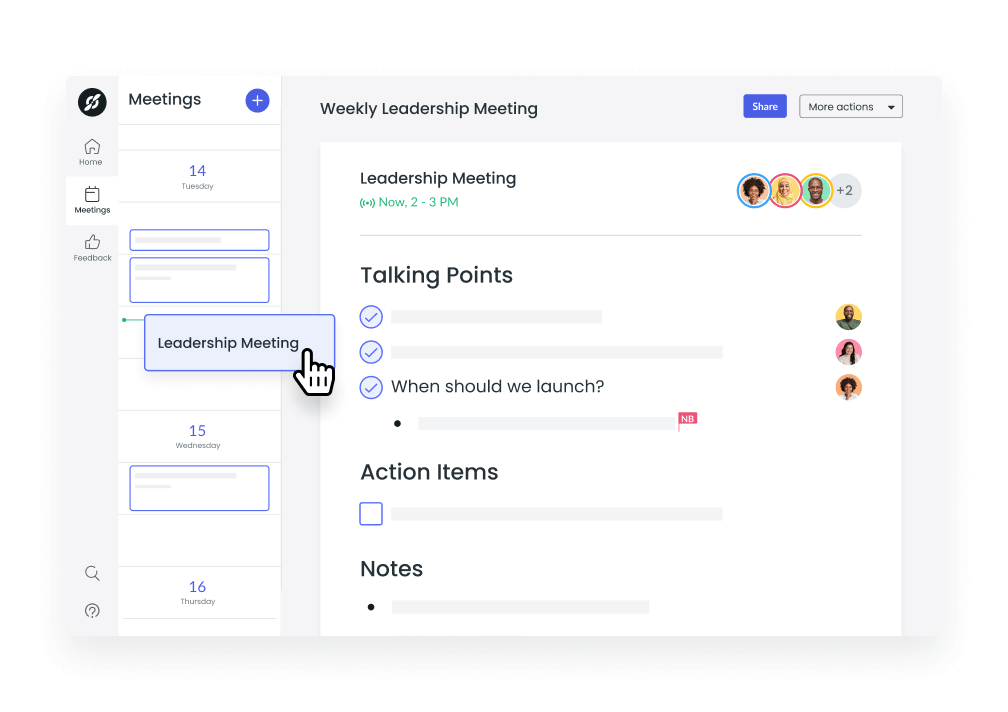 2Compliance
Compliance is the basic understanding of your organization's procedures and policies. The HR department will typically cover this during an onboarding orientation. Some things HR should cover include but aren't limited to company policies, departmental procedures, safety regulations, and confidentiality requirements.
3Clarification
A new hire will likely come into the office with lots of questions. They'll probably wonder how your organization operates, or they may ask what goals you have for them. Right off the bat, you should answer these questions and clarify all your expectations. This can help them get up to speed sooner than later.
4Connection
During onboarding, it's important to have your new manager meet and spend time with their team. The new manager should also focus on building connections with other teams to increase cross-functional collaboration. A great way to do this is to assign them a mentor – maybe their supervisor – and introduce them to their team on the first day.
5Check back
The only way you'll know if you're creating an effective onboarding program is to get regular feedback from your new hires. You should hold one-on-one meetings with your new manager after their first 30, 60, and 90 days. Occasional one-on-ones after that would be smart too.
New manager onboarding checklist
With any new hire, whether a new team member or manager, comes planning, preparation, progress reviews, introductions, and check-ins. You should use a new manager onboarding checklist to double-check that you covered every detail in your training. Here's what to include in your checklist.
1In-depth company overview
Great new managers can positively impact their team and how they view the organization. That means you should train your new managers to be a living embodiment of your company culture. Your new manager should also get to know the organization's history, vision and goals, and leadership culture like the back of their hand.
2Team briefing
A great manager should know how to communicate with and have empathy for their team members. Before you introduce a new manager to their team, you should first brief them on:
Each team member's names, role, and responsibilities
Each team member's strengths and weaknesses
Any previous or current challenges
Team member dynamics, such as who works well together and who doesn't
Outstanding performances from specific team members
3Regular training sessions
All managers should regularly go through management training. In some industries, this may be mandatory. Managers may routinely be trained in leadership or team member motivation, communication, conflict management, diversity and inclusion, or time and budget management.
4Other team members as necessary
Sometimes, it can help to involve other people in your onboarding process. For example, you could have an expert in a certain role provide a training session. You also should hold introductions with direct supervisors, the management team, and human resources.
5Clear expectations
You should set clear new manager expectations on a timeline, such as per month or quarter. The expectations you'll set should relate to management, team performance, and your budget and timelines.
6Meetings and activities
Onboarding can take a lot of planning. That's especially true for managers, who have different – and bigger – responsibilities than team members. Your new manager will need to know all about the team they'll manage, other managers at the organization, and your chain of command.
To better plan and make their transition a breeze, you can set up a few team-building games specific to certain departments. These activities can be anything from simple icebreakers to problem-solving activities. You should also speak with the new manager one-on-one before their start date to clear up any early questions.
7Regularly touching base
Typically, onboarding should take at least three months, but it can last up to a year and may be more beneficial the longer it goes. That means a supervisor or the HR department should continually check in with your new hires. These check-ins can be a formal 30, 60, or 90-day one-on-one or an informal conversation.
What an effective onboarding process should look like
Each training session in your onboarding process should be more than a simple check-the-box moment. Here's what each new manager's onboarding process should look like.
1Welcoming
You want each new hire to feel welcomed as soon as they step into the office for the first time. One way to help them feel comfortable is to set up a meet-and-greet session. This way, they can get to know others in the office, and everyone can warm up to each other more easily.
2Immersive
Providing an immersive experience is one of the most effective ways to get a new manager prepared to lead their team. You can immerse a new manager into your organization through hands-on experience. Instead of presenting a long slideshow with paragraphs of information, create an activity based on real-life scenarios the new manager will face in their position. This can give them the guidance they need while increasing employee productivity and satisfaction.
3Well-structured and consistent
The onboarding program at your organization should be consistent – the same every time you put a new hire through it. This way, every new manager learns the same things.
That said, a small bit of tailoring may be good to use for each new manager. No two managers will have exactly the same learning styles and experiences. Overall, though, you should keep the onboarding program consistent so each of your teams has similar experiences with their managers.
4Informative
During the onboarding process, you should provide concise and clear information. The best way to do this is through "microtraining." This training method is all about small bits of information that new managers can more easily understand and memorize. Some ways you can microtrain are through short videos, self-paced online teaching, games, blogs, and images.
You might also want to pay attention to how you teach new information. For example, it's often better to have someone speak about the organization's values instead of sitting the new manager down for an hour-long video.
5Spread out
On average, a new hire's onboarding experience includes over 50 activities. These activities will be spread out through months to even a year of training. This way, you don't overwhelm new managers with information, and you give them enough time to process and reflect. So instead of cramming everything into one day-long session, spread your onboarding out over several weeks or months.
Use Fellow to keep in touch with your new hires
Your onboarding process should leave space for new managers to ask questions and receive feedback on their performance. Fellow can help with that.
With Fellow, you can get a new manager's feedback and give 360-degree feedback as part of the performance review process. You can also schedule meetings, organize your ideas, and so much more. Now, you can run effective new manager onboarding programs through one streamlined platform.