The right digital tools can make our work processes more secure and effective. Each year, a variety of new applications that can improve our communication with colleagues, optimize our workflow, and help us structure our workdays hit the market.
If your team currently uses Confluence to collaborate on projects or take meeting notes, you should check out alternative tools to organize your meeting notes and take advantage of other robust features to meet your team's needs.
What is Confluence?
Confluence is a workspace for teams to create, capture, and collaborate on new projects and ideas. You may be familiar with the tool if you work in the product, software, or tech space.
Its primary features include content management, space management, JIRA integration, site management, and platform synchronization. The platform lets you tap into the information already inside your organization using organized spaces and pages. Its purpose is to centralize and organize internal and external-facing knowledge and documents within a team or organization.
Teams and companies need to remember that Confluence is primarily a knowledge management tool, not a meeting notes tool!

Managing a team?
Take control of your team meetings by having collaborative meeting notes and encouraging accountability with action items. Try a tool like Fellow!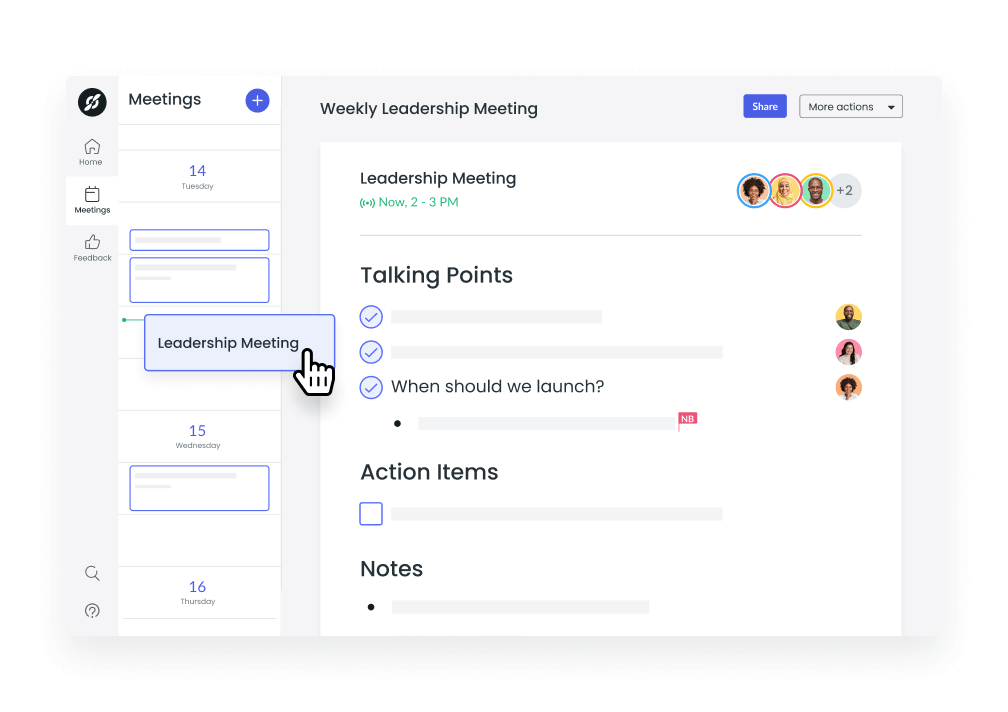 Reasons to look at Confluence alternatives
Confluence is a tool that can serve many needs. It's a fusion of different software—such as internal wikis, intranets, and productivity and project management tools—that aims to help teams collaborate.
However, with so many features and purposes, using the tool can be seriously confusing. There is a large learning curve for new users, making Confluence the wrong platform for companies looking for a tool they can implement quickly. Another drawback of using Confluence is its organizational structure. Its page and project functions make it difficult to segment information within the platform, making it less than ideal for jotting down meeting notes and action items.
Let's take a look at 10 different tools you can use to collaborate with teammates and take effective meeting notes.
Top 10 alternatives to Confluence for meeting notes
1Fellow
Features:
Fellow is the tool you need to help you ensure every meeting in your calendar is productive. Our meeting platform has been rated the #1 meeting management software on G2 and is already loved by the world's greatest teams. Fellow helps you level up your meeting habits with ready-to-use templates and an interface that allows you to easily assign, organize, and prioritize meeting action items in one place. You can also give and receive feedback as you work and track progress right in Fellow!
Pricing:
Free—$0/month (for teams of up to 10 people)
Pro—$6/month (per user for teams of up to 50 people)
Business—custom pricing (for organizations that need a hub for all of their meetings)
Enterprise—custom pricing (for companies looking to implement a holistic management system)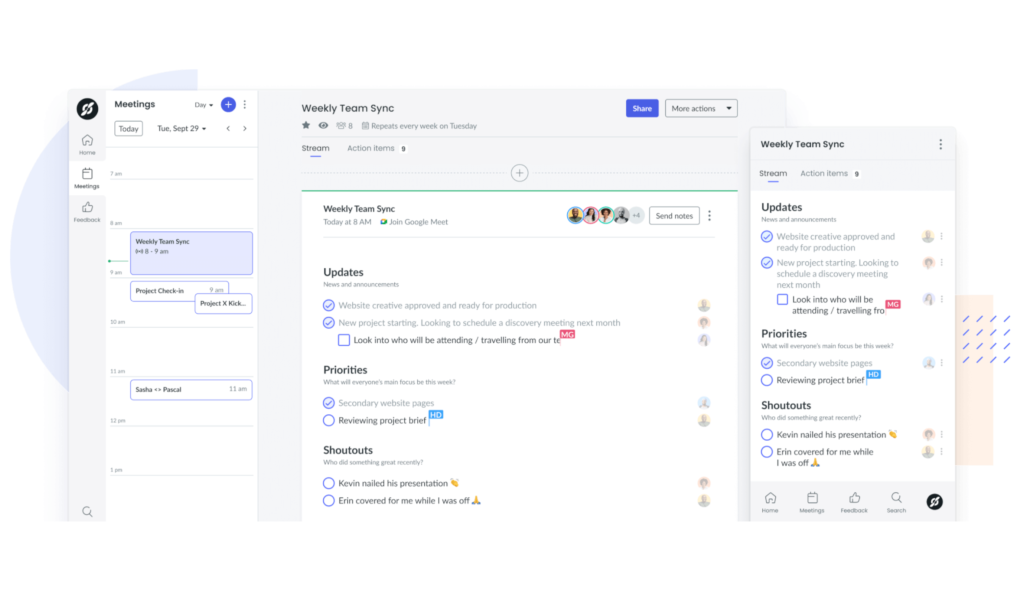 2ClickUp
Features:
ClickUp is a cloud-based project management and collaboration tool. The platform features task assignments, statuses, alerts, and a task toolbar. As a productivity tool, ClickUp lets you plan, track, and work with your teammates on projects across industries. With ClickUp Docs, you can collaborate on ideas in real-time and access everything in one place by linking your Docs and tasks together. If you want a colleague to jump in and work on a Doc with you, you can tag them in the comments, assign action items, and convert text into trackable tasks to stay on top of everything.
Pricing:
Free—$0/month
Unlimited—$5 USD/month (per user)
Business—$12 USD/month (per user)
Business Plus—$19 USD/month (per user)
Enterprise—custom pricing
3SharePoint
Features:
SharePoint is Microsoft's cloud-based service for businesses of all sizes. You can use it as a secure place to organize, share, store, and access information. Many companies use the platform as an "intranet" to establish standard business practices for information sharing, document publishing, and recording data. With SharePoint, you can perform tasks like editing and approving another teammate's document, making workflows using logic to automate actions like emailing documents, and receiving notifications when documents are uploaded to the cloud with changes.
Pricing:
SharePoint Online (Plan 1)—$5 USD user/month (annual subscription)
SharePoint Online (Plan 2)—$10 USD user/month (annual subscription)
Office 365 E3— $23 USD user/month (annual subscription)
4Monday.com
Features:
Monday.com is an operating system that can help streamline your work for maximum productivity. You can customize the platform on any device to track projects and workflows, visualize data, and collaborate on tasks as a team. The platform's top features include project data visualizations and dashboards, project automations, and extensive automations that let you connect with apps you're already using. 
Pricing:
Individual—$0/month (up to two seats)
Basic—$11 USD/month (per user, billed annually)
Standard—$14 USD/month (per user, billed annually)
Pro—$22 USD/month (per user, billed annually)
Enterprise—custom pricing
5Notion
Features:
Notion is an all-in-one workspace where you can get organized, write, plan, and collaborate. The tool provides building blocks that you can use to create your own layouts and toolkits. Teams can use Notion to plan out their projects, work, and goals with their own customized wiki. Some notable features include Kanban boards, table databases, a text editor, board databases, and to-do list blocks. You can also integrate the tool with Fellow to streamline internal communication and view your meeting notes right in Notion. 
Pricing:
Personal—$0/month
Personal Pro—$4 USD/month (billed annually)
Team—$8 USD/month (billed annually)
Enterprise—contact sales team
6Nuclino
Features:
Teams can use Nuclino to manage projects and docs and share ideas. This cloud-based team collaboration software works like a collective brain so users can build a knowledge base for their entire team. It features four different views for your workflow so you can select how to visualize your team's work. For meeting minutes, there's a specific template you can use to ensure every meeting is structured and productive.
Pricing:
Free—$0/month
Standard—$5 USD/month (per user, billed annually)
7Google Docs
Features:
Google Docs is a popular option for meeting notes as you can jot down information with your colleagues in one shared document that updates in real time. This tool features templates for faster document creation, bookmarks so you can reference links in your notes, and a table of contents feature for easy document navigation. Google Docs is a part of Google Workspace, meaning that you likely have it if you're already using another Google tool like Meet, Drive, or Sheets. 
Pricing:
Business Starter—$6 USD/month (per user)
Business Standard—$12 USD/month (per user)
Business Plus—$18 USD/month (per user)
Enterprise—contact sales team
8Dropbox Paper
Features:
Dropbox Paper is a co-editing tool with a variety of task management tools you can use to assign to dos, add due dates, and tag colleagues. The platform is designed to display anything, so you can include YouTube videos, Pinterest boards, Google Maps, and even a GIF right inside your notes. Its simple design makes the platform simple to use, and it's easy to display media, text, and files to your team's liking. 
Pricing:
Free—$0/month
Dropbox Plus—$9.99 USD/month (per user, billed annually)
Dropbox Business Standard—$15 USD/month (per user, billed annually)
Dropbox Business Advanced—$24 USD/month (per user, billed annually)
9Guru
Features:
Guru is a company wiki that teams can use to share product information, streamline internal communications, create effective onboarding processes, and work better together. Its key platform features include collections and boards to keep information organized, an editor to import and format information, a browser extension for easy access, and a Slack integration so you can capture knowledge as you write it. You can easily integrate the tool with other popular platforms like Zoom, Teams, Salesforce, and Asana to take notes throughout your work day. 
Pricing:
Free—$5 USD/month (per user, billed annually)
Builder—$10 USD/month (per user, billed annually)
Expert—$20 USD/month (per user, billed annually)
10Coda
Features:
Coda combines documents, spreadsheets, and building tools into a single platform. Project managers across fields can use Coda to track objectives and key results (OKRs) using built-in templates to track progress on long-term and large-scale projects. The tool feels like a document but is interactive like an app, making it easy to jump in and collaborate on meeting notes, strategies, spreadsheets, or whatever other building blocks you decide to create. 
Pricing:
Free—$0/month
Pro—$10 USD/month (per Doc Maker)
Team—$30 USD/month (per Doc Maker)
Enterprise—custom pricing
Parting advice
Meeting notes are important since they serve as a running record of every conversation you have with teammates, your supervisor, stakeholders, customers, and clients. Great notes will keep you accountable, align your team on objectives, and keep your meetings organized and productive.
Digital tools are the best way to take meeting notes in 2023. If you've been using Confluence until now, try simplifying the process with one of these 10 tools.