The only thing better than cozying up and diving into a great book is having the opportunity to discuss the storyline with people that love it just as much as you do. If you've scoured your community and tapped into your network and you still haven't found the perfect group of people to discuss your book with, it's time to start your very own book club!
How to run a book club meeting
If you're new to the world of hosting book clubs, it may seem intimidating but with these simple tips, tricks, and best practices, you will be able to host your next book club meeting with confidence. Don't forget to be organized, inclusive, and thorough. After you've exited the planning phase, it's time to dive into your favorite book with a group of new friends!
1 Start out with icebreakers and integrate social time
If your group isn't familiar with each other, starting out with icebreaker games is always a great way to break the ice and get the conversation rolling. A common ice breaker that is often used amongst unfamiliar faces is two truths and a lie. Simply prompt all attendees to prepare two truths and a lie that they will read aloud to the group. The group will collectively be tasked with identifying the lie and can then use the additional time to discuss everyone's facts.

Keep track of discussions
Professional meetings or not, sometimes it's hard to recall what was discussed! Try a tool like Fellow to keep track of your meeting notes all in one place.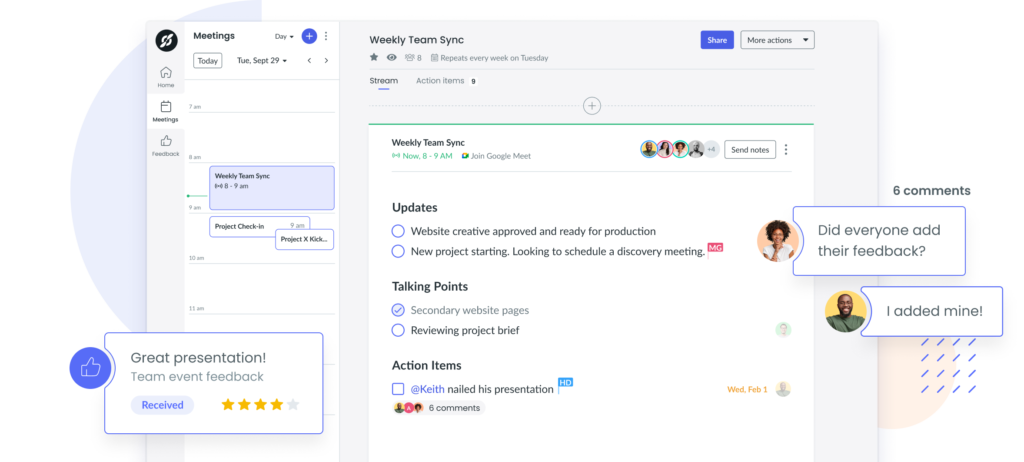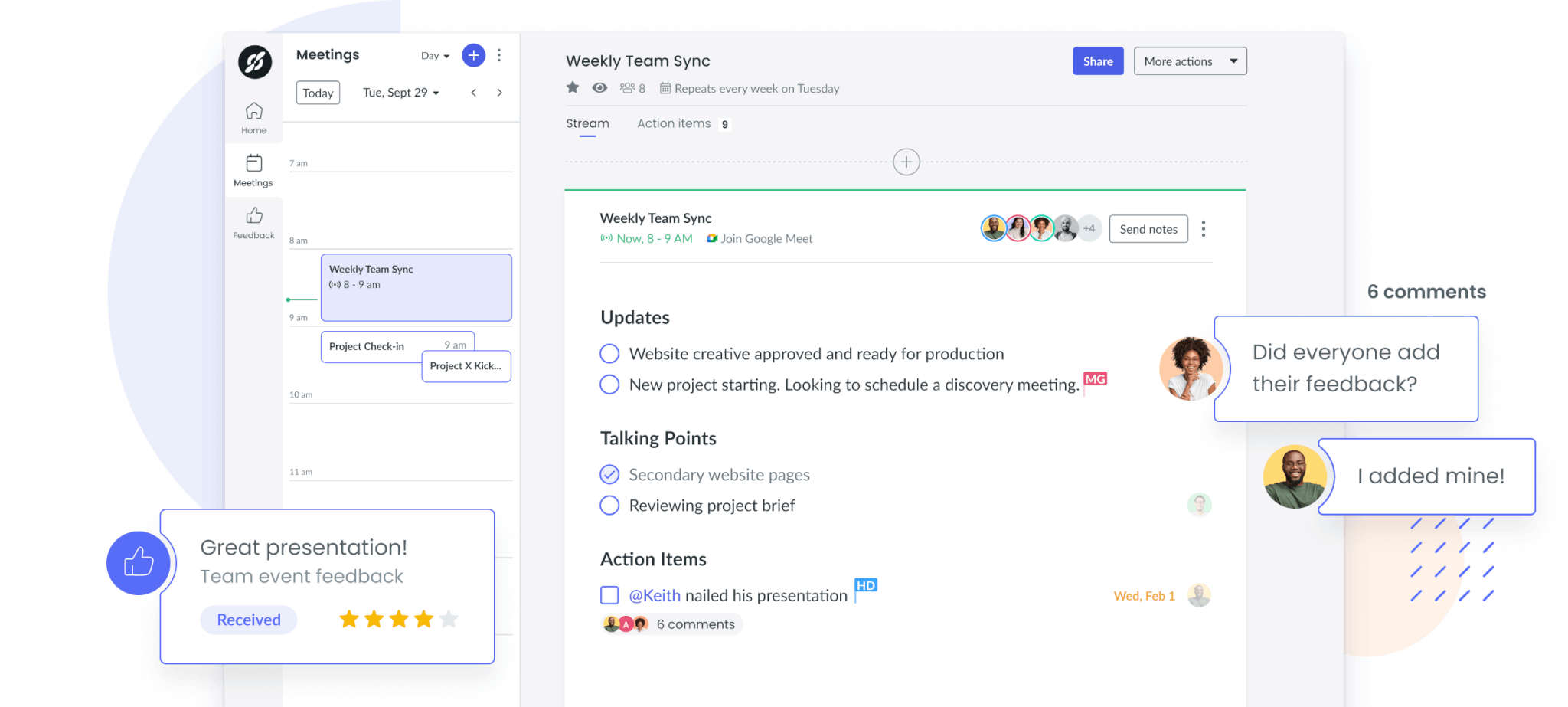 2 Prompt general thoughts and host round table discussions
When hosting a book club meeting, it's important to be inclusive and make sure that everyone in attendance has the opportunity to share their thoughts and contribute to the conversation. If you're eager to learn from others while fostering inclusivity, hosting a roundtable discussion is ideal. Simply go around the room and ask everyone to share their thoughts. Doing so will cultivate new conversations and spark new thought trains. Some attendees may have a different perspective on the novel and going around the room will ensure everyone has the opportunity to learn and embrace different perspectives.
3 Carve out time for questions and dive deep into discussions
Like any good meeting, it's imperative to allocate time in the agenda towards asking questions. Questions prompt deep discussions and enable participants to learn from each other. When creating your agenda, make sure you factor in time for everyone to bring their questions to the table.
If you fail to factor in extra time for asking questions or hosting deep discussions, you may run out of time before getting the chance to really dive into the novel. This is a great opportunity to take your insights to the next level by discussing your findings and learning from other participants.
7 tips to run great book club meetings
Still wondering how to run a book club meeting? Here are 7 tips to host a book club meeting:
1 Invite like-minded people
If you wish to read and discuss a novel in a group-like setting, it's imperative that you gather a group of like-minded people. If your book club meeting consists of people that don't share common interests, it may be difficult to choose a book that everyone is on board with.
Before you can kick-off your book club, you also have to determine who you will invite. Inviting your close friends and people within your inner circle is great if you're looking for a new activity to do within your friend group but broadening your horizons is only made possible by making new connections and including people outside of your inner circle. Inviting unfamiliar faces is a great way to gain new perspectives or even make new friends.
A great way to kick things off is to invite three friends and have them reach out to their network to invite friends of their own. From there, the network effect will continue and you will have a like-minded group of book lovers in no time!
2 Pick a realistic cadence
Hosting a book club meeting should be an enjoyable activity that you and your peers look forward to. Picking an unrealistic cadence can deter people from joining or discourage potential participants. Choosing an unrealistic cadence will only result in unnecessary stress. It's important to choose a cadence that allows you as well as everyone in the group enough time to read and process the novel. If your group hasn't had a chance to read the novel before your next book club meeting, you won't be able to have conversations around the plot or story line. It may also mean they don't want to participate in future meetings because they know they won't have enough time to enjoy the novel.
3 Create a process to nominate and select books (voting vs rotating)
Starting a book club can be super exciting and it only gets better as you find more people to join and converse with. One of the best parts about starting a book club is having the opportunity to collaborate with like-minded people and gaining access to their list of must-read books. Creating a process to nominate and select books ensures everyone has the opportunity to share and study their favorite book. It also means that everyone has the opportunity to weigh in on which book is chosen.
When selecting a book to read in your group, it's important that everyone's preferences and competencies are considered. Keep in mind the topic, length, and reading level of your selected novel. Additionally, you will want to make sure your chosen book is accessible and readily available to everyone in the group.
4 Pair your meeting space, snacks, or virtual backgrounds with the book!
If you've always wondered how to run a book club meeting, this is a quick and easy way to bring your book club to the next level. Everyone loves themed décor and snacks and pairing them with the book your group is discussing is the ultimate host hack.
Themed snacks and décor is a great way to set the tone for your book club, and an even better way to immerse yourself in your study. Book clubs are a great opportunity to be social and cultivate connections and food, drink, and ambiance will only heighten that experience.
5 Give your discussions a clear structure
If you're used to the corporate world, then you most likely know the benefits of hosting a structured meeting, or even hosting a meeting with a clearly defined agenda. Hosting a book club should be no different. If you're eager to discuss the book while leaving time to catch up with the other members of your book club, it's important that you allocate time in your schedule or agenda for both.
It's easy for conversations to go off the rails, especially when you gather a group of passionate people that enjoy talking about a certain subject. Structuring the conversation is a great way to ensure every topic gets covered while simultaneously allowing each member of the book club to share their opinion and be heard.
6 Use an agenda tool to keep track of discussions
Now that we've spoken to the importance of structuring your conversations, we can take it one step further and speak to the benefits of keeping track of your discussions by leveraging a meeting agenda. Meeting agendas make it possible for you to move from one action item to the next with ease. They enable productivity, efficiency, and streamline your meeting; even if it isn't taking place in a professional setting.
Using a meeting agenda tool to keep track of discussions will help you:
1. Gives the meeting a clear purpose
2. Empowers everyone to contribute
3. Allows you to stay on track and avoid distractions
4. Creates a single source of truth for decisions
7 Mix genres
Spicing things up and cycling through different genres is a great way to keep things interesting. If you're constantly reading the same genre, it may become difficult to attract and retain book club members. Switching things up means everyone has the opportunity to read and study a novel that speaks to their core interests.
A great way to keep things exciting and fun for everyone is to allow everyone to propose book ideas. This is a great way to discover new books and maybe even tap into a genre that you wouldn't have previously considered.
Let's get to reading!
Determining how to start a book club is the hardest part. After you've decided to kick things off, it only gets easier. Simply start out by gathering a group of book lovers, proceed by narrowing down a date, time, and location, and then get to work on choosing the perfect novel to unpack. Make sure to stay organized and most importantly, have fun!