As a manager, you need to know how to run intentional meetings. Hosting an intentional meeting means something different for everyone, but at its core, it means being more mindful with your meetings. Intentionality helps you understand the bigger picture and as a result, you're able to curate your actions in a way that aligns with your vision.
In this article, we will dive into everything you need to know about hosting or running intentional meetings. This guide will outline the benefits of meeting with intention as well as an intentional meeting checklist that you can reference the next time you host a meeting.
Benefits of meeting with intention
1Save time in your calendar
Nothing is more overwhelming than a calendar that is jam-packed with back-to-back meetings. Hosting intentional meetings is a quick and easy way to add more time to your day. Instead of being stuck in a meaningless meeting, you can begin to take control of your schedule by hosting intentional meetings that are planned with everyone's capacity and schedules in mind.

Stay on top of it all
Transform meetings into productive work sessions you'll want to attend with a collaborative approach using Fellow.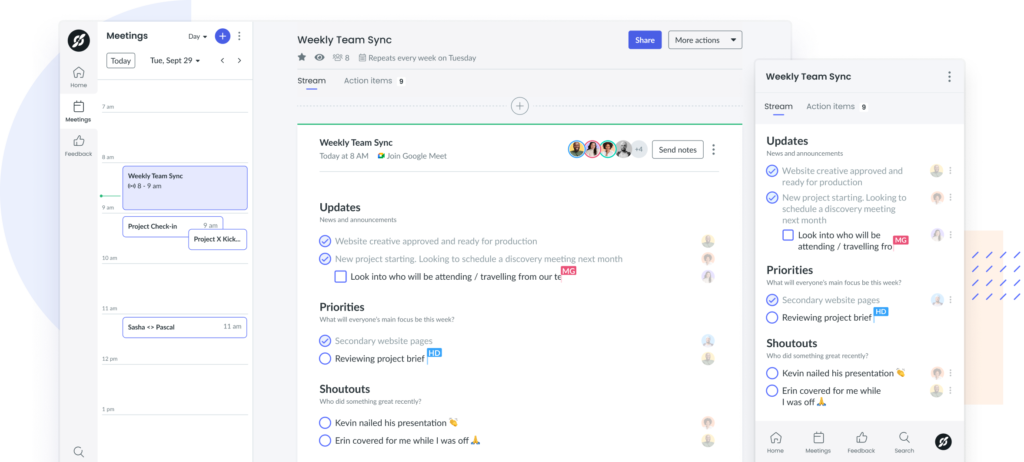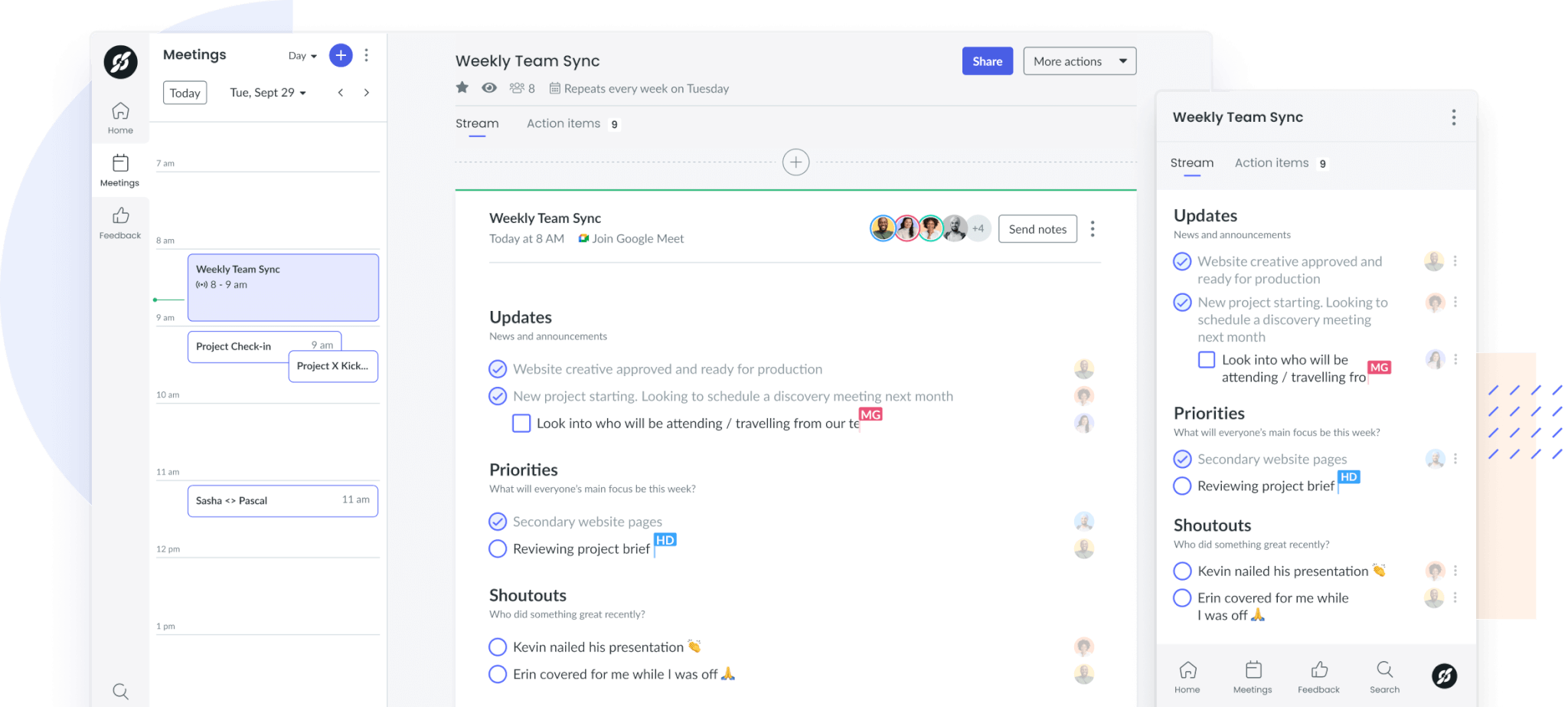 2Make progress more efficiently
Learning how to heighten and optimize efficiency is always top of mind, and running intentional meetings is a great way to streamline productivity. Intentional meetings mean you're thoroughly planning the meeting while taking numerous factors into consideration. This thorough approach to the meeting will ensure everything runs much more smoothly.
3Determine gaps
Meetings are a wonderful resource that enables us to gather and identify gaps, such as a lack of resources, as a collective. Sometimes it can be difficult to find gaps in a project on our own, and that's why we gather to brainstorm and flesh things out together.
Hosting intentional meetings allows us to identify gaps in work, effort, and resources. This kind of meeting is a great opportunity to make improvements across the entire organization. Having an intentional focus helps you gain clarity and takes the guesswork when it comes to knowing where to invest your time and energy.
Intentional meeting checklist
1Determine the WHY
There are many steps that must be taken to ensure you run an intentional meeting, but the first, and arguably one of the most important, is determining the why behind the meeting. If you don't know why you're meeting, then what's the point of meeting at all? If you notice you're meeting week after week without intention, you're not only wasting your time but also everyone else's. The new year is a great time to reevaluate your meetings and determine if each and every one you're hosting is intentional. Defining and clearly stating the purpose of your meeting will ensure everyone is on the same page from start to finish.
2Create an agenda
Every good meeting has an agenda. Remember: no agenda, no attenda! A meeting without an agenda is a meeting without purpose and direction, and those are two things you need to have if you intend to host an intentional meeting.
Building a great meeting agenda can be a game-changer for your productivity, and tools like Fellow make it easier than ever to create thorough collaborative agendas. For the first time ever, you can find everything you need to host an intentional meeting in one place. Fellow enables you to build collaborative meeting agendas, record decisions, and keep your teammates accountable before, during, and after every meeting.
3Set meeting rules
Setting meeting ground rules is imperative because these rules set a precedent for all attendees. Nothing is worse than showing up to a meeting and not knowing what to expect or assuming all attendees know how to engage. Setting ground rules ahead of time will ensure everyone is on the same page when it comes to meeting rules and regulations.
Do you prefer if everyone mutes their mic when they're not speaking? Don't assume that everyone is aware. Instead, add a section to your meeting agenda that encompasses this rule and circulate it before the meeting starts. As the host, you have complete control over setting the ground rules. When setting the meeting ground rules, make sure to remain respectful and inclusive.
4Avoid interruptions
Unwarranted interruptions can be costly because they're one of the quickest ways to derail a meeting. In order to avoid interruptions, be clear about when attendees are welcome to participate. Allocate time in the agenda for open discussions or open the floor after each action item. It's important to give everyone an equal opportunity to participate, so be sure to be inclusive in your approach.
Additionally, tools like Fellow enable you and your guests to participate in the conversation without interrupting the speaker by using the comments and reactions feature throughout the meeting agenda.
5Pick an appropriate meeting length
Cultivating a positive meeting culture can be difficult, especially if your meetings are always lasting much longer than anticipated. Even worse, you don't want to be known as the person that jams everyone's calendar up with meetings that are lengthy or unnecessary.
If you need to provide a quick update, stick to a 15-minute call. If you have a quarterly status meeting, you may need to schedule a full hour. With that being said, there's no need to book an hour for a meeting that could easily be held in a fraction of the time. Everyone's time is valuable, and it's important to treat it as such. If you aren't sure how long your meeting should be, consider using an agenda with a template that allows you to plan each talking point in accordance with a time slot. From there, you should be able to determine an appropriate meeting length.
6Set clear expectations
The benefits of setting clear expectations prior to your meetings are bountiful. Setting clear expectations provides clarity for you as the manager as well as your teammates, and this clarity is essential if you want everyone to be on the same page. Being transparent and setting clear expectations up front also provides benchmarks that you can use to measure actionable results, therefore improving performance and enhancing communication.
7Show up prepared
If you want to set an excellent example for your team, it's crucial that you show up to each and every meeting prepared. In order to be intentional, you have to plan accordingly, and this planning can be as simple as creating a basic checklist. Before every meeting, you have to sit down and focus. It's important that you use this time to plan out your meeting from start to finish.
In order to show up prepared, you should start out by planning a meeting agenda. An agenda can help you plan your meeting intentionally; a proper agenda will consist of attendees, talking points, timelines, and next steps.
8Determine attendees with purpose
As the host, you are responsible for curating the guest list. When you're choosing who to invite to your meetings, you have to be methodical. Choosing a few key stakeholders and contributors is key. If you begin to invite unnecessary guests, the meeting may end up being chaotic or disorganized.
It's important to only choose guests that can be helpful with the positive contributions they bring to the conversation. If they have nothing to contribute, or don't need to be updated, there's no need to take time out of their day by adding them to the meeting. Additionally, you can always send your teammates a video recording or written update after the meeting.
9Practice W.A.I.T (why am I talking?)
The age-old saying goes, "don't talk just to hear yourself speak." This item on the checklist goes back to determining the WHY behind your meeting. After you've determined the WHY, you can make sure to carefully craft your message so everything you share is done with purpose.
Before you speak, step back and ask yourself why you're doing it. Leveraging a meeting agenda can be extremely helpful in helping you plan and lead your meetings intentionally. A thorough meeting agenda will act as a guide so you can move from talking point to talking point with ease.
10Document decisions
Documenting decisions helps ensure everyone is kept up to date with all key happenings. It also ensures that there is clarity and consistency when it comes to what decisions are being made, who made the decisions, and any information pertaining to the decisions. Documenting this information can also help you gauge success and note when progress is being made.
Are you ready to host an intentional meeting?
Hosting meetings can be intimidating, but hopefully this article has helped you find a solution! Whether you're hosting a one-on-one with one of your direct reports or a larger meeting with your entire team, these tips, tricks, and solutions will ensure your next meeting is clearly defined and well thought out.