Good meeting management takes much more than sending a calendar invite to your team. If you're not measuring meeting effectiveness, you might not know how much time and effort your team could save. These tools can give you valuable insights into where you're getting things done and what parts of your meetings need some work. Read ahead for a complete guide on meeting effectiveness evaluation tools and how to implement them for better team meetings.
Why meeting effectiveness is important
Meetings should always serve a purpose. They're a great way to collaborate and share updates, but inefficient meetings can take up valuable time if you're not careful. Measuring meeting effectiveness sets a benchmark so that you can really see whether a meeting is worth the calendar space.
Of course, tracking these meeting metrics shouldn't take up a ton of bandwidth either. That's where meeting effectiveness evaluation tools come in. These evaluation tools give you a clear view of areas such as team engagement and time management. From there, you can quickly see whether you're getting the best ROI possible from your team meetings. If not, the data you get from meeting effectiveness evaluation tools can point you in the right direction.

Run efficient meetings, come to a decision, and get back to work
Level up your meeting habits to boost engagement and productivity with a collaborative meeting agenda. Try a tool like Fellow!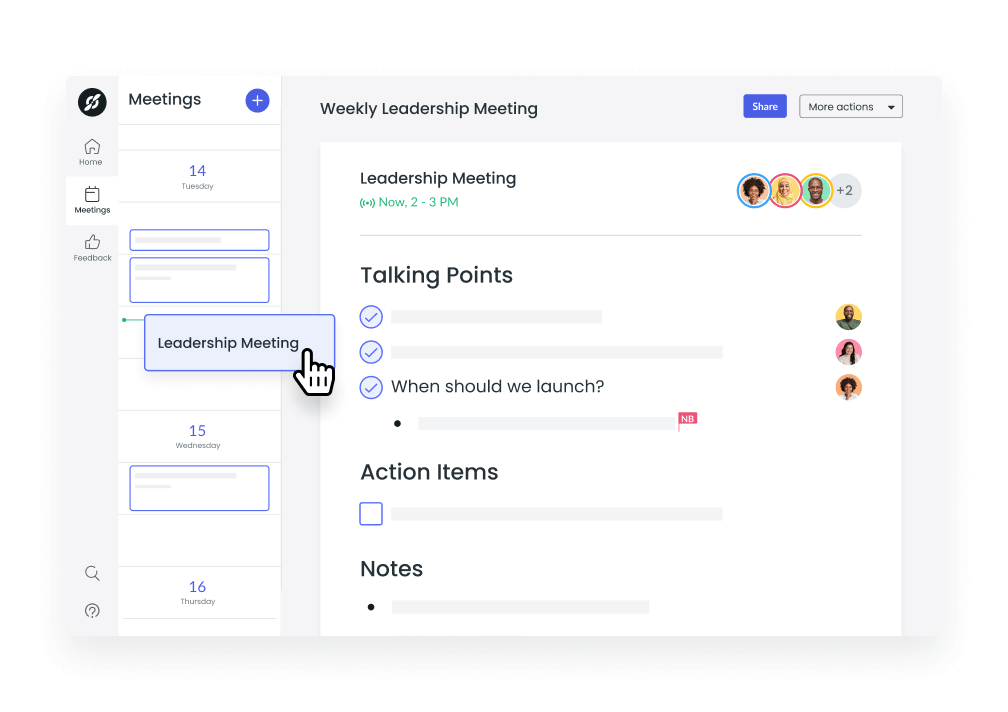 Key components and features of meeting effectiveness evaluation tools
Below, you'll find the most commonly tracked meeting elements. As you're choosing the right meeting effectiveness evaluation tool, consider which of these areas are the highest priority for your team.
Meeting goals and structure
How closely did the meeting resembles what you planned? Did you allot enough time for everything on the meeting agenda? Were the items you included relevant?
It's important to go over whether you're setting the right meeting objectives for your meetings and be honest if you're encountering challenges. If you're not achieving your meeting goals, evaluation tools can help you identify the cause so you know what to improve. On the flip side, these tools can show you what you're doing right. You can then take the same approach in future meetings and save even more time.
Attendance and engagement
Meeting effectiveness evaluation tools include features such as attendance reports so you can track how often team members join. These reports are also a great way to make sure the right decision-makers are in the room. If your key stakeholders can't make it to most meetings, maybe it's time to reschedule for a time that works for them.
With meeting feedback tools, you can also get a more granular view of your team's engagement—beyond simple meeting attendance. These tools allow team members to share what they think is working and what could be improved. For example, let's say you're noticing that team members aren't always ready to give updates in a meeting. They can provide anonymous feedback about what they need to be better prepared. Or if there's a lack of overall engagement, these tools can give employees the space to candidly share why.
With Fellow, you can share real-time feedback on meetings, projects, and performance. Fellow also allows the requester of feedback to designate whether or not they would like the feedback collected to be anonymous.
Action items and next steps
One of the most essential meeting functions is to resolve previous meeting action items and figure out whether any new tasks need follow-up. Meeting effectiveness feedback tools are key to knowing that your team is clear on their responsibilities at the end of a meeting. With Fellow, you can assign, visualize, and prioritize all your meeting to-dos in one place and sync them with Jira, Asana, and Zapier.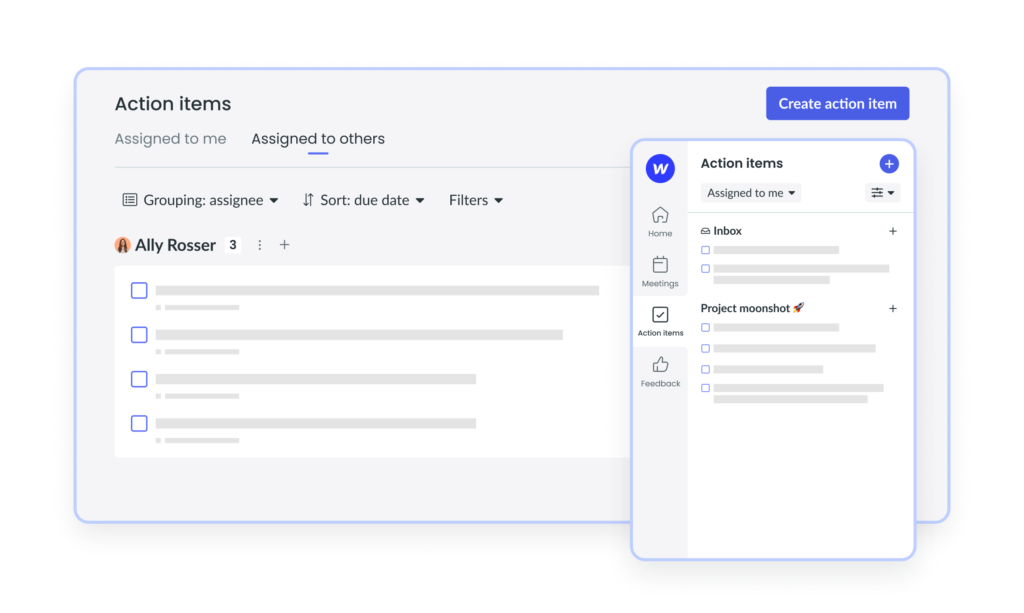 3 Types of meeting effectiveness evaluation tools
There's a range of tools available for measuring meeting metrics. Here are the most common categories of meeting effectiveness tools.
1Meeting evaluation forms and surveys
If you want to keep it simple, a form or survey may be the way to go. You can use surveys to ask team members questions about any and all aspects of a meeting. Common formats include straightforward yes or no questions or an easy-to-understand agree/disagree scale. Of course, you can always include space for longer answers if you want more detailed insights. You can administer surveys with the help of a website, and they're usually a pretty low lift on the tech side.
2Meeting feedback software and apps
You can also gather team feedback through the help of a software platform or app. These platforms can track all the data you'd get in a basic survey and then some. For instance, some apps allow you to add category tags so that you can review meeting feedback in groups. This is a great way to facilitate meeting improvement—you can identify feedback trends across all types of meetings. Most of these software platforms will automatically email feedback surveys to attendees after a meeting too, giving you one fewer task to remember. With Fellow, you can automatically gather feedback after each meeting. Meeting feedback is compiled in the Feedback tab on the meeting stream. Here you can see an overview of how your participants are feeling about the meeting.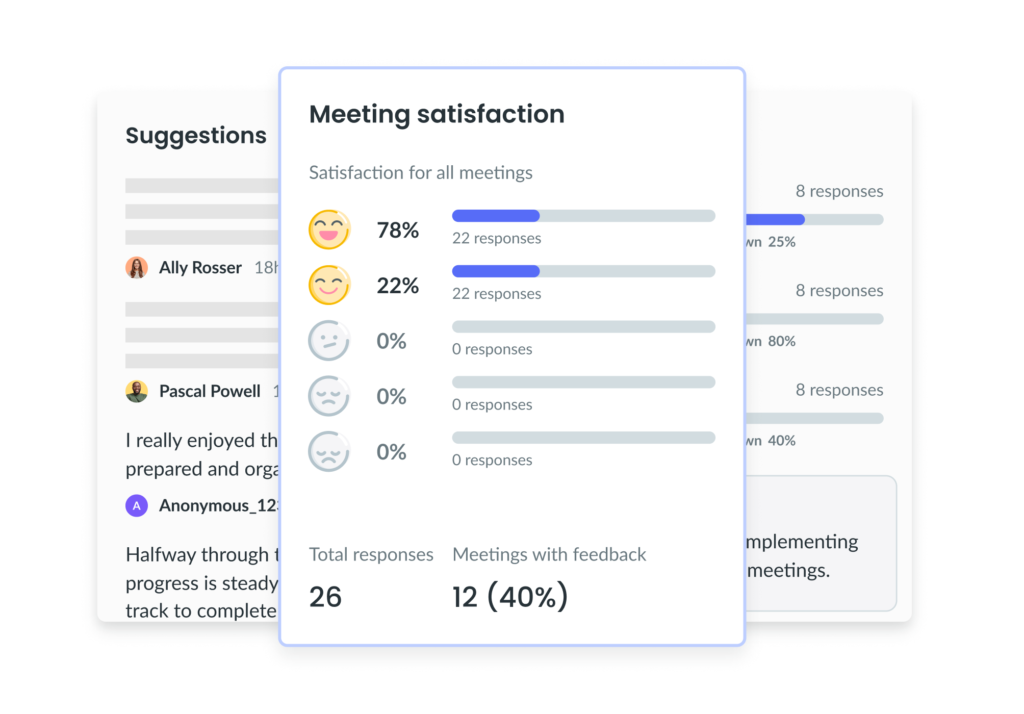 3Meeting metrics and KPIs
Meeting productivity software platforms can automatically track common meeting OKRs or KPIs. These tools help you easily compare and contrast items like time planned versus actual time spent on an agenda item. You may also want to review how many action items are being resolved and how many new ones are being added at each meeting. Define how you want to measure meeting success, and explore the features available with each meeting effectiveness tool.
With Fellow, you can stay on top of your team's goals by clearly recording, defining, and tracking the progress of your OKRs in Fellow's Objectives tool. The best part? You can quickly review those objectives during your team meetings!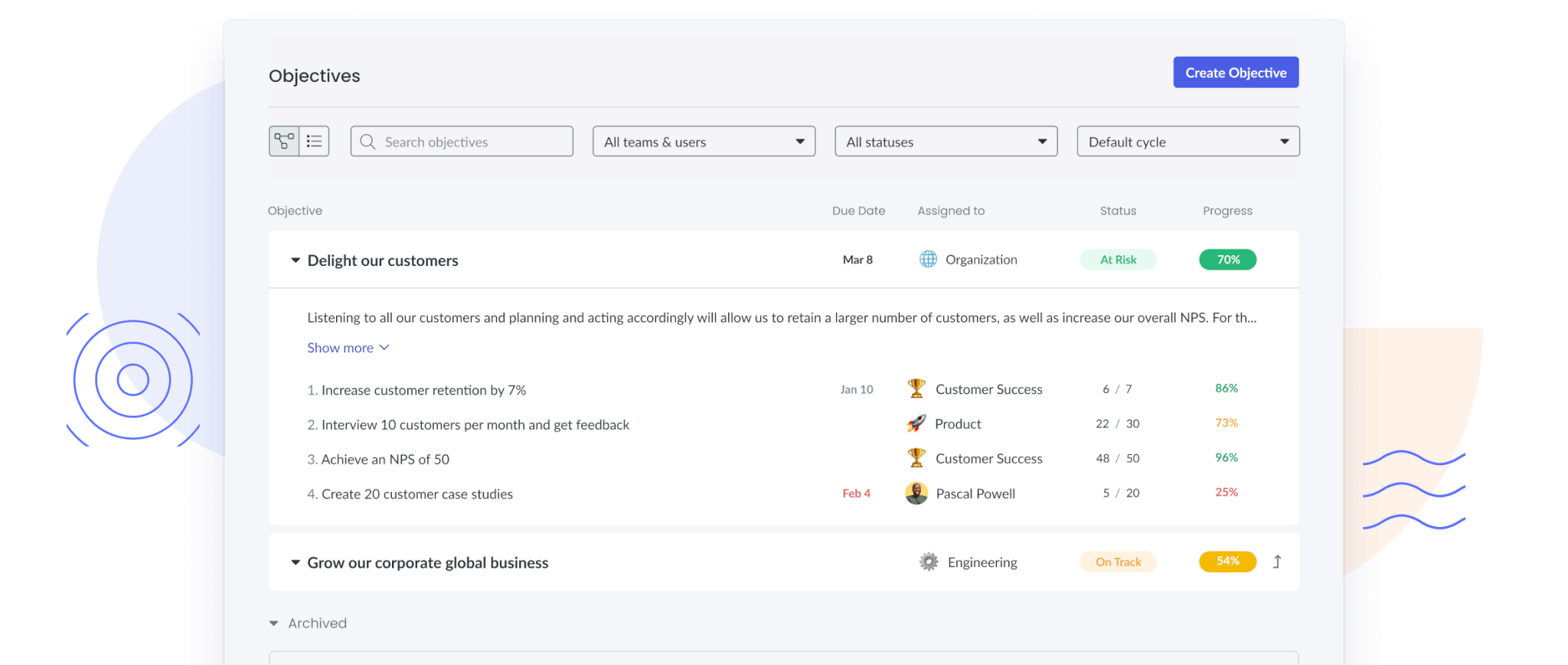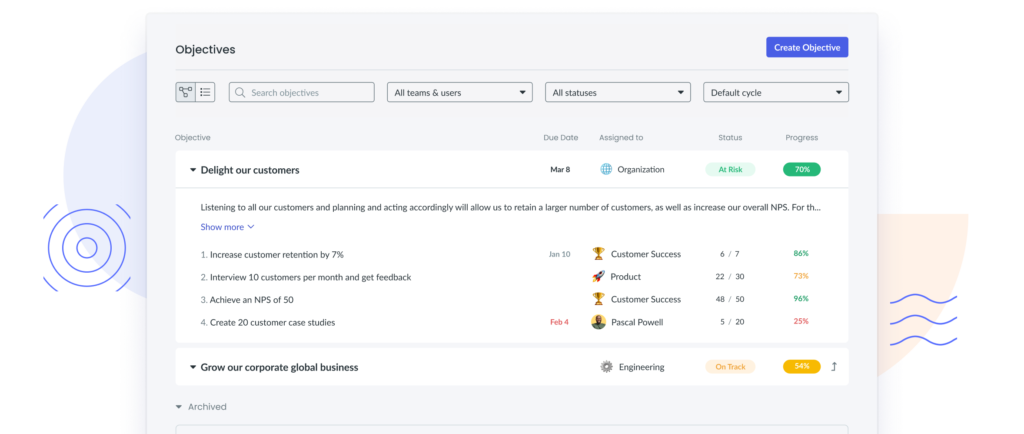 How to use a meeting effectiveness evaluation tool
Here are tips on how to make the most of your meeting effectiveness evaluation tool, from planning through meeting facilitation and post-meeting follow-up.
Before the meeting
Proper planning is essential to measure how successful a meeting is. When you're well prepared, it's also much easier to evaluate your meetings. To start, choose an engaging format and draft an easy-to-follow agenda with clearly defined objectives that you can assess after the meeting. If your team needs to prepare ahead of time, be sure to highlight what updates they need to provide in your agenda. If there are any documents they should review beforehand, include them in your calendar invite.
To streamline your planning process, Fellow has 500+ ready-to-use meeting agenda templates. This will prevent you from having to start from scratch and help you run more productive meetings!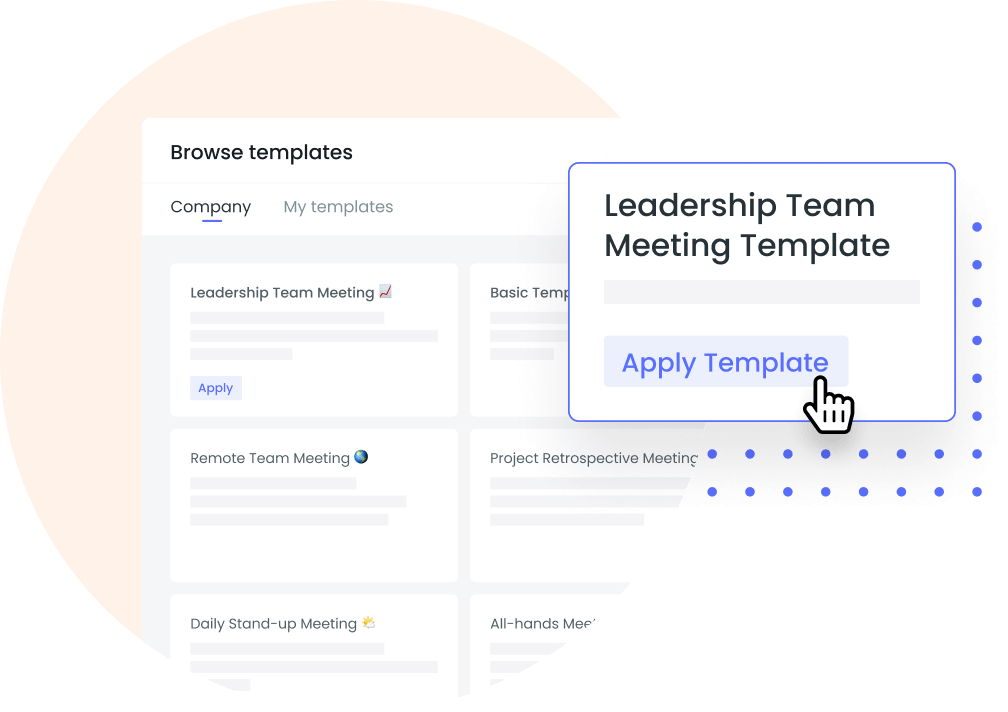 Last but certainly not least, evaluate who the conversation is relevant for and only invite the team members who need to be there. You can use previous attendance reports to decide, and looking at past action items can also be helpful. Ask yourself: is an action item being frequently left unresolved because a key stakeholder is missing from your meetings? Maybe it's time to investigate why they're being left out.
During the meeting
If you want to get positive feedback in your post-meeting surveys, there are many small things you can do to ensure an efficient, enjoyable meeting. Start and end the meeting on time while being mindful of interruptions or distractions that lead the meeting off-track. It's also important to make sure your team is present, focused, and able to clearly follow your meeting content. For instance, if your team does well with visuals, a short slideshow could make your presentation easier to digest.
If you're struggling with engagement, keeping detailed meeting minutes can clue you into where you might be losing your team's attention. Meeting transcripts can highlight instances when you're asking questions and only getting crickets in response. This can be a sign that your questions are being misunderstood or your team needs better resources to prepare. Fellow creates official records of the discussions and action items generated during meetings to help you take collaborative meeting minutes easily. Meeting minutes can also alert you if one team member is getting the most mic time. Though it's great to have an enthusiastic participant, it's also important to make space for other voices to be heard.
After the meeting
Post-meeting is when you'll gather most of your meeting effectiveness data and ask your team for their feedback. Gather their input using your chosen meeting effectiveness evaluation tool and then analyze the results against your initial meeting goals.
If you've met all or most of your initial objectives, then keep doing what you're doing. But if there's a noticeable gap between what you set out to do and what was achieved, it's okay to try a new meeting structure. Share the outcome with your team regardless of the results. And if you're changing any meeting processes, make sure everyone knows what to expect moving forward.
3 Benefits of using a meeting effectiveness evaluation tool
Meeting effectiveness evaluation tools can improve your meetings in all kinds of ways. Here are just a few benefits of incorporating an evaluation tool into your workflow.
1Improved meeting productivity and efficiency
A lot of people know their meetings are inefficient, but meeting effectiveness evaluation tools give you the data to actually prove it. These tools help you identify exactly which agenda items are taking the longest so you can plan your time more wisely for a higher-quality meeting.
If you find that action items only arise every couple of weeks, you can take that as a sign to make your weekly meetings biweekly. And if any logistics are taking too much effort, effectiveness evaluation tools can motivate you to streamline the process. For example, if team members are having trouble digesting meeting minutes, it may be time to reevaluate what information is important enough to include.
💡 Pro tip: Use Fellow's Meeting Cost Calculator to find out how much your meetings cost, plus learn how people who use Fellow spend 16% less time in meetings!
2Better collaboration and communication
Meeting effectiveness evaluation promotes a culture of healthy peer feedback, which can lead to increased transparency and trust across the board. Give your team space to share constructive criticism (or praise) about your meetings, and show that you take their feedback seriously. This can make your team more comfortable speaking up on other occasions, including during your actual meetings. If your team can openly communicate about their challenges, that's a good sign that you're fostering a culture of empathy and active listening.
3Stronger meeting management and leadership skills
Meeting evaluation tools also teach you how to be a better leader. Constructive team feedback can show you which meeting moderation and facilitation tactics are most engaging and where you may be losing your team. And as you work to improve areas like action items and engagement, your overall decision-making and problem-solving abilities might get sharper along the way.
Run effective meetings with Fellow
If you want to make your meetings count, it's important to accurately measure how effectively you're running them. Meeting effectiveness evaluation tools give you a true view of what's working and what you need to fix in your meeting process.
Fellow has the features you need to run the best meetings possible. Set collaborative agendas, track your action items in one place, and analyze your meeting frequency. Get started with Fellow today and get ready for more productive meetings.
Here are some of Fellow's key features:
Access a library of templates for team-wide meetings
Get instant feedback from coworkers
Embed rich media in agendas
Add comments and reactions on talking points
Integrate with the tools you love (Fellow's Chrome extension makes it easy to find and edit your meeting agendas by bringing your notes right inside of Google Meet and providing quick access via your Google Calendar)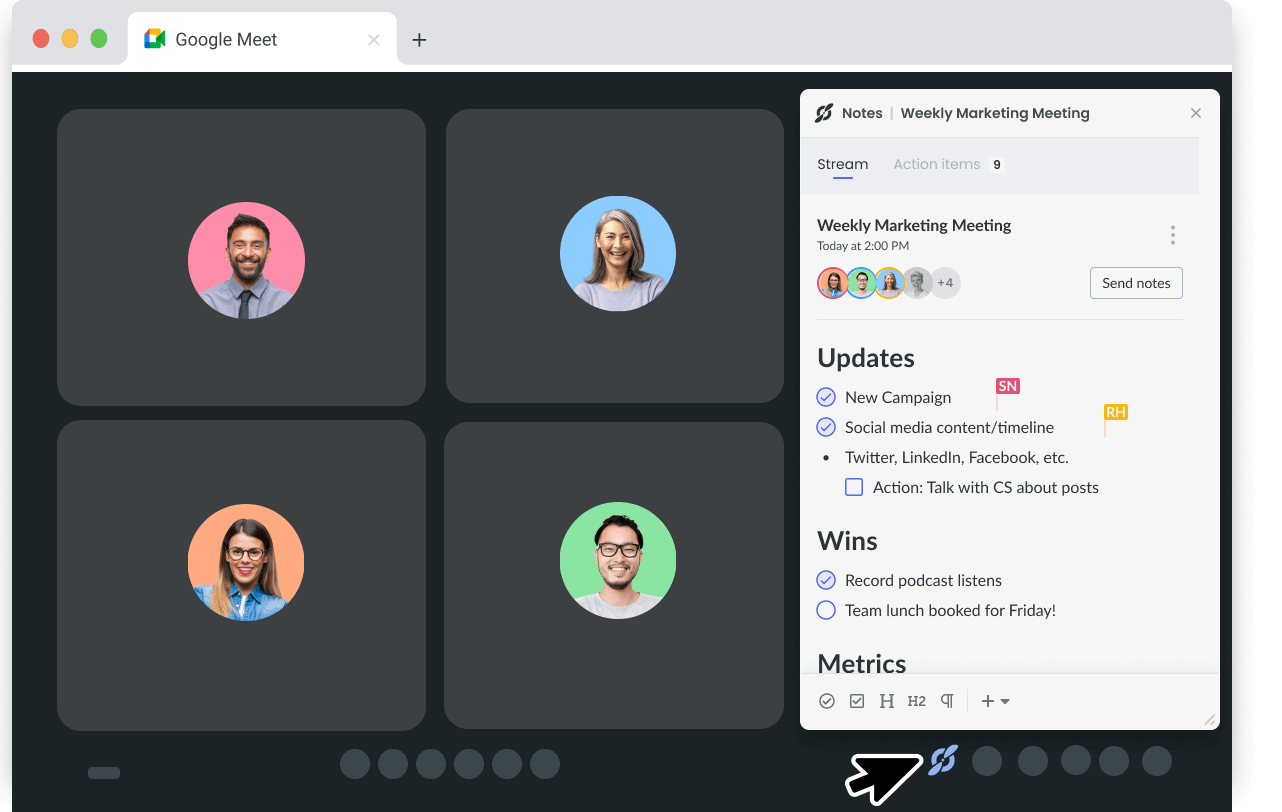 Price: Fellow offers a free introductory tier, a Pro plan that costs $6 per user per month, and customizable Organization and Business plans.
Key takeaways:
You can't know the true success of a meeting if you don't measure meeting effectiveness.
Choose a tool that measures the metrics most relevant to your team and organization.
Meeting effectiveness can improve efficiency before, during, and after your meetings.