Microsoft Teams is one of the most popular software that provides video conferencing, collaborative file storage, a workspace chat, and application integrations with other great tools. Digital team collaboration platforms have become pretty much essential to our everyday lives now that most businesses operate under hybrid working models or some with a totally remote workforce. Many organizations turn to MS Teams because they want something that will be effective for task management, video conferencing, and checking in with their teams. While it's a great platform, it's important to note that there are many attractive Microsoft Teams alternatives that deserve some consideration.
This article will walk you through what Microsoft Teams is, discuss why you and your team may be looking for a Microsoft Teams alternative, and provide you with some great alternatives.
What is Microsoft Teams?
Microsoft developed Microsoft Teams as a part of their Microsoft 365 family of products to provide an effective communication platform for teams around the globe. The primary services available in MS Teams include a workspace chat, video conferencing, app integration, and file storage. Microsoft Teams gained significant popularity during the COVID-19 pandemic, as most businesses were forced to operate exclusively in remote environments. Teams is replacing some of the older Microsoft offerings like Skype for business and Microsoft classroom. As of last year, Sean Endicott, a journalist specializing in Microsoft products, estimated that MS Teams has a whopping 270 million monthly users and that 90% of Fortune 500 companies are using this product.
Why you may need a Microsoft Teams alternative
While Microsoft Teams is a great product and offering, there are several reasons organizations may begin to look for alternatives. First, Microsoft Teams has a limited number of channels, meaning the messaging app has a limit of approximately 200 public channels and about 30 private channels. If you have a small team, this won't affect you, but for enterprise-level companies that have several teams within several departments, this could definitely be an issue.
Next, if you're looking for a tool that prioritizes organization, Microsoft Teams might not be up to par with other products. Every file that you upload to MS conversations are piled into the file section of the channel. When you go to move the files into folders to organize your information, the file links in the conversations break.
Lastly, flexibility isn't great when it comes to the permission settings since you can't invite guest users to channels, which could be a problem if you work with several contractors. What's more, after you add someone to a channel, they automatically have full access to everything in the chat, which isn't ideal if you're working with sensitive information.

Run efficient meetings, come to a decision, and get back to work
Level up your meeting habits to boost engagement and productivity with a collaborative meeting agenda. Try a tool like Fellow!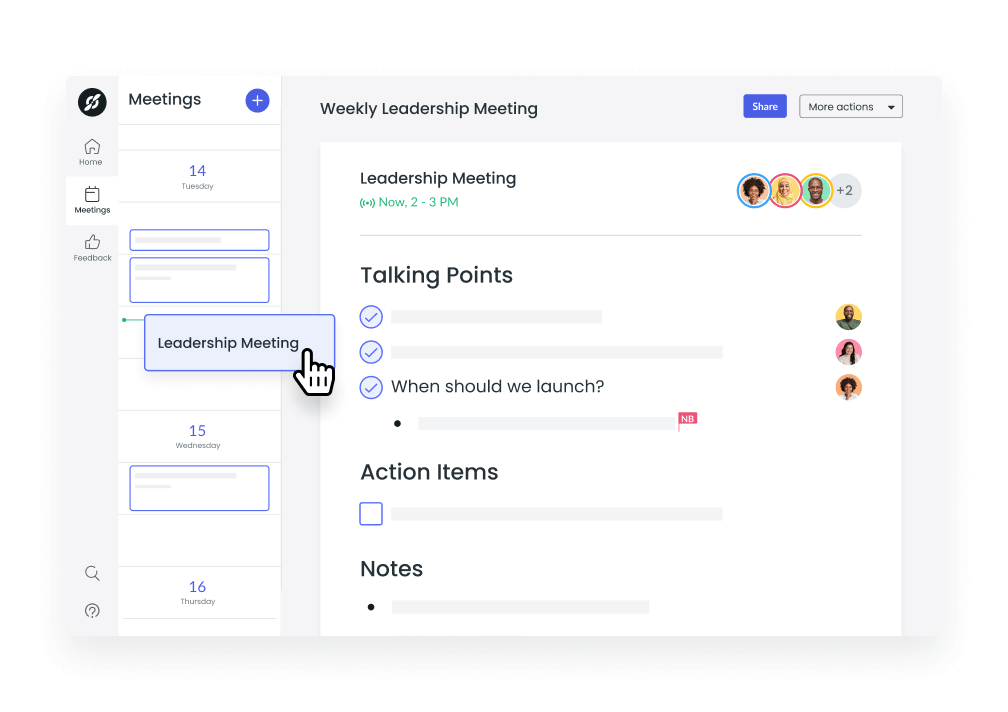 7 Microsoft Teams alternatives
1Google Meet
Google Meet is a stand-alone app available for free and is included in the Google Workspace (previously known as Google Suite or G-Suite) bundle where you and your team can access several productivity tools. Some of these tools include Gmail, Google Drive, Google Calendar, Google Docs, Google Sheets, and Google Slides. The main benefit of using Google (especially with a paid plan) is that all the apps integrate and work seamlessly together to optimize your productivity, especially with your favorite meeting management tools, like Fellow. You can collaborate on meeting agendas without leaving your video call with Fellow's Google Meet extension and bring Fellow meeting agendas and notes into Google Meet automatically to boost productivity and efficiency.
Pricing options:
A free plan with basic meeting features
Google Workspace Business Starter for $6 per user, per month
Google Workspace Business Standard for $12 per user, per month
Google Workspace Business Plus for $18 per user, per month
Google Workspace Enterprise, which has custom pricing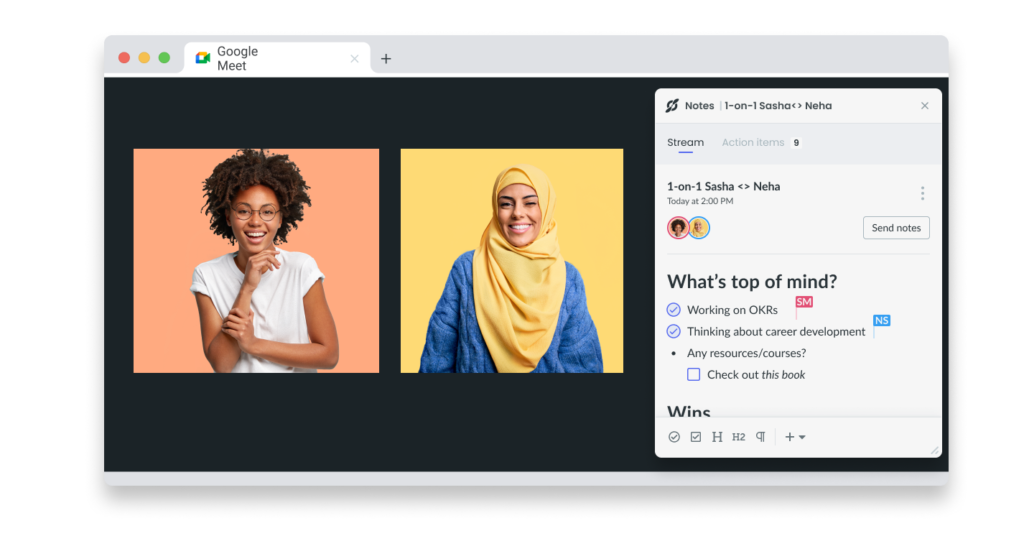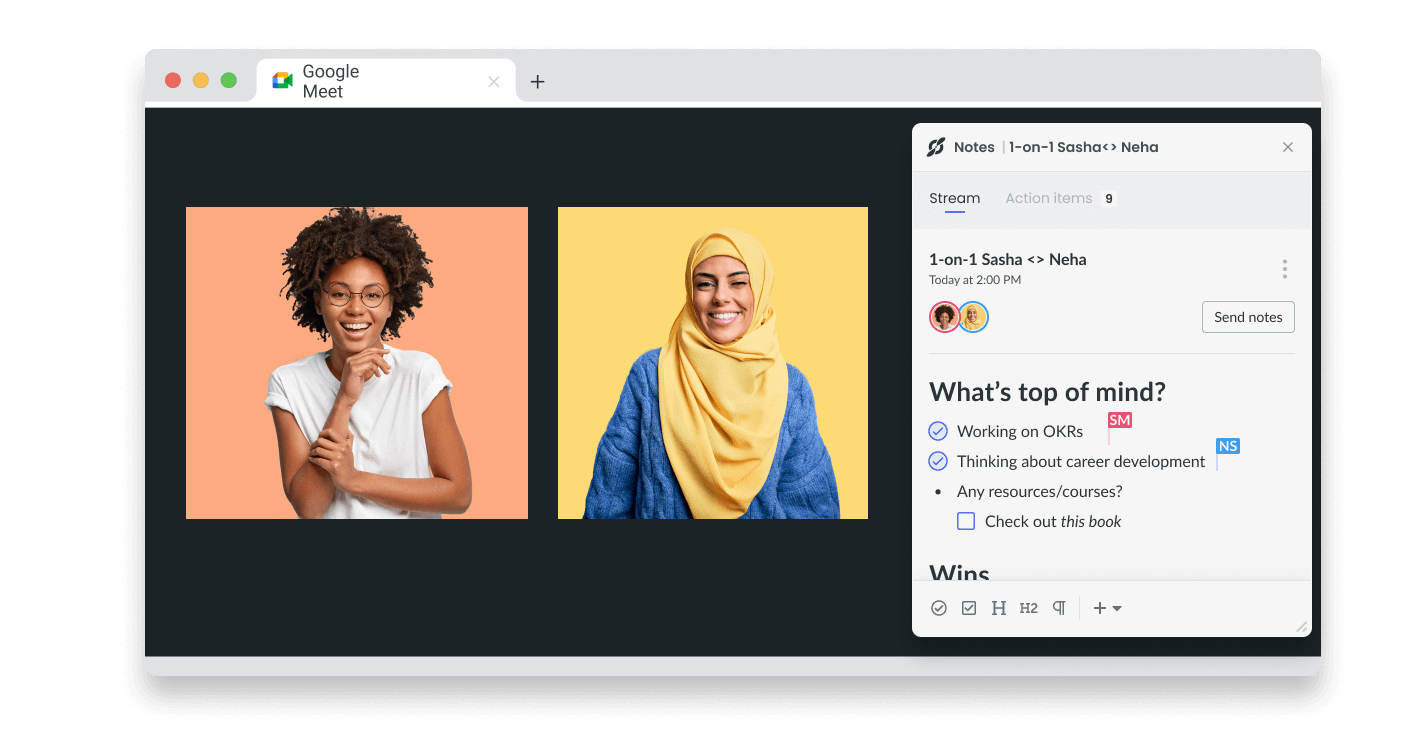 2Zoom
Zoom is compatible with any platform you and your team already use and is a good choice for large meetings since it can accommodate many participants. Even with Zoom's free plan, you can access any video conferencing features you may need, including screen, app, and document sharing, chat, breakout rooms, the ability to record meetings, a whiteboard, and good security with end-to-end encryption available at the click of a button. Overall, Zoom is reliable and offers support for the most people and the longest meeting times. Like Google Meet, Fellow integrates with Zoom as well and can complement the virtual meeting experience.
Pricing options:
Zoom Basic for free
Zoom Pro for $14.99 per user, per month
Zoom Business for $19.99 per user, per month
Zoom Enterprise, which has custom pricing
3Spike
Spike is a great Microsoft Teams alternative because it offers collaborative functions that focus on emailing, which is central to the success of any business. This email application provides organizations with voice and video conferencing, instant chats, notes, tasks, and file sharing options. Because Spike is specifically built around email, it provides an inbox interface with which many people are intuitively familiar. Overall, Spike is a great tool to consider because it provides companies with email integration for both internal and external communication, a simple and multiple calendar integration, and a user-friendly interface, which means it doesn't require any significant onboarding.
Pricing options:
Spike for free (for everyday use)
Spike Pro for $5 per user, per month
Spike Business for $10 per user, per month
Special deals for large teams by request
4Fellow.app
Fellow is a user-friendly virtual team tool for all things meetings, note-taking, team objectives, and peer feedback. You can use Fellow to collaborate on meeting agendas and real-time meeting notes with your team. This way, your team can prepare for, and then enjoy, better virtual meetings. Fellow's tools for objectives and key results (OKRs) and peer feedback can also help virtual teams get on the same page from a distance. You and your team can use the OKRs tool to set a cycle and keep everyone on track during meetings. The peer feedback tools can help your team members give each other advice even if they never see each other in person. Fellow also integrates with Microsoft Teams, giving you the best of both worlds. You can collaborate on meeting agendas, take minutes during your video calls, and send feedback requests without leaving your chat app.
Pricing options:
Fellow for free
Fellow Pro for $6 per user, per month
Fellow Business or Fellow Enterprise, which you can learn more about after you request a demo
5Webex App
Many Fortune 500 companies use Cisco's reliable and well-known Webex. Cisco actually states that 51 million people per month attend a Webex meeting. Features in the paid versions include multiple feeds with screen sharing options, the ability to sketch ideas on a virtual whiteboard or annotate documents, as well as the ability to record meetings. A single Cisco webinar can accommodate up to 3,000 people and you can connect up to 100,000 people with the webcasting feature, making Webex a great Microsoft Teams alternative for enterprise-level companies. Webex is also known for having good data security, innovative features, and the ability to support large conferencing meetings and events.
Pricing options:
Webex Basic for $0 per user, per month
Webex Business for $25 per user, per month
Webex Enterprise (for a minimum of 100 employees) with custom pricing after you contact the sales team.
6Pumble
Pumble is another collaboration tool that aims to reduce the number of emails involved in completing everyday tasks and projects by allowing you to communicate in real time with your team. It's a great alternative to Microsoft Teams if you're on a budget because you can opt for the free plan which allows for unlimited users and unlimited chat history, which is rare to see in a platform like this. Pumble also has great data security and unlike Microsoft Teams, it has a guest access feature so you can communicate seamlessly with your clients and others outside of the organization, while limiting their access to your workspaces.
Pricing options:
Free forever plan
Pumble Pro starting at $1.99 per user, per month
7Chanty
Chanty is another great alternative to Microsoft Teams, as it fosters optimal team collaboration and helps support the productivity of your team. This is another product that works really well for both smaller and larger teams and has a seamless user experience and interface, making it enjoyable to use and efficient. Chanty has some impressive features that are worth a mention, including the ability to send audio messages with sharing and privacy features, a searchable real-time chat with unlimited chat history, and customized notifications.
Pricing options:
Free forever plan
Chanty Business for $4 per user, per month with unlimited features
Other alternatives worth a brief mention
1Slack
Slack is a popular team communication tool that brings real-world and virtual teams together online. You can also create Slack channels for projects, clients, or just little distractions when team members need a quick break. Fellow integrates with Slack to make the tool that much more efficient for meetings and everyday tasks.
2ClickUp
ClickUp is a project management and team communication tool that is great for having work-related or more casual conversations alongside your work without losing track of messages. There is a dedicated space for comments on each task, and you can also easily assign tasks and reply to comments. Clickup also integrates with Fellow so you can take advantage of both platforms' features.
3Rocket.Chat
Rocket.Chat is worth mentioning because this application is great for ensuring your data is kept private and protected. You can also use Rocket.Chat for video and audio calls from the same place where you send and receive your messages.
Parting advice
While MS Teams is a fabulous tool, it's not for everyone or every team. There are so many Microsoft Teams alternatives that have fantastic features that seem to be lacking in Microsoft's tool. For that reason, take adequate time to understand exactly what your team's needs are and what you're trying to achieve so you can select the best communication and collaboration tool to work as effectively as possible.