25 Top Professional Agenda Templates
A professional agenda template is a fantastic resource to keep your team organized and productive in any meeting. Sometimes, it can be difficult to solidify the structure of a meeting, which means that it takes more time and more resources to come up with a meeting agenda or a plan for the discussion.
Using a professional agenda template is going to not only save your time and valuable resources, but it's also going to ensure that you and your team get more out of the meeting. Keep reading to find out why meeting templates are so important, which is followed by 22 great professional agenda templates and their descriptions, for you to try out with your team.
Why are meeting templates important?
Meeting templates are important for several reasons. First, they help organize the meeting because the template asks you to create and set the main topics of your meeting. Meeting templates facilitate structured communication so that you and your team keep on topic and on track. This way, you are much more likely to achieve your meeting goals. Because a meeting template keeps you on track, they also reduce wasted time and resources.
Lastly, meeting templates encourage participation from your team, as you work together towards your goals. Seeing as a meeting template keeps you organized, on time, on track and focused, you and your team are going to be more productive and the meeting outcome will be more effective.
1 Leadership team meeting agenda template
A leadership meeting takes place when senior leadership or a management team organizes and takes part in a recurring meeting, typically once a week. Important information is shared that is needed to make key decisions about the business. This is a meeting where decisions are made, problems are solved and the leadership team discusses important issues such as operations, current processes, and key metrics.
2 Weekly team meeting template
A weekly team meeting is a recurring discussion with your entire team to go over progress and updates. Staff meetings are also the ideal opportunity to celebrate wins, gather feedback, and check on your team's mood. Using and sharing a team meeting template is going to provide structure and encourage participation from the rest of your team.
3 1-on-1 meeting template
A one-on-one meeting is dedicated time in your calendar to connect with your employees individually to discuss their priorities, challenges, and professional development. Typically, this happens on a quarterly basis. Use a meeting agenda template to maintain consistency across your team and ensure that you (and other leaders on your team) are talking about the right things.
4 All-hands or Town Hall meeting template
An all-hands meeting (also known as a Town Hall Meeting) is an event that brings together every employee in your company. Done right, all-hands can be a great tool to drive transparency, build a sense of community, and keep communication open across teams. With a higher volume of meeting participants, it's even more important to keep to the structure and topics outlined in your meeting template.
5 Brainstorming meeting agenda template
Have you ever attended a brainstorming session where a couple of outspoken participants dominated the conversation… or hundreds of ideas were thrown around the room but nobody recorded action items? Facilitating a great brainstorming session isn't easy. However, using a professional agenda template will help you structure the conversation and empower everyone on your team to speak up and share their ideas.
6 Project kickoff meeting template
A project kickoff meeting takes place when you're about to begin a new project and it's time to meet with your team to discuss how to successfully execute the mission ahead. The goal of your project kickoff meeting is for all parties involved to leave the meeting with a clear vision of the project and the deliverables that will be necessary for successful execution.
7 Project check-in meeting agenda template
The purpose of a project check-in meeting is to understand the current state of your ongoing project. It's a good time to celebrate wins, address challenges, find efficiencies, and build team confidence. Sending out a project status meeting template lets your team know that you're punctual, prepared, and ready for an effective status update.
8 Retrospective agenda template
Project retrospective meetings are conducted to revise a completed project. This retrospection allows you and your team to learn from successes, shortcomings and to innovate an approach to move forward and seek improvement for future projects.
9 First 1-on-1 with a new employee
The one-on-one meeting is the most powerful tool a manager has to build rapport, motivate people, and become a better leader. If you're just joining a team, or you recently hired a new employee, one of the most important things you can do is schedule your first one-on-one meeting with them – and make sure that one-on-one meeting runs smoothly.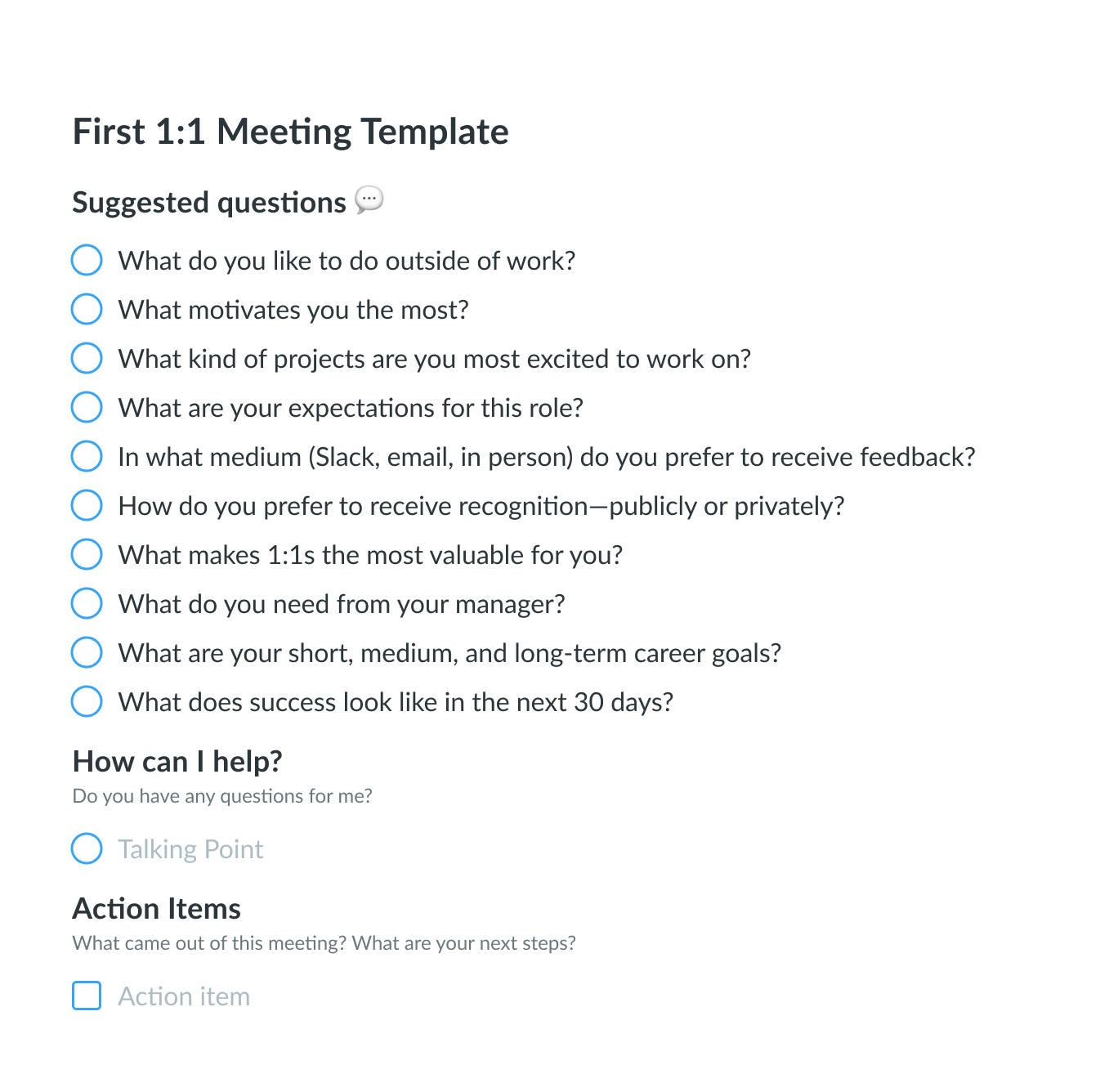 10 First team meeting with a new team
The first team meeting between you and your new team should have a few goals. These include making a solid first impression on your team, establishing trust, respect, a good rapport and lastly, setting the tone and expectations for you and your team to succeed together long-term.
To do this, keep this first meeting short and casual. You can follow up with your team for more detailed discussions in subsequent one-on-one meetings.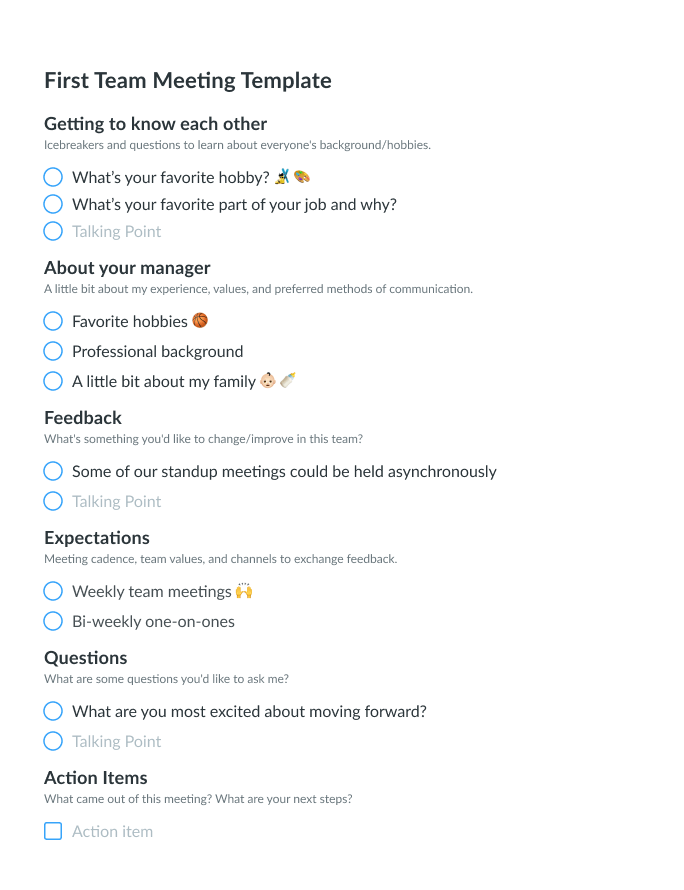 11 Formal Board meeting agenda template
A board meeting is a formal discussion with an executive director, the board of directors, and the board chair of an organization. The board of directors is a group of board members who meet to discuss strategic decisions and planning for the progression and success of the company. The board typically discusses the current position of the organization, engages in goal-setting and strategic planning to achieve major goals.
12 SaaS Board meeting template
A SaaS board meeting template helps startups that start to have discussions for the first time after raising a Series A. This type of meeting should be held quarterly, should be about 2 hours long and should be scheduled shortly after the quarterly close. Board meeting agendas should be sent 2 days ahead of time so board members have a chance to review the materials.
13 Skip-level meeting template
Skip-level one-on-ones are meetings where upper-level leaders "skip" the middle-level management to talk directly to the people that work two levels away from them. In other words – if your direct report manages a team, you would be meeting with that person's direct reports.
14 Sales team meeting agenda template
A sales team meeting focuses on current clients, lead generation, and strategizing. Looking for tips and ideas to create the perfect sales meeting agenda? We've got you covered! This template will help run sales team meetings that drive great results.
15 Marketing team meeting template
Your marketing team meeting serves the purpose of showing progress on relevant metrics and goals. It's an opportunity to support one another in assessing the success of your campaigns and testing, identifying challenges and opportunities for new strategic iterations, and lastly, outlining actionable next steps.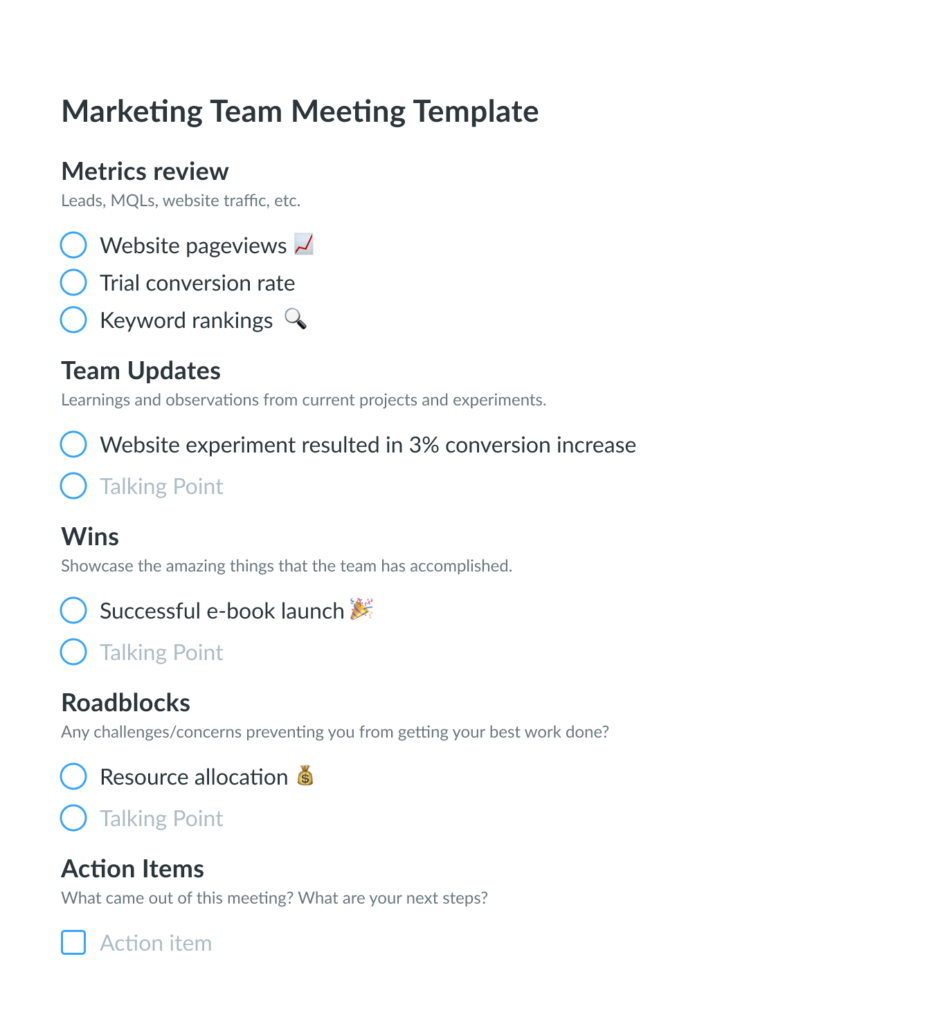 16 Engineering team meeting agenda template
An engineering team meeting is a meeting held with all of the different people involved in the engineering department at a company. This includes the different engineering teams like the data engineers, the engineering managers, and the product managers. The goal of the engineering team meeting is to discuss what each team has been working on to get everyone up to speed on what's happening in the engineering department.
17 Customer Success team meeting template
A customer success team meeting facilitates conversations about customer issues, the health of current accounts, and current priorities for the Customer Success team. Using a professional agenda template will ensure that you're aware of all of your customer needs and how you may be able to improve their experience even more.
18 Sprint review meeting agenda template
During the sprint review meeting, scrum team members give informal presentations of their respective completed deliverables, often in the form of a software or product demo, and get feedback on the developments from relevant stakeholders. Sprint review meetings are intentionally kept informal, with many organizations setting rules forbidding the use of slides and allowing less than two hours to prepare for each sprint.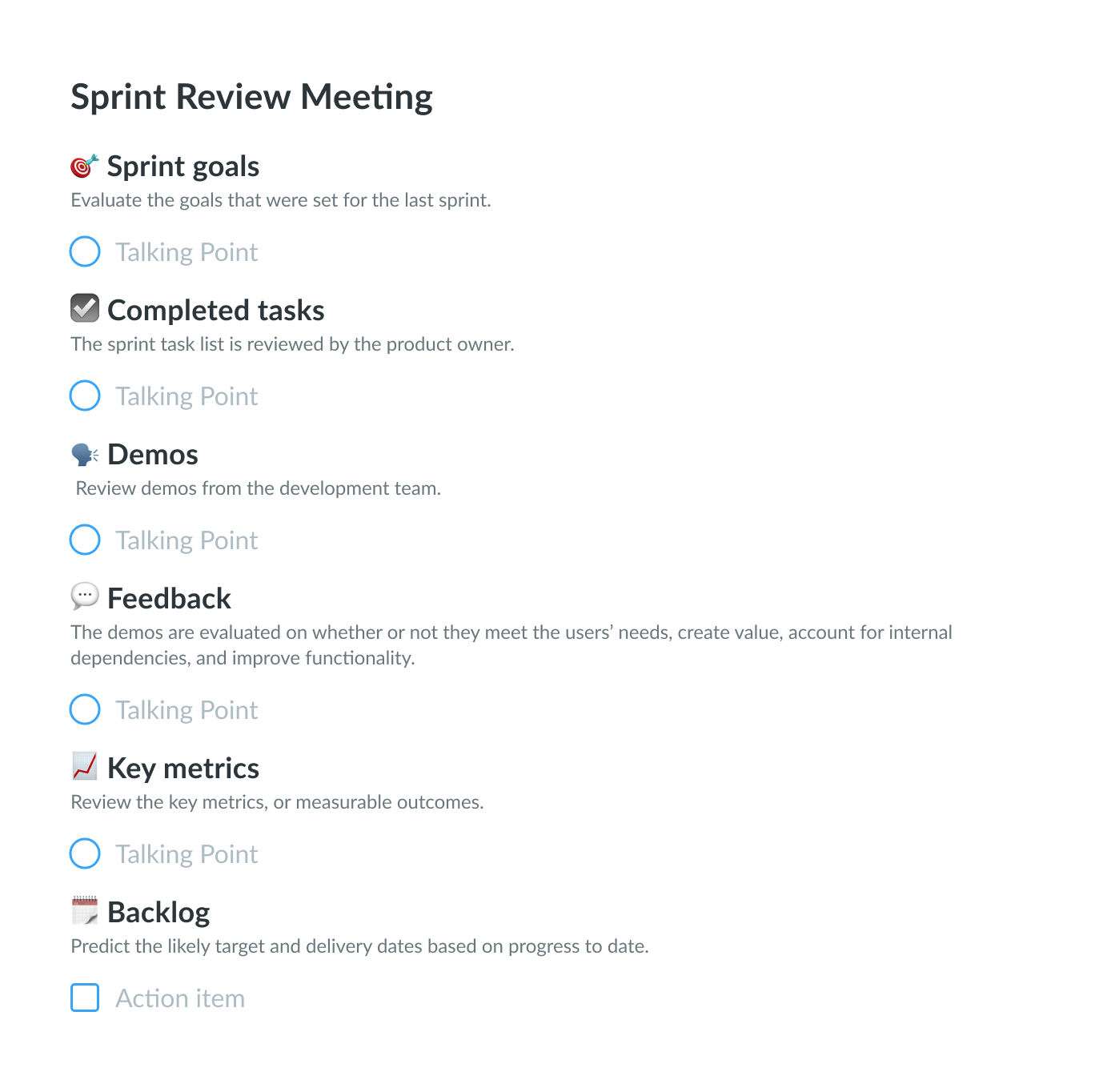 19 EOS® Compatible meeting agenda template
This meeting template (compatible with EOS®) is ideal for a 90-minute weekly check-in meeting with your leadership team focused primarily on issue management. The agenda is specifically structured with 7 talking points to discuss issues, and develop a strategy for accountability.
20 Quarterly performance review agenda template
Quarterly performance reviews are an opportunity to reflect on your direct report's performance, recognize achievements, and provide them with constructive feedback. Running effective quarterly performance reviews can be challenging for both your employees and yourself, but they are crucial for your team's growth and success.
21 Product management meeting template
A product management meeting looks at the role and function within an organization that is responsible for a product's overall success. Product Managers work with groups inside and outside of the company to build and execute a plan to make sure the product best meets its financial and strategic goals.
22 Daily standup meeting agenda template
Daily stand-up meetings (also known as daily scrums) can help your team remove blockers and work more effectively together. If you want to run daily stand-ups like a pro, the first thing you can do is set up a stand-up meeting template that your team can populate in advance of the meeting.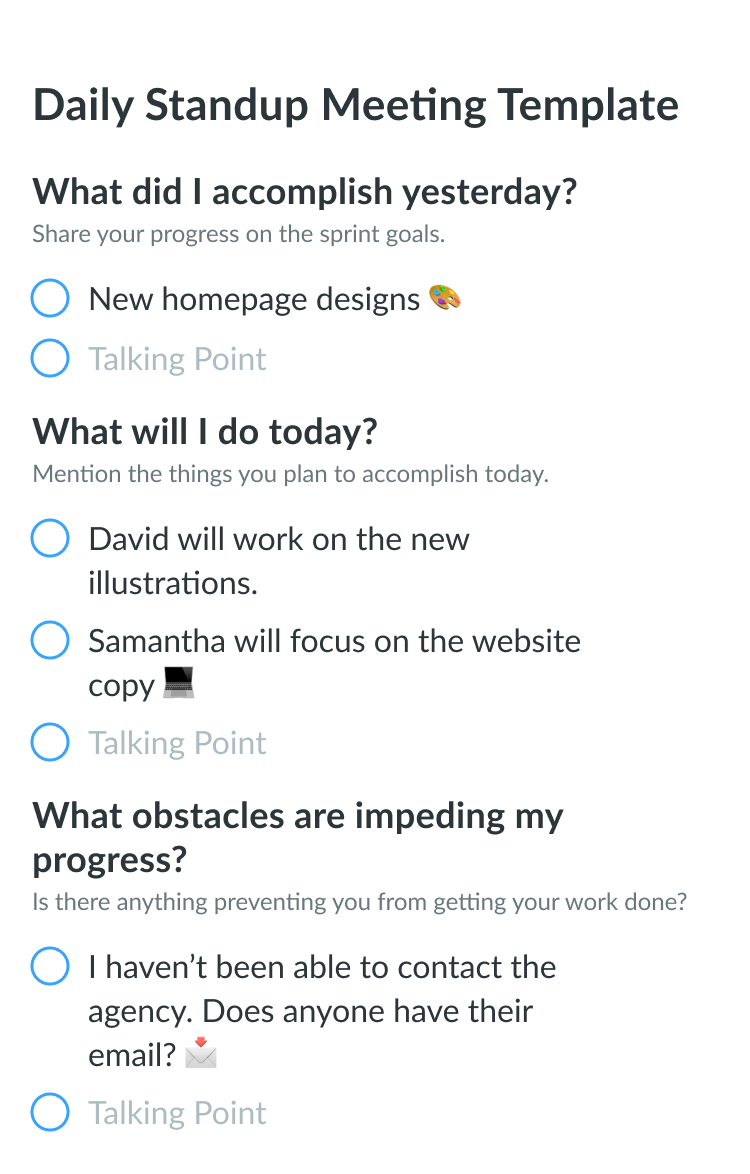 23 Weekly executive calendar review meeting template
An executive calendar template is necessary to schedule all the things that compete for time and space within a calendar week. By preparing for these meetings with an agenda, it becomes easier to organize thoughts and communicate all of the necessary points.
24 Executive decision making meeting template
Utilize the executive decision making meeting template to make important executive decisions by empowering members to prepare the agenda before hand and time decision-making throughout the meeting.
25 Quarterly product strategy meeting template
Use the Former VP of Netflix's Quarterly Product Strategy Meeting template to focus on product strategy each quarter, share insights and solve pain points.
Parting advice
Whatever kind of meeting or discussion that you're having with your team can be made to be more effective with a professional agenda template. After all, any successful meeting starts with creating effective meeting agendas. There are all kinds of different meeting agenda examples that you can use specific to the type of meeting you're running and what you and your team members are trying to accomplish.
Message us at blog@fellow.co or on Twitter if you're looking for a template that you can't find on this list!