Having a means to take adequate meeting notes is essential for staying on track and up to date with the progress being made on any task or project. Because note taking has evolved, there are so many tools and technologies that now support teams in taking meeting notes in an efficient manner that supports the team's workflow. Meeting notes should make it easy to distribute, collaborate on, and edit note sections and the agenda associated with each meeting. While Asana is a very popular tool for note taking, there are many Asana meeting notes alternatives that deserve a mention.
This article will cover what Asana is, discuss six of the best Asana meeting notes alternatives, and provide some tips on what to consider when using a meeting note tool.
What is Asana?
Asana is a task management software (rather than specifically a tool for note taking) that has a multitude of features and functions that allow users to easily organize, collaborate on, plan, and execute tasks. This software helps teams save a significant amount of time and effort on emails, meetings, and the actual work that needs to be done to complete tasks. Asana is a web-based task management tool in which you can collaborate with your team to eliminate disorganization and effectively manage tasks, meeting notes, and action items. The union of communication, project management, and collaboration features—not to mention its easy application integration—is what makes this tool so popular among so many Fortune 500 companies.

Take productive meeting notes
Meeting notes that keep your team productive and accountable. Fellow is the top-rated meeting notes software with all the features you need to have collaborative meetings without interrupting your workflow.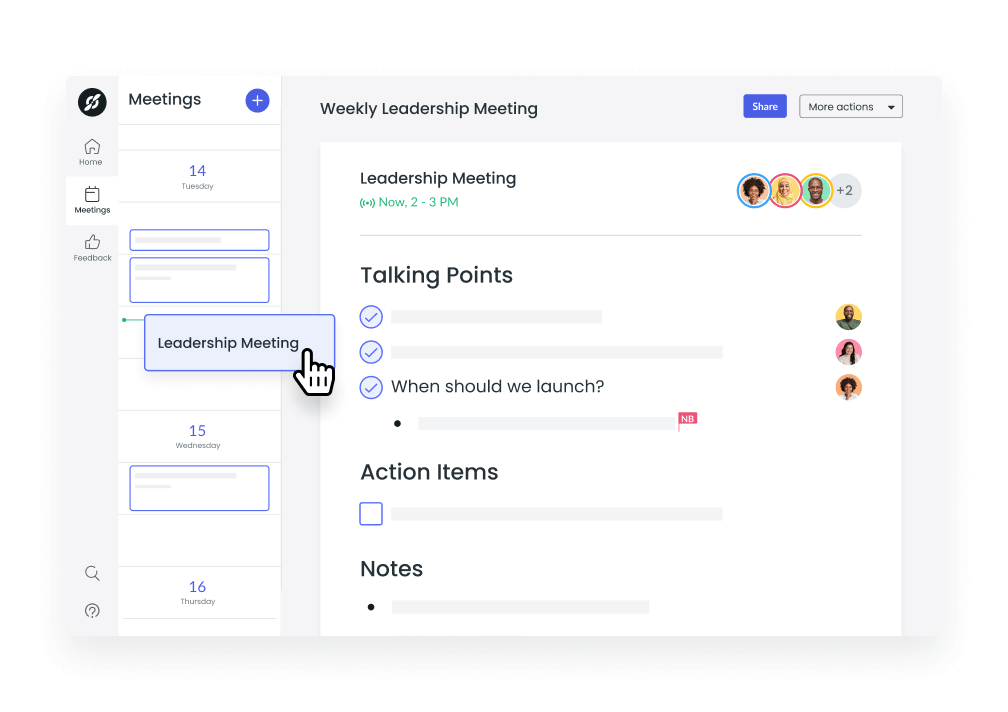 6 best Asana meeting notes alternatives
1Fellow
Fellow is a purpose-built tool for better meetings. With a meeting management tool like Fellow, you can easily plan, run, and follow through on meetings in the most effective way. You gain access to a multitude of meeting templates that can help you create format-fitting minutes that you can collaborate on and distribute widely with the rest of the team. You'll also get tools for collaborating on agendas, noting action items as they emerge, assigning these action items, setting objectives and key results (OKRs), and sharing and receiving real-time meeting feedback. With Fellow, your meeting minutes will be well organized, well documented, and easy to collaborate on with your team members.
Key features:
Dozens of meeting templates, including for meeting minutes
Easy meeting minute distribution after meetings
Highly user-friendly additional features such as agenda collaboration, real-time action items and feedback, and OKRs setting
Pricing options: Fellow offers a free introductory tier, a Pro plan that costs $6 per user per month (billed annually), and a customizable Organization plan.
2Evernote
Evernote is best known for its note-taking abilities. While it doesn't transcribe audio recordings for you and your team, it's very effective for taking all kinds of notes and for assigning tasks to your team members. Evernote has many different templates that are customizable and you can also add voice recordings. This tool's features help you capture all the necessary information and help you create meeting minutes that are informative and beneficial to you and the rest of the team as well. Once you're happy with your notes, you can collaborate and share them with your team.
Key features:
Customizable meeting minutes templates
Audio recording and playback
Team-wide sharing of meeting minutes
Pricing options: A free introductory plan is available, and paid plans start at $7.99 USD per month.
3ClickUp
ClickUp also acts as another great Asana alternative. ClickUp is one of the most user-friendly tools and uses the bold and attractive colors with which Asana users are familiar. This tool is also great because the platform is consistently updated and the tool often releases new and improved features, which is particularly helpful for agile teams. ClickUp is also great in terms of integration abilities. If you're looking for an Asana alternative that is more effective in integrating outside communication like emails, ClickUp is a great option.
Key features:
Great integration options
User-friendly interface
Effective for organizations with a limited budget
Pricing options: Free option (best for individual users), then tiered options up to an enterprise level with customizable budgets.
4Grain
Grain is one of the best Asana meeting notes alternatives because you can record your meetings, transcribe them in many languages, take meeting notes, and share these notes with your teammates. Grain is especially effective for teams that use video meetings because you can create and share highlights as clips for your meetings to make valuable summaries. Every meeting is automatically recorded and saved in a collaborative workspace that you and your team can access. You can organize your meeting notes, send recap emails, build libraries of knowledge, and share all this information with your team.
Key features:
Ability to organize your recordings, meeting notes, and summaries in a shared workspace
Meeting transcriptions available in 22+ languages
Ability to clip and share key moments from video meetings with annotations
Ability to compile highlights from your meeting to create a video summary
Pricing options: Grain's free plan lets you record, transcribe, and save up to 10 video meetings. The paid plan starts at $19 per user per month (billed annually) and offers unlimited video storage and transcription.
5Beenote
Beenote is another great notes tool that is also effective for meeting planning and execution. You can create branded meeting minutes and use many of the integrations that are offered. Depending on the plan you choose, you can facilitate fully private minutes and include a resolution register. The one drawback of this meeting notes alternative to Asana is that it doesn't have an integration feature with Slack, which is one of the most popular communication tools among organizations.
Key features:
Personalized and branded meeting minutes
Fully private meeting minutes
Resolution register
Pricing options: Beenote (for teams) ranges in price from $8.67 USD to $15 USD per user per month. Beeboard (for executives) prices are customizable, and you can contact Beeboard directly for an accurate quote.
6Google Docs
Google Docs is one of the most common note-taking platforms out there, especially because of its ability to support teams' smooth collaboration. Its voice typing tools are really effective for transcribing meetings in real time. Moreover, because of Google Docs' easy-to-use collaboration tools, you can provide unlimited meeting minutes access to all your team members or even to your external clients and customers. This means your team members can work together to create and perfect your meeting minutes. The one pitfall of Google Docs is that this tool isn't able to store and save audio recordings like other meeting minutes software platforms.
Key features:
Ability to collaborate and create minutes in real time
Voice typing for real-time meeting transcription
User-friendly
Easy access to all team members
Pricing options: Google Docs offers a free introductory plan and a business plan that costs $12 USD per user per month.
What to consider when using a meeting notes tool
1Is it collaborative?
First, consider if the meeting notes tool you're selecting is collaborative. You want to choose a platform that will allow you to work together with your team to best create your meeting notes. This way, everyone's voices, opinions, and suggestions are considered when you and your team are putting together your notes and various recaps.
2Is it user-friendly?
A meeting notes tool should be intuitive to use. You want the tool to remind you of Microsoft Word, Google Docs, or maybe your blog's content management system. In other words, the tool should be something that is familiar and easy to work with. Make sure you can use various styles of note taking like creating lists or bullet points.
3What integrations does it have?
The meeting notes tool that you select should be easy to integrate with any other kinds of tools or resources that you and your team are already using. If your tool fully integrates with all your other software platforms, you're more likely to avoid any kinds of challenges or hitches. A trustworthy meeting notes tool can integrate with your calendar app, team communication tools, and so much more to make the process of implementing the new tool completely seamless.
4What task management capabilities does it include?
Think about what kinds of tasks management capabilities exist within the tool. Many meeting minutes tools allow you to mark certain parts of your minutes as meeting action items. This way, you and your team remember to follow up on any of the items that are discussed during your meeting. Some meeting minutes platforms also include a task management hub that centralizes all these action items so you can seamlessly stay up to date on all your needs and team requirements.
Parting advice
There are many Asana meeting notes alternatives that you should explore for you and your team to have more productive and more efficient meetings. Work management systems that support you and your team in taking notes will help you and your attendees stay organized and optimize your time management. While Asana is a great task management and notes management tool, there are so many other great options that should be explored to ensure you're truly selecting something that is right for you and the company. Consider the main features you're looking for and what kind of budget is at your disposal before you make your final decision.