I'm sure we've all seen the news and social media feeds covered with artificial intelligence (AI) products like ChatGPT, Google's Bard, and more. These ultra-powerful tools have been helping people do everything from drawing creative inspiration, creating travel itineraries, and patching code to even passing the bar exam. For busy multi-taskers, we've also found a way to use AI to make meetings easier. Here, we're diving into how to leverage this cool new tech to generate meeting notes and some of the benefits this can have on your schedule.
What are AI meeting notes?
AI meeting notes are when automated tooling is connected to your virtual meeting to record and transcribe the conversation throughout the call. AI tools are great at generating meeting notes for you, especially if you're in a busy conversation like a sales demo, product pitch, or town hall. The result is quite similar to if a human took the notes—just that a human didn't have to!
The importance of taking meeting notes in virtual meetings
Maintaining focus and engagement. Taking notes is a great way to be an active listener in a meeting. It shows that you're taking interest in the conversation and allows you to write down thoughts or ideas without interrupting whoever is currently speaking.
Enhancing comprehension and retention. Being able to review notes at a later time is helpful, especially if you've documented specific goals and action items from the call. You might also find it helpful to recall any project specifications—like a budget that was discussed—down the line.
Keeping the meeting on track. If you find you're getting down a rabbit hole on your call, you can make note of the bigger talking point in your meeting notes and then agree with your meeting attendees to put this topic into a "parking lot" for another day. This shows that you still value that talking point, but you need to direct the conversation back to the meeting's main purpose.
Facilitating collaboration. Shared meeting notes can facilitate collaboration. If you're working on collaborative meeting notes with your team, you can see how they've interpreted the conversation. This can be useful to avoid miscommunication issues.

Experience seamless agenda creation, improved collaboration, and better meeting outcomes
Automate the creation of meeting agendas, making them more effective and time-efficient. Say goodbye to manually crafting agendas and welcome a more organized and focused meeting experience with Fellow!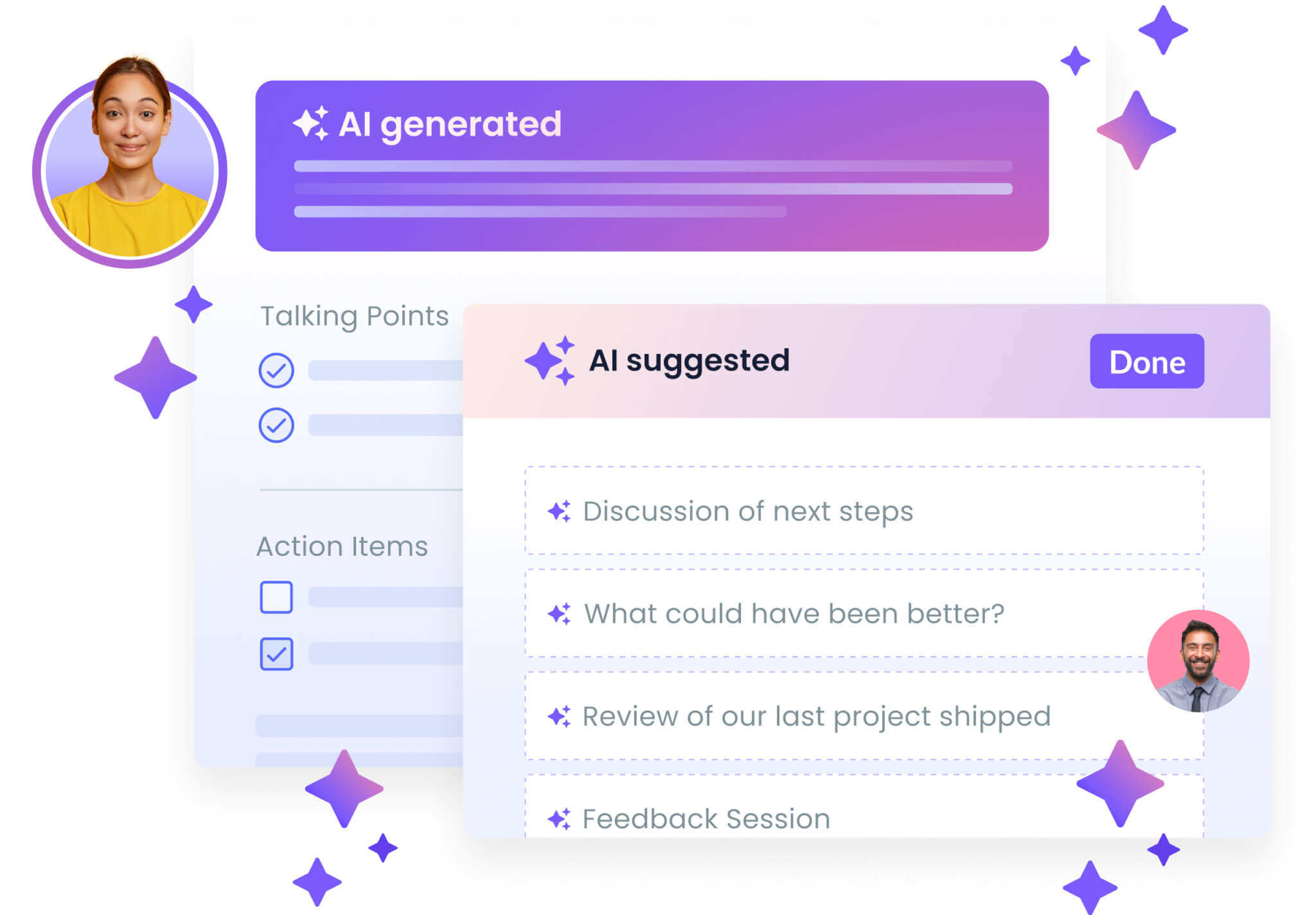 What can an AI meeting notetaker do?
A lot of people jump to the idea of transcription when they think of AI meeting notes. And while it's true that many AI tools are great at creating a record of your conversation, they can now do much more than that. For example, they can summarize talking points into short key takeaways, which is a great asset to share with anyone who wasn't able to attend the call. They can also differentiate between different attendees speaking so you can identify who provided specific contributions or determine the percentage of speaking time per employee, which can be useful for employee performance reviews.
Benefits of using AI for meeting notes
1Improved efficiency
It's pretty easy to say that AI tools can help save you a lot of time—and most AI tools today don't even need a ton of configuration or onboarding time either. Once you have the tool set up, you'll no longer need to dedicate a specific person to take notes throughout the call, which allows this person to be a more active part of the conversation. After the call, your meeting notes will be automatically generated, which might only require a bit of review time but won't require any more long editing and review sessions.
2Enhanced collaboration and communication
AI meeting notes can be shared and accessed by multiple team members, facilitating collaboration and communication. Some tools will also allow you to highlight, comment, and tag other team members on the meeting notes. These kinds of collaboration features are especially great for asynchronous teams and for employees who weren't able to make the live call but want to be part of the discussion.
3Better organization and tracking of information
When you're working in big teams or you're constantly switching out your meeting notetaker, you may see a variation in organization styles. Even the file name of the meeting notes document can change widely from person to person, which makes searching for the document later more difficult. Instead, AI meeting tools will effectively organize notes by date, team, department, or meeting topic. This makes it much easier to find and export notes in the future.
4Increased accessibility
In a Harvard review of accessibility in remote meetings, the contributors noted a ton of areas where teams need to be more cognizant to create inclusive content. For example, AI note-taking tools can help with providing closed captions or transcripts, which participants can read after the meeting if they need to revisit the meeting's talking points. Additionally, lots of AI tools can also read transcripts aloud, which can help team members who need more auditory support.
Helpful tools for AI-generated meeting notes
1Fellow
Fellow is the #1 rated meeting management software on G2 and is loved by the world's best teams. With Fellow's AI-powered features, you can take your meeting notes to the next level with suggested agendas built at warp speed for prepared, organized meetings.
However, Fellow is not just an AI-powered tool. Unlike other AI tools, Fellow takes it one step further by being your all-in-one meeting productivity tool! With Fellow, you can collaborate on meeting notes, save templates for recurring meetings, assign clear action items and takeaways, and request feedback from meeting attendees. Plus, to further enhance your note-taking, Fellow syncs your work calendar and notes, making it easy to find the corresponding notes for each meeting. For example, Fellow integrates with Google Chrome to access your meeting notes right inside of Google Meet calls and your Google Calendar to supercharge team meetings and 1-on-1s without leaving the tools that you are already using.
More notable feature that Fellow has to enhance your meeting note-taking includes:
Automated reminders to encourage attendees to add to the meeting notes
Integrations that sync your meeting notes and action items between your meeting notes app and all your other tools seamlessly
Note streams to keep track of everything discussed in previous meetings
Pricing options:
Free – $0/month (for teams of up to 10 people)
Pro-$7 per user per month (maximum of 25 users; includes AI suggested topics and meeting automations)
Business-$10 per user per month (maximum 100 users; includes implementation services)
Enterprise-$15 per user per month (includes organization analytics)
Learn more about Fellow's pricing plans.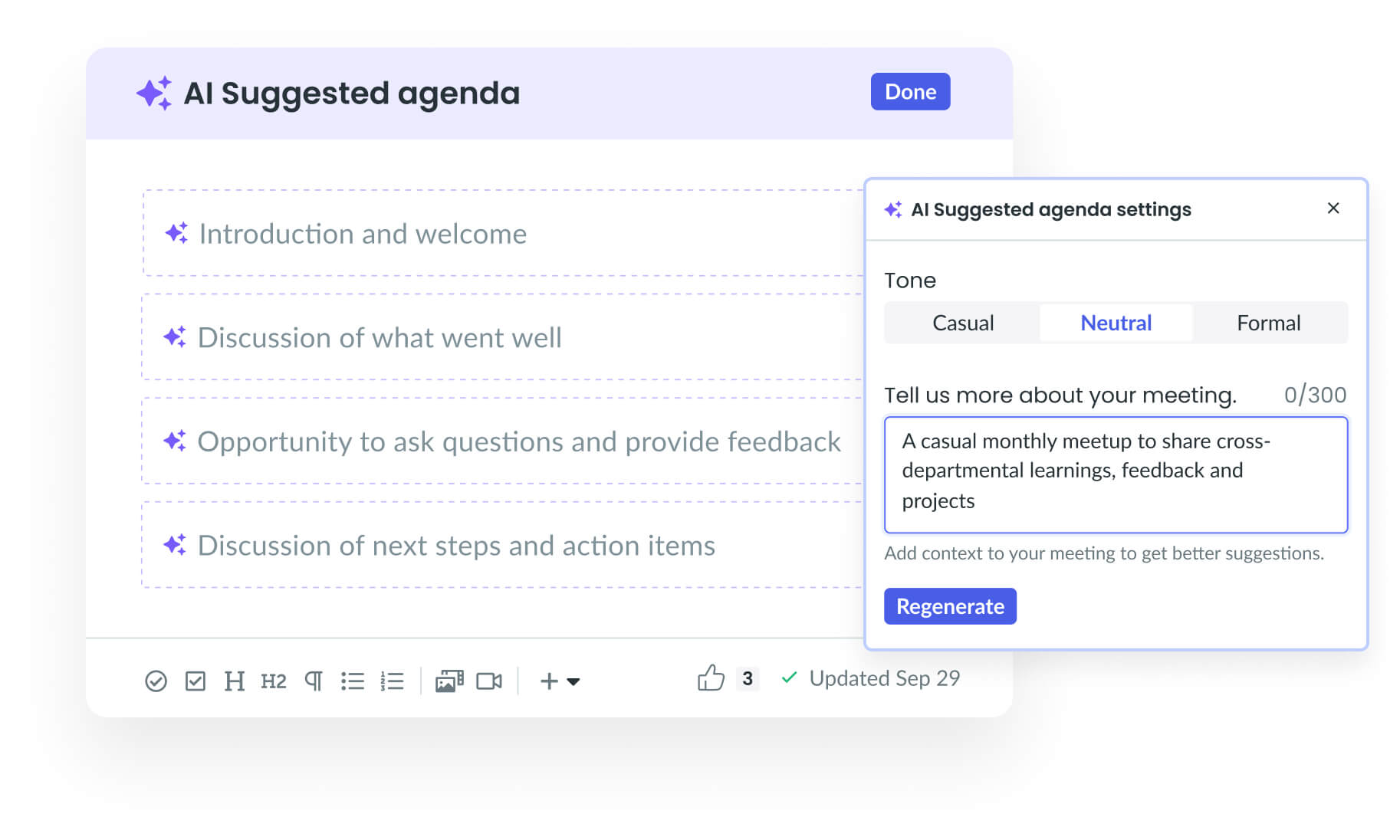 2Otter.ai
Otter.ai is an AI-based meeting assistant tool that can automatically record auto, transcribe the conversation, and summarize meeting talking points. It has plenty of integrations directly to major video conferencing tools like Google Meet, Zoom, and Microsoft Teams to make it easy to record and access your meeting notes. If you aren't using one of these platforms, you can also import an audio file to Otter.ai and it will process a transcription, including highlighting key areas it thinks are important.
Key Features:
Collaborate in the live transcript
Assign action items to team members from the meeting notes
Generate meeting summaries automatically
Pricing options:
A free plan is available!
Paid plans start at $16.99 USD per user per month
3Sembly
Sembly works on a lot of areas of AI team management, including notetaking. Sembly has also teamed up with a few key voice-to-text partners, including Philipps, to keep its product up to speed with the latest AI developments in meeting notes generation. Like other AI meeting notes tools, they also have integrations on common video conferencing platforms like Zoom, Google Meet, and Microsoft Teams—though you can record a conversation directly in Sembly as well!
Key Features:
Use the search function to find information from past meetings
Leverage tons of integrations with videoconferencing tools
Receive meeting summaries post-call, even if you didn't attend
Pricing options:
A free plan is available!
Paid plans start at $10 USD per user per month (a 7-day free trial is also available)
How to choose an AI meeting notes tool
With so many options out there for AI meeting tools, it can be hard to find a tool that suits your needs. Some things to consider are:
How does the tool interact with the rest of your tech stack? Consider both the tech stack you have today as well as any new tools you're considering adopting in the near future. Ideally, you'll want a seamless knowledge flow between tools.
How secure is the product? Don't be shy about asking vendors for proof of their application's security. You'll want to see things like authentication methods, regular third-party security testing, and even compliance with a framework like SOC 2.
Can you scale with this product? Look to see if the product is charging you by user or the number of meetings for which the AI tool creates notes. Depending on how big your team is or how much work you do, the pricing can change dramatically.
Parting advice
Whether you like it or not, AI tools are becoming so powerful and can be great to accelerate your current work! For example, using AI meeting notes tools can help you spend more time focusing on the conversation at hand while also summarizing the discussion for colleagues who couldn't attend or who need more time to process the information. There are lots of AI-enabled tools out there like Fellow to make meetings easier today. Request a demo to get started!