Humans and tooling both put data at a high risk of being lost or mismanaged. According to a 2018 study, humans are the number one risk to data loss in an organization (causing 50% of data loss cases), and having the wrong tooling in place accounts for 35% of data loss cases.
What can be done?
Having the right tools in place. And bonus points for tools that are easy to manage and integrate seamlessly with all your favorite information generators!
Here, we've put together 11 of the best knowledge management tools you can try to integrate in the new year. Some are better for different team sizes and functions, but we're sure to help you find one that meets your needs.
What are knowledge management tools?
A knowledge management tool is simply something that helps manage the knowledge in your organization. Knowledge management tools are often hosted online as a software-as-a-service product, and they can help organize, track, and make this information easily retrievable for future needs.

Managing a team?
Take control of your team meetings by having collaborative meeting notes and encouraging accountability with action items. Try a tool like Fellow!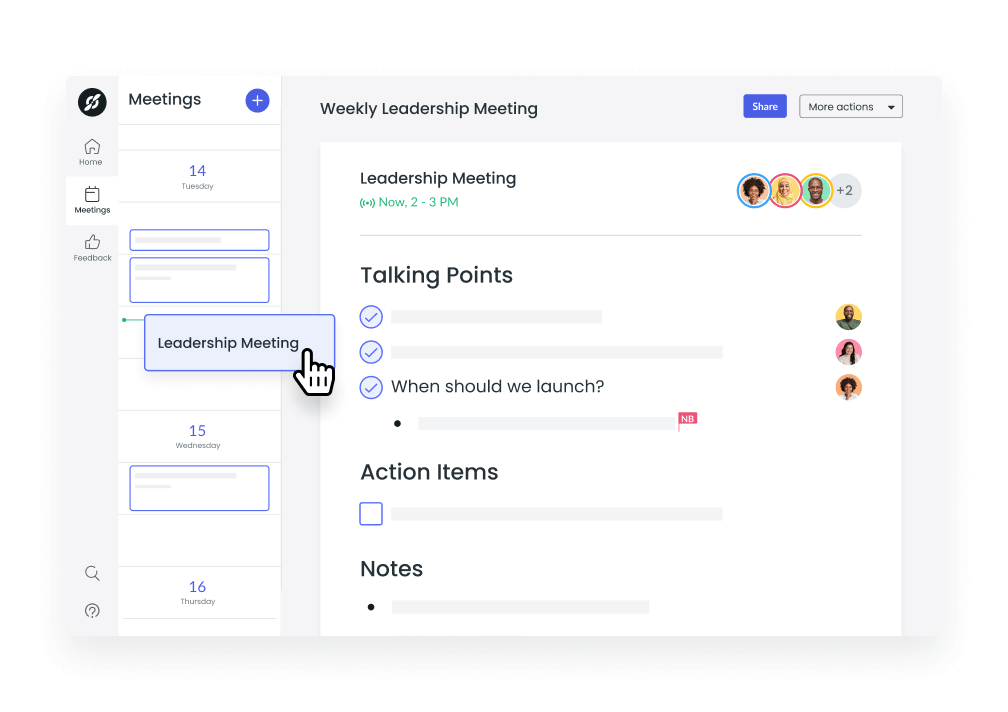 Why are knowledge management tools important?
As you grow, you'll have a lot more information to keep tabs on, including decisions from meetings, customer feedback, user stories, sales call recordings, and insights from change or experiments within the organization. Some ways that knowledge management tools can come in handy include:
Tracking meeting agendas and notes
Organizing recordings of sales calls and noting customer objections
Storing collateral such as presentations, product documentation, analytics reports, and budget spreadsheets
Mapping out the types of information that is available so teams can easily find it when needed in the future
Combining information from sources like reports or spreadsheets to make the data easier to digest
11 of the best knowledge management tools
1Fellow
Fellow is a comprehensive tool to help you with all things meetings! From getting feedback on meeting agendas to taking minutes, tracking action items, and handling everything in between, you can manage meetings way easier with Fellow. And you can use it as a feedback tool for after your meetings to make sure they went as well as you hoped, too! Fellow also integrates directly into meetings tools like Google Meet and Zoom to make it even easier to manage meeting information.
Pricing options:
Fellow has a free plan
Paid plans start at $9 per user per month
You get 34% savings if you purchase an annual plan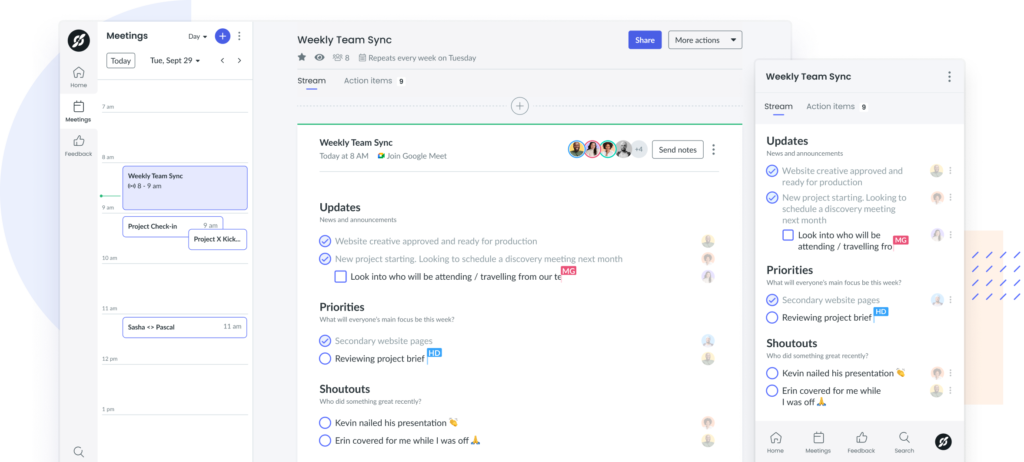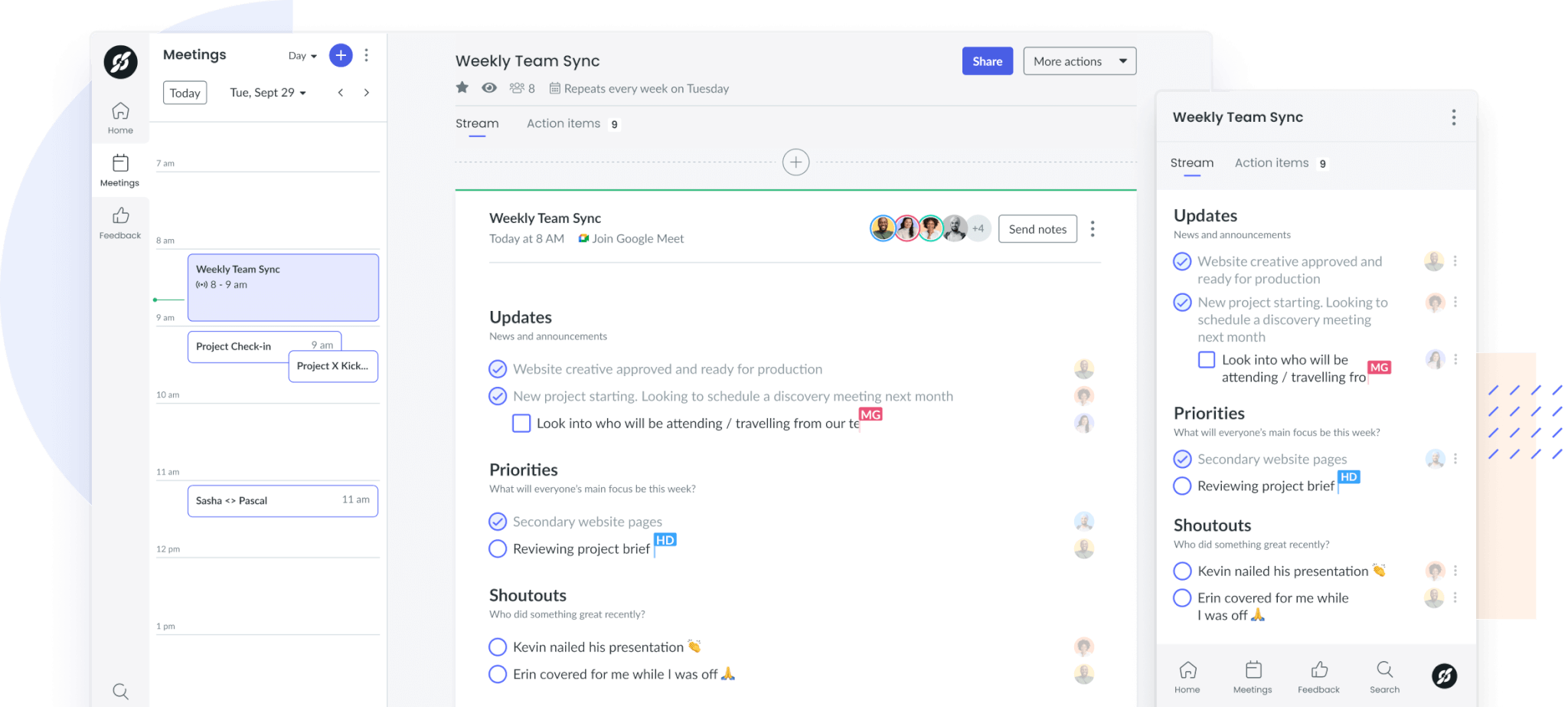 2Confluence
I like to think of Confluence as a tool to manage a brain full of thoughts across teams, in a simple, organized notepad. Share notes, write product documentation or policies, and segment sections to fit all your departments within one shared workspace. Confluence makes collaborating on projects easy so everyone can join a page and start working together, while keeping the document close to any other project information. And to make it even sweeter, Confluence actually integrates with Fellow, so you can quickly grab this project info during meetings.
Pricing options:
Confluence has a free plan
Paid plans start at $5.75 per user per month
3Notion
Notion is quite similar to Confluence but stands out in its own way. While Confluence is heavily focused on team collaboration through documents or pages, Notion also allows teams to create and manage information in other ways, like in Kanban boards and databases. This makes it easier to create more complex project plans or track a content calendar, for example, with Notion. This tool operates similarly to Confluence in that it allows teams to collaborate in shared workspaces, and also integrates with Fellow in a similar way!
Pricing options:
Notion has a free plan for individuals
Paid plans start at $5 per month for personal use, or $8 per user for team use
You get savings for committing to an annual subscription
4HubSpot
Known as one of the top customer relationship management (CRM) tools of the modern day, Hubspot is also well loved for its knowledge management capabilities. It's an extremely powerful tool that can support sales, marketing, operations, customer success, and technical support teams. Run your website and blog through Hubspot, manage deal flows, and get detailed analytics on your ticketing system—it's all done here. Here's a quick insider tip: Move meeting notes directly into your sales deal notes with Fellow's Hubspot integration!
Pricing options:
There are lots of free tools available
Paid plans start at $45 per starter bundle, with additional costs for expanded features and more users or contacts
There is special pricing for start-ups
5Tettra
Are you selling a complex product? Do you tend to get overwhelmed or scatterbrained? Tettra was made just for you. It operates as a knowledge base for frequently asked questions so internal employees can quickly search a directory of questions and get a solution as soon as possible. This limits how often employees need to break their focus to respond to already answered questions, and ensures that everyone can work as efficiently and independently as possible.
Pricing options:
There is a free plan available
Paid plans range between $8.33 to $16.66 per user, per month
6SABIO
SABIO (also known as SABIO Integrator) offers a browser extension that connects you directly from any web page to your knowledge base. The tool offers a customizable search feature so you can search through your stored information as quickly as possible. This is especially helpful for when you're working in other tools and need to reference specific details that have been stored.
Pricing options:
Plans start at $8 per user, per month
There is a free trial available
7SharePoint
Under the Microsoft suite of digital productivity tools, SharePoint enables large teams to organize and share files. This tool is also widely used by enterprises, governments, and universities as an intranet to lay out important company updates and resources. As it's part of Microsoft's larger network of tools, it supports Word, Excel, PowerPoint, and many other tools. Almost any file type can be uploaded into the platform and shared across the organization. You can also manage user access to ensure confidential documentation only lands in the hands of authorized users.
Pricing options:
Plans start at $5 per user, per month
A plan for this tool can be included under other Microsoft subscription packages
8Bit.ai
Largely focused around document organization and management, Bit.ai is a helpful tool to help you create and manage large volumes of content. Marketing teams might find this tool especially great for scaling content creation efforts while also considering branding, security, and automated workflow management. Better yet, Bit.ai can also embed documents right into your website for easy access and distribution of your content efforts!
Pricing options:
There is a free plan for up to 5 members and/or 50 documents at a time
Paid plans range from $12 to $20 per member, per month
There are discounts available when purchasing an annual plan
9Happeo
Happeo has built itself around the remote-first work environment for larger companies. Use this versatile tool to build a company intranet, search across your databases, analyze interactivity with your content, and support employee communities. If your organization runs on Google or Azure directories, it can integrate directly so when you search, you search across everything in your organization. The tool also offers a library of templates to help get you started with your information management right away.
Pricing options:
There are three packages available
Happeo pricing information is not public
10Zendesk
Best for customer success and service teams, Zendesk is great at helping you organize inbound tickets and build reports to help your team improve efficiency. There is a lot of information to manage when customers reach out with comments, questions, and concerns with a product, so storing this information in Zendesk makes it easy to record, track, and access for future optimization! It can collect information from a ton of channels, including chat, text, email, and social media, making it a very powerful tool.
Pricing options:
Separate pricing models for smaller teams and enterprises are available
Smaller team plans range between $49—$99 per agent, per month (billed annually)
Enterprise plans start at $150 per agent, per month (billed annually)
11Bloomfire
Bloomfire is all about how to help your company leverage its internal intelligence as a competitive advantage. It helps across three areas: knowledge management, customer support, and research. Through a strong search function, teams can easily find their way to useful information that empowers them to move quickly and efficiently in their projects. This tool has a unique ability to curate new information to help employees learn new information before they even need it!
Pricing options:
Plans start at 50 users
Bloomfire pricing information is not public
Parting advice
As your organization grows, there's no doubt you're going to have a lot more information to manage—and why risk losing it? By adopting one of these leading knowledge management tools, you can help your team to identify high-value insights, track them in an organized manner, and easily access important details while your team is working on other projects. It's essentially a fast track to empowering your team to be independent and highly in the loop.