Virtual teams work best when they have almost everything they could get in a physical office. That means easy communication, simple file storage, and hassle-free meeting spaces. Tools for virtual teams can provide all this and more. Read on to find 16 great virtual tools your team should use and see what all the best options have in common.
What's the difference between remote teams and virtual teams?
Remote teams comprise members from all over the country and world – they're the ones figuring out how to plan meetings across time zones. These teams work from home and always have (and always will). As such, remote work sometimes means that team members don't communicate with their managers that often. There's lots of built-in independence.
Virtual teams, by comparison, resemble in-person teams spread across screens, keyboards, and time zones. In fact, some virtual teams were once in-person teams that have since shifted to working from home. Either way, they comprise all kinds of managers, leaders, and team members. They might even include freelancers, consultants, and other people who don't quite fit the label of "employee." This diversity means that tools for virtual teams have all kinds of uses.

Delightful meetings
Ensure you have delightful meetings by having detailed agendas before meeting to make the best use of everyone's time. Try Fellow!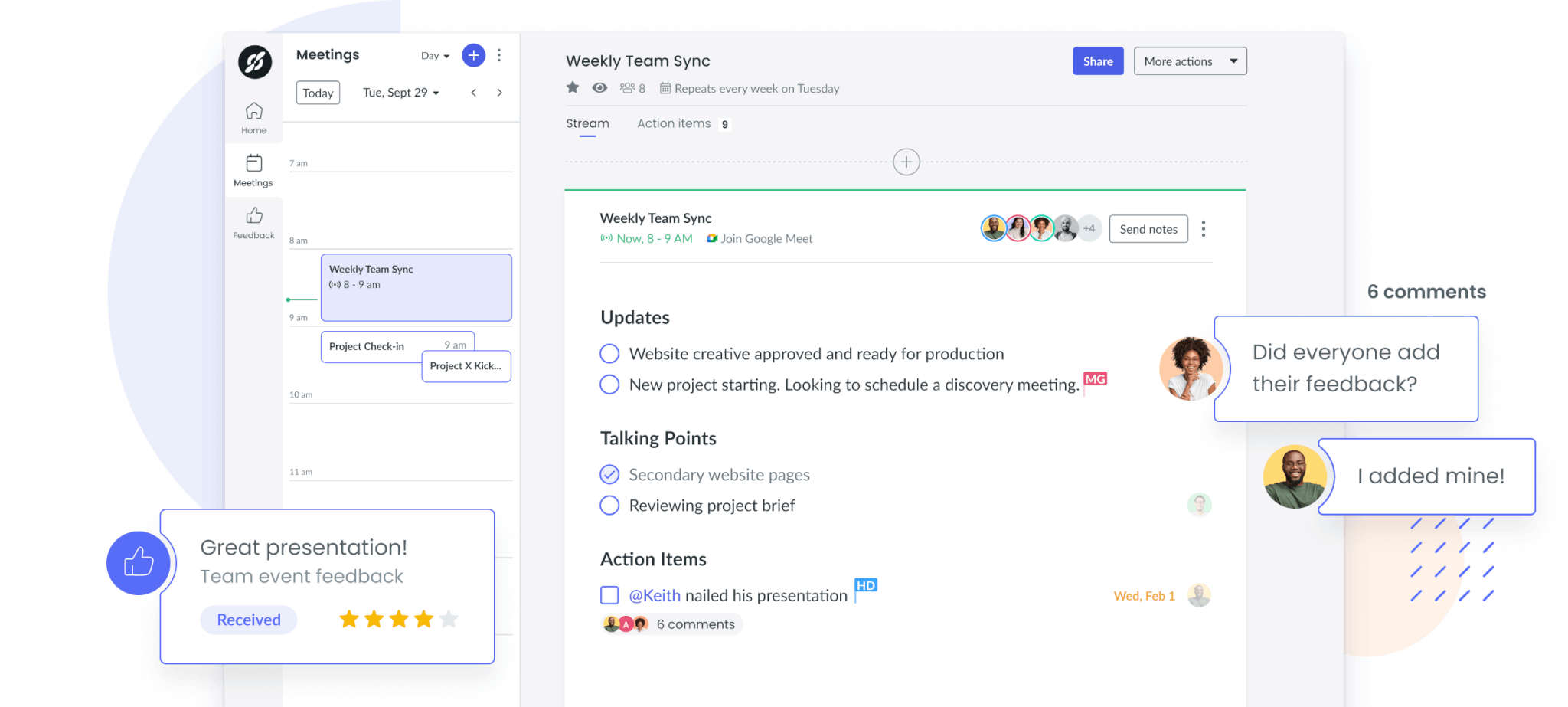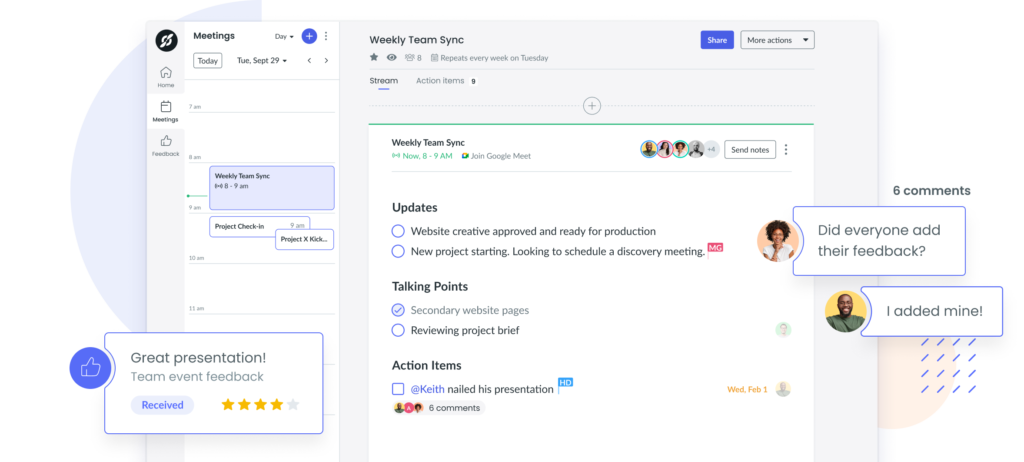 16 best tools for virtual teams
The best tools for virtual teams connect your organization across all kinds of boundaries – time zones, ranking within the organization, physical distance. They streamline video calls, direct messaging, time tracking, file sharing, and so much more. Here are the best 16 tools for your virtual team.
1Fellow
Fellow is a user-friendly virtual team tool for all things meetings, notetaking, team objectives, and peer feedback. You can use Fellow to collaborate on meeting agendas and real-time meeting notes with your team. This way, your team can prepare for, and then enjoy, better virtual meetings.
Fellow's tools for objectives and key results (OKRs) and peer feedback can also help virtual teams get on the same page from afar. You and your team can use the OKR tool to set a cycle and keep everyone on track during meetings. The peer feedback tools can help your team members give each other advice even if they never see each other in person. It's basically the virtual equivalent of face-to-face feedback.
Pricing:
A free plan is available!
Paid plans start at $9 per user per month
2Slack
Slack is a popular team communication tool that brings real-world and virtual teams together online. It allows your team members to directly message each other or start group chats. You can also create Slack channels for projects, clients, or just little distractions when team members need a quick break. With Slack, you can rebuild the communication channels of an in-person office for the online world.
Pricing:
A free plan is available!
Paid plans start at $7.25 per user per month
3World Time Buddy
World Time Buddy helps virtual teams schedule meetings across time zones. You and your virtual team can also use this app to see the time where another team member lives. This way, you don't message someone at 3 p.m. your time when they stopped working hours ago. Virtual teams always benefit from knowing who's working when and more easily setting meeting times.
Pricing:
4 Monday
Monday is a project management software platform and collaboration tool that virtual teams use often. You can use it to create and assign tasks and ask team members for updates. That's similar to swinging by an in-person employee's desk to ask when they'll have the work done and ready for you. Monday also includes Gantt charts, which can be important for giving everybody the right amount of work to do and planning your timeline.
Pricing:
A free plan is available!
Paid plans start at $9.80 per user per month
5 LastPass
LastPass is basically a file storage platform, but for passwords, not files. Your team can log in with a master password and find all your passwords for all the platforms you use. Since virtual team members can't swing by your desk to ask for passwords, a secure online platform like LastPass is the next best thing. It can also help your team members create strong passwords for new platforms so you don't have to coach them on doing so.
Pricing:
A free plan is available!
Paid plans start at $3.25 per user per month
6 Google Workspace
If your team uses Gmail or Google Drive, it already uses Google Workspace. There, you'll find Google Docs, Calendar, Meet, Slides, Sheets, and other tools that form your organization's backbone. Drive is a user-friendly, well-organized file storage suite; Docs is a highly collaborative word processor; Calendar gets all your team's schedules in line. As virtual team needs go, Google Workspace is pretty comprehensive.
Pricing:
Paid plans start at $6.00 per user per month
7 Microsoft Teams
If you use Outlook instead of Gmail, you can access all of Microsoft's alternatives to Google, and Microsoft Teams stands out in particular. That's because, after you're done using it for video conferencing, you can still easily find and open any files you shared. That's not always the case with video conferencing software, and it saves virtual teams a lot of online back-and-forth trying to look for files.
Pricing:
A free plan is available!
Paid plans start at $7.00 per user per month
8 Nectar
Did you know that some virtual team members can be more prone to burnout than in-person team members? Nectar's employee recognition tools can help you fight this virtual burnout. You can use it to get your whole team congratulating someone for a big win. Nectar also lets you give rewards such as gift cards or company-specific awards. Since you can't quite see your virtual team to sense how they're feeling, Nectar can be a huge help for keeping everyone engaged.
Pricing:
Paid plans start at $3.00 per user per month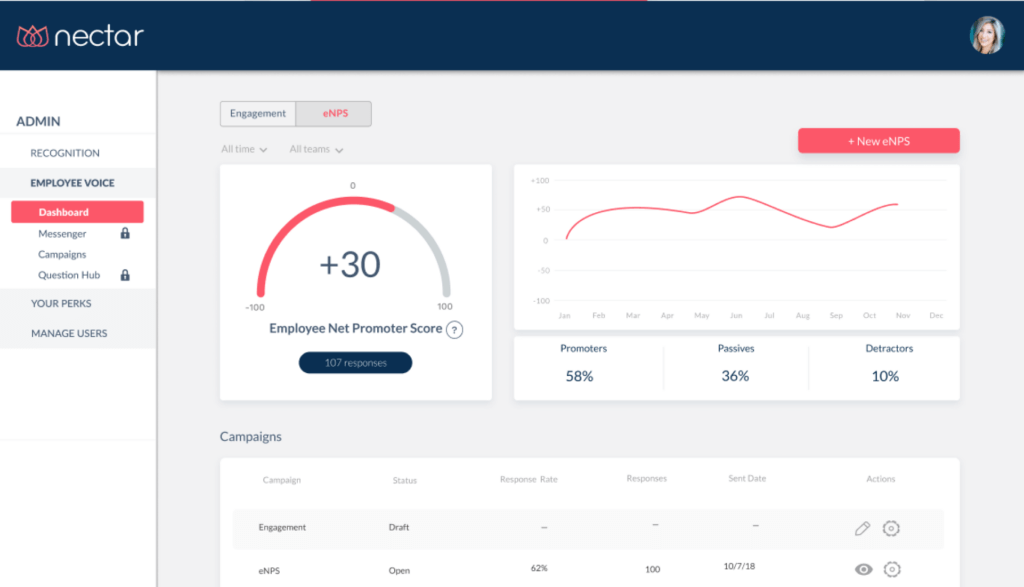 9 TimeCamp
Another way to avoid virtual burnout: Make sure your team isn't working too much. TimeCamp can help. You can ask your team to use it to log their hours and step away once they've reached a certain number of hours per day. You can also use TimeCamp to ensure your team is working enough – not seeing enough hours tracked might mean your team is distracted or unengaged. Without TimeCamp, you might struggle to sense that through a screen.
Pricing:
A free plan is available!
Paid plans start at $2.99 per user per month
10 Zapier
Virtual teams save time when the information they add to one of your tools automatically goes to all your others. Zapier can build that bridge. You can build custom workflows from any tool so that one action there automatically triggers actions in another. Doing so doesn't require any coding or software developer expertise. That means anyone on your virtual team who wants to make sure their work reaches your whole team's platforms can do so.
Pricing:
A free plan is available!
Paid plans start at $19.99 per user per month
11 Kickidler
Kickidler can give you a better window into how your virtual team is spending its workdays. It includes screen recording tools so you can look back on how your team has been using its work hours. That's important if you're the type of manager who wishes you could be in person and actually see what everyone is doing. Kickidler also comes with remote PC access tools so that, if you do have an office, your team can access its computers anywhere, anytime.
Pricing:
A free plan is available!
Paid plans start at $2.75 per user per month
12 Water Cooler Trivia
Water Cool Trivia is a great tool for virtual teams in need of brief distractions and team-building exercises. You and your team can work on the trivia questions together from Gmail or Slack, or you can all guess separately. You have full control over when the quizzes arrive as well as their length and difficulty. The questions and their answers will likely give your team something to talk about. They also give your team a little break that can be great for their productivity.
Pricing:
Paid plans start at $1.00 per user per month
13 GitHub
For virtual software development teams, GitHub is an essential virtual team tool. Your team members can use it to collaboratively code across any distance. Before they do, GitHub can automatically set up a digital work environment and create a space for your whole team to discuss their coding. GitHub is also available on any device so your team can use it wherever they work from – even while they're on the move.
Pricing:
A free plan is available!
Paid plans start at $3.67 per user per month
14 Mural
Virtual teams don't have physical whiteboards for collaboration during meetings, but Mural comes close. It's a blank digital slate for post-its, links, action items, and more. It helps your team brainstorm and come up with their best ideas without sitting down in the same room. You can start your own digital whiteboard from one of over 300 templates and share it during team meetings for instant reactions and feedback.
Pricing:
A free plan is available!
Paid plans start at $9.99 per user per month
15 Rocket.Chat
If using a team communication tool makes you worried about whether your private chats stay private, you might like Rocket.Chat. This team communication app prides itself on not exposing or sharing your data outside its platform. You can also use Rocket.Chat for video and audio calls from the same place where you write messages. Rocket.Chat can also connect you with clients, vendors, and other partners who use the app.
Pricing:
A free plan is available!
Paid plans start at $7.00 per user per month
16 Whereby
Whereby is a video conferencing platform that doesn't require app downloads or create long, inconvenient meeting links. You can create a short URL and send it to your team members, who can then join from desktop, web, or mobile. You can also set your meeting name to anything you please and add your own branding. Whereby's maximum free meeting time of 45 minutes for groups of three or more is also longer than the ever-present Zoom's 40 minutes.
Pricing:
A free plan is available!
Paid plans start at $6.99 per user per month
Key features of virtual team software
All trustworthy virtual team software platforms have a few things in common. That's true even if they do totally different things. Whether you use your virtual team tools to store passwords, assign tasks, or hold the best possible meetings, all the below should describe them.
Quick, hassle-free setup. Great tools for virtual teams take just a few minutes to get going. They also fit your current workflows to a tee. Why install a password manager you can't access from your web browser or a time tracking app you can't link with your project management tool?

Desktop, mobile, and tablet use. Your virtual team tools should be equally easy to use from your computer, smartphone, or tablet. This way, your team stays united even if certain team members are on the go.

Unlimited users. Your virtual team tools shouldn't cap the number of people who use them. If they did, you might be in for a tough time when you hire someone new and find yourself over the cap. That might mean needing to switch tools when you could've just chosen an unlimited tool from the jump.

Scalability. The best tools for virtual teams grow with your organization. Introducing more projects, goals, team members, and the like should change next to nothing about your tools. Instead, your platforms should easily adapt to the changes, and as they do, so too will your whole team.
Your virtual team can do anything
From easier team communication to better meetings, tools for virtual teams can help you do just about anything without an actual office. Fellow is a great example: It lets your team virtually collaborate on meeting agendas and notes. It also empowers anyone on your team to ask for and give feedback while setting meaningful goals everyone can reach. It's a great way to bring your team together from a distance.