Project managers typically divide a big project into smaller tasks and assign each task to their team members. That's a huge benefit of working as a group, but the more people and tasks, the more there is to track. Plus, you've got your own action items to handle, so you can't just pull the time to track team progress out of thin air. That said, there are strategies and tools you can use when you're figuring out how to track action items. Below, learn how to make your team's progress more efficient. 
What are action items?
An action item is any task, activity, or action focused enough for one person to handle. Action items that you create during meetings are also known as meeting action items.
Managers are typically responsible for creating action items, assigning them to the team, and tracking them. Not every action item is directly about the project – some can be as simple as picking up food for a lunch meeting. But each item is usually vital to your work in some way, shape, or form. (You can't get through a workday without lunch!)

Track action items, get more done
Assign, visualize, and prioritize all your meeting to-dos in one place with Fellow!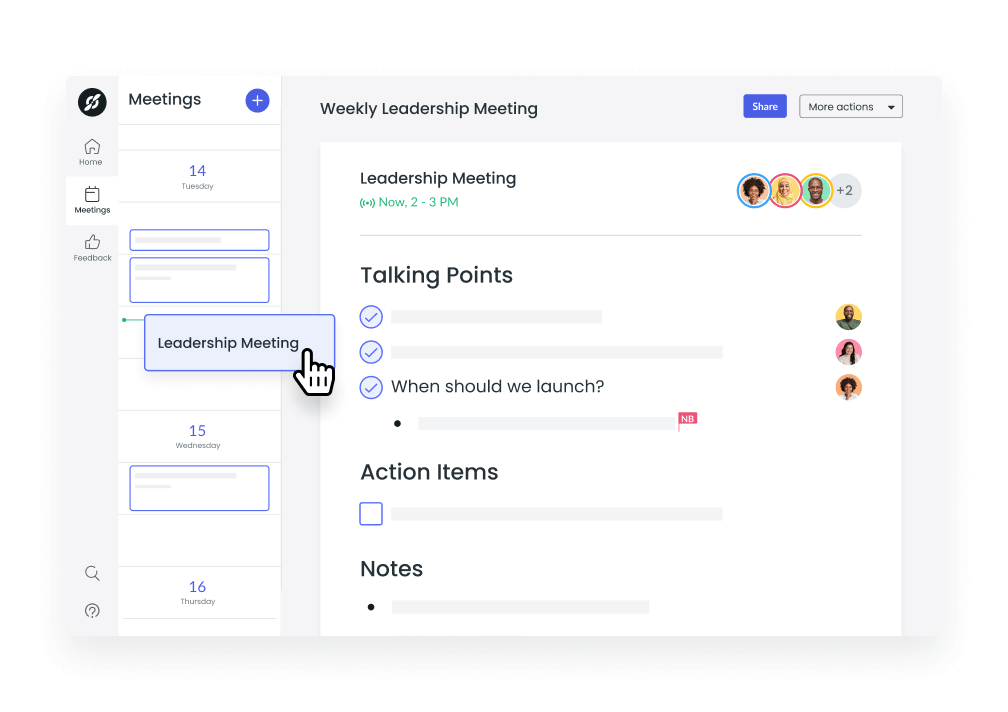 How to track action items
Your project will likely fare better with careful planning, and that includes assigning and tracking action items. Keeping your team accountable shows them that you trust them to handle their work and value their contributions. Here's how to track action items.
1Implement a system for recording action items
Theoretically, you can assign as many action items as you want. In reality, it's easy to lose track of them without a system to record who has what. That's why jotting down what an item is and when it's due is standard practice – but you should also have a system. A notebook could do the trick, but what if you lose it? Software platforms such as Fellow might be more effective since you can't physically lose them – and you can access them anytime, anywhere. 
2Record new action items immediately
By recording new action items the moment you assign them, you can also start tracking them in the same moment. Record action items in real time during a meeting with a collaborative meeting agenda.
Think about it like this: Action items often come from meetings, but they rarely end there. You and your team could start getting updates not long after everyone leaves the meeting room. Maybe your team has some early challenges to report or some great news right from the get-go. Having a location – your action items and the system where you store them – already in place for these updates is huge. This way, you can help your team members hit the ground running and more quickly get to their other action items.
3Assign action items the right way
You'll need a system for recording action items and choosing how to assign them. Assigning action items without rhyme or reason can pair people with work that someone else could do better and more quickly. That's an obvious problem – and you can avoid it.
Assigning action items the right way means assigning them by skill. Which team member has the experience and abilities necessary to complete the task by your deadline? Answer that question to assign tasks to the right person.
Once you've paired each action item with the right person, you should also be sure that your whole team fully understands what they've been assigned. This way, you avoid two people accidentally working on the same thing and thus putting your whole project behind. An action item software platform you can update in real-time and share with the whole team is a great option here.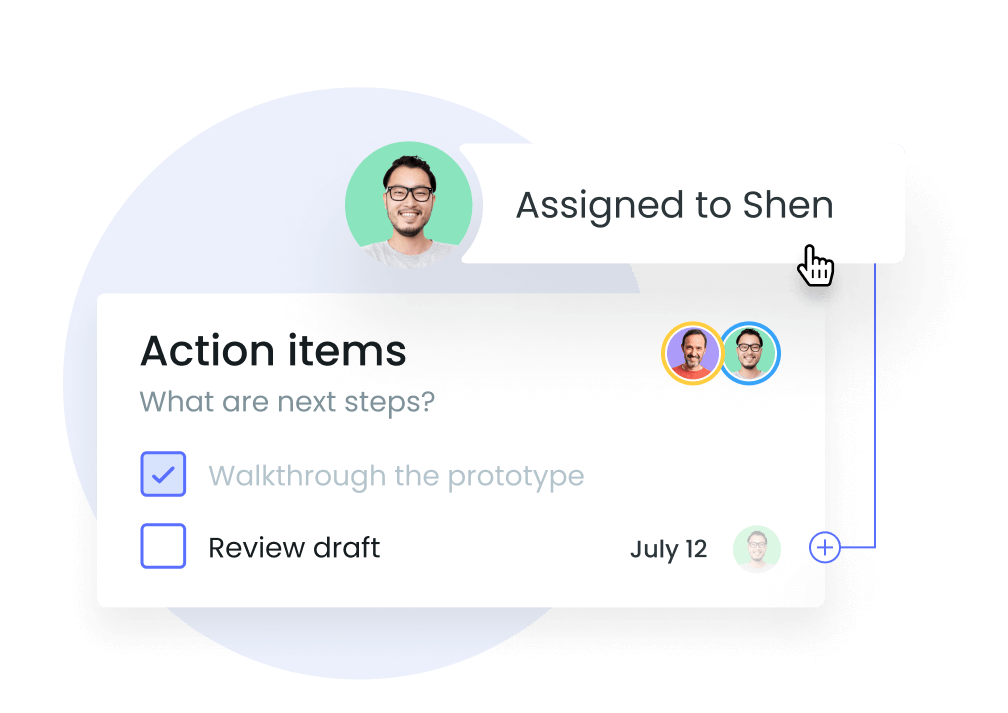 4Keep track of open and closed action items
When someone in your team turns in their work, you should mark it as complete as soon as possible. That's especially important with certain project management approaches.
For example, in waterfall project management, your team can't start one task before it finishes another. An action item that's complete but marked incomplete could have someone on your team sitting idle for no real reason. And accidentally marking incomplete work as complete can cause you to assign new tasks without the prior work done to make the current tasks possible. Either scenario can lower your employee productivity – track all your action items to keep your team working and active.
5Make sure you can track action item details
Since action items are little pieces of a larger project, their names are often short and uniform. This similarity can make them challenging to track by title alone, which is why you should pair detailed information with the title. The more information you include, the easier it will be for you and your team to make sense of your assigned responsibilities.
Some common details to include with action items are priority level, team member assigned to the task, and a task description. You can also include an extended description for longer or more complex items.
6Assign deadlines and due dates
Most projects have due dates, which means each action item has its own due date even sooner. These deadlines can help your team keep their work on track. Giving a clear due date can help your team plan accordingly and use their time more efficiently – all while experiencing less stress. Of course, deadlines are super helpful for you, too – they can remind you when to hold status meetings and assign more tasks.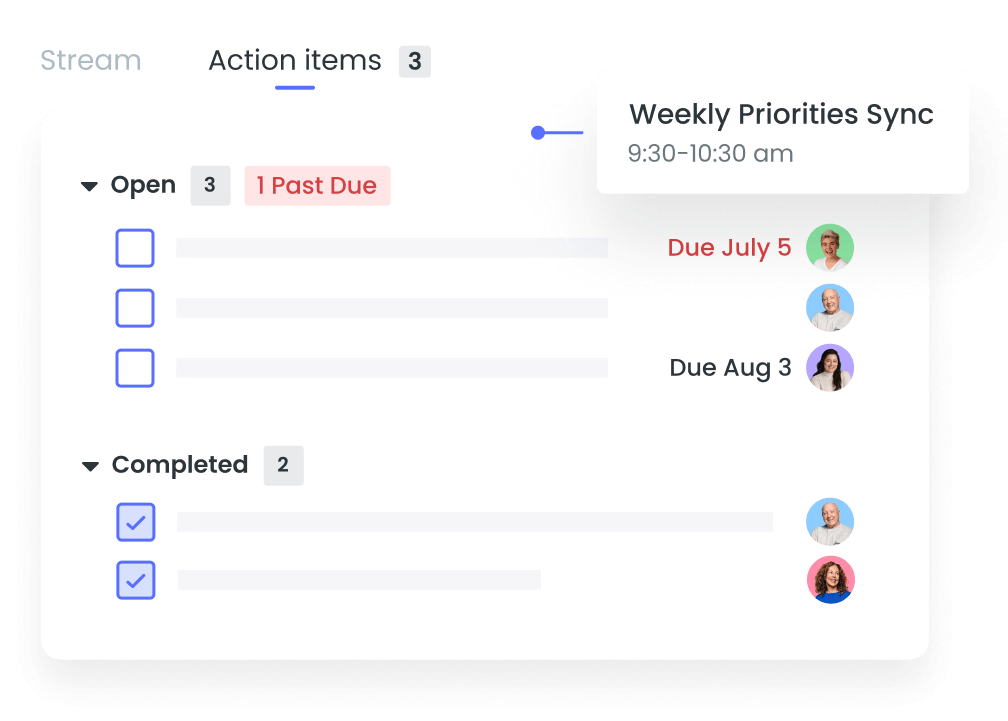 7Follow up on progress
Setting up a system for your team to share issues with you can help you stay on top of their progress. When done right, accountability can increase your team members' skills and confidence. After that, personally following up with each team member can help you get a more up-close-and-personal view of their challenges. That's the start of you and your team members working together on creative solutions. These solutions can get your project over the line and in great shape.
8 Adapt to teammate's personal systems
Integrating different tools can help you build a single source of truth when collaborating with other teammates. This way, tasks stay updated in one place. With Fellow, you can connect to the tools you love to improve your meeting, management, and production workflows. For example, Marketing teams can sync action items from Fellow to any Asana project that you've selected. 
Get things done and get ahead
Action items are key to planning projects and breaking lofty goals into smaller, more manageable pieces. But use them the wrong way, and they could lead to more disorganization. Using them the right way means having a clear system and plenty of follow-through. While you could do that with a pen and paper, Fellow is often a better solution.
Fellow is a professional meeting software platform with feature-rich action item tools. In just a few clicks, you can check off completed tasks, assign new ones during team meetings, and track your team's progress. It's a collaborative, seamless way to get more control over your schedule and productivity than ever before.