Objectives and key results (OKRs) are the drivers for an organization's growth. They are the end goals that the organization hopes to achieve. Having these goals in place enables business leaders and team managers to build specific strategies to help ensure that the OKRs are met.
More specifically, OKRs can be broken into two parts: objectives and key results. Objectives are the long-term goals that the team or organization wants to meet; key results are the ways in which the team meets these goals.
OKRs are used to help leaders develop a plan to cross the "strategy gap." The strategy gap looks at where the team is now versus where it wants to be in the future. OKRs, therefore, are what needs to be achieved in the meantime for the team to get from the current state to the future state.
Let's take a deeper look at OKRs and how they can specifically be leveraged in the marketing department.
What are marketing OKRs?
Marketing OKRs are specific to functions, programs, and tools that are managed under the marketing department. Most often, marketing OKRs are developed from the top-down decisions that come from management. In other words, when C-Suite executives decide the OKRs for the overarching businesses, marketing managers can develop department-specific, team-specific, or even individual-specific OKRs that are more niche to their everyday functions.
It's vital that OKRs are actually able to be controlled by the people working towards them. For example, email campaign coordinators can effectively work towards a goal to improve open rates. However, they wouldn't be able to ensure that new product packaging designs are continuously released on schedule. This distinction is important to consider when planning your OKRs, and is also a reason marketing departments should consider different goals for the overarching team and for each individual.

Stay on track
Having collaborative meetings for regular check-ins will ensure you meet your goals! Try using a tool like Fellow to have delightful meetings, review action items, and track OKRS.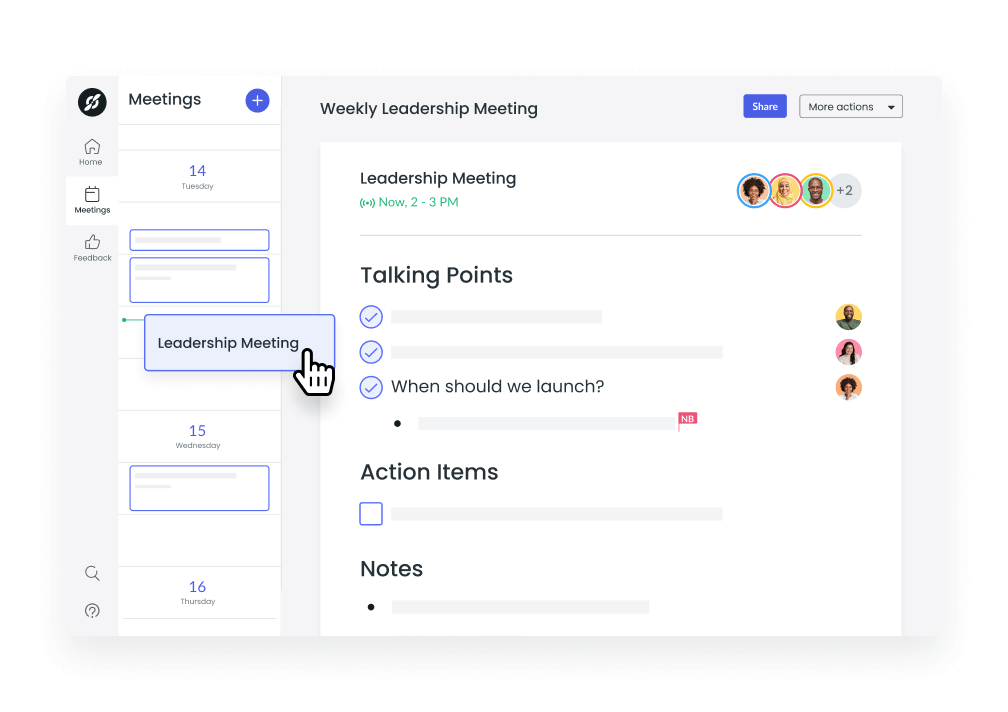 The benefits of marketing OKRs
1Align team members
As team members can work towards a common goal (the department OKR), it's easier for them to develop individual targets that will support the main objective. Multiple people may be able to support the same department OKRs, but may have different ways of showing support through their individual contributor roles.
For example, let's say the team or department OKR is to increase website engagement by 12%. A marketing automation specialist can have an OKR that drives new visitors back to the website, and a content specialist can create more SEO-friendly content with an OKR about how many keywords are placed in the top 25 rankings. In this example, two individual team members have separate OKRs that both align and contribute positively to the team OKR.
2Track project progress
Marketing teams use the most amount of big data, closely followed by sales teams. Having so much data available to track and process allows marketing teams to have OKRs that are easily measurable. Especially when leveraging a tool to track OKRs alongside other meeting practices, you'll have no problem accessing real-time status updates on how projects and campaigns are progressing. Then, teams can make quick decisions to maintain, cancel, or further optimize the ongoing project.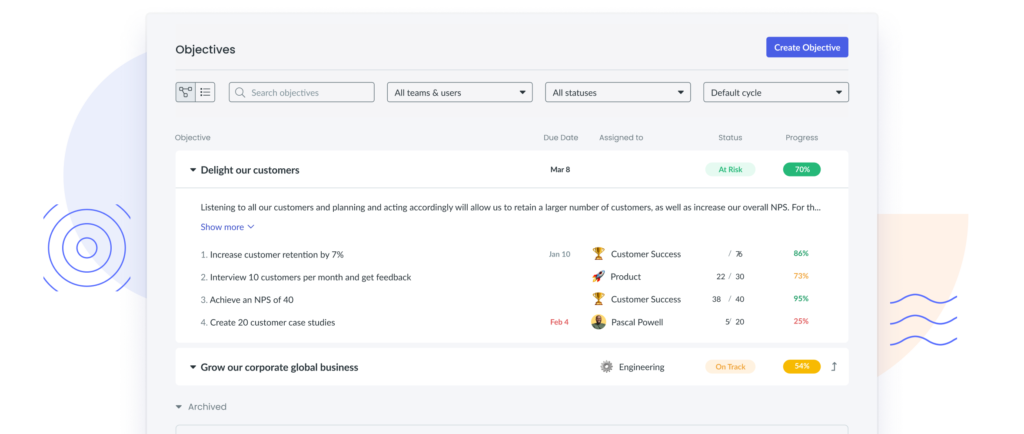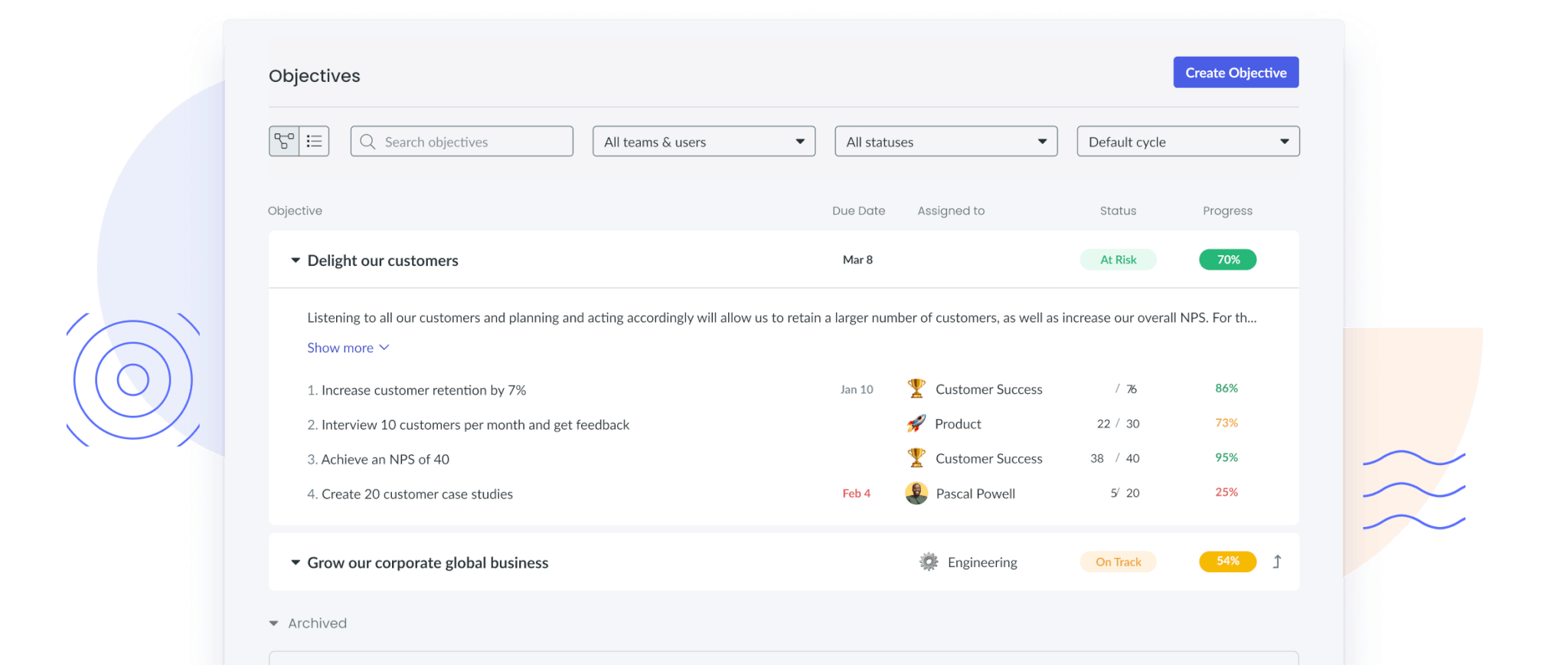 3Overcome blockers
Challenges at work can arise for many reasons, the most common being misalignment or lack of motivation to complete the task. OKRs solve misalignment by providing a common goal for all team members to strive to achieve. Having OKRs also provides challenging work opportunities to stretch the capabilities of the team in a positive, engaging manner.
Marketing OKR examples
1Increase revenue
This is a no-brainer goal that any for-profit organization will want to achieve. Increasing revenue or sales is applicable to both B2B and B2C businesses. Marketing teams are usually not responsible for the entire revenue of a company, but they often are responsible for a percentage of the company's sales.
An example of an objective statement may be:
Increase revenue by 30% year-over-year (YOY)
Examples of key results to achieve this objective may be:
Increase the customer conversion rate by 8%
Bring in 12% more traffic to the website
Automate one lead generation process
2Scale inbound lead generation
Inbound lead generation is typically more applicable to B2B companies that have longer closing times and more complicated sales cycles. In these companies, marketing is often responsible for bringing inbound leads to the sales team, which is then responsible for nurturing the relationship and closing the deal. Integrating tactics like direct SMS marketing can be a useful strategy to boost sales and nuture relationships.
Examples of objective statements may be:
Bring in 250 leads per quarter
Maintain the average cost of obtaining a lead at $100 or less
Examples of key results to achieve these objectives may be:
Test two new lead generation channels
Cancel subscriptions to lead generation tools that drive higher than $100 cost-per-lead (CPL)
3Design product packaging on time
Anyone in product marketing roles knows that product packaging design is incredibly tedious. As this process typically involves lawyers, regulators, and executive stakeholders from the organization, it's incredibly high stakes. Yet, the bureaucratic nature of producing and approving packaging can make for some hefty delays. Thankfully, there are some ways to quantify this OKR.
An example of an objective statement may be:
Submit product packaging designs on time 95% of the time
Examples of key results to achieve this objective may be:
Decrease the time to produce design work by 5%
Create a template library of existing product packaging designs for use on future products
4Engage in more market research
Market research is also highly relevant for product marketing managers, but unfortunately is often overlooked or forgotten. Running market analyses or primary research with customers on a regular basis is one step towards ensuring the company produces products, campaigns, and messaging that sparks interest and alignment with the target customer's expectations. Consider these examples to make this OKR more measurable:
An example of an objective statement may be:
Rely on market research to guide new product introduction (NPI) decision-making processes
Examples of key results to achieve this objective may be:
Conduct at least one round of primary market research before each product launch
Create a process for integrating market research into the NPI process
Establish a communication channel for product marketing managers to take and receive information related to the market research
5Drive social media thought leadership
For social media managers, followers are the vital OKR that C-level executives love to see! Most companies have different starting places for followership on each social channel, so it might be useful to have smaller OKRs for each individual social channel. Or, you may simply choose to see similar growth on all channels, regardless of their starting point! Deciding either way is up to the discretion of the person conducting the role and their manager.
An example of an objective statement may be:
Grow social media presence by 70%
Examples of key results to achieve this objective may be:
Post daily on all social channels
Increase engagement rate by 0.5%
Test two new types of content amplification
Automate social media posting with a tool
6Create an engaged social community
While followership provides the best optics about social performance initially, engagement rates are really the true measure of an account's ability to drive revenue or leads. Engaged audience members can like, share, and comment away on social media to help drive more impressions from an extended audience network and also increase the account's likelihood of appearing on discovery boards. Most social media algorithms are now prioritizing engagement rates as a way to verify how good content is, so they are definitely an important metric.
An example of an objective statement may be:
Develop a highly engaged social community
Examples of key results to achieve this objective may be:
Getting at least 2.5% engagement on average for all social posts
Keeping the average cost-per-click (CPC) for paid ads at $2 or less
Work with 10 influencers or industry experts to promote
Host at least one live event each month
7Boost SEO
Search engine optimization (SEO) practices help website content get to the top of a user's search results. Identifying top keywords, implementing best practices, having a fast website, and posting consistently are several great ways to boost SEO. Content managers can contribute positively to their site's SEO by establishing OKRs that center around this. For example:
An example of an objective statement may be:
Have at least 15 keywords that are in the top 10 placement on Google
Examples of key results to achieve this objective may be:
Post one SEO-optimized blog each week
Ensure all blog posts are "green" according to YoastSEO
Dedicate two hours each week to researching best practices for SEO
Fix all H1, H2, and H3 issues on the site
Improve a site's mobile SEO
8Drive more conversions
The click-through rate (CTR) measures how many people have seen a call to action (CTA) and actually clicked through it. This engagement is important to measure, as many people may see a button to "Book a Demo," but no real results will come until the person actually clicks through that button and schedules a call. If you're looking to benchmark yourself, an approximate target is 1-1.9% CTR.
An example of an objective statement may be:
Increase website conversion rate to 2%
Examples of key results to achieve this objective may be:
Post one SEO-optimized blog each week
Ensure Google Search Console has zero errors to report at the end of each week
Research 15 new keywords that are opportunities for website content
Test two new user experience (UX) tools to find any issues
Free OKR meeting agenda template
Parting advice
Marketing teams, like all functions within an organization, have a responsibility to set and achieve targets that align with the organization's strategic objectives. Establishing OKRs ensures that teams can set long-term objectives and create shorter-term key results to effectively work towards meeting the long-term goals. Together, your team can contribute towards building a successful, revenue-driving machine!