A new year means new goals! Setting goals helps trigger new behaviors, guides your focus, and assists you in sustaining momentum at work. You can't manage what you don't measure. Realistic goals can keep you accountable and help you measure your progress each week, month, quarter, and year.
"Setting employee goals is the first step in turning the invisible into the visible."

— Tony Robbins, life coach and business strategist
There are a variety of digital tools you can use to increase your productivity. Let's take a look at 11 types of software you can use in 2023 to help achieve your short- and long-term goals.
What is goal-setting software?
Getting work done efficiently can be challenging when there are too many priorities competing for your time and attention. What if we told you that there are tools that can make your work days simpler and more enjoyable?
Goal-setting software is any tool that helps you identify, plan for, and work toward your goals. Good digital solutions should motivate you to work hard, plan ahead, track achievements, and make everyday work challenges easier.

Track objectives as part of your meeting workflow
Stay on top of your team's goals by clearly recording, defining, and tracking the progress of your OKRs in Fellow's objectives tool. The best part? You can quickly review those objectives during your team meetings!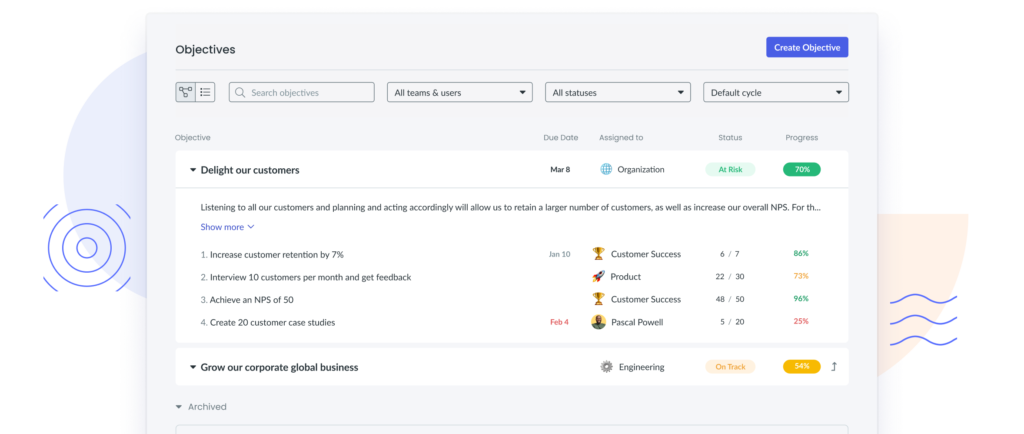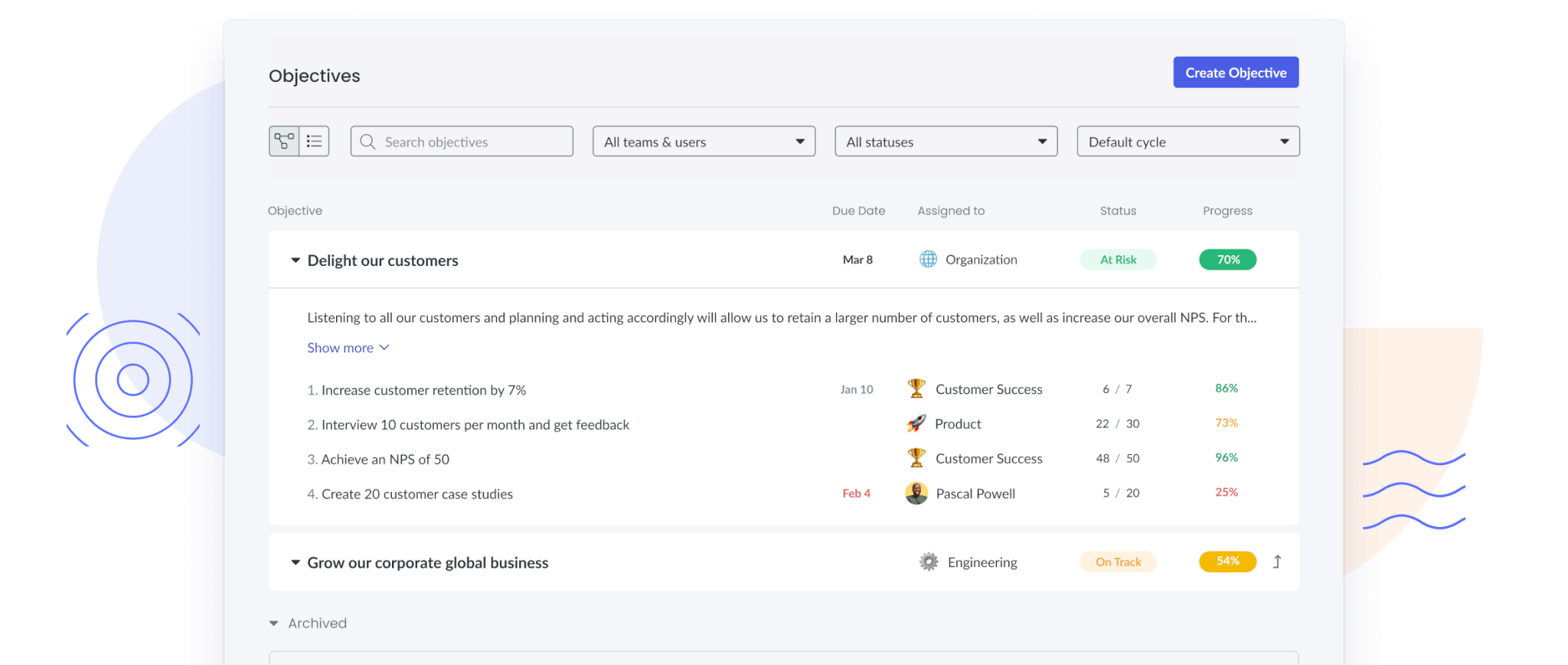 Why is goal-setting software useful?
Goal-setting software can help you translate lofty goals into actionable results. Following through with plans is the most difficult part of achieving our goals. We're all guilty of saying things like, "I want to sell $100,00 worth of products by the first day of each month" or, "I hope to attend five professional development events this quarter." Goal-setting software provides the nudge and motivation needed to keep track of our progress and push through until we reach the finish line.
11 of the best goal-setting software
1Fellow
Key features:
Fellow is a tool that helps teams gather to have productive meetings, record decisions, keep each accountable, and—you guessed it—work towards goals! Fellow is rated the #1 meeting management software on G2 and is already loved by the world's best teams. Fellow can help your team simplify goal setting by making it easy to specify objectives and key results (OKRs), track progress, and update all involved parties. Each member of a team can create their own private and public OKRs or department-wide objectives. With Fellow, you can even share your goals with colleagues in other departments so everyone has context and visibility.
Pricing:
Free—$0/month (for teams of up to 10 people)
Pro—$6 USD/month (per user for teams of up to 50 people)
Business—custom pricing (for organizations that need a hub for all of their meetings)
Enterprise—custom pricing (for companies looking to implement a holistic management system)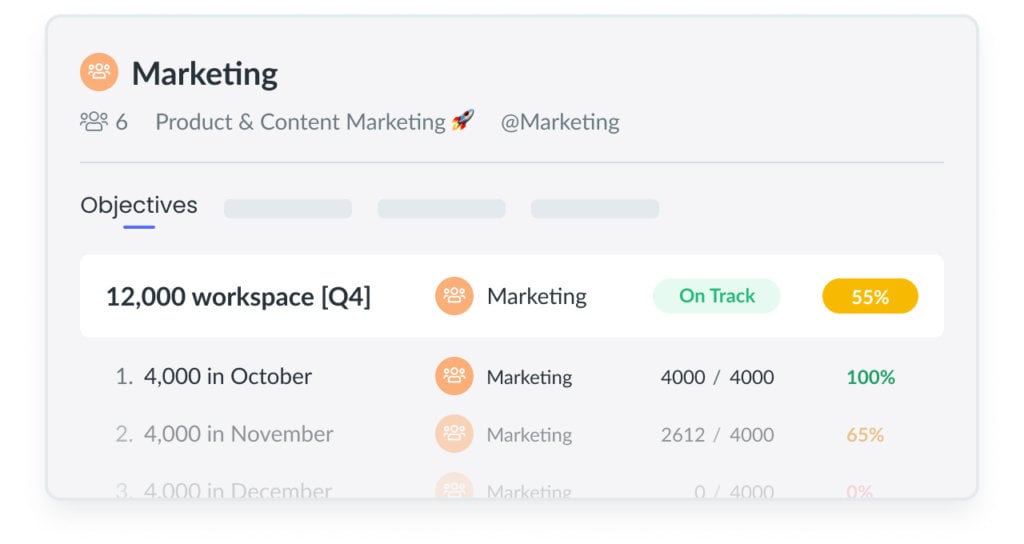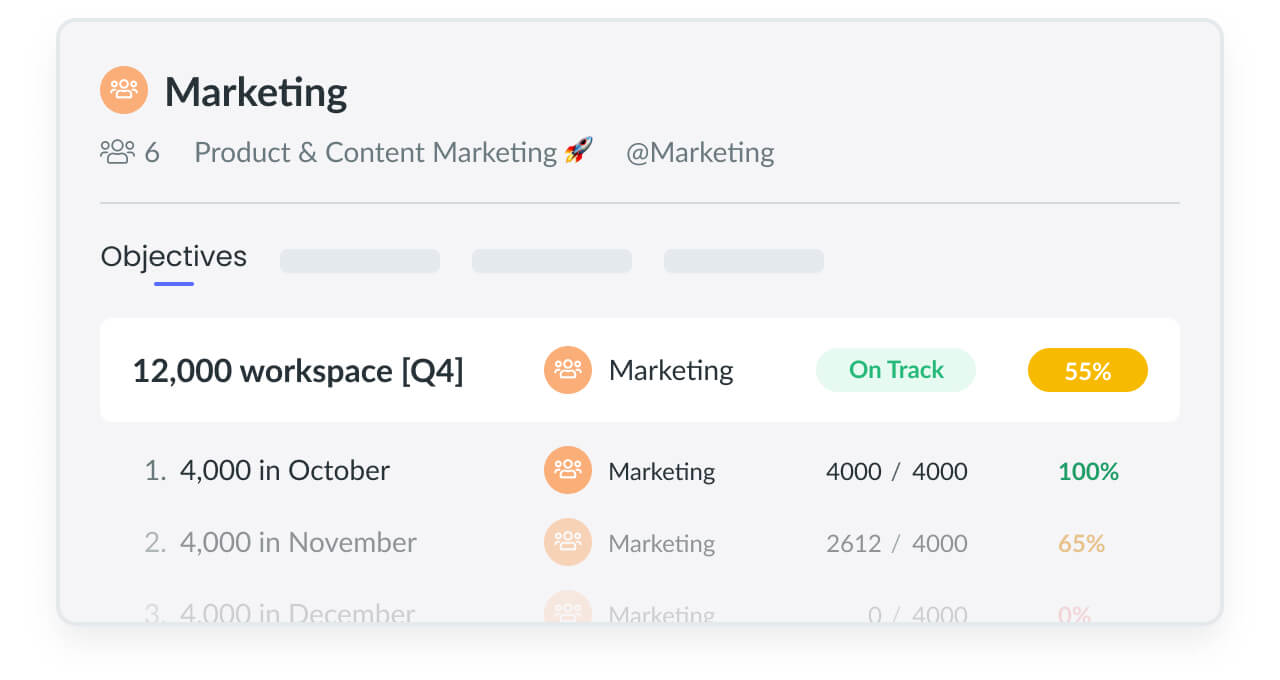 2ClickUp
Key features:
ClickUp helps you work smarter so you can crush your goals faster. The cloud-based collaboration and project management tool features a handful of easy-to-use communication and collaboration tools, task assignments and statuses, alerts, and a task toolbar. The tool can help you with your goal setting by automatically tracking progress and creating sprint targets that keep you on track. ClickUp also integrates with Fellow to supercharge your productivity. You can send Fellow meeting action items to ClickUp spaces and become a master of your to-do list.
Pricing:
Free—$0/month
Unlimited—$5 USD/month (per member)
Business—$12 USD/month (per member)
Business Plus—$19 USD/month (per member)
Enterprise—custom pricing
3Perdoo
Key features:
Perdoo is a goal-tracking platform. Using this tool, you can connect your personal, team, and company-wide OKRs to key performance indicators (KPIs) to achieve more goals. There is a robust reporting feature that shares the insights and analytics you need to keep ahead of your competition and even coaching resources to help you achieve great heights as quickly as you'd like.
Pricing:
Free—$0/month
Pro—$6.50 USD/month (per user, billed annually)
Premium—$9.50 USD/month (per user, billed annually)
Supreme—$17.00 USD/month (per user, billed annually)
4Engagedly
Key features:
Engagedly is a performance management software that uses a three-pillar "People Success Model" to bridge the gap between people and strategy. This tool can help your goal setting by aligning and tracking performance outcomes across the organization. The software's advanced analytics and reporting feature can help you identify goal alignment effectiveness, goal progress, and status. Additionally, with Engagedly's goal alignment and team goals feature, you can set up organizational goals and department goals, and align team or individual goals to overall company objectives.
Pricing: Request a quote on Engagedly's website
5Weekdone
Key features:
Weekdone is an OKR software that helps you align activities with your structured goals to achieve the results you want. Using Weekdone, you can track weekly plans and progress and provide feedback that moves everyone in a unified direction. The tool uses a four-part workflow to help teams reach their desired objectives. First, the tool has you and your teammates use project status tracking to stay up to date on prioritized initiatives. As you complete action items that bring you closer to your goal, you can receive or give feedback and praise, engage with your coworkers for real-time collaboration, and integrate the tool with other digital assets you already use.
Pricing: Rates are available on a sliding scale
6Trakstar
Key features:
Trakstar is a performance management tool that managers and employees alike can use to track their progress and the progress of others. Using Trakstar, you can measure employee competencies, complete 360-degree reviews, track goals, develop improvement plans, and practice great asynchronous communication. If you have direct reports, you can use the tool to define specific expectations and plan check-in meetings.
Pricing: Request a quote on Trakstar's website
7Namely
Key features:
Namely is an intuitive human resources tool that helps mid-sized companies through the entire employee life cycle. Its features include tools for employee engagement, payroll services, benefits insurance expertise, and compliance tools that mitigate people-centric compliance risks. As a goal-setting tool, Namely aims to help businesses achieve effective HR practices so people can make strategic and impactful decisions at work.
Pricing: Request a quote on Namely's website
8Asana
Key features:
Asana is a project management tool that helps you organize your work for seamless collaboration. This popular platform brings your team's work together in one shared space so you and your colleagues know what to do and when to do it. Asana has its own goal-tracking system that can drive measurable results. You can align your direct reports and colleagues around clear objectives by assigning shorter-term "Team goals" that ladder up to your organization's mission-oriented objectives, or even longer-term "Company goals." You can then use Asana's goal widget to track progress.
Pricing:
Basic—$0/month
Premium—$10.99 USD/month (per user, billed annually)
Business—$24.99 USD/month (per user, billed annually)
Enterprise—custom pricing
9Goalscape
Key features:
Goalscape is the simplest of our top goal-setting software. The app's design and user interface are perfect for those looking to visually represent their goals. With Goalscape, users can jot down their goals, track progress, share achievements with others, and color-code different objectives to indicate importance.
Pricing:
Goalscape online free—$0/month
Goalscape online unlimited—$6 USD/month
Goalscape desktop—one-time payment of $60 USD
10Ally.io
Key features:
Ally.io allows you to connect your team's objectives with your company's overall goals. The tool was acquired by Microsoft in 2021 to improve employee experience and "revolutionize how organizations use technology to bring deeper connections to work, purpose, and results in the hybrid world." You can use Ally.io to track OKRs with your team to ensure that all work is meaningful and in line with your desired business goals.
Pricing:
Growth—$7 USD/month
Enterprise—custom pricing
11GoalsOnTrack
Key features:
The benefit is in the name. GoalsOnTrack helps you keep your goals on track with a customizable goal dashboard that shows you all of your major goal targets, daily tasks, and the habits you want to maintain. You can create SMART goals in the platform to ensure you'll be able to work towards your objectives, develop multi-level subgoals that break down larger projects into manageable tasks, track progress using various methods, and take advantage of built-in goal templates with detailed action plans.
Pricing:
Parting advice
Your goals are the roadmaps that will guide you and show you what is possible at work and in life. If you're struggling to get started or are feeling overwhelmed by your goals, try using goal-setting software. Before you know it, your steps will add up and you'll be achieving what you once thought was impossible!