Networking isn't solely about trading information and adding people to your circle. When done correctly, networking creates a foundation you can build upon to create long-lasting, mutually beneficial relationships. Whether your networking relationships are personal, strategic, or operational, you need to approach them with a give and take mindset. Making networking a two-way process of giving and taking will help you formulate more meaningful connections in which both parties feel respected and valued.
In this article, we'll dive into the importance of formulating solid networking connections while covering the different types of networking connections and expert tips for making impactful connections that yield favorable results.
What are networking connections?
Networking connections can be defined as any relationships you form with professionals within or outside of your industry or specialization. Think of all of the people you've had the pleasure of meeting through various jobs, conferences, or even online via platforms like LinkedIn. A network connection can be a colleague from work, a supervisor from a past job, a client with whom you've worked in the past, or even an industry expert that you met at a conference or chatted with on LinkedIn. All of these relationships that you've cultivated throughout your professional career can be considered networking connections.

Run efficient meetings, come to a decision, and get back to work
Level up your meeting habits to boost engagement and productivity with a collaborative meeting agenda. Try a tool like Fellow!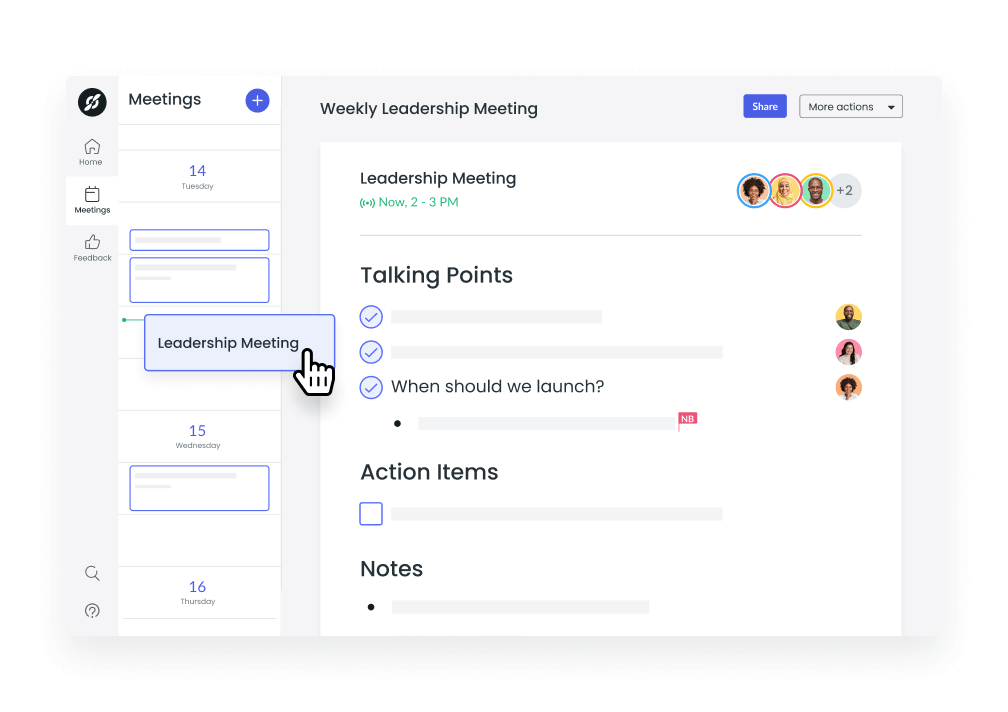 Why are networking connections important?
Professionals typically form network connections to expand their skills or knowledge, learn about industry news or updates, explore job opportunities, or earn referrals for open positions. Network connections can also be formed simply for the purpose of perpetual growth and professional development. Chatting with like-minded professionals is a great way to develop your skills and remain aware of trends in your respective industry.
Networking connections are important because they help you establish a network of people on whom you can lean to learn about your industry, provide information about job prospects, or simply go to for advice or guidance. A strong professional network can also help you refine your personal brand while helping you exude credibility in your field.
Types of networking connections
1Personal connections
Personal connections typically include individuals with whom you have a personal connection, whether they're in your industry or not. While a personal network connection is more likely to be a friend, family member, or mentor, you may also consider a colleague or a teammate as a personal network connection if they help you develop in your personal or professional life. Examples of personal network connections include:
Friends
Mentors
Educators
Family members
2Strategic connections
Strategic network connections are similar to operational network connections in that they're individuals you know can help you fulfill your job duties. Unlike operational network connections, strategic network connections typically exist outside of your organization or outside of your direct control. Where an operational connection may be a teammate, a strategic connection may be an industry expert or authoritarian who operates independently, outside of your organization. Examples of strategic network connections include:
Contractors
Financial experts
Licensing authorities
Government bodies or authorities
3Operational connections
An operational network connection is a relationship that you form with anyone with whom you work directly within your current organization. These individuals help you fulfill your job duties and would be one of your direct teammates. Unlike a strategic network connection, operational network connections live within your organization. Examples of operational network connections you may make include:
Colleagues
Consultants
Direct supervisors
Interdepartmental connections
8 tips for making network connections
1Attend networking events
Attending networking events is one of the easiest things you can do to make new network connections. There are ample resources that make the process of sourcing local events that appeal to your niche easier than ever. While you may have considered attending in-person networking events, there are also many networking events that you can attend from the comfort of your own home! Online networking events pose an excellent opportunity to chat and meet other professionals within your network. Browsing platforms like LinkedIn or leveraging Facebook groups specific to your industry are easy ways you can search for networking events daily.
2Connect online
The internet has made it easier than ever to source and make network connections! LinkedIn is a great tool you can leverage to find other professionals within your industry. You may also want to consider joining Facebook groups or browsing online forums that make it possible to connect with others in your industry. The opportunities are endless when it comes to connecting online, and it's important to remember that you have everything you need readily available at your fingertips!
3Have a strategy during coffee chats
Coffee chats are a great opportunity to get to know other professionals. While you can take a traditional approach and meet in a café, you can also schedule a virtual coffee chat and enjoy a good conversation from the comfort of your own home! If you're meeting online, tools like Fellow make sticking to your strategy easier than ever! You can create a collaborative meeting agenda that makes it possible for you to define your talking points, so you don't forget any important details during your chat. 
Try out this free coffee chat meeting agenda template during your next coffee chat:
4Share knowledge
Making networking connections should never be a one-way street. While you may be meeting someone with the intention of gaining knowledge or information unique to your industry, it's important to offer the same thing in return. Sharing your knowledge will aid in strengthening your connections as the relationship will be mutually beneficial as opposed to one-sided. Just because you're reaching out and initiating the connection doesn't mean you don't have anything to offer. Always be willing to share your knowledge and lend a helping hand when you can! You'll be rewarded tenfold in time.
5Prioritize maintaining relationships
While you may be focused on expanding your network, it's equally as important to nurture and maintain the relationships you already have. Checking in by email, following up on LinkedIn, or offering to buy your connections a cup of coffee are all small but meaningful gestures that you can make to nurture your network connections. Prioritizing these relationships is important if you plan to lean on these connections someday for advice, a referral, an introduction, or even an impactful conversation.
6Overcome the fear of rejection
The age-old saying goes, "you miss one hundred percent of the shots you don't take." If you're constantly scared of being rejected, you may miss out on making a network connection that could have been transformational for your career! As you continue to reach out, you'll notice that many people are willing and ready to help in any way they can. The more you reach out, the easier it will become. It's important to be confident in your approach and to not be discouraged if you receive a no.
7Engage with community members
Engaging with community members is a great way to make new network connections. Community looks different for everyone; it could mean your neighbors, your colleagues, friends within your social circle, acquaintances from your exercise class, or even those within your online community. While you may be eager to grow your network and look outside of your circle, it's important to look inward beforehand. The benefits of investing time and energy into your immediate circle may surprise you!
8Be authentic
Being authentic leads to authentic, more meaningful relationships. Living authentically and approaching networking in a way that feels truthful to who you are means you'll always attract people for the right reasons. Living authentically also means you'll be able to attract network connections that compliment your needs; your success will mean as much to them as their own and they will always be willing to lend a helping hand. Making connections that understand and value who you are as a person means they'll be invested in your success and eager to help when needed.
Are you ready to start making networking connections?
Building a community of networking connections is extremely important at every stage in your career. Whether you're just starting out and looking to land your first full-time role, or you're an executive on the hunt for your next star hire, leaning on your networking connections may prove to be extremely beneficial. Learning what type of networking connection you're trying to cultivate and understanding common tips and tricks for making networking connections is all you need to get started!