Calendar apps or time-management tools are scheduling resources that allow you to organize your personal or professional lives on a calendar. Calendar apps are excellent for busy professionals who are looking to organize their activities and tasks, business or team meetings, or social events. If you've stumbled upon this article, it's likely because you're searching for the best calendar app. Keep reading to learn about what makes a great calendar app as well as 11 of the best calendar apps in 2023! 
What makes a great calendar app
1Is easy to use
A great calendar app will be easy to use. This means a seamless user experience for both you and those with whom you choose to share your calendar. To ensure ease of use, you can usually opt for a free trial or test out a calendar app for a week or two before fully committing.
2Is purpose-built
Every great tool is born to serve a need, which is why it's important to choose a purpose-built calendar app. Purpose-built means that the product was designed to meet specific business requirements as defined by the customer, meaning the ideal calendar app will be created to serve a specific need or use case. 
3Has customizable features
While a tool with plug-and-play features can be easy to use, it can be difficult to find basic tools that adequately suit your needs. Choosing a tool with customized features will allow you to do exactly what you set out to do, meaning you won't have to worry about any roadblocks.
4Is easy to share
One of the most important features of a good calendar app is the ability to collaborate with others. This means being able to share your calendar and allowing those on your team to contribute accordingly.
5Has sync capabilities
Having a calendar app that syncs across multiple devices is a must—especially if you're a busy professional eager to check your calendar from your mobile device or a busy family trying to coordinate schedules. The perfect calendar app will allow you calendar synchronization across multiple devices through the cloud.

Run efficient meetings, come to a decision, and get back to work
Level up your meeting habits to boost engagement and productivity with a collaborative meeting agenda. Try a tool like Fellow!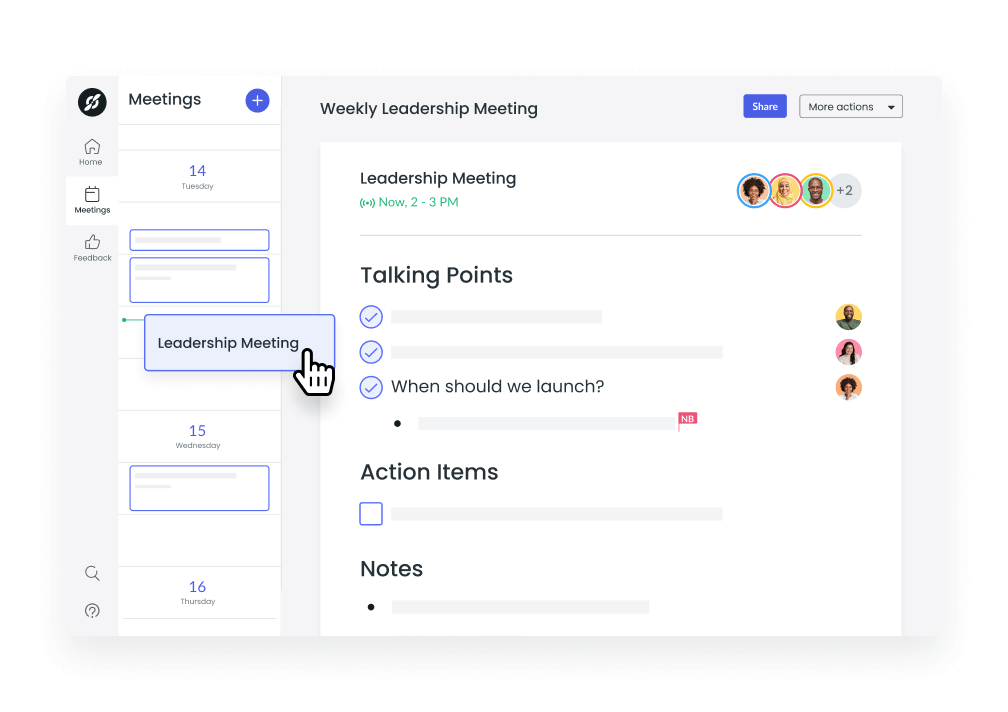 The best calendar apps for 2023
1Fellow
Unlike other tools on this list, Fellow goes beyond what a regular calendar app can offer and instead works to complement the features available to you in a calendar app. From helping you host productive team meetings and meaningful one-on-ones to providing templates for collaborative meeting agendas and comprehensive real-time note capabilities, Fellow has everything you need to stay on track and organized during your workday.
Integrating your calendar (Google or Microsoft 365) with Fellow means Fellow can work with your schedule and act as your co-pilot, making it easier to find your meetings and take in-depth meeting notes. For example, Fellow's Google Calendar extension allows you to access your meeting notes directly from Google Calendar events and stay organized. Click here to learn more about the benefits of integrating Fellow with your calendar.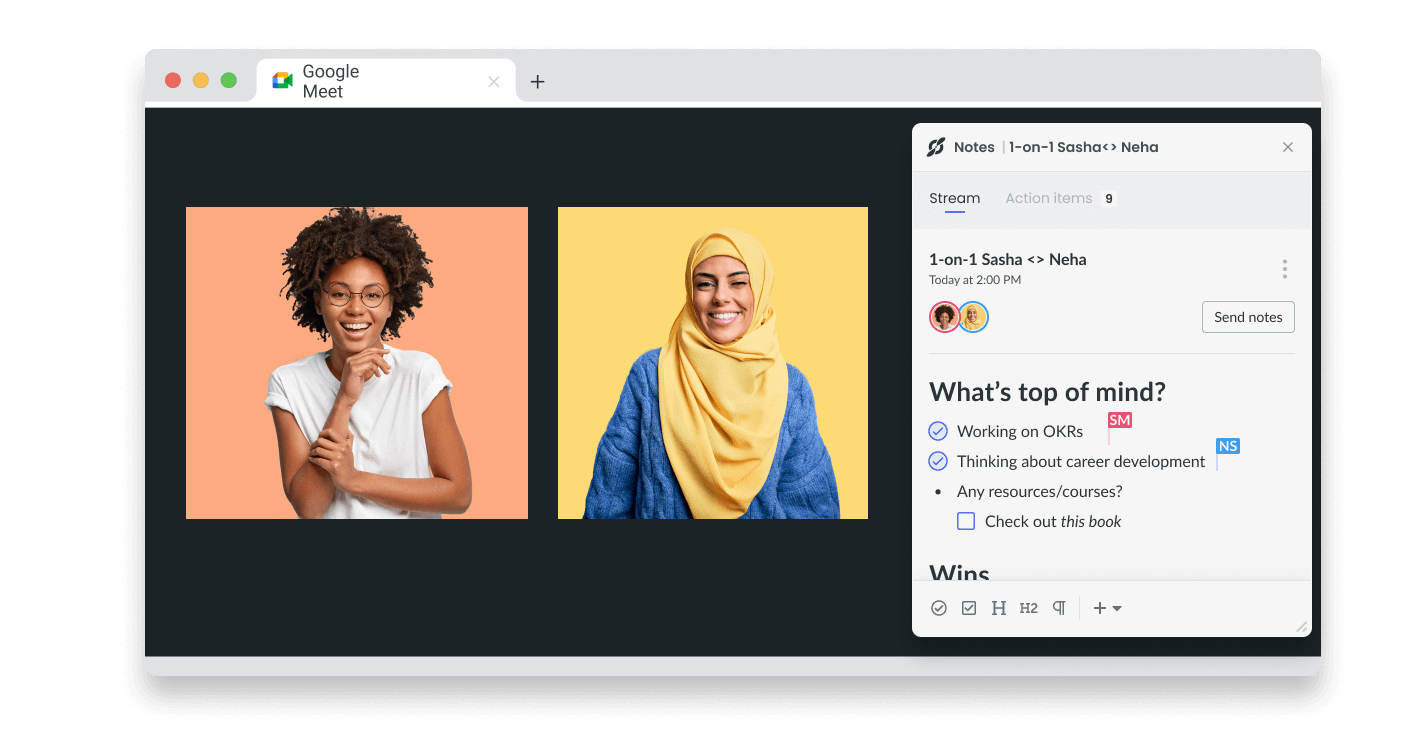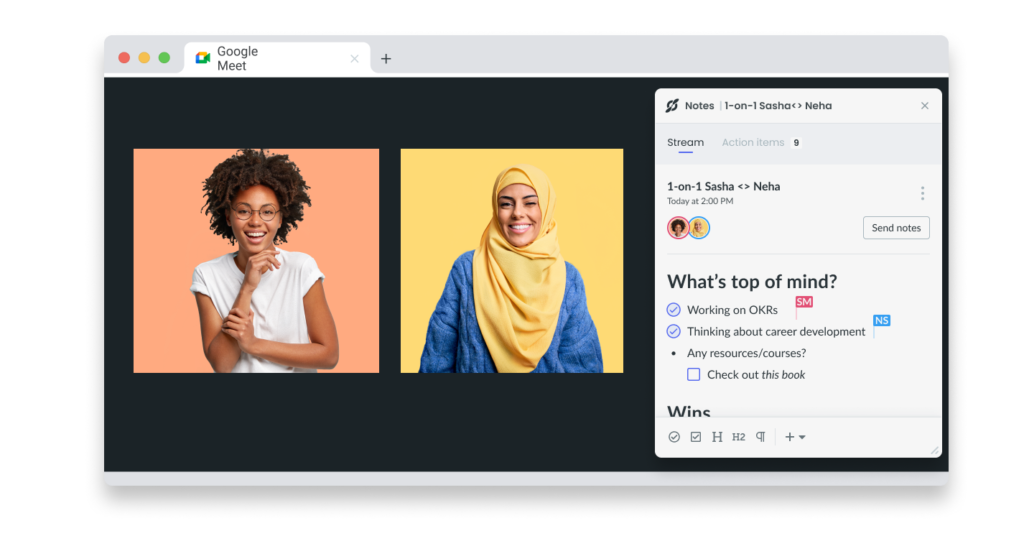 2Microsoft Outlook Calendar
Microsoft Outlook Calendar is the calendar and scheduling component of Outlook that is fully integrated with email, contacts, and other features. Similar to how you would write in a notebook, you can click any time slot in the Outlook Calendar and start typing to get started. With the Microsoft Outlook Calendar, you can create appointments and events, organize meetings, view group schedules, integrate your to-do list and so much more! 
The Microsoft Outlook Calendar is free; however, if you want to unlock additional features or get more storage space, you may need to purchase a premium plan. The most affordable Outlook premium plan for home users is called Microsoft 365 Personal, and it costs $69.99 per year (or $6.99 per month).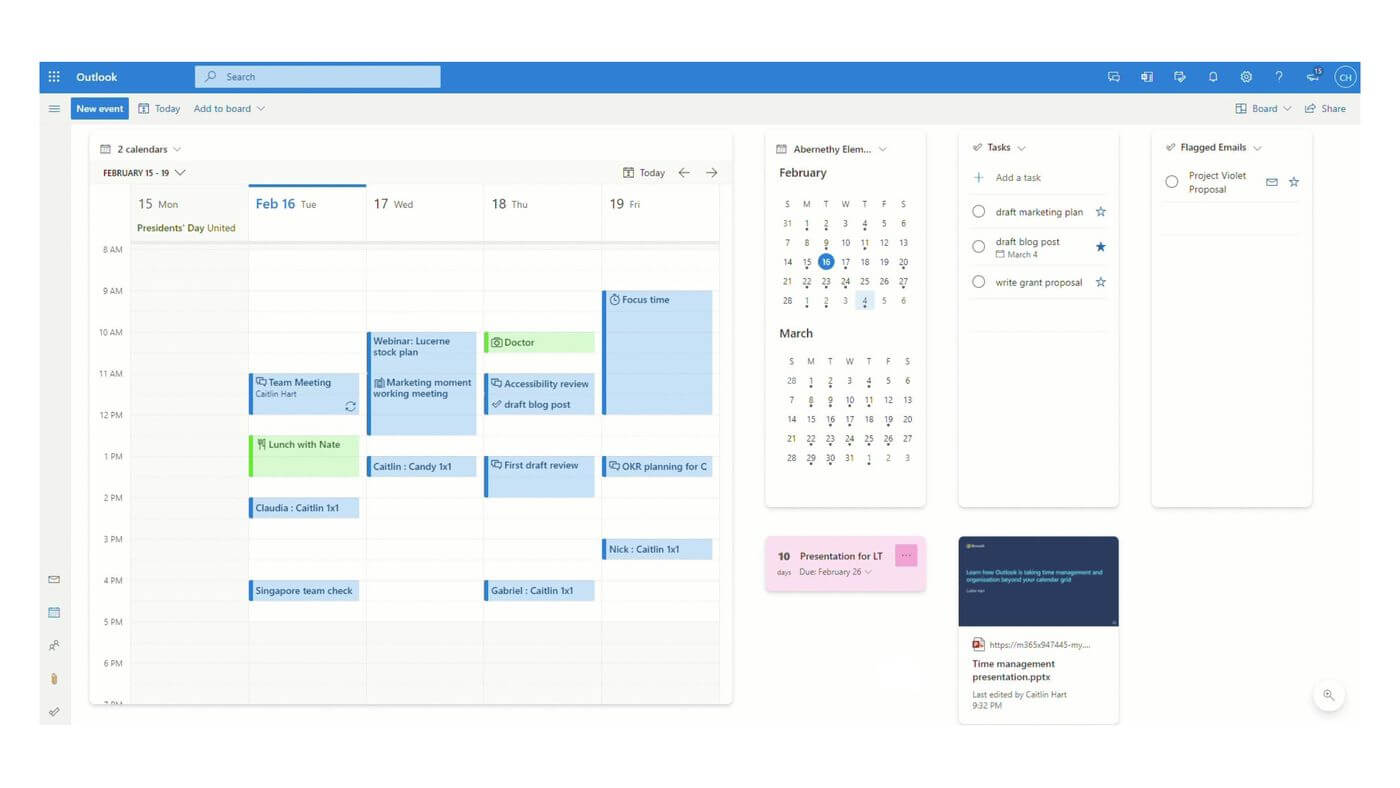 3Apple Calendar
Apple Calendar is a personal calendar app created by Apple that allows users to share individual calendars or delegate entire accounts or parts of accounts to other users. With Apple Calendar, you can also create separate calendars for different areas of your life so you can organize your work, family, or personal lives with individualized color-coordinated calendars. You can take your organization one step further by pinning your event on a map, meaning you'll have all the information you need about an event at your fingertips. When you add the location of your event—like the name of a restaurant—your Apple Calendar fills in the address, shows you a map and the weather, and lets you know when it's time to leave. Apple Calendar is completely free to use, so you can start organizing your life at no added cost. 
4Calendly
Calendly is a business communication platform that enables users to schedule, prepare for, and follow up on external meetings. Built to save you time by streamlining communication and eliminating back-and-forth emails, Calendly simplifies meeting scheduling for over 10 million users worldwide, helping everyone everywhere find the perfect meeting time with ease. Simply share your availability with a custom link that connects to your calendar and automatically lets your peers know when you're available to meet. 
Calendly has a variety of plans at different price points that cater to teams with varying needs. You can start for free, move to the essential plan at $8 per month per seat, or contact Calendly directly if you need a customized plan for a team with 30 members or more.
5Zoho Calendar
Zoho Calendar is an online business calendar solution that makes meeting scheduling a breeze. With Zoho, you can create events, invite users, manage group calendars, and organize your team events with shareable calendars. Whether you choose to leverage Zoho to stay organized as your personal planner app or to keep your team on track with shared calendars, this scheduling tool is simple and easy to use. 
With Zoho, you can create a shared calendar for free, meaning you can keep your team on track and organized at no added cost. You can use Zoho Calendar to create group calendars that are accessible to your colleagues, or you can share an existing calendar with users of your choice for free.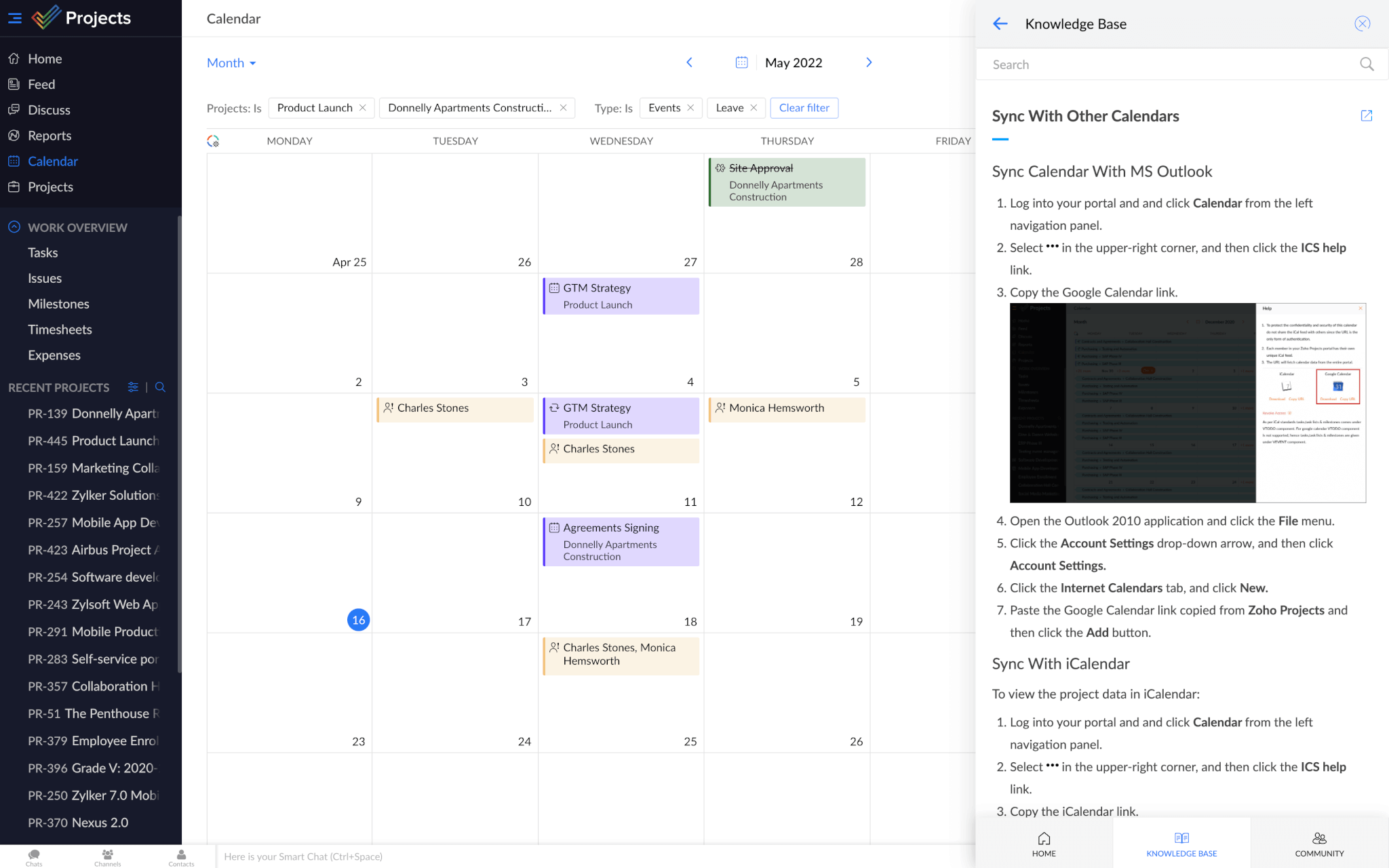 6monday.com
monday.com's Calendar Widget is an all-encompassing calendar tool that allows users to track individual tasks as they relate to a project. monday.com says, "The Calendar View and Widget displays the dates from your items in calendar mode based on month, week, and day, according to your preference!" In one view, you can see all the tasks you have coming up without getting distracted by action items that don't require your immediate attention.
With monday.com, you can start for free and see if the tool is a good fit. With no credit card required, you can start using this productivity app right away by creating unlimited boards and workflows anytime–no strings attached. When you choose to upgrade for additional features, pricing plans range from a basic plan at $11 per month per seat and extend to an enterprise plan where you can request a personalized quote.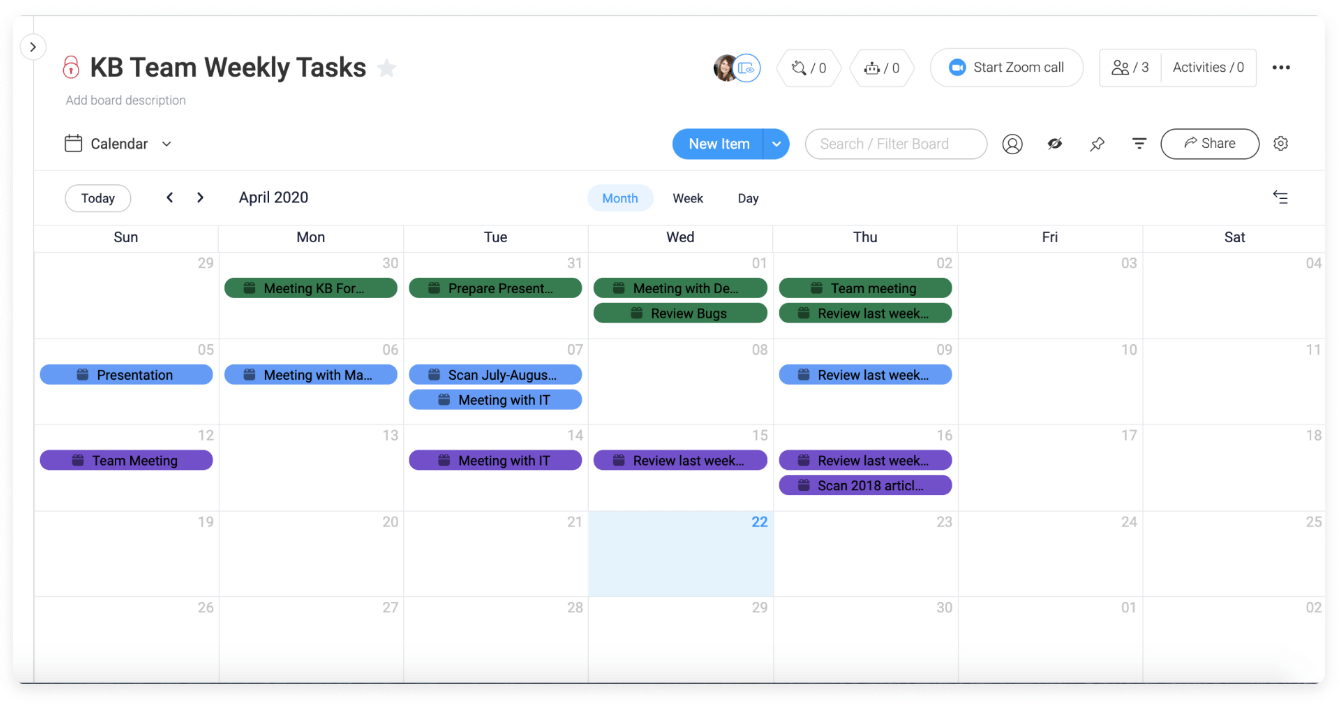 7Fantastical
Fantastical is an award-winning calendar app with powerful features, including intuitive natural language text parsing; a full calendar window with day, week, month, quarter and year views; event and tasks templates; file and photo attachment capabilities; and so much more! Fantastical also empowers users to focus on what matters by enabling focus filters so you only see the events and tasks that are the most pressing. It's as simple as enabling your work calendar when you're in the office or setting task reminders to call your kids when you get in the car. Your calendar will automatically adjust based on what filters you choose, meaning you'll only see what you want to see. 
With Fantastical, a single subscription unlocks all premium features, so you can make your calendars, tasks, and contacts more powerful and productive for one base price. For individuals, Fantastical costs $6.67 per month, billed annually. Families can also choose to take advantage of Fantastical for $10.83 per month, billed annually.
8 Google Calendar
Google Calendar is a cloud-based time-management and scheduling tool developed by Google that integrates with other Google services like Gmail and Google Drive.
Google Calendar offers a smooth user experience, with features such as automatically adding events from Gmail and syncing across devices. It's available to everyone with a Google account and is completely free to use, some business-focused features can be accessed through a Google Workspace subscription, with plans starting at $6 per user per month.
9 Clockwise
Clockwise is an intelligent calendar assistant designed to free up your time and optimize your workday. By syncing with your existing calendar, Clockwise analyzes your work schedule and automatically moves meetings to create focused blocks of time for deep work. It considers the schedules of your teammates and other factors like time zones to suggest optimal meeting times, reducing scheduling conflicts and headaches.
You can start using Clockwise for free, and if you need more advanced features, there's a Clockwise Plus plan available for $5 per user per month.
10 calendar.com
Calendar.com is a versatile online calendar platform that helps individuals and businesses manage their time more efficiently. With Calendar.com, you can create multiple calendars, share them with team members, and set permissions for who can view or edit events. Its smart scheduling software eliminates the need for back-and-forth emails, allowing others to book appointments during your available times.
Calendar.com offers a free basic plan, and for those looking to unlock more advanced features, there are premium plans starting at $8 per month.
11 Timepage
Timepage is an innovative calendar app designed for iOS devices. Timepage gives you a visual forecast of your day alongside your events, letting you know how the weather might affect your plans. Its features include an interactive timeline, event maps, contact integration, and more.
Timepage seamlessly merges your calendars from iCloud, Google, and other providers into a unified view. Timepage is available for a one-time purchase of $6.99, making it an accessible option for those who want to combine aesthetics with functionality in their daily planning.
Which calendar app is best for you?
Choosing which calendar app is best for you largely depends on your needs and what you hope to achieve through the use of your new calendar app. For example, it's important to determine whether you'll be using the calendar app to organize your personal or professional life. It's also important to consider whether you'll be leveraging a calendar app to strictly organize your life or whether you wish to opt for something more collaborative.
Have you found your ideal calendar app?
Leveraging a great calendar app can do wonders for your productivity and choosing the perfect one simply comes down to preference. Reviewing each calendar app above and determining whether or not they align with your end goal will help you make the perfect choice. To double down and take your productivity to new heights, explore all the features that these apps have to offer, not just their calendar functionality. For example, with Fellow features. Not only will you be able to keep track of all of your meetings and important deadlines, but you'll also be able to make the most of your time along the way.