There are countless management applications in this new remote world that we live in, making it overwhelming to decide which one is best for you. Each application specializes in its own features, so finding which features benefit you the most is important.
According to Peter High, president of Metis Strategy, "there are roughly 55 million meetings happening daily, and at least half of them do not accomplish much." So, although searching for the perfect application can be stressful, leveraging meeting management tools will foster productivity to accomplish your meeting objectives.
What is Todoist?
Todoist is a to-do list and task management application that, with the motto "from overwhelmed to on top of it," helps users stay organized and accountable for their work. Todoist also automatically highlights important tasks to help with productivity and prioritization.
Todoist has three plans users can choose from:
Free
Pro – $4.00 CAD/month
Business – $6.00 CAN/user/month
What are Todoist's features?
Here is a list of Todoist's key features:
Quick add and favourite tasks
Add recurring due dates
Use sections and subtitles
Set reminders and notifications
Delegate tasks
Add labelled
Add filters, themes, comments, and file uploads
Display calendar view
View your activity history
Archive completed tasks

One source of truth
Assign and keep track of all meeting action items in one place using a tool like Fellow! Having on source of truth means more productivity! 💪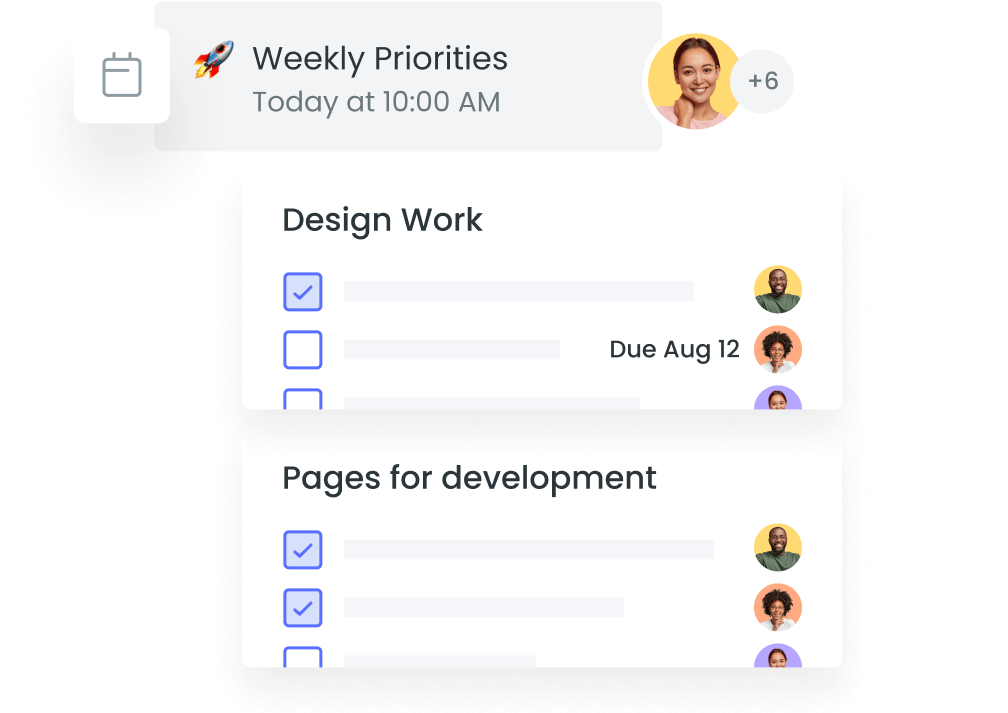 13 alternatives to Todoist
While Todoist has its advantages, it also has its disadvantages. So, it's important to look at alternatives to make the best decision regarding which application will be the most valuable to your team.
1 Asana
Asana is an application designed to help teams orchestrate their work by creating processes and plans and fostering accountability and responsibility. Asana also allows managers to keep their teams organized and on top of action items.
Here are some of Asana's key features:
Task creation and prioritization
To-do lists
Recurring tasks
Calendar view
Templates
Project map
Dashboards
Asana has four plans users can choose from:
Basic – free
Premium – $10.99 USD/member/month billed annually
Business – 24.99 USD/member/month billed annually
Enterprise – contact sales for a quote
2 Google Keep
Google Keep is a note-taking app created by Google that allows users to create virtual sticky notes. Users can access their Google Keep notes through their Gmail account and Google Drive (specifically, Google Docs). This application is compatible with IOS and Android; however, it is mainly recommended for Android users.
Here are some of Google Keep's key features:
Set reminders with the due dates
Pin important notes at the top
Colour-code notes
Sync with Google Docs
Google Keep is free for the first 15GB of storage. Users can also upgrade for $1.99/month per additional 100GB.
3 Microsoft To Do
Microsoft To Do is a daily planner that helps users create organized to-do lists. Users can prioritize and organize their tasks through this application to ensure everything is completed. Microsoft To Docan also be accessed from anywhere so that users can pull up their to-do list no matter where they are.
Here are some of Microsoft To Do's key features:
Smart daily planner
Collaborative lists
Due dates
Integrations
Accessibility from anywhere
Microsoft To Do is free to download.
4 Evernote
Evernote is a note-taking application that allows users to create and sync their notes across several platforms and devices. With Evernote Premium, you can save your notes offline by downloading them to your device. This is a big plus, especially for people who are constantly on the go.
Evernote has four plans that users can choose from:
Free
Personal – $9.99 CAD/month
Professional – $12.49 CAD/month
Teams – $14.99 CAD/month
5 Fellow
Fellow is a meeting management software that enables users to apply and create meeting templates, build meeting agendas, record meeting notes, assign meeting action items, organize ideas, and exchange peer feedback. Through the "Home" icon, users can either create a stream from scratch or use one of Fellow's suggested streams to help get them started.
While Fellow has its many strengths, the application's wide variety of meeting agenda templates makes it stand out as the best meeting agenda application. Fellow also allows users to create and share meeting agendas with their entire team for collaboration. During the meeting, Fellow lets users to pull up the meeting agenda on the video conferencing application of their choice (for example, GoogleMeet or Zoom) and then check off each box as they discuss the talking points. Additionally, Fellow allows users to take meeting minutes directly on the meeting agenda about decisions made, reminders given, and tasks assigned during the meeting. Fellow is available on Mac, Windows, IOS, Android, tablets, and web devices.
Fellow has three plans users can choose from:
Free
Pro – $5.00 CAD/user/month billed annually
Organization – contact sales for a quote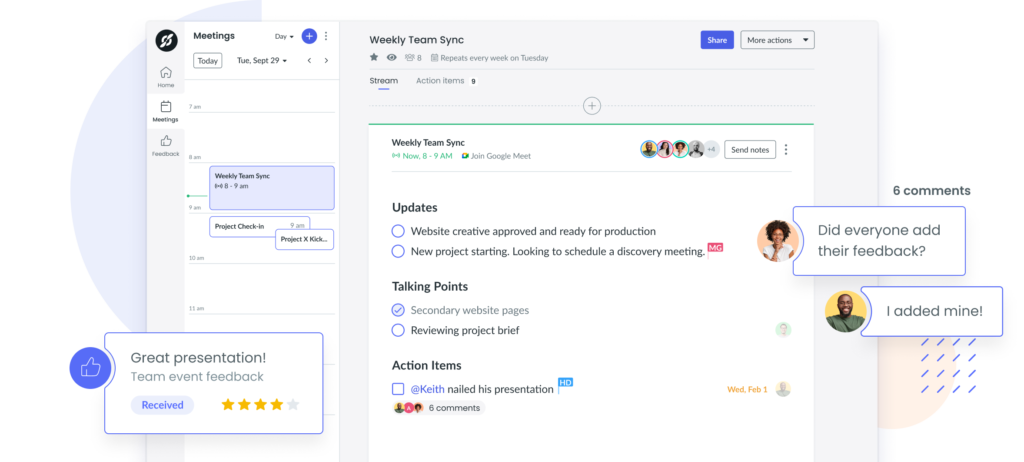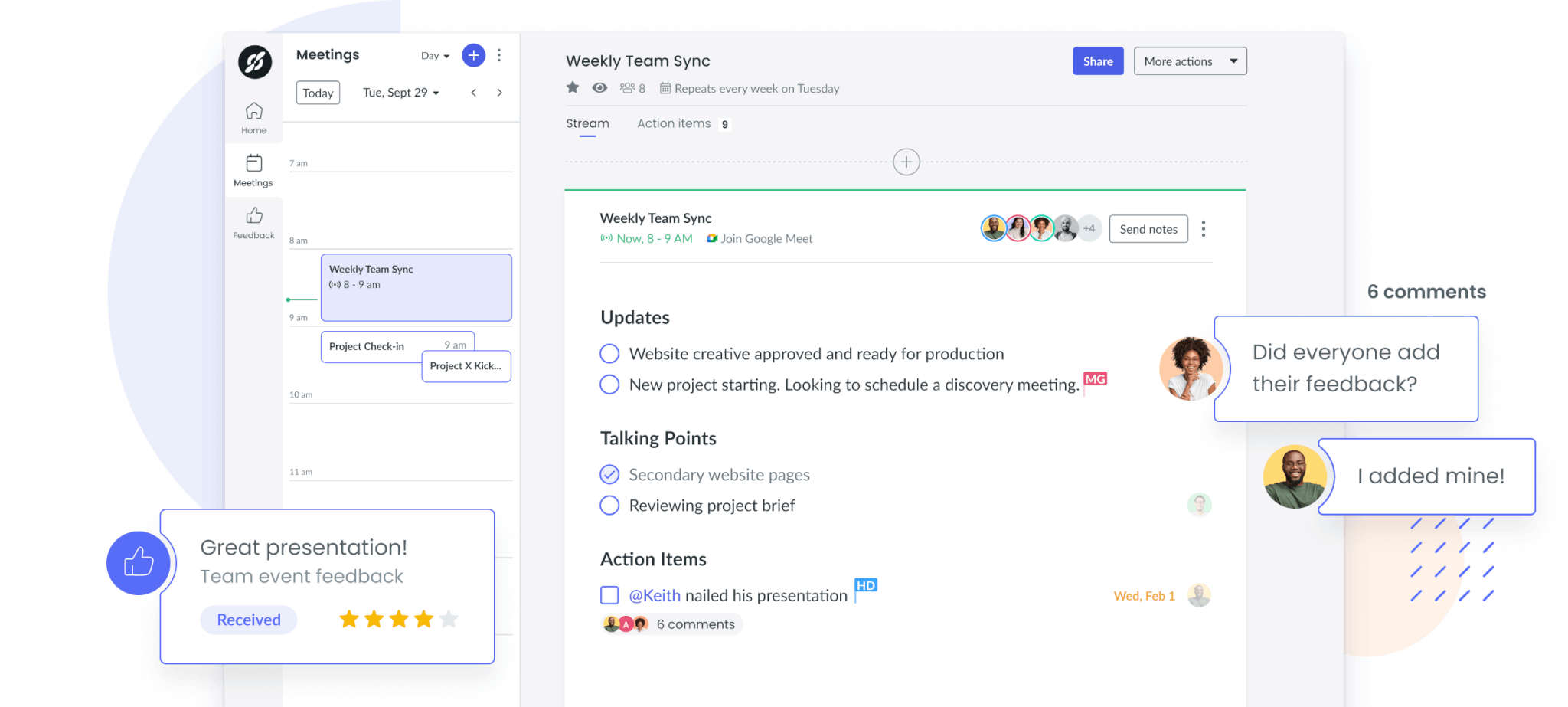 6 Notion
Notion is an application that provides users with "Team Wikis," "Projects & Tasks," and "Notes and Documents" features where users can create notes directly on the application and share them with their team members. Additionally, Notion allows users to sync their notes across multiple platforms and various devices.
Notion has four plans that users can choose from:
Personal – free
Personal Pro – $4.00 USD/month billed annually
Team – $8.00 USD/user/month billed annually
Enterprise – contact sales for a quote
7 Trello
Trello is a management tool that enables users to collaborate on work, ideate plans, organize workflows, and track project progress. Additionally, with Trello, users can assign and manage tasks through lists, boards, and cards.
Here are some of Trello's key features:
Progress tracking for individual team members or your entire team
Boards, lists, and charts that combine to resemble Gantt charts
Access to additional productivity apps
Trello has four plans that users can choose from:
Free
Standard – $5.00 USD/month
Premium – $10.00 USD/month
Enterprise – $17.50 USD/month
8 nTask
nTask is an incredible task management and project management tool that allows you to help different users around the world in tracking, organizing, and managing their tasks and processes as part of their project development process.
Here are some of nTask's key features:
Task management
Project management
Risk management
Issues management
Time tracking
Timesheet management
Gantt charting
Kanban boarding
Calendar integration
Document management
Collaboration tools
nTask has four plans users can choose from:
Basic – Free
Premium – $3/member/month billed yearly
Business – $8/member/month billed yearly
Enterprise – Contact the company for a price quote
9 MeisterTask
MeisterTask is a task management software based on the Kanban management system that enables users to stay on top of their to-dos. MeisterTask also provides users with an intuitive design, peace of mind, and a customizable workflow.
Here are some of MeisterTask's key features:
Project features
Task features
Analysis features
Admin features
Communication features
MeisterTask has four plans that users can choose from:
Basic – free
Pro – $8.25 USD/month
Business – $20.75 USD/month
Enterprise – contact sales for a quote
10 Week Plan
Week Plan is an organizational tool that helps users plan and organize their week to get things done. By helping you foster prioritization, track time, manage calendars, and enable integrations, Week Plan creates productive and organized teams.
Here are some of Week Plan's key features:
Quadrant view
High impact tasks (HITs)
Goal setting
Role facilitating
Pomodoro timer
Daily summary
Automatic rollover of uncompleted tasks
Subtasks
Attachments
Week Plan has two plans users can choose from:
Monthly – $10.83/month
Yearly – $104/month
11 Azendoo
Azendoo is a management application that allows users to plan,assign, organize, prioritize, import and export tasks, track time, organize their calendar, and collaborate with team members to make work more productive and enjoyable.
Here are some more of Azendoo's key features:
Integrations
Dashboard analytics
Private messaging
Downloads
Azendoo has three plans users can choose from:
Teams – 6.67€/user/month
Business – 15.00€/user/month
Enterprise – 24.17€/user/month
12 ClickUp
ClickUp is a task management application that provides users with docs, reminders, goals, a calendar, and an inbox and is customizable to each team so that all teams can collaborate via the same application. ClickUp also specializes in helping create due dates, to-do lists, prioritized tasks, and templates.
ClickUp has five plans that users can choose from:
Free
Unlimited – $5.00 USD/user/month
Business – $9.00 USD/user/month
Business Plus – $19.00 USD/user/month
Enterprise – contact sales for a quote
13 Monday.com
Monday.com is a management software where users can plan, organize, and track their work in one place. Users can also assign and keep track of other team members' tasks; this feature could prove very beneficial for managers. Some of this application's key features include docs, integrations, automation, dashboards, Kanban, and Gantt charts.
Monday.com has five plans that users can choose from:
Individual – free
Basic – $11.00 USD/seat/month
Standard – $14.00 USD/seat/month
Pro – $22.00 USD/seat/month
Enterprise – contact sales for a quote
Questions to ask when choosing a meeting tool
Now that you've got some options from which to choose for your team, let's look at what questions you should ask yourself to find the perfect application.
All applications have a learning curve, but if your team is spending the majority of their time trying to navigate an application rather than fostering productivity, the application will be wasting time. Thus, finding an application that is not terribly difficult to navigate is essential.
What is involved in onboarding?
It's essential to check out the company's onboarding processes to see if they provide suitable resources to get your team started. For example, Fellow's Customer Success team onboards new users with one-on-one meetings and/or team masterclasses, providing white-glove treatment.
What are the integrations?
You'll want an application that seamlessly fits into your current routine. Therefore, it's important to look at which integrations are offered so your team can have the best transition to your new application. For example, Fellow integrates with Google Meet, Zoom, Slack, and Asana, to name a few.
Checking the reviews of the applications in consideration is a great way to get honest feedback from real customers. Going to G2.com, you can look up different applications and compare them against each other to see which application is best for you. For example, on G2 Fellow has over 300 reviews and is rated 4.7 out of 5 stars.
The last thing to keep in mind is the cost of the application. Costs can vary from free to relatively expensive, depending on the application. So, comparing prices will help you make an informed decision. Also, investing in meeting management software is worth it, so do research to find out which applications will give you the best value.
Parting advice
Finding the best application for you and your team is essential. Not only will this application foster productive and efficient teams, but it will also help employees transition to successful remote work. So, take advantage of the information above and choose an appropriate application for your team's needs.