Many people managers were thrown into remote team management—meaning they didn't receive the proper training, guidance, or mentorship beforehand. As a result, many leaders have had to learn as they go, often experimenting and making decisions off the cuff. To eliminate the unknowns and support you in your journey to become the best remote team manager you can be, we've put together a guide built with remote team management tips that you can leverage as you navigate uncharted waters.
Being a remote team manager is all about building a solid support system for your team, while simultaneously holding your team members accountable and empowering them to do their best work. Building trust, maintaining transparency, communicating frequently and openly, and maintaining a supportive working environment is critical for success. Keep reading for more remote team management tips!
Benefits of remote team management
Embracing remote work has recently risen in popularity; largely because organizations have begun to uncover the undeniable benefits of remote team management. What was once a necessity as a result of the COVID-19 pandemic has now become the norm as employees around the world have become more engaged and productive. From a management standpoint, embracing remote work has opened up the talent pool to include qualified candidates from all around the world. This means you now have the opportunity to source top talent and build your dream team accordingly. Remote team management can also drastically reduce your overhead costs. If you manage a fully remote team, your organization no longer has to consider pricey expenses like rent, electricity, heating, and cooling. And saving on overhead costs leads to having the means to invest in your team.

Meetings worth showing up to
A well-run meeting can foster communication and collaboration by including an agenda the whole team can contribute to. Try using a tool like Fellow!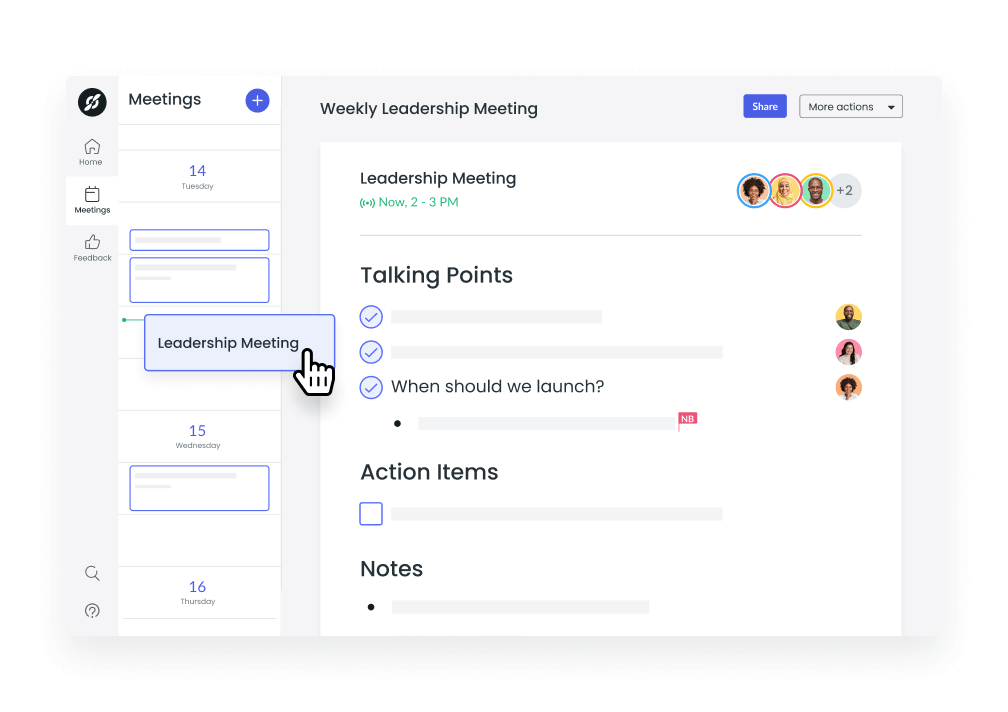 Challenges of remote team management
1Communication
Communication can be incredibly challenging when embracing a remote work model, largely because many employees have been trained or conditioned to work in in-person environments. Working remotely will result in a lack of face-to-face interactions, which may lead to feelings of loneliness, isolation, or unhappiness. Communication also tends to diminish when there aren't concrete processes and systems in place to support employee communication in a remote environment. Additional barriers that present barriers to effective communication when working remotely include competing time zones and the inability to interpret body language.
2Time zone differences
Employees that work in competing timezones pose several challenges, including a lack of real-time communication, collaboration at unexpected hours, and a lack of team bonding as a result of no in-person or real-time meetings or interactions. To overcome these hurdles, it's best to leverage asynchronous communication. Communicating with your team asynchronously means leveraging the tools at your disposal like email, Slack, or video messaging to stay in touch.
3Lack of interpersonal communication
Fostering interpersonal communication is crucial when creating a healthy workplace; however, this becomes more difficult when managing remote teams. Strong interpersonal communication can help improve relationships between colleagues, which in turn helps create a more positive company culture. There are many ways you can foster interpersonal communication among your remote team, including prioritizing video calls, scheduling daily huddles or team meetings, and stressing the importance of proactive communication.
4Employee isolation
One of the largest challenges when managing remote teams is dealing with employee isolation. While there are many undeniable benefits of remote work, isolation and loneliness can be detrimental to the success of your team. To effectively manage a remote team, you need to prioritize the health and wellness of your team. This can be done by hosting virtual meetings and casual hangouts, fostering personal connections, ensuring your employees feel heard and valued, and maintaining an open line of communication.
7 tips for better remote team management
1Communicate consistently
Communicating consistently helps you build a more positive company culture by eliminating the risk of miscommunication while creating a sense of clarity for your team. Over-communicating—whether it be project instructions or daily check-ins—helps prevent misunderstandings, keeps key information top of mind, and makes sure everyone on your team is on the same page. If your remote teammates don't have to second guess themselves or actively source information that should have already been readily available, they'll be more inclined to work efficiently.
2Offer flexibility
The key to managing remote employees effectively is taking a flexible approach. This means refraining from micromanaging your employees and instead letting them work how they work best. Gone are the days of expecting employees to sit at their desks from 9:00-5:00. Research now suggests that remote employees are more productive and efficient when they can work within their own parameters. It's important to create an open dialogue so your employees feel comfortable letting you know how they prefer to work—this may mean they work a couple of extra hours at night or work outside from time to time. It's important to remember that there is no one-size-fits-all approach.
3Leverage technology
Leveraging technology is an essential part of effectively managing remote teams. You need to source tools that allow you to communicate and connect with ease. This means leveraging video conferencing software to form connections or messaging platforms to keep in touch. Additional tools like Fellow can be used to boost meeting efficiency and keep your teammates on track and working towards shared goals. With Fellow, you can prioritize communication and make the most of everyone's meeting time by showing up to the meeting prepared with a comprehensive, collaborative meeting agenda.
4Check in regularly
It can be difficult to let your remote employees know they're supported, which is why it's important to check in regularly. Not only will prioritizing check-ins let your teammates know that you're there to support them, but it will also allow you to gain an in-depth understanding of their progress as well as any roadblocks or hurdles they may be facing.
One-on-one meetings, or check-ins, help managers build trust with their direct reports. These meetings are a dedicated space to coach employees on their priorities, exchange feedback, and remove roadblocks, and Fellow makes hosting one-on-ones easier than ever. Fellow makes it easy for managers like yourself—as well as your direct reports—to collaborate on talking points, exchange feedback, and host engaging conversations.
5Manage expectations
Managing expectations is important for several reasons, like creating a positive workplace. Failing to manage expectations may not only lead to miscommunications but may also create a toxic workplace. To avoid confusion, it's important to manage expectations up front—especially those regarding communication expectations, deliverable expectations, and work hour expectations. Managing expectations and setting meeting guidelines with both existing employees and new hires will make sure everyone is equipped for long-term success.
6Encourage social interactions
Isolation and feelings of loneliness are prominent among remote teams, largely because remote employees don't have the opportunity to get to know their peers beyond work. Facilitating social interactions that encourage your teammates to mingle and get to know one another personally is an excellent way to eradicate these feelings and help create a more positive work environment. Social interactions like remote team-building activities will help your employees build trust and, ultimately, lasting working relationships.
7Prioritize mentoring over managing
Mentoring is a mutually beneficial relationship with the purpose of developing a specific skill rather than achieving a task, whereas managing is a professional relationship used to achieve operational results. While both are important, mentoring proves to be more beneficial when compared to managing remote teams. Managing remote teams is all about trust, meaning you should guide and empower your teammates to do their best work. To do this, you can't manage them. Instead, you need to provide them with the skills and resources necessary to thrive in their remote roles.
The best tool for remote team management
Fellow is an all-encompassing tool that empowers users to manage remote teams with ease. Built with a range of features that streamline communication, collaboration, and feedback, Fellow is the perfect tool for anyone who is looking to up their management game. Fellow will provide you with the tools and resources necessary to schedule and manage meetings—including real-time notetaking, comprehensive meeting agenda templates, and action item tracking—while providing your team members with a centralized hub where they can locate anything meeting related, including meeting notes, action items, and feedback.
Are you ready to implement these remote team management tips?
Managing a remote team can be incredibly difficult without the right tools at your disposal. Luckily, we've taken the time to round up all the remote team management tips you'll need to thrive as a remote team manager. Don't forget to check out the Fellow blog for more tips and expert advice!