Fellow + macOS
Stay in the loop for meeting agendas and action items
Fellow's macOS app makes Fellow easily accessible so it's easy to prepare for meetings, write action items, and exchange feedback.
Trusted and loved by the world's best teams
Conveniently view your meeting agendas
It can be challenging to find the one page that you are looking for if your screen is crowded with browser windows filled with tabs. If this one page is your meeting agenda, it might cause you to feel a bit frantic …

Use Fellow's desktop app to keep your meeting notes on hand. You can always keep Fellow open and make it easy to view, add to, or review meeting agendas. You can even to reference your todo list.
Try app for free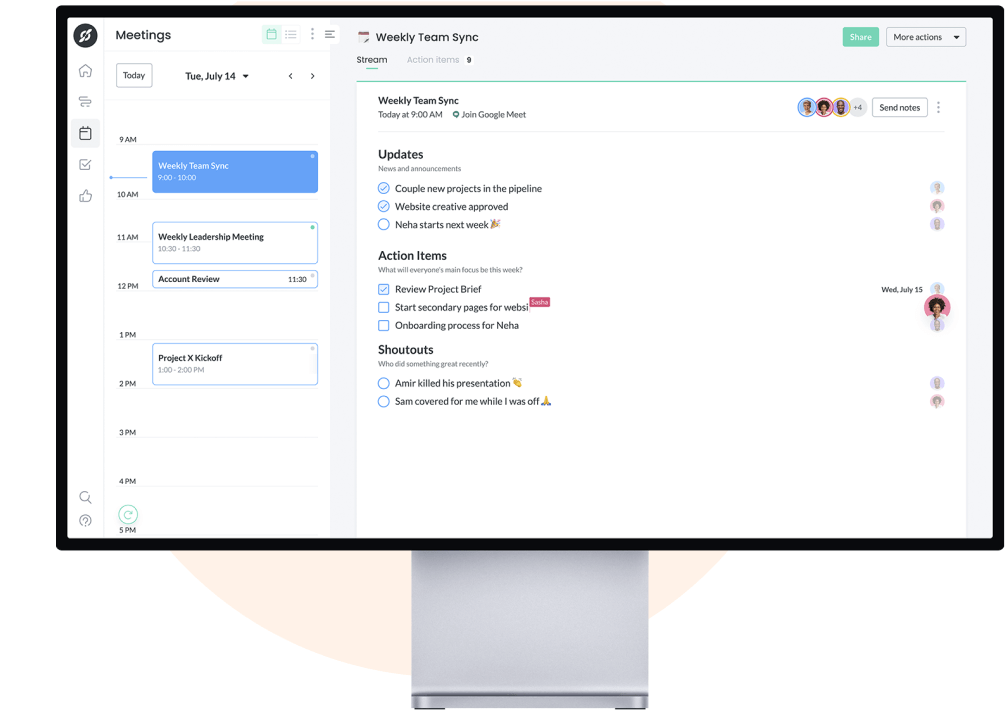 Be informed about team progress
Stay up to date with what your team is working on with custom desktop notifications. Get notified when team members complete action items, requests feedback, or if they mention you in a note or comment.

These notifications are customizable, so you can choose how often you would like to be notified. Now it's easy to stay in the know
Try app for free
Pro Tip
Set it up so that the Fellow app opens when you first login to your computer. This is a great reminder to add to that day's agendas.
How to install
Visit the User Settings section in Fellow and click on Integrations. There will be a link to download there.

Or you can download the app directly here: Fellow macOS app

Try app for free
"Fellow solves three key problems around running meetings. First, creating the agenda. Then, with the ability to take notes, meeting management becomes much simpler. And finally, tracking the action items that come out of every meeting. Having everything in Fellow means we can track it and follow up on it."

Mychelle Mollot

Chief Marketing Officer
Run delightful meetings with Fellow
See why leaders in 100+ countries are using it today.
Log in