Fellow + Office 365 Calendar
Improve meeting organization with notes tied to your calendar events
Fellow's Office 365 Calendar integration makes it easy to prepare for meetings, record decisions, and find notes afterwards. All by seamlessly linking your calendar with meeting notes. 

Trusted and loved by the world's best teams
Connect your calendar with meeting notes
It can be challenging to organize your notes so that you can easily reference them later. And if these notes are very disorganized, searching for a specific set of notes can be a painful process.

So keep it simple by connecting your meeting notes with the calendar event by using Fellow's Office 365 calendar integration. This makes it easy to review old meeting notes, check on outstanding action items and make sure that you're prepared for the upcoming meeting.  
Pretty cool.
Try for free
See an ongoing record of your meetings
For recurring meetings it's important to know what was discussed last time. But this can be difficult if notes are scattered across platforms or every attendee has their own version of the notes. 

Fellow's Office365 calendar integration groups recurring meetings together to create one long stream of previous notes. You and your attendees can scroll down and view the notes since the very beginning of that meeting. 

Great for accountability! 

Try for free
Pro Tip
If you use multiple calendars to plan your day, you connect these multiple calendars in Fellow and take meeting notes for the events.
Quickly schedule your next meeting
Some conversations are not just "one and done". Instead, it's common for some meetings to have follow-up discussions. 

Whenever this is the case, you don't need to jump between the meeting and your Office 365 calendar. Instead, you can create the meeting straight from Fellow. Fellow will even suggest times based on participants availability! It's that simple
Try for free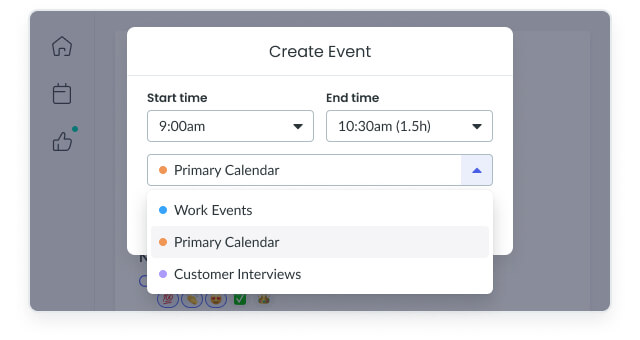 Join a video call without leaving your meeting agenda
On days where you have back-to-back meetings, you may not have time to search for video call links and notes. 
Fellow's Office 365 integration can help reduce some pre-meeting chaos by adding the video call link right to your meeting agenda. 

You'll just need to click on the "Join" button straight from your agenda. The best part is that because your calendar is right beside your notes in Fellow, you can quickly navigate between meetings and attend
the next meeting.

Try for free
"Fellow solves three key problems around running meetings. First, creating the agenda. Then, with the ability to take notes, meeting management becomes much simpler. And finally, tracking the action items that come out of every meeting. Having everything in Fellow means we can track it and follow up on it."

Mychelle Mollot

Chief Marketing Officer
Run delightful meetings with Fellow
See why leaders in 100+ countries are using it today.
Log in