Google Meet Meeting Notes
Your Google meeting notes right within Google Meet
Collaborate on meeting notes, track action items, and record decisions with Fellow's meeting notes app – all without needing to leave your Google Meet call
Fellow is trusted and loved by the world's best teams to run their meetings
Automagically access to your meeting agendas
Finding your meeting agendas amongst a million browser tabs can be a productivity nightmare.

With Fellow's browser extension, meeting notes are easily accessible right within Google Meet via a convenient customizable overlay right in your video calls. You just have to show up and your meeting agenda will be there, right within Google Meet.
Try for free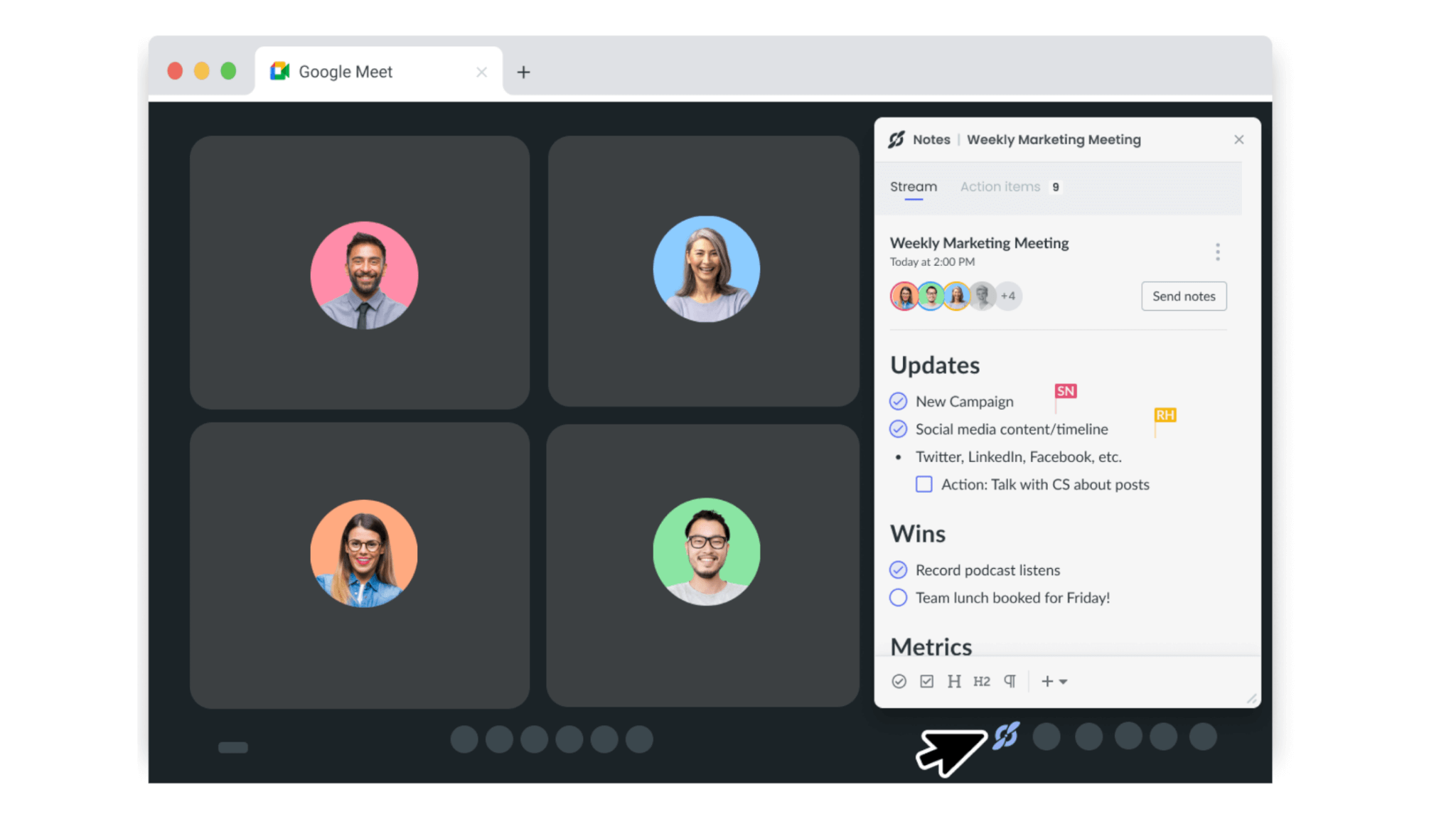 Collaborate in real time
When team members end up taking different notes in different places, it's nearly impossible to have a single source of truth

Keep your team aligned with shared, collaborative meeting notes. Every person can add to and edit the agenda to ensure nothing is missed, everyone is on the same page, and there is one single source of truth.
Try for free
Your meeting agendas and Google Meet attendees, side-by-side
If you're spending more time juggling browser windows than connecting with the people on your call, Fellow's Google Meet extension will help you stay focused.

The Google Meet extension adds an intuitive overlay to your video calls, making it easy to write meeting notes without losing human connection. The overlay is moveable and resizable so you can make sure that no faces get blocked.
Try for free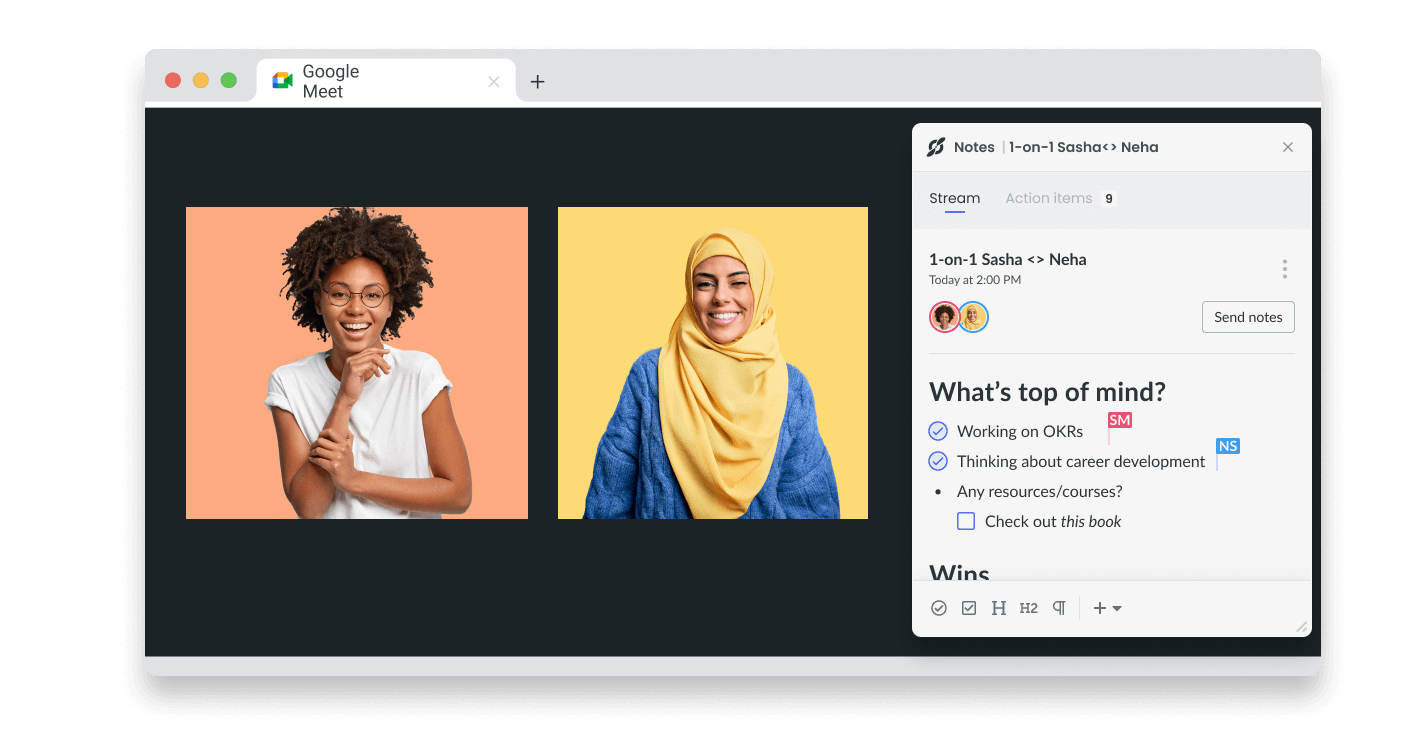 What is Fellow?
Fellow is the top rated meeting management app that connects to your calendar and helps your team build great meeting habits.

It's easy to collaborate on agendas, share meeting notes, and document action items, and more!
Try for free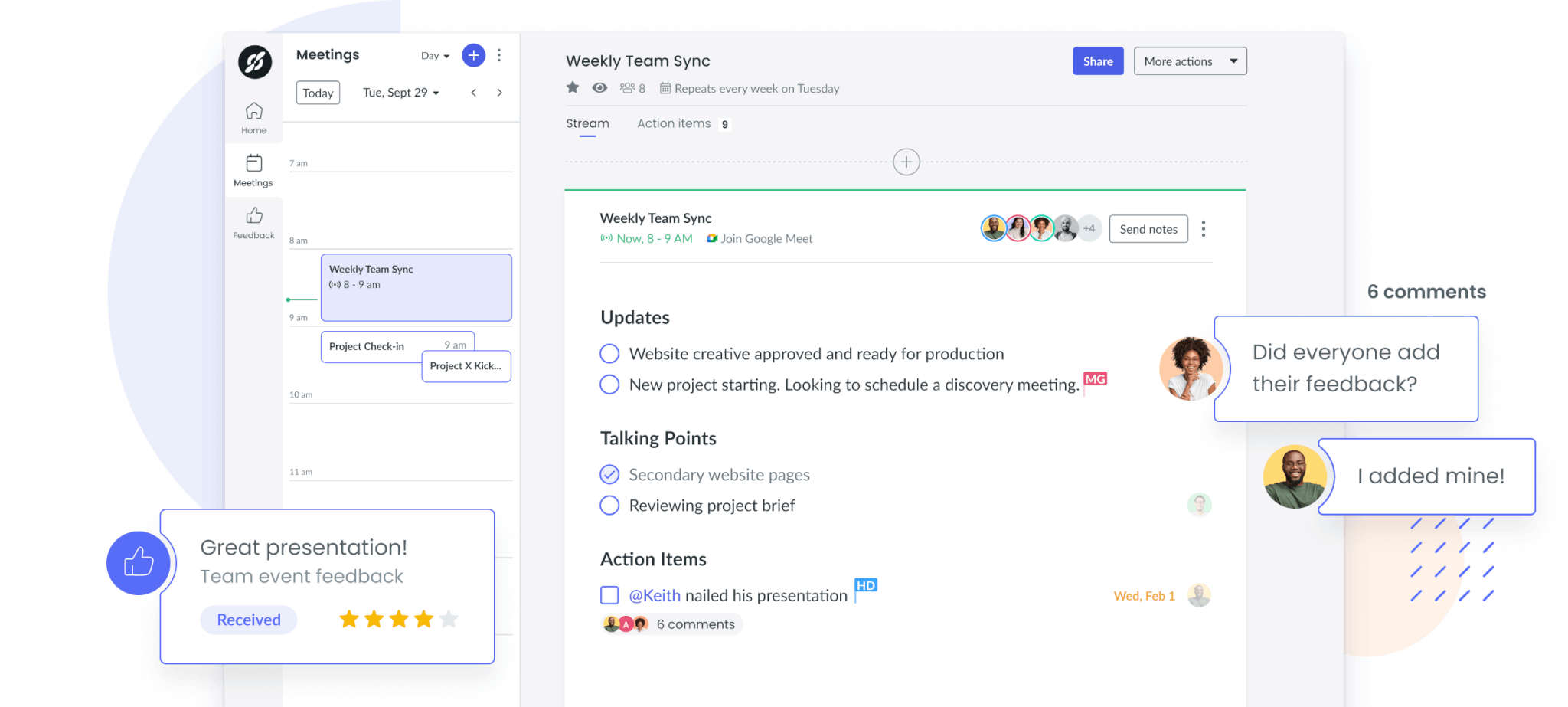 "Fellow solves three key problems around running meetings. First, creating the agenda. Then, with the ability to take notes, meeting management becomes much simpler. And finally, tracking the action items that come out of every meeting. Having everything in Fellow means we can track it and follow up on it."

Mychelle Mollot

Chief Marketing Officer
Run delightful meetings with Fellow
See why leaders in 100+ countries are using it today.