Fellow + AI
Meetingnotes.com readers get an exclusive offer!
Fellow helps organizations have productive meetings and meaningful 1:1s with AI-powered meeting agendas, transcriptions, and summaries. Get extra AI credits to try out our AI features when you sign up for Fellow before December 30th, 2023.
Taking meeting notes is more efficient with Fellow
Before the meeting
Encourage thoughtful meeting creation
Fellow makes meetings more efficient before they've even started.
✔️ Create collaborative meeting agendas augmented with AI-powered suggestions to promote preparation and active engagement within your team

✔️ Give attendees ownership of the meeting by automatically assigning sections of the agenda to specific attendees

✔️ Review automatically carried forward action items from previous meetings to foster accountability and alignment before every meeting

✔️ Apply meeting best practices with integrated guiding prompts in every Google Calendar event so every meeting is a valuable one
Get started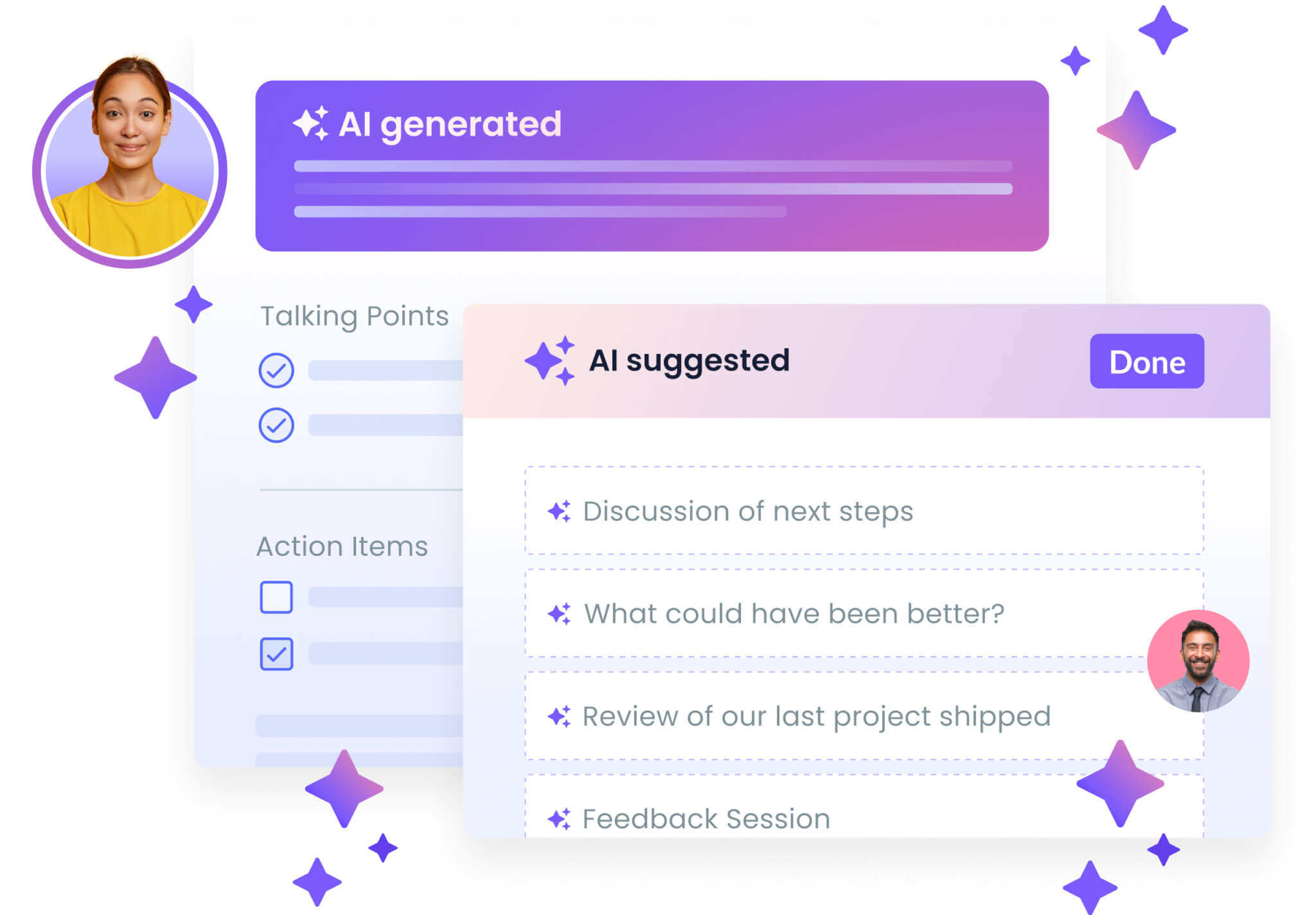 During the meeting
Foster better meeting engagement
Fellow ensures that every meeting is worth the investment.
✔️ Take meeting minutes collaboratively and keep an accurate record of the conversation with AI-powered transcriptions

✔️ Assign clear meeting action items and automatically sync them to your favorite project management tools to create team accountability

✔️ Easy to adopt with full integration to Google Meet so meeting talking points, action items, and notes are always right where they're needed
Get started
After the meeting
End with actionable outcomes
Fellow follows up, so you don't have to.
✔️ Track decisions with AI-powered meeting summaries so nothing is ever forgotten

✔️ Automatically request feedback from meeting participants to continuously improve their meeting experience and ensure meetings stay relevant

✔️ View meeting analytics to gain insights into the company's meeting habits and productivity patterns
Get started
"I'm generally an AI skeptic, but we used the Fellow AI meeting assistant and it was really good. The AI summary is truly sublime."

Mike Landman

Founder & CEO
Trusted by the world's most innovative companies
More than just a transcription tool
Fellow helps organization leaders build great meeting habits
Log in