Say hello to Fellow: the easy-to-use meeting software for 1-on-1s
Start having better meetings so you can get back to work
Experience better meetings in minutes by inviting your team and connecting Fellow to your calendar 🗓
Trusted and loved by the world's best teams
Hugo is retiring November 2022, make sure you don't lose any of your data
You can easily import Hugo notes into Fellow using our Hugo Import Tool. This will quickly import all of your Docs and Tasks data from Hugo in 3 easy steps:
1. Create a Fellow account

2. Export your Hugo data

3. Upload the .zip file to our import tool
Get started
Does this sound familiar?
"Where is the meeting agenda?"
Meetings without an agenda are uncertain, unproductive, and waste of time
High performing teams run productive meetings, and productive meetings need an agenda
Creating an agenda on the fly doesn't work
Meetings without an agenda give you uncertainty and anxiety about what's going to be discussed.
❌ You scramble to take notes

❌ You switch tabs in your video calls

❌ You miss out on the key details
Get started with Fellow
Your team dreads meeting agendas on single documents
Agendas on a google doc are not collaborative.
❌ You can't easily engage with the agenda

❌ Takeaways get lost in documents

❌ Action items are not tracked
Get started with Fellow
What would happen if you could run productive and delightful meetings? 
Fellow is the only easy-to-use meeting agenda software with all the features you need to have collaborative meetings without interrupting your workflow.
Say hello to productive meetings
Here's how high performing teams are using Fellow to level up their meeting habits
Step 1
Sync your work calendar with Fellow
Get access to a full meeting agenda for every calendar event, with just one click.
Works seamlessly with your calendar app.
Get started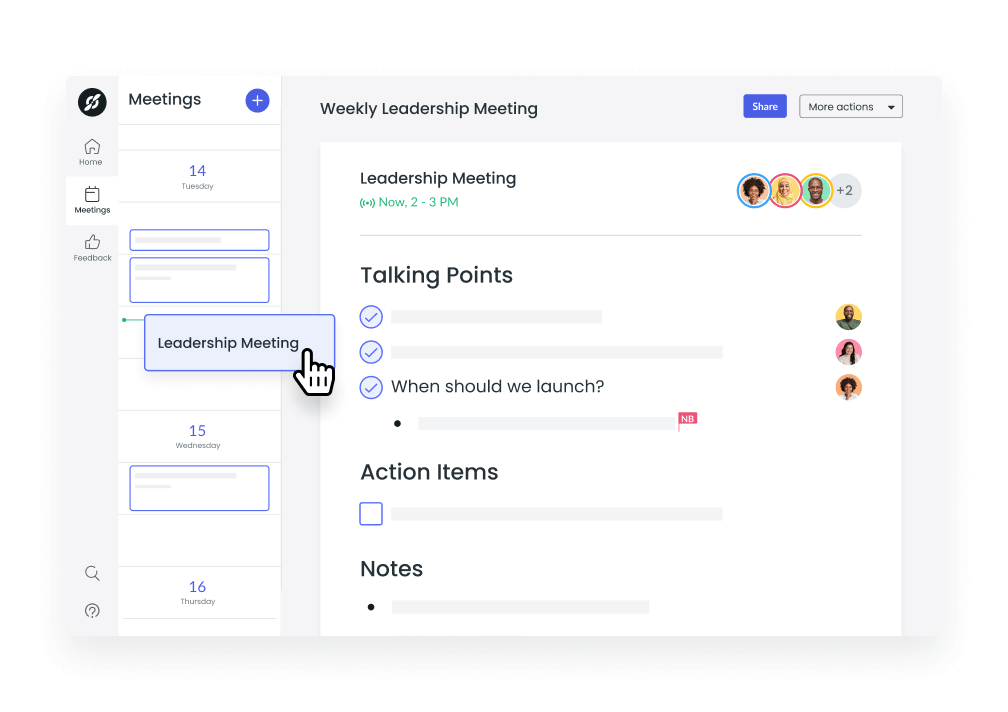 Step 2
Create & collaborate on agendas in advance
All team members can edit and add to the agenda before the meeting.
Set up custom reminders to add to the agenda for you and your team.
Get started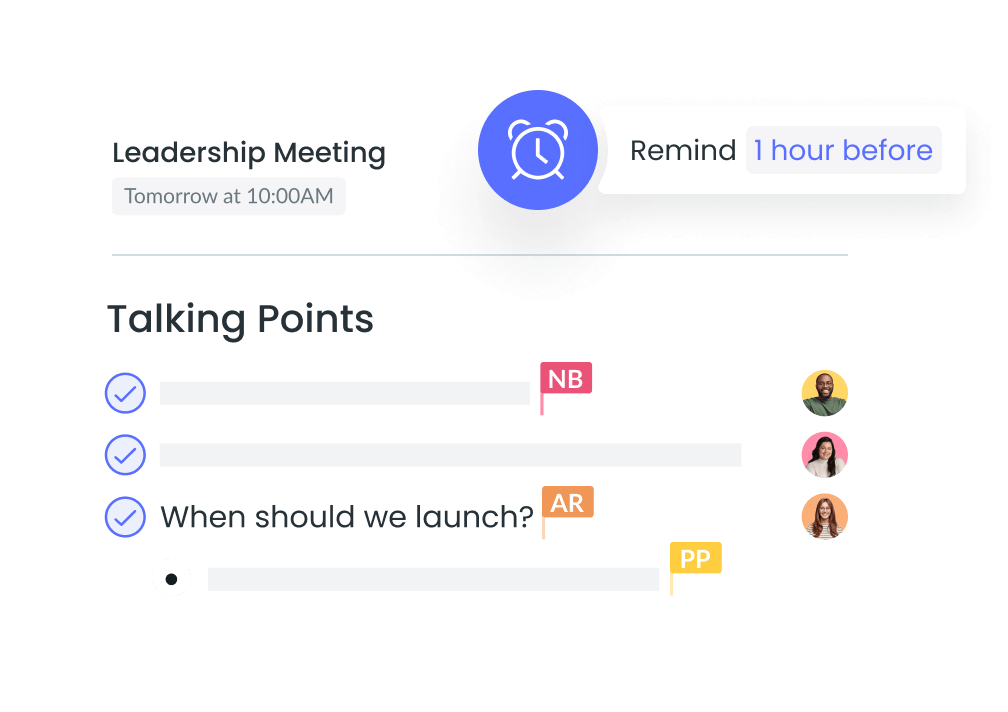 Step 3
Pre-built templates for all your meetings!
Get access to hundreds of expert-approved meeting templates for all types of meetings, including:
✔︎ Team Check-ins

✔︎ 1-on-1 Meetings

✔︎ New hire onboarding

✔︎ 100+ other templates to choose from
Get started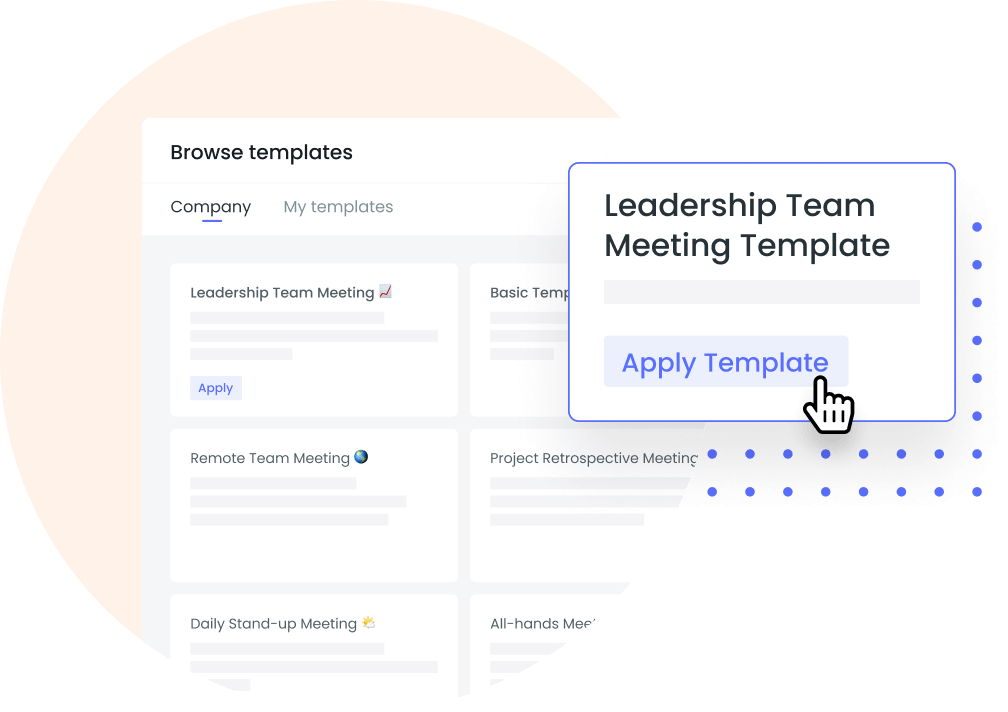 Step 4
Easily track action items and send meeting notes
Action items can be assigned with due dates to keep everyone accountable.

Meeting notes can be easily shared to review takeaways, decisions made, and what was discussed
Get started
Step 5
Integrate action items with all your workflow tools
Bring your action items from your meetings into your Asana projects seamlessly.
Get started with Fellow
"One of the best additions to our feedback loop has been the company-wide adoption of Fellow. It provides an amazing platform for constant conversations and direct feedback between managers and direct reports."

Justin Schiefner

Director of People and Culture
Join the world's best teams and level up your meeting productivity
You're just a few clicks away from the solution you didn't know you needed:
✅ Fully synced meeting notes with your calendar
✅ Access 100+ agenda templates instantly
✅ Integrates with all major workflow tools
✅ Works with your favourite video call apps
Start having delightful meetings today!
Getting started is quick and easy
Get started