Back to Template Gallery
Lenny Rachitsky's Product Management Meeting Template
Run effective product management team meetings with this template curated by 'Lennysan' Rachitsky, PM Lead @ Airbnb, Founder/CEO and Software Engineer.
Preview template
Who is Lenny Rachitsky?
Lenny Rachitsky is a former Product Lead at Airbnb. He joined the online marketplace company as a Product Manager (PM) in 2012 after his company, Localmind was acquired, and quickly transitioned to a Product Lead role, where he led a team of five PMs and 80+ individual contributors.
With years of experience under his belt, Lenny now leads a community of 1000+ product leaders who subscribe to his weekly newsletter to get the latest product management and growth advice. For that reason, we couldn't think of a better person than Lenny to curate the most effective meeting agenda template for product management teams.
Use this expert-approved template to run product management meetings that drive great results.
What's inside this Product Management Meeting Template:
1 Manager Updates: What's happening outside of the team?
Use the first section of your product management meeting to share information and updates that are relevant to your team.
Include the following talking points in your meeting agenda:
– Things that are top of mind for other leaders in the company
– Potential changes to the roadmap
– Any new and upcoming projects
"Since PMs are often more in the know on what's happening, this is a critical piece of the puzzle in keeping all teams feeling informed and their voices heard," says Lenny Rachitsky.
Product management meetings are better in Fellow
Fellow is the meeting management app that companies like Shopify, Uber, and KeepTruckin use to run effective product management meetings.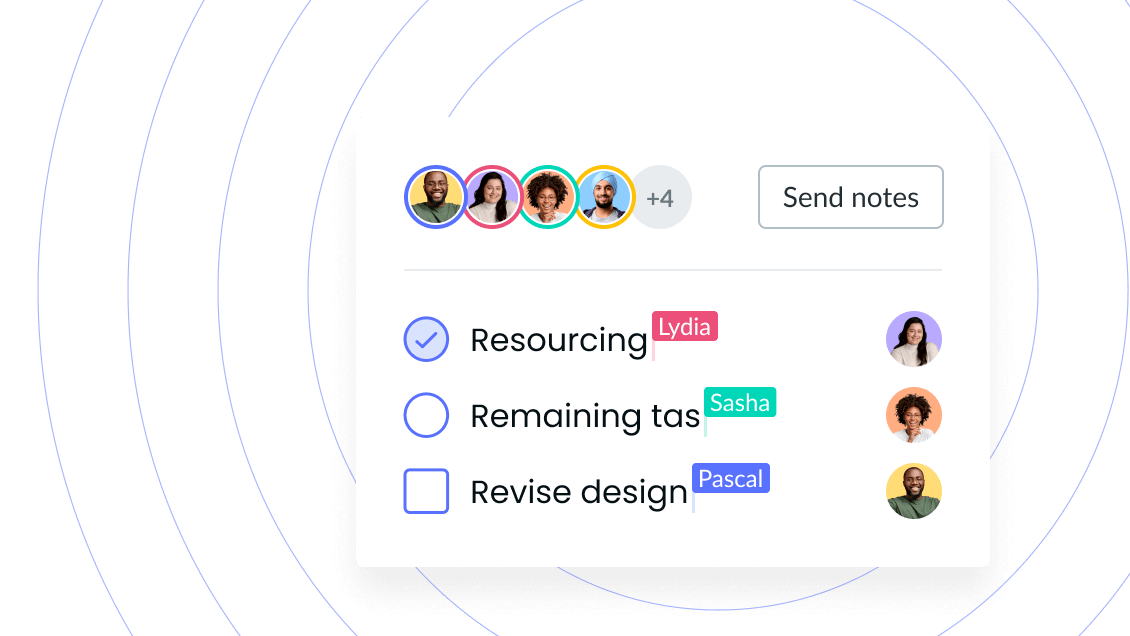 2 Individual PMs: What's happening within the team?
According to Lenny Rachitsky, product leaders should make it a habit to ask specific team members to share updates and learnings during product management meetings.
For this section of your team meeting, make sure to ask individual PMs to prepare interesting updates and information about what's happening within their teams. Some suggested talking points include:
– Important updates on projects that are about to launch
– New processes that they're implementing
– Key learnings that other teammates can benefit from
"This is not a status update from each PM," says Lenny Rachitsky. "This is meant to be engaging and fun, so be selective in who shares and what they share."
3 Q&A
Last but not least, leave time for questions from the team.
Including a "Q&A" section in your meeting agenda template will encourage people to think about questions in advance and show up prepared to have a productive and impactful discussion.
Lenny Rachitsky's best practices for effective product management meetings
1 Schedule one or two product management meetings per month
One common question we get asked by product leaders is: how often should product management meetings take place?
According to Lenny Rachitsky, product leaders should schedule their team meetings with other product managers one or two times per month.
"The bigger the team, the less frequent," he says. "A weekly PM team meeting becomes redundant with your one-on-ones. Meeting less than monthly can be valuable for social/bonding purposes, but most of the other benefits go away."
2 Be crystal clear on the goals of this meeting
Just like with any other meeting, you should make sure that your product management meetings have a clear purpose and takeaways.
Lenny suggests asking these two questions when preparing for your meetings:
– What problem are we trying to solve?
– Are there more efficient ways to solve this problem?
Finally, he recommends reminding your team of the three main reasons why you meet on a recurring basis:
1. Understanding: making sure that everyone feels like they know what's going on inside and outside the team.
2. Alignment: ensuring that everyone on the team is on the same page.
3. Connection: tightening the bonds between everyone on the team.
3 Organize the agenda ahead of time
It's almost impossible to have a productive conversation when nobody has a plan for what to talk about. That's why Lenny Rachitsky recommends collaborating on a meeting agenda ahead of time.
"As new items come throughout the week, add to this doc," he says. "You want your team to be able to see what's planned ahead of each meeting."
According to Lenny, it's a good practice to let anyone on the team add items directly into your agenda document. However, if you lead a larger team (e.g. bigger than a dozen people), it might be a good idea to have someone be in charge of organizing and curating the meeting agenda.
4 Make it fun
One last tip that Lenny Rachitsky shared with us is that product leaders should always aim to make their team meetings fun. In other words, your team meetings should be a ritual that other PMs look forward to. Here are five tactics and activities that have worked for Lenny in the past:
1. Have each person share something fun they did recently
2. Invite guest speakers
3. Do a book club
4. Have the meeting in an interesting location
5. Go out for drinks or a team bonding activity afterward (when possible)
---
A special thanks to Lenny Rachitsky for sharing this product management meeting template with our community of leaders.
---
Listen to this interview with Lenny Rachitsky (template author):
---