Great meetings are just the start.
Fellow is where teams gather to have productive team meetings and meaningful 1:1s, build collaborative meeting agendas, record decisions, and keep each other accountable.
Rated #1 meeting management software on G2 + loved by the world's best teams
Drive engagement and productivity before, during, and after every meeting
Meeting Preparation
Set the stage for meetings that move work forward
Say goodbye to unproductive meetings. Fellow helps your team build great meeting habits through collaborative agendas, real-time notetaking, and time-saving templates.
✔ Make structured meetings the standard

✔ Automate pre-meeting administration

✔ Foster collaboration and accountability
Use Fellow to prepare for meetings ✨
Meeting Engagement
Drive meeting engagement, focus and decision-making
Centralize the meeting experience and leverage AI to make it easy for attendees to participate, record, and action what was discussed.

Fellow is everywhere you need it during meetings. Integrations with Zoom, Microsoft Teams, and Google Meet mean no more switching between tabs and screens to find and record notes.
✔ Stay present with a centralized experience

✔ Access everything needed during the meeting

✔ Save time with synced action items
Use Fellow to engage during meetings ✨
Meeting Follow-up
Improve meeting outcomes to get more done
Keep the momentum going after a meeting is over with AI meeting summaries, searchable meeting minutes, automated feedback, and meeting analytics.

Fellow's AI-transcribed meeting notes with AI- summaries make it easy to browse meeting highlights. Get granular by tagging important meeting moments so you can quickly refer to them when you need them.
✔ Easily review key insights and discussions

✔ Get timely feedback from attendees

✔ Analyze meeting behavior across the company
Use Fellow to follow up after meetings ✨
Fellow is everywhere you need it during meetings
Fellow & Google
Your AI meeting assistant in Google Calendar and Google Meet
If you're spending more time juggling browser tabs than connecting with the people on your call, Fellow with Google will keep you focused.

NEW: Meeting Cost Calculator in Google Calendar View your meeting cost so you can right-size your meetings.

NEW: Meeting Guidelines in Google Calendar
Transform meetings across your organization with meeting best practices integrated into every Google Calendar event.
Get started with Fellow + Google
Fellow & Microsoft
Your AI meeting assistant in Microsoft Teams
With Fellow and Microsoft Teams, eliminate the need to search for agendas before a meeting by bringing notes into a convenient panel next to video calls.

Move talking points from Microsoft Teams into meeting agendas to flag them for future discussion.
Get started with Fellow + Microsoft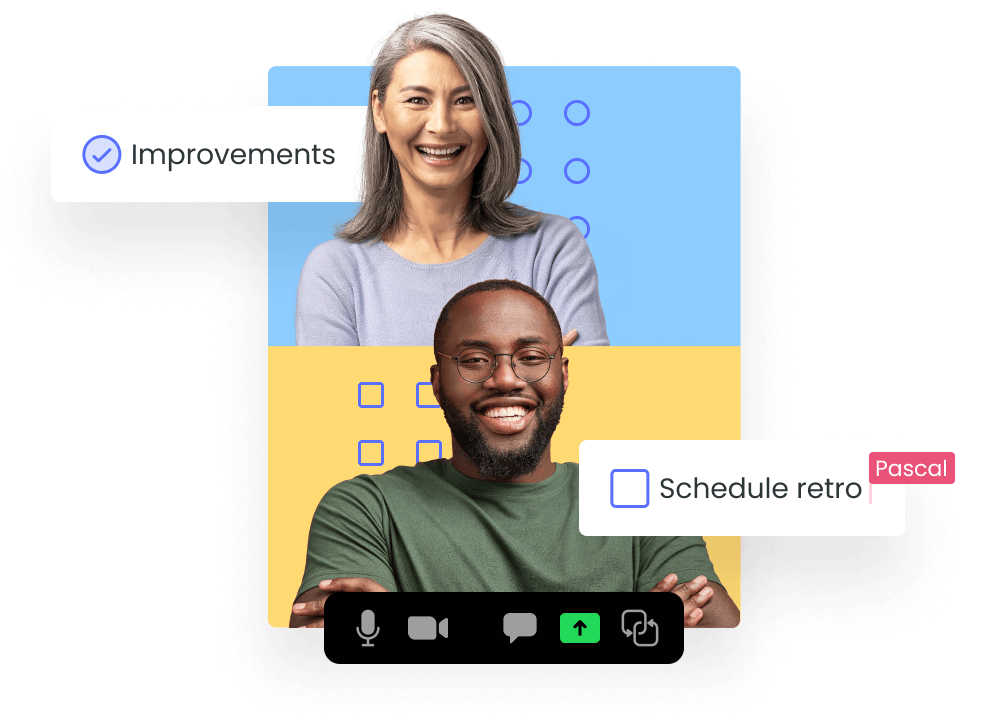 Fellow & Zoom
Your AI meeting assistant in Zoom
Fellow's app for Zoom brings meeting agendas and notes into a convenient panel in video meetings, eliminating the need to search for notes before a Zoom meeting.
Get started with Fellow + Zoom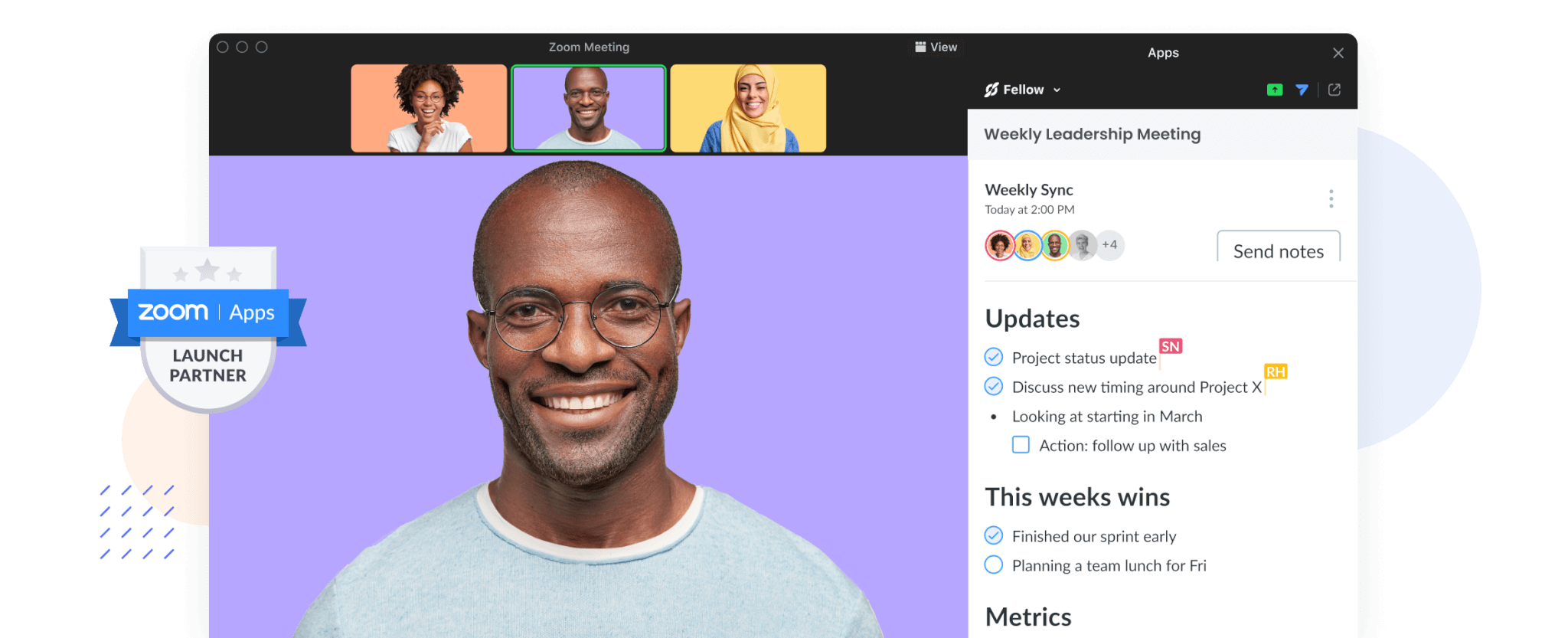 Fellow & Slack
Your AI meeting assistant in Slack
With Fellow's Slack integration, easily move conversations from Slack to Fellow meeting agendas as talking points.
Get started with Fellow + Slack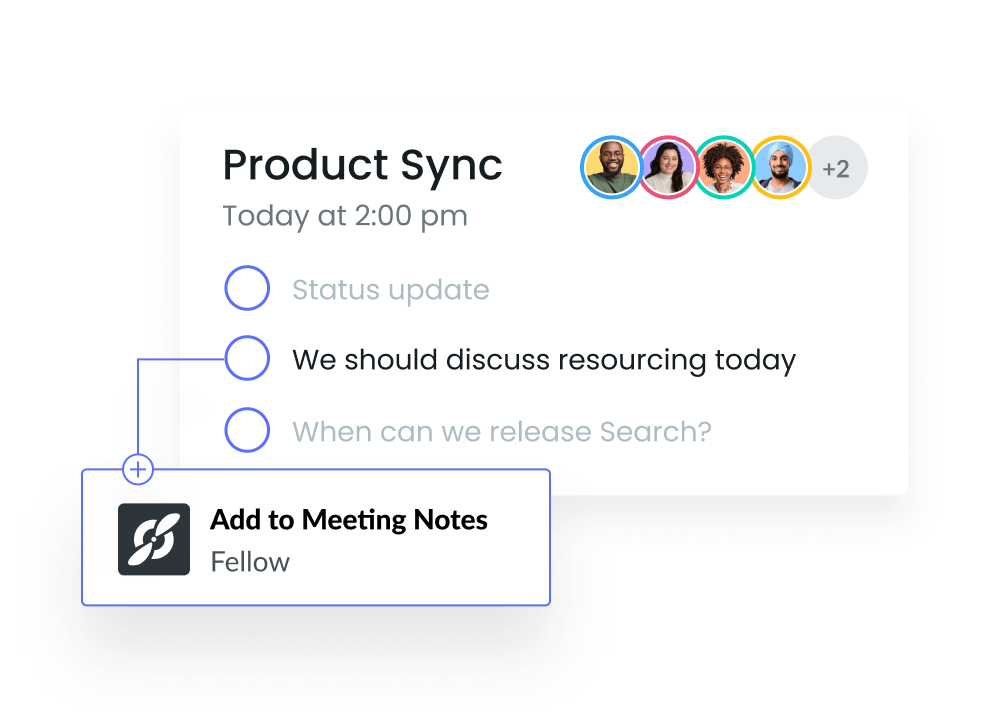 Integrations
Connect meetings to your productivity stack
Connect Fellow to tools such as Asana, Jira, Linear, and Zapier to make your meeting, management, and productivity workflows even better.
View all integrations
Fellow vs. Google Docs
As easy to use as a Google Doc, but far more powerful
Fellow takes the best parts of Google Docs — collaborative note-taking and note versioning — and adds to it a full suite of features that are specifically centered on meeting productivity.
Learn more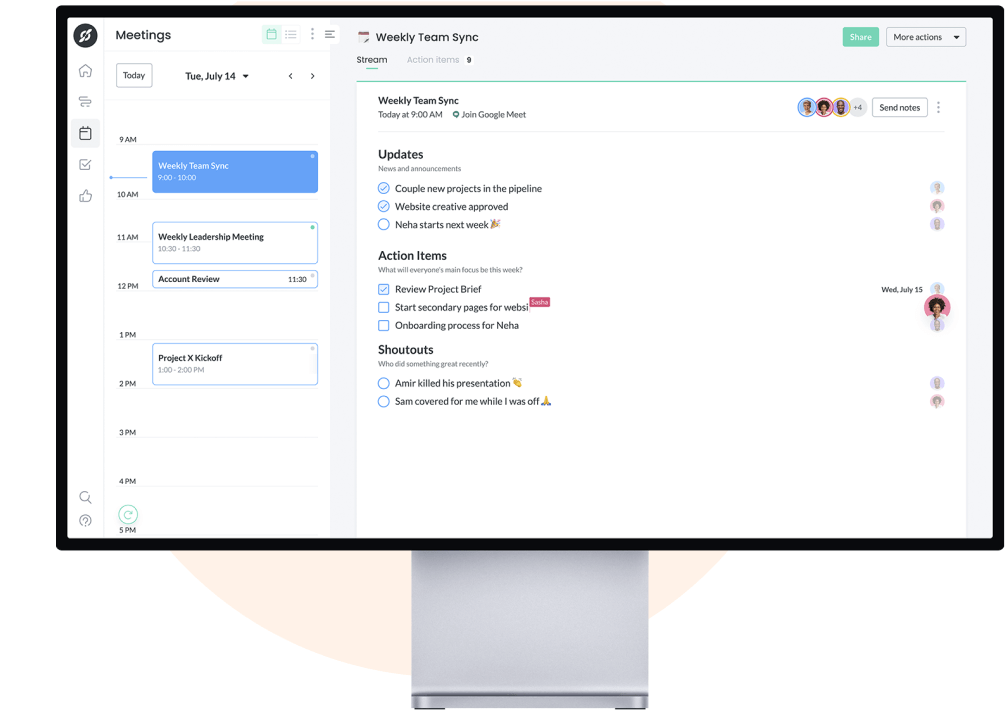 Fellow is great for…
"Fellow has been a game-changer for us. I love how lightweight and easy it is to use. It intuitively builds into my day-to-day rhythm, and the natural flow of Shopify, making it so much simpler to have valuable conversations."

Brittany Forsyth

Former Chief Talent Officer

"Fellow has increased my productivity and has resulted in more collaborative 1:1s & team meetings. My team loves capturing their own agenda items. Getting prompted to add talking points is super handy when jumping from one meeting to the next."

Sabrina Leblanc

Senior Director of Customer Success

"One of the best additions to our feedback loop has been the company-wide adoption of Fellow. It provides an amazing platform for constant conversations and direct feedback between managers and direct reports."

Justin Schiefner

VP of People Operations & Culture

"Fellow has completely changed the way we manage remote meetings. With 100+ people in 32 different countries, Fellow was one of the tools that took our remote meetings from confusion to clarity."

Liam Martin

Co-Founder & Remote Work Advocate
Run delightful meetings with Fellow
See why leaders in 100+ countries are using it today.
Log in
Most popular free guides to
Level-up your meeting & management game
Proud hosts of the Supermanagers Podcast