Software engineers need to be constant learners! Whether you're striving to improve soft skills, technical skills, or leadership abilities, every learning opportunity can bring you closer to your goals!
At some point, you may want to ascend to the next level of your career. Discussing promotions shouldn't be taboo. When the time comes to advance, you should know how to give yourself the best chance of success.
Let's discuss how often software engineers get promoted, common advancements for individuals in the field, and factors that can influence promotions.
How often do engineers get promoted?
The short answer is that promotion frequency depends on several factors! The timescale can be contingent on the skill level of the employee, but many ambitious software engineers get promoted every two to three years. The good news is that the industry is incredibly young, so there will be many opportunities to advance to senior positions throughout your career.
Tech is an incredibly fast-paced field. As new technology emerges, software engineers are able to advance more quickly than workers in other professions. Factors like being dedicated to the craft and showcasing natural leadership capabilities can help you climb the ladder faster.

Transform your engineering team's culture to foster development.
Level up your meeting habits to boost productivity, and development with a collaborative meeting agenda. Try using a tool like Fellow!
Common advancement levels for software engineers
The typical path to promotion for software engineers at large companies is as follows:
Software Engineer 2: Engineers at this level require guidance from senior-level employees. This is the level where recent graduates seeking entry-level positions begin their career.
Software Engineer 3: Software engineers are often self-directed at this level. Skills like the ability to craft a design document, work collaboratively with multiple teams to launch projects, and write properly structured code are expected at this stage.
Senior Software Engineer: Senior software engineers are seasoned professionals. They are strong leaders and their projects are often technically complex. Senior software engineers may also be people managers who use their industry experience to lead teams of their own.
Factors that influence engineers seeking promotions
1 Increases in salary
Money isn't a topic you should shy away from when seeking a promotion at work. Software engineers possess a highly valuable skill set and deserve fair compensation for their work. When striving to ascend, software engineers may have a salary increase as their primary or secondary motivator. Ultimately, money can't buy you happiness, but it can help you live a more comfortable lifestyle. There is no shame in being motivated by financial success.
2 Better benefits
At some companies, better benefits go hand in hand with career advancement. Many employees leave organizations that refuse to provide perks above and beyond regular wages and compensation. Perhaps more paid time off and flexible or remote work options would improve your ability to balance your personal and professional life. Or, maybe having better health insurance or retirement benefits would put your mind at ease. The next time you're seeking a promotion, think about what benefits are important to you.
3 Career growth
With promotion comes greater responsibility and a variety of new technical and soft skills to learn! Many engineers are excited by the prospect of career growth when they seek out a promotion. They look forward to having more responsibility and to taking the lead on new projects. A higher role can open further opportunities for you to add value to the team!
Tips to get promoted as a software engineer
1 Have career advancement conversations with your boss
Did you know that one-on-ones are one of your best opportunities to understand your manager's perspective? Schedule one-on-one meetings often with your supervisor to discuss career advancement. Remember, you may not be top of mind when a position opens if you don't voice your interest in advance. Use Fellow to build collaborative meeting agendas and record decisions during these one-on-ones. You can take ownership of your career by asking your manager questions with our career development questions template. Use it to learn about your biggest strengths, areas in which you could improve, opportunities for growth, your future at the company, and more!
1-on-1 Goal Setting Meeting
2 Learn how to act on feedback
The next time you receive some positive or constructive feedback, process it and then use it as fuel to better yourself. It may seem awkward asking your supervisor how you can improve, but you won't be able to address your manager's concerns if you don't know what they are. Ask questions that require specific answers. For example, instead of saying "Do you have feedback for me?" try something like, "What did you notice at the kickoff meeting I hosted yesterday? Can you tell me something I did well? What about something that I should do more of or change?". The more specific their response, the easier the feedback will be to implement. You can also use Fellow to get real-time feedback!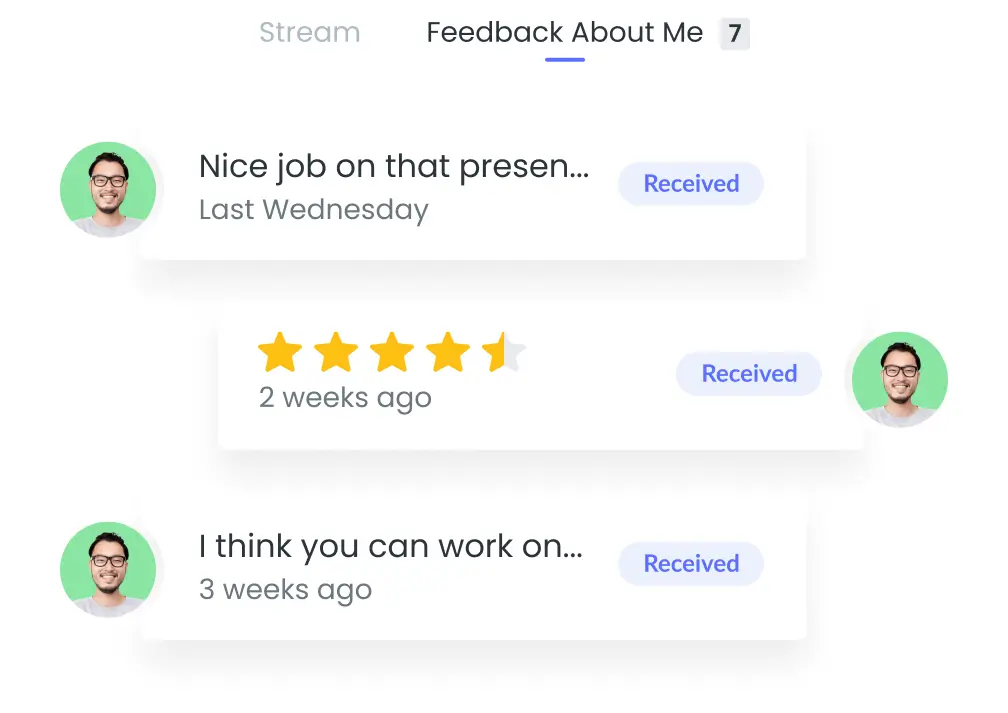 3 Shadow people in the position you want
If you want to make it to a senior level but don't know what a specific role entails or how to get there, shadow an employee in a position you think you might enjoy. Find a colleague whom you admire and ask them about their day-to-day duties. Ask them questions about their background, education, and experience. If possible, have this person mentor you and help you set SMART goals that will get you closer to that promotion.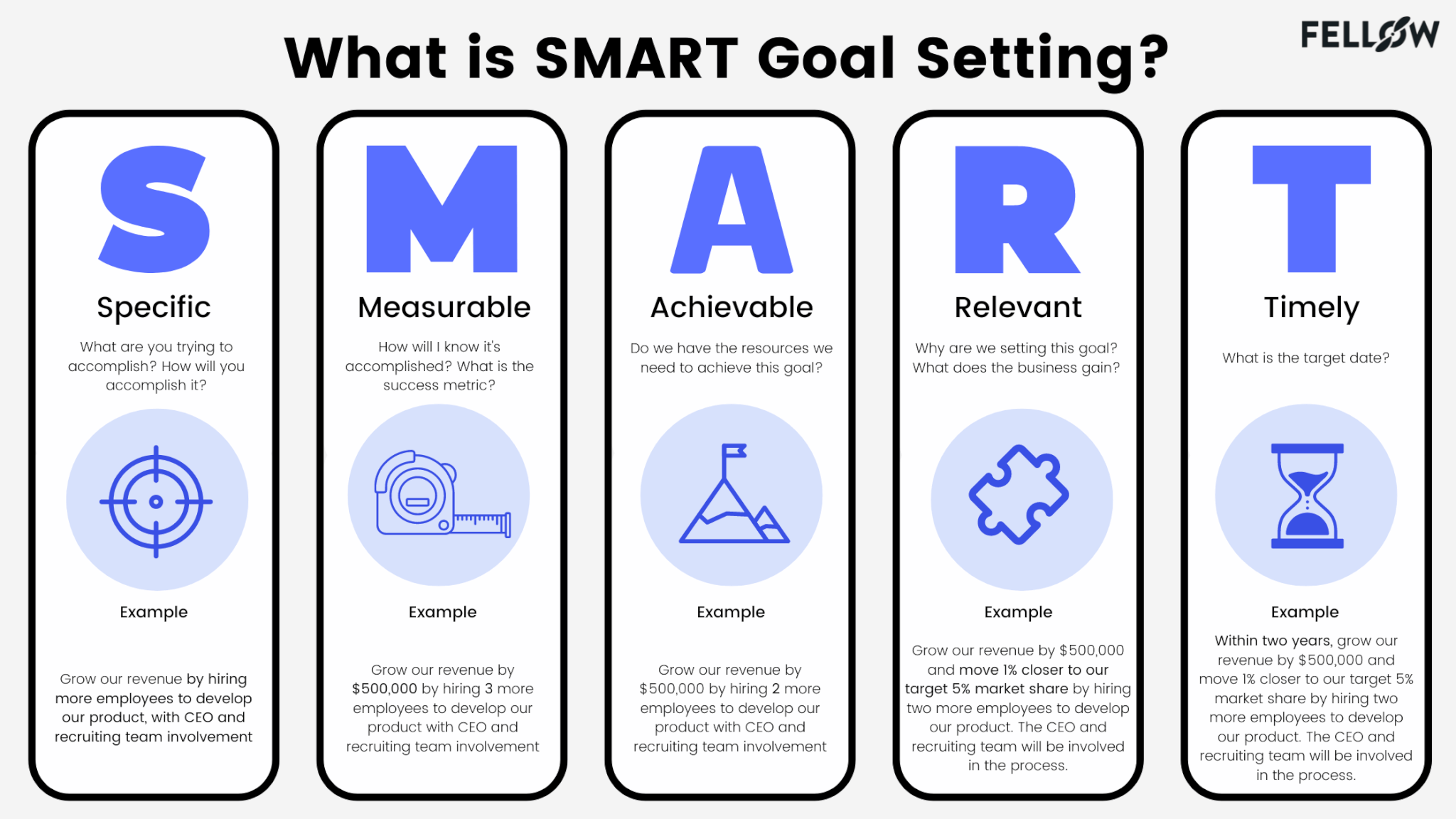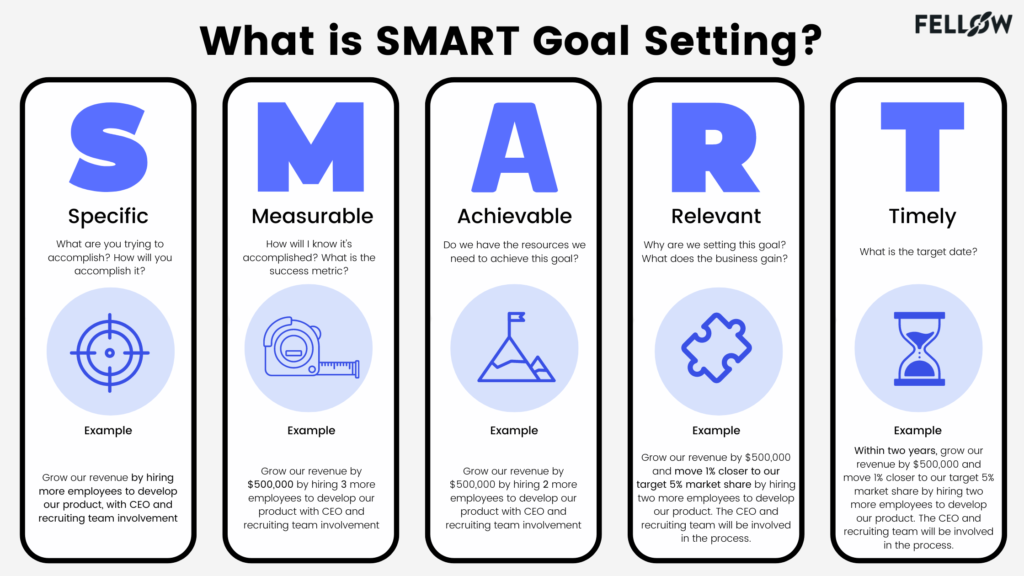 4 Expand your skills
Ask yourself: what technical and soft skills do the employees at the next level of my company have that I don't? Perhaps a senior software engineer you work with has out-of-this-world time management skills or specialized expertise in a new tool. Decide on a few hard and soft skills that will help you be a better teammate and employee. Dedicate a few hours a week to developing these skills and ask for feedback along the way. You can even look at senior-level job descriptions and work on skills that match the criteria required to land your dream job.
5 Focus on your behavior
You could be a skilled engineer, a hard worker, and more driven than the rest, but no one will want to give you a promotion if you're a difficult person. The best way to succeed is by building strong relationships. If you want a promotion, make sure your peers are willing to say glowing things about your behavior. Work on your emotional intelligence so you can handle your relationships with empathy and good judgment.
6 Ask for more responsibility
Show that you're willing to step up to the plate! Ask your supervisor if you can manage a project, supervise a new team member, or try a task usually reserved for more senior employees. This initiative will show that you're willing to look for new opportunities to make an impact. Be clear on what responsibilities you want to take on, come with a plan and options, and choose your wording wisely during the conversation. Schedule some time with your manager to have this conversation or bring it up during your next one-on-one meeting.
7 Seek a mentor
Oprah Winfrey once said that "a mentor is someone who allows you to see the hope inside yourself." A mentor will help you view potential pathways to make it to the next level. Beyond reviewing and revising codes, they can help you familiarize yourself with company culture and processes if you're a new employee. An ideal mentor will want to help you improve your skills and can provide the necessary resources so you can take responsibility for your growth. Above all else, a great mentor will offer excellent career advice because they were in your position once, too.
Once you have found your mentor, try this free meeting agenda template to fuel learning and growth during your mentorship meeting!
Mentor Meeting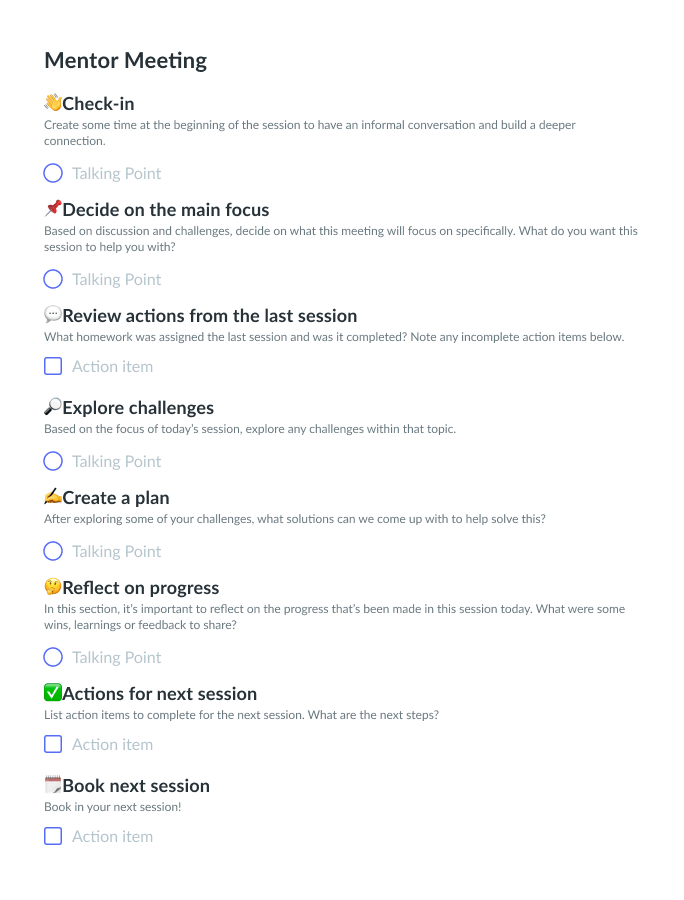 8 Leverage your community
If you want to go somewhere, it's best to find someone who has already been there! Your network is your net worth. If you are a part of a community of engineers who will advocate for you when the time comes, you're well on your way to that promotion. Think about it: If you're looking to make the transition to a new team soon, wouldn't it be convenient to have another senior-level employee who is willing to put in a good word for you? Attend company-wide events, ask to work on new projects so you can get to know colleagues in other departments, and make meaningful connections whenever possible.
Parting advice
The only thing more stressful than preparing for a promotion is realizing that you don't have the necessary skills to ascend when the opportunity presents itself. Give yourself the best chance of success by learning about the process ahead of time. If you want to make the jump to the next level of your company, learn the typical path to promotion and the skills you need to develop to get there. With research, dedication, and a bit of assertion, you'll be well on your way!