The VP (vice president) of Engineering tends to wear several hats in this leadership role. The main objective of any executive-level leader in engineering is to ensure that all of the decisions made work towards optimizing the product and bringing great satisfaction to the organization's clients. Since VPs of Engineering have started their careers as engineers and subsequently as managers of engineers, they should have a very strong technical background. The technical part of the role tends to come more easily considering their professional backgrounds and training, but the people-management aspect as well as the results-focused responsibilities can be more difficult to get used to. It's essential for any VP of Engineering to be highly organized and focused, and to ensure that the customer experience remains the team's ultimate priority.
This article will cover what a VP of Engineering's role looks like, the types of goals that are used in leadership, why setting engineering goals is important, and 20 VP of Engineering goal examples to inspire goal setting within your team.
What does a VP of Engineering do?
A VP of Engineering is an executive-level leader who manages developer teams. The person in this position manages and guides the managers of engineering and developers, ensuring that all design requirements are met and guaranteeing the consistency and quality of user experiences. Essentially, the VP of Engineering needs to ensure that each project is running smoothly, that employees are motivated and satisfied, and that team members are aware of how to collectively work towards achieving important organizational goals.
This role is in charge of both hiring and retaining the top talent in the industry, creating a culture that motivates and excites employees to perform at their highest standards, and seeing projects through from their initiation to successful completion. The level of productivity seen by the team is typically a good indicator of the VP of Engineering's effectiveness.

Track objectives as part of your meeting workflow
Stay on top of your team's goals by clearly recording, defining, and tracking the progress of your OKRs in Fellow's Objectives tool!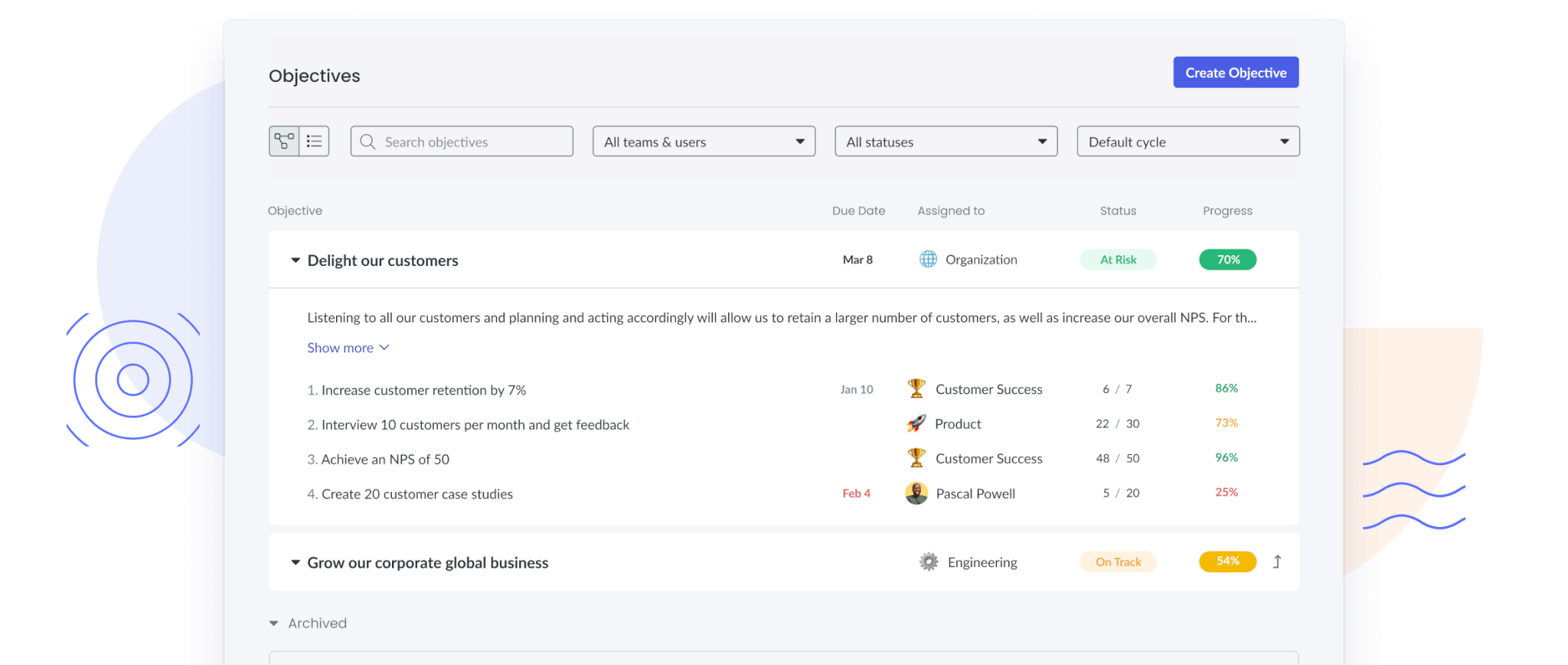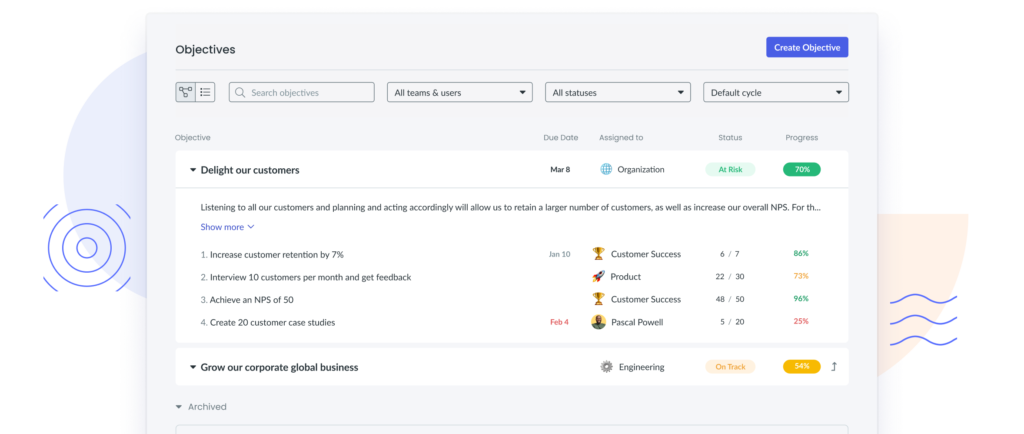 Types of goals
1OKRs
The OKR methodology is a means for individuals at any level of the organization to achieve objectives. Objectives and key results (OKRs) are metrics that give your team a layout of your goal and how you plan to achieve it. Objectives are the "what" in this framework, in that they clearly state the goal you want to accomplish; they are ambitious and push your team to expand their capabilities. Key results are like stepping stones, since they represent the "how" of the OKR methodology. Key results are measurable and give you a way to track your team's progress and signal how close you and your team are getting to reaching the larger objective. Key results also describe the smaller steps your team needs to make to complete those goals.
2SMART goals
SMART goals are objectives that you can easily define and act upon. They help you figure out the resources you need and how much time is required to get something done. The acronym SMART stands for:
S: Specific. Your goal should clearly state the desired outcome and any expectations.
M: Measurable. You should be able to numerically define your goal and track all progress toward it. If your goal is qualitative, you should develop a way to track it numerically.
A: Achievable. For your goal to be achievable, you need to be reasonably confident your team can pull it off, given your current available resources.
R: Relevant. Your goals should pertain to your company's values and yield a meaningful impact for your business.
T: Time-bound. Your goals need a target date by which you expect to complete them.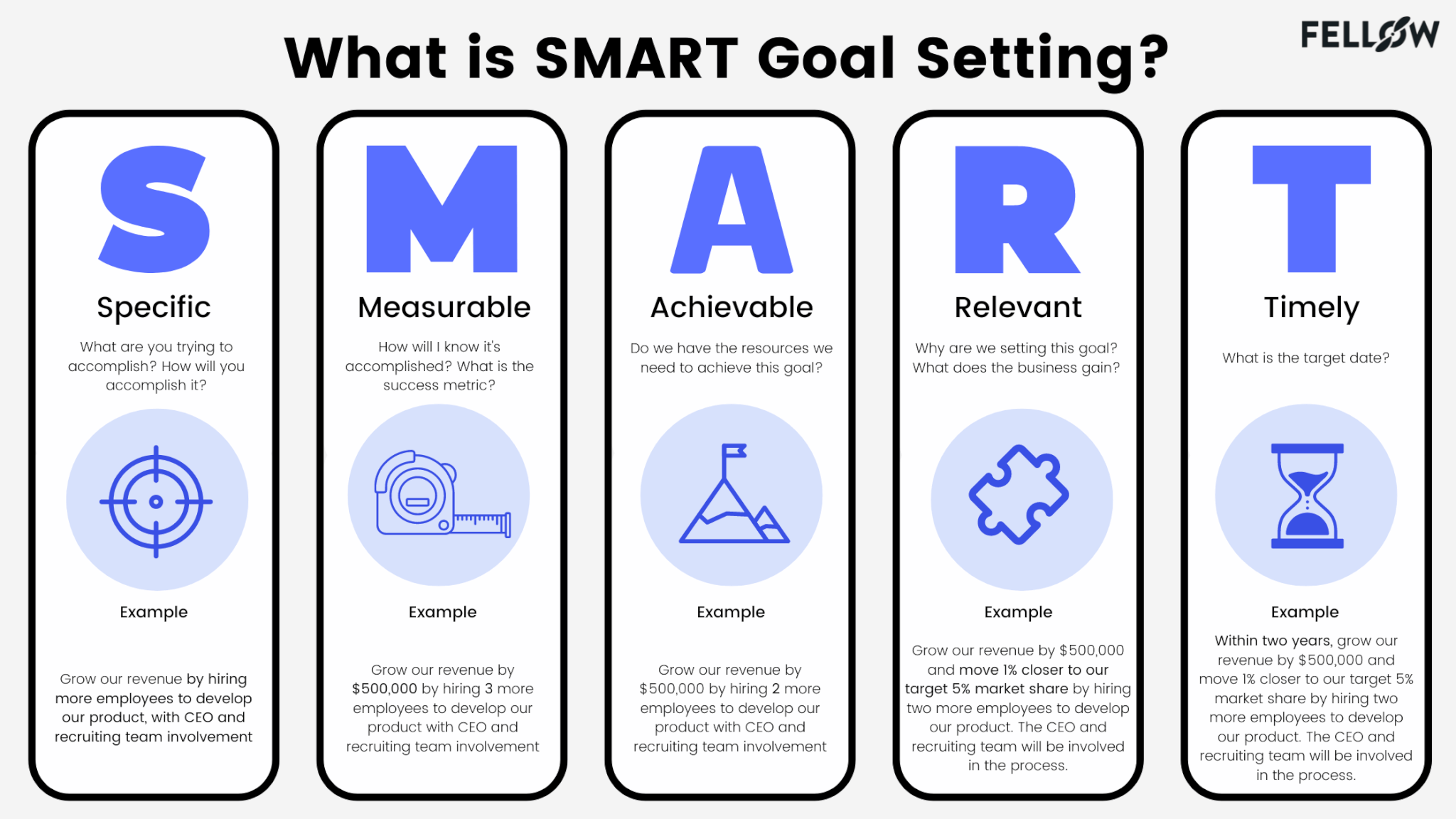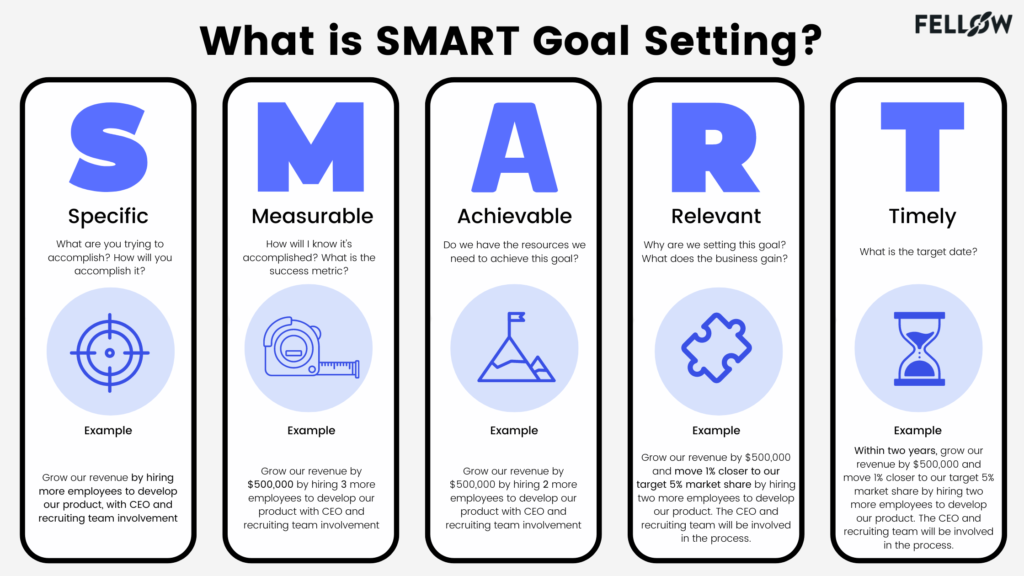 3Short-term goals
Short-term goals are objectives which require minimal planning. Short-term goals are meant to be created as needs arise, meaning that minimal planning is required. A short-term goal can be anything from doing your laundry to checking a few items off your to-do list. These are normally menial tasks that don't require a great deal of planning. This type of goal also doesn't require a strategy. These goals are meant to be completed promptly, so there's no time to implement a strategy. Instead, you may want to consider a to-do list or short action plan. Because short-term goals happen quickly, they usually run within a predetermined time frame with a tight deadline and because of this, they're not flexible and should only be completed as initially outlined.
4Long-term goals
Long-term goals actually require a strategy, which should focus on achieving quantifiable or qualitative results using metrics like data, financial figures, or increased productivity or output. Unlike short-term goals, long-term goals actually do require planning, since they aim to permanently resolve issues and maintain success over a long period of time. Long-term goals ebb and flow as short-term goals or benchmarks are met throughout the process. The beauty of long-term goals is their longevity. There isn't a tight timeline, so you can make adjustments and iterations throughout the life cycle of your long-term goals. Long-term goals may even incorporate short-term goals as benchmarks to work towards a larger goal.
Why is setting engineering goals important?
Setting engineering goals is important because it's essential that the entire team has a clear understanding of the "why" behind their work. The VP of Engineering has the important task of explaining the goals and requirements to the team, and this understanding is important for motivating employees and ensuring that they can see why their work is important and how it contributes to the organization. When individuals feel motivated and valued by their management, they're more likely to feel satisfied at work and much more likely to stay within the company. This way, you retain your top talent and can continue to drive impressive results. Essentially, engineering goals are important for the satisfaction of customers and the employees who make your successes possible.
How to set and track goals in Fellow
It's a good idea to use a meeting management tool to set and track goals with your engineering team. With Fellow, you can do this by clearly recording, defining, and tracking the progress of your OKRs in Fellow's Objectives tool. You can define a cycle for your goals, add team objectives, define key results, and stay on track by reviewing the progress of goals during team meetings or check-ins by adding an Objectives tab to your meetings. Each team member can create their own private or public OKRs or create team-wide objectives. What's more, is that all team members will be able to see any objectives marked as public; as such, different departments can view other departments' goals to which they may not ordinarily have access. If you're looking for a way to optimize your goal setting and achieving, this is it.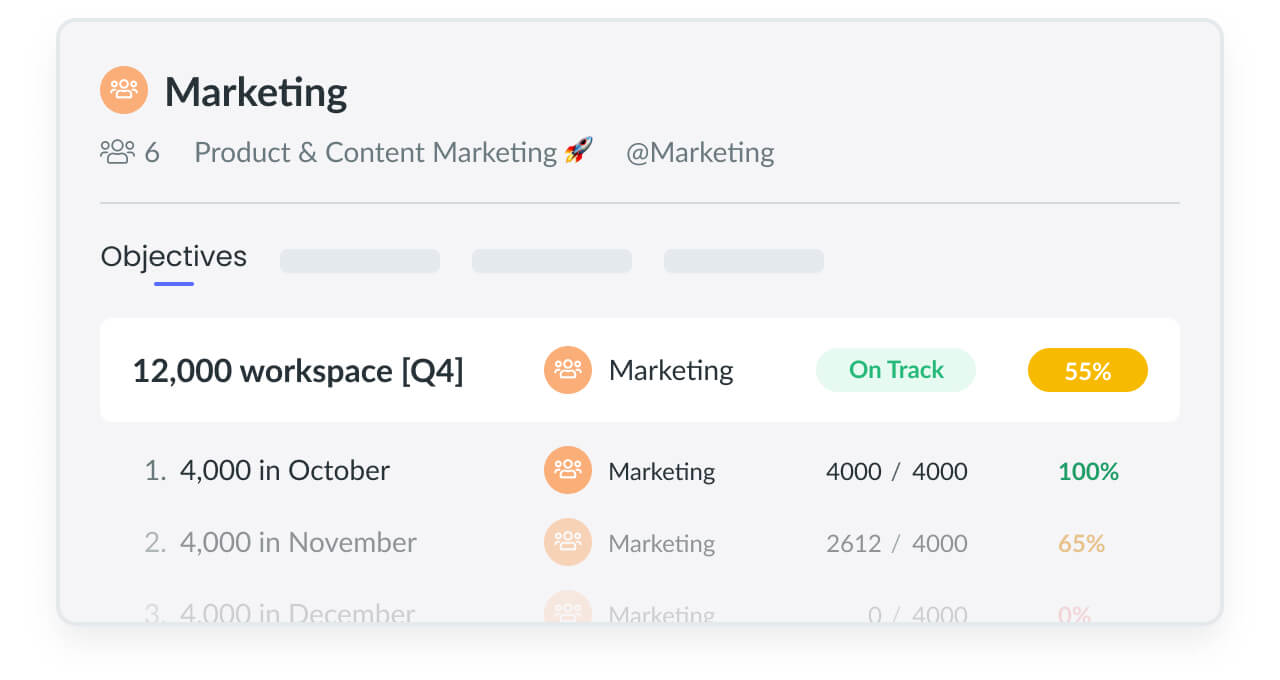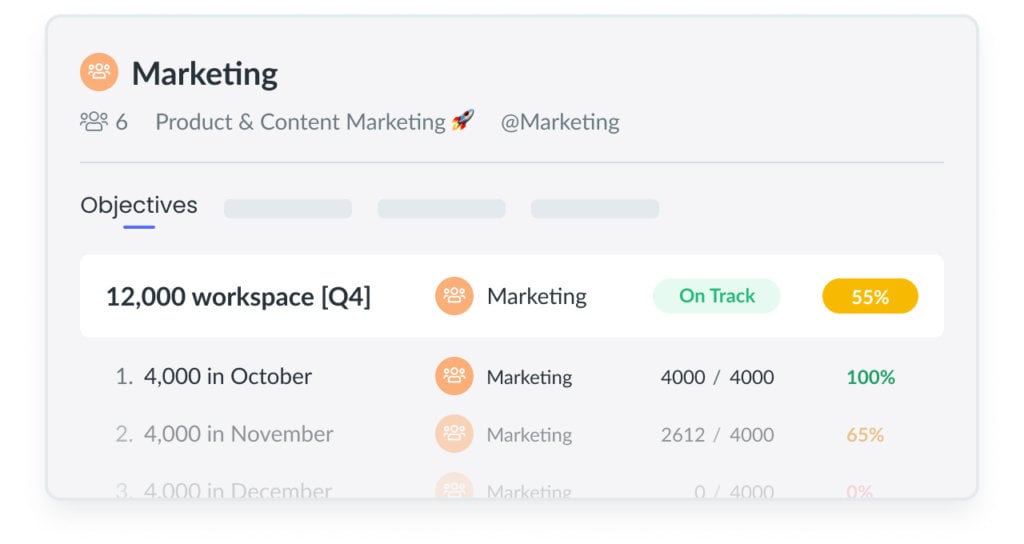 20 VP of Engineering goal examples
Run one engineering-wide team-building event this quarter
Run monthly coaching sessions with managers to enhance and encourage strong management
Hold weekly one-on-one meetings with your team
Be sure that each engineering release is delivered on time and is in line with quality standards
Hire 5 engineers by X date to achieve X result
Give 1 piece of actionable feedback to every direct report
Meet with a management coach this quarter to optimize your management skills as a leader
Take action on the feedback you have received from your team and share the results of implementing this feedback with your team
Have career conversations with each of your direct reports once a quarter
Engage in self-learning by reading, listening to podcasts, or participating in training courses to level up your management skills
Run a monthly coaching session with your team
Ensure at least half of the meeting agenda context is contributed from direct reports so you can gain valuable insights and feedback from your team
Put in place a recognition system so you put an emphasis on valuing people over processes
Ensure that each employee has OKRs set and check-in meetings scheduled with their managers
Reduce build-measure-learn cycle by one week so you place importance on action over the analysis
Be sure that no new work enters the sprint backlog from outside the team during a sprint
Review 10 internal processes over the course of this year, gather feedback from employees, and put together recommendations
Make 5 process or workflow improvements in the next quarter
Reduce bugs created per feature by 75%
Increase sprint velocity from X to X and from X to X per person by the end of the quarter
Parting advice
A key part of the VP of Engineering job is setting and tracking goals for the entire team to ensure success across the department. VP of Engineering goals are essential to the successful operation of engineering and development teams. Beyond technical skills, communication and people management is central to being a successful leader in engineering. As a VP of Engineering, you want to be a source of inspiration and motivation for your employees and simultaneously evolve into the best leader that you can be. Setting specific VP of Engineering goals will help you actively think about how to bring about as much success and satisfaction that you can to both your customers and to your employees.