Being a first-time chief executive officer (CEO) is incredibly difficult, even more so if you don't surround yourself with a positive support system that can help you navigate your new role. It's important to remember that you don't need to start this new chapter on your own. When in doubt, lean on friends, family, or even colleagues for support or guidance. For professional support, it's best to work with a mentor who knows what it's like to walk in your shoes.
In this article, we'll dive into 13 expert-approved pieces of advice from notable CEOs and business leaders. By the end of this article, you'll feel confident in your new endeavor and ready to take on the title of CEO.
13 expert-approved tips for first-time CEOs
1Foster effective communication
Effective communication in the workplace is important as it boosts employee morale, engagement, productivity, and satisfaction. As a CEO, fostering effective communication is a must. When you foster effective communication among your organization, all parties will feel informed, educated, and aligned. Delivering messages clearly will leave little to no room for misunderstanding or miscommunication, which will decrease the potential for conflict and confusion. Ultimately, effective workplace communication will help foster connectivity and drive better results.

Run efficient meetings, come to a decision, and get back to work
Level up your meeting habits to boost engagement and productivity with a collaborative meeting agenda. Try a tool like Fellow!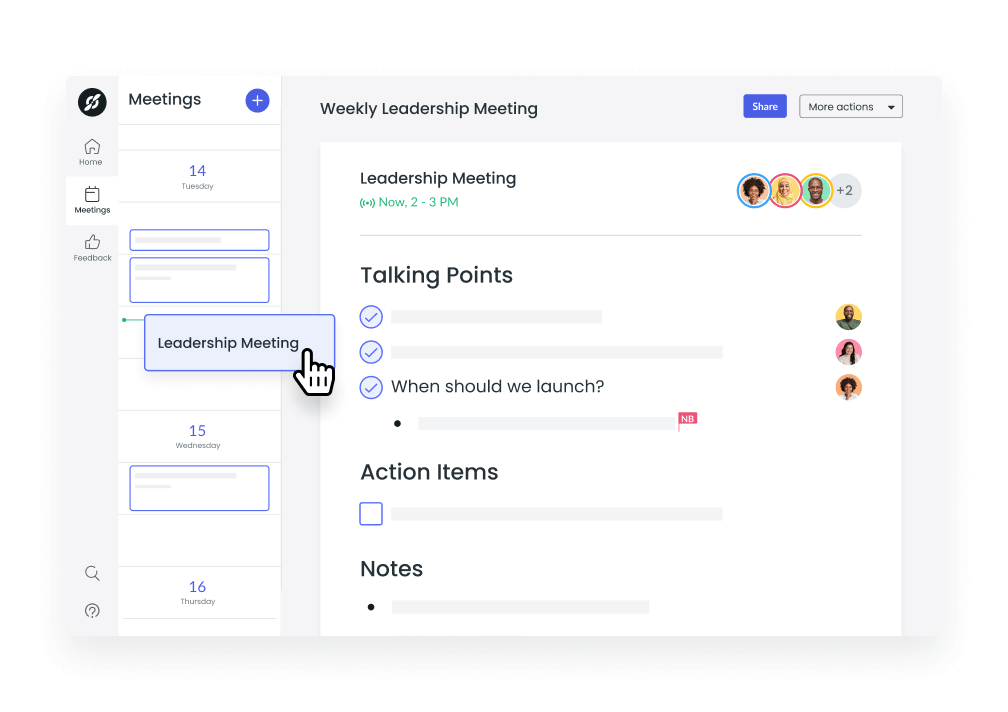 2Be transparent
Transparency is critical because it helps build trust and credibility with stakeholders, including employees, shareholders, and customers. Open communication not only encourages accountability but also helps establish a positive company culture. A transparent leadership style also allows for constructive feedback, improving decision-making and problem-solving. In short, transparency leads to better relationships, more informed decisions, and, ultimately, better business outcomes.
Being a first-time CEO is tough, and Scott Abel, the CEO of Spiceworks, hit the nail on the head when he said,
"When startups go perfectly they're hard—and they never go perfectly. We shouldn't do anything that makes it harder. The more open and honest you are with your team about how you're doing—with product traction, sales, and money in the bank—the more honest they'll be with you about what's working and what's not inside your company."
3Lead with intention
In episode 48 of our Supermanagers podcast Amanda Goetz, Founder of House of Wise, talks about leading with intention. In this episode, Goetz states that there should never be massive surprises, and one of the ways that these scenarios can be avoided is through feedback. To quote Amanda loosely:
"feedback is a gift, whether you subscribe to the radical transparency paradigm or not, it's imperative that you always strive to provide feedback in an attempt to make people better."
In short, providing intentional feedback helps everyone get better.
4Establish a good relationship with stakeholders early on
Every successful CEO is stellar at relationship building. If you're surrounded by toxicity and haven't taken the time to prioritize relationship building with key stakeholders, you may find yourself scrambling for support or buy-in when you need it most. As a first-time CEO, it's important that you prioritize relationship building from the start. This means getting to know all key stakeholders on a personal level as one of your first orders of business.
5Be a good listener
Being a good listener is often an underappreciated skill. Not only because it allows you to appreciate your peers and make them feel heard and understood, but also because it allows you to gain an in-depth understanding of what's going on around you. To quote Brian Tervo, the CEO of North American Operations for Tie Kinetix directly:
"[…] if you are not open to what your team is saying, you tend to miss out on what is most vital to your products, services or culture."
6Be adaptive
As the CEO of your company, you're responsible for leading the ship. You'll be the main point of contact and captain as your organization navigates uncharted waters. The one constant in life—and therefore in business—is change. As Gregory S. Gilmore, the CEO or Planview, says:
"Change comes in various forms: economic climate change, competitive landscape, business priorities. Whatever the change, as CEO you need to embrace and adapt as you lead and direct the business."
7Create a crisis management plan
A crisis management plan (CMP) is a document that details how members of your organization would respond should a critical situation impact your organization's profitability, reputation, or ability to operate smoothly. Creating a CMP will help your organization plan for a disaster or unforeseen event, similar to the COVID-19 pandemic, because the CMP will help lessen the impact of the crisis in question.
8Surround yourself with a supportive network
Being a first-time CEO can be tough and often feels lonely. If you don't surround yourself with an appropriate network, you may find yourself feeling burned out, lost, or unmotivated. Surrounding yourself with supporters both in your personal and professional life will ensure you have someone to turn to when things get tough.
9Work on your self-awareness
Being self-aware as a leader means having the ability to drown out the noise and focus on yourself and how your actions, thoughts, emotions, and the words you speak align with your personal standards. It's also important to recognize how your lead impacts those around you. In episode 36 of our Supermanagers podcast, Amber Hurdle, the Creator of The Velvet Machete Leadership Model, states that personality assessments and self-awareness help us become better leaders. To lead to the best of our abilities, Hurdle states that we must be aware of our weaknesses so we can bubble wrap them, set them to the side, and build systems for success.
10Don't assume you know everything
Excellent CEOs need to adopt a growth mindset and prioritize continuous learning. In the same article mentioned above, Brian Tervo speaks to the importance of surrounding ourselves with subject matter experts who encourage each other to push boundaries and explore uncharted territories:
"Understand that you do not know everything about the business no matter how much of a subject matter expert you may be. Build out a team of various disciplines that challenge each other to come up with the best idea, not just people who agree with your every word."
11Act as you want to be treated
As a CEO, it's incredibly important to remember that all eyes are on you at all times. Culture is built from the top down. You can't expect to foster a positive environment if you don't prioritize inclusivity and kindness. As the golden rule states, you need to treat others the way you want to be treated. Remember, do unto others as you would have them do unto you, speak to and of others as you would like to be spoken to and about, and think of others the way you would like to be thought of. Keeping these simple practices in mind as you go about your day will help you lead with a human-centered approach.
12Work with a mentor
A mentor is an experienced and trusted advisor who will support you as you navigate your new role as a CEO. Seeking a mentor is ideal for someone in your position. As a first-time CEO, you'll see that a mentor will be able to support you and provide you with advice and feedback so you can continue to grow into your role as you work together to define and reach your goals. A mentor may support you by providing advice or helpful tips and tricks, or they may draw on their own experience to provide you with guidance and motivation. A solid mentor will give you invaluable advice and feedback that you can use to move forward in your role with greater confidence.
Try out this free mentor meeting agenda template in your next mentor meeting!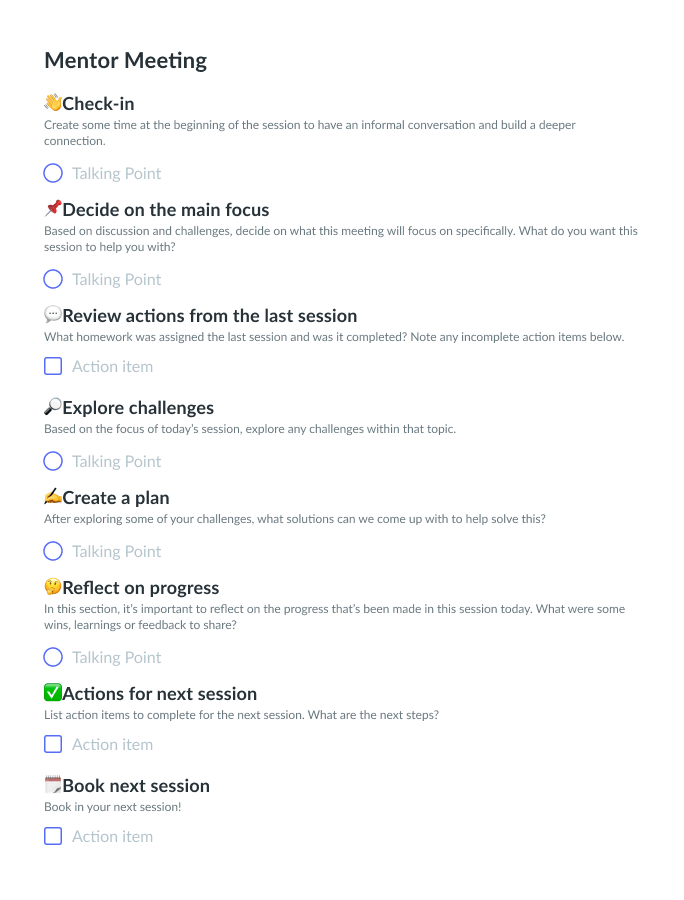 13Get aligned in your personal life
The harsh reality of becoming a CEO is that the role will have significant implications on your personal life. Many people fail to recognize these implications, which is why it's so important to get aligned in your personal life. To quote Alan S. Knitowski, Chairman and CEO of Phunware directly:
"You need to have complete alignment at home with the realities of what you are going to be doing, and the sacrifices that will need to be collectively made by all of those involved and impacted. There are absolutely no free lunches in being a first-time CEO, for either you or your family, and you have to realize that your learning curve and the impositions of your business on your life should not be underestimated."
Advice for first-time CEOs: unlocked
It's natural to feel scared or overwhelmed when starting out on a new adventure, but it's important to remember that you always have options. If you still feel wary after reading through these pieces of advice for first-time CEOs, it may be time to secure a mentor.