Understanding the difference between a strategy and tactics is extremely important, even more so if you're a manager or leader in charge of creating a strategy that will have multiple stakeholders. Oftentimes a strategy is the main point of reference for team members working as a collective on a project, so the strategy needs to be crafted with a great deal of precision. In addition to crafting a well-rounded strategy, you'll also need to include tactics that make it possible to fulfill the strategy.
In this article, we'll cover the difference between strategies and tactics, tips for fostering a solid strategy, tips for crafting excellent tactics, and examples of strategies accompanied with tactics that you can reference when it comes time to create your own.
Strategy vs. tactics
1What is strategy?
A strategy describes how either a short- or long-term goal will be achieved and what resources are needed to achieve the goal at hand. A strategy can simply be defined as a long- or short-term action plan that involves setting goals and priorities, determining which actions are needed to achieve these goals, and identifying which resources are needed to execute the actions necessary to complete the agreed-upon goal.
A strategy can be set in stone before the plan unfolds, or it can be developed over the course of the project as teammates or members within the organization adapt and work towards completing the shared goal. A solid strategy provides a clear roadmap consisting of set guidelines, timelines, principles, and rules that define the actions teammates can follow to achieve the shared goal. 
2What are tactics?
When compared to a strategy at large, tactics are much more granular. Tactics can be defined as conceptual actions or a series of small actions that need to be taken to achieve a predetermined goal. Tactics cannot exist without a strategy, and you would not be able to work towards your end goal specified in your strategy without implementing tactics. Your tactics will be informed by your strategy and are the detailed means by which your strategy is carried out.

Achieve your goals
Stay on top of your team's goals by clearly recording, defining, and tracking the progress of your OKRs in Fellow's Objectives tool.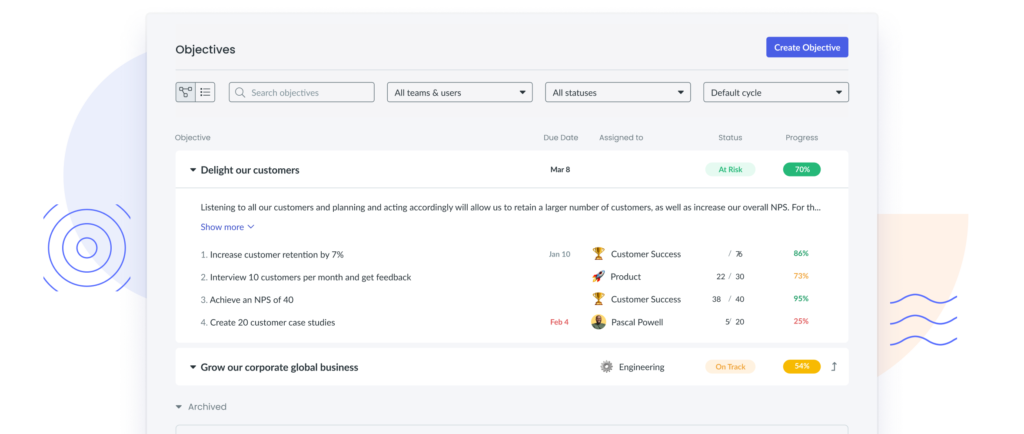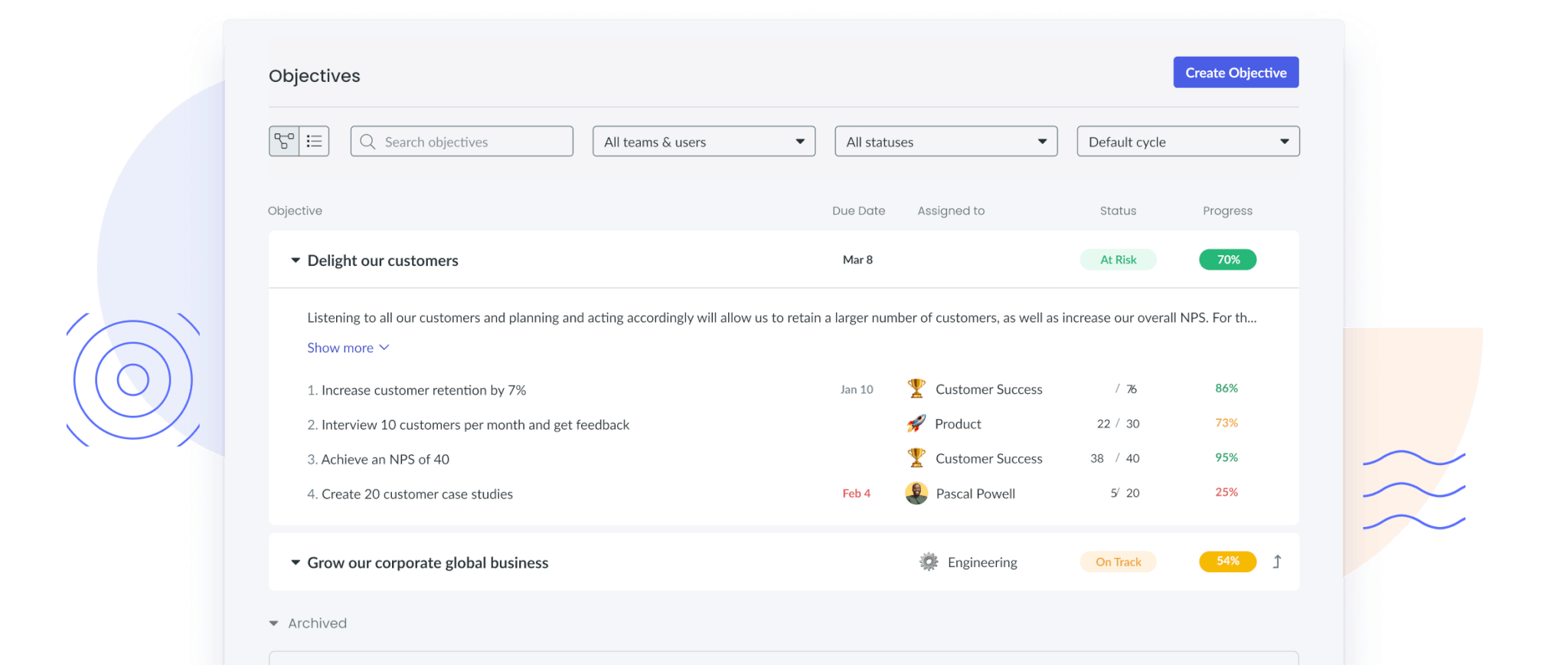 How to develop a good strategy
1Define a clear long-term goal
Synergy is impossible without structure and guidance, and you can't create either one without clearly defined long-term goals. Long-term goals provide teammates with a North Star so everyone can work in tandem towards the same outcome. Without clearly defined long-term goals, teammates wouldn't be engaged and wouldn't have something to work towards. Instead of empowering your teammates to succeed, you would be hindering their success.
In addition, clearly defined long-term goals help you and your teammates gauge success. When you do a synopsis at the end of the year, you'll be able to look back and determine how far you've come. Each one of your teammates will be able to identify their successes and failures and you'll be able to make adjustments accordingly. 
2Conduct research
Conducting research will help you formulate a more in-depth understanding of the problem while simultaneously enhancing your decision-making process. Oftentimes, creating a thorough strategy is quite a complex process. It requires a great deal of knowledge and insight into the problem at hand. Without adequate research, it can be nearly impossible to formulate a strategy that leads to favorable outcomes. A well-researched strategy will encompass everything your teammates need to do to work towards the intended outcome. If you aren't sure where to start, a quick Google search will yield tips, tricks, or even examples you can use as a reference point for creating your own strategy—or stick around and we have some examples for you, too!
3Create a thorough plan
Creating a thorough plan is imperative. Without a plan, your teammates won't be able to work cohesively for the duration of the strategy. After you've created your strategy, you have to incorporate a plan that outlines the scope of the project, the key stakeholders and their responsibilities, the timelines, and the necessary resources. These elements will ensure your teammates have what they need to achieve the goals and objectives that have been specified in the strategy.
How to develop good tactics
1Set milestone goals
Developing good tactics that lead your teammates towards success can be difficult, especially if you don't take the time to set milestone goals. Having long-term goals and objectives is imperative, but it's also important to set milestone goals that can be referenced periodically over the course of the project. Having milestone goals will build morale while ensuring teammates are staying on track and working towards achieving the long-term goals that have been specified in the strategy.
2Track milestone goals
Setting milestone goals in one thing, but tracking them is a whole other ballgame. If you fail to track your milestone goals, you will have wasted your time setting them. Tracking your milestone goals will ensure you're able to keep track of schedules and deadlines while ensuring all key performance indicators (KPIs) are being met. Tracking milestones will also make it easier for you to gain a more accurate understanding of how the project is advancing in accordance with the initial plan.
OKR or SMART goals are ideal for tracking short-term goals or milestones. To track your milestones more meticulously, you may want to consider using Fellow's OKR tracking tool. This tool makes it possible for you to stay on top of your team's goals by clearly recording, defining, and tracking the progress of your OKRs in one place. 
3Ensure that each tactic connects to your strategy
As stated above, tactics cannot exist without a strategy, and you wouldn't be able to work towards the end goal specified in your strategy without implementing tactics. For this reason, it's extremely important to ensure your tactics are crafted meticulously. Making sure each tactic connects to your strategy will ensure your team is working in tandem towards your end goal. Your tactics should be crafted in a way that helps your teammates reach your end goal or objective. You should think of your tactics as tools that will ultimately help bring your strategy to fruition.
Examples of strategies and tactics
1People team
Strategy: Interview 40% more candidates with diversified backgrounds and experiences.
Tactics:
Sponsor historically underrepresented community groups that focus on STEM.
Create opportunities for students with alternative education paths, such as boot camps or internships.
Regularly share job listings on platforms that target underrepresented communities as opposed to traditional platforms that aren't well-represented.
2Digital marketing team
Strategy: Increase email list sign-ups by 10%.
Tactics:
Offer free perks and incentives with every sign-up offer.
Increase visibility on web pages by adding a sign-up pop-up on key pages.
Promote sign-ups through social media marketing and platforms that have yet to be explored.
3Content marketing team
Strategy: Increase engagement by 15% across all social channels.
Tactics:
Leverage new media types.
Create new content pillars that appeal to individualized segments.
Explore alternative posting dates and times and make calendar adjustments accordingly.
4Web development team
Strategy: Decrease page speed by 1 second.
Tactics:
Reduce the number of page redirects.
Identify excess code that is affecting page speed and find streamlined alternatives.
Compress on-page images to less than 1 MB and create a framework for future uploads. 
Strategy vs. tactics. Are you ready to implement them?
A strategy can't be fulfilled without tactics and tactics would simply be non-existent without a strategy—one cannot exist with the other. There are a variety of factors that need to be considered when undertaking the responsibility of creating a solid strategy. To reach company-wide goals and objectives, you need to create a thorough strategy accompanied by relevant tactics; your team can use this combination as a reference point as they progress through the project at hand.
When creating a strategy, it's important to define a long-term goal, conduct research, and create a thorough plan. If you consider these factors and take the time to implement tactics that work in tandem with the strategy, you and your teammates will have no problem conquering your goals!