The Customer
Meet Den Kurdupov
VP of Revenue Operations at iDeals
Industry
Computer and Network Security
Location
London,
England

Use Case
Creating more structure to meetings
"Fellow has become the place for everything such as tasks, action items, meetings, and team collaboration. Fellow brings more structure to the team and sets everyone up to get their tasks and initiatives done." 
iDeals is a company that provides a comprehensive Virtual Date Room (VDR) solution that simplifies secure, confidential document sharing and corporate deal management during M&A and other transactions.
Den Kurdupov, Vice President of Revenue Operations, has a diverse portfolio. He is responsible for revenue operations, business intelligence, billing, account receivables, learning and development for the sales team, and sales tech stack, managing the company's customer relationship management (CRM) software and other tools used by the sales team. He manages about 30 people and works closely with iDeal's sales team, the customer success team, and other internal departments.
Den and his teammates were having a difficult time staying organized and following through with key action items after their meetings.
Let's take a look at how iDeals adopted Fellow to organize and track action items and keep everyone accountable.
Challenge
The challenge: Finding a tool that holds everyone accountable
Before Fellow, Den and his team were using a handful of tools to communicate throughout the workday and take notes during meetings, however, they found that they couldn't maintain a system of organization that kept everyone on the same page.
"We used an internal chat for communicating and docs for meeting agendas. If you wanted to send a summary of the meeting, it would be in an email. There was a lot more time spent trying to recall what was discussed in the meeting."
"Everyone was using something different for meetings. Some people were using docs for meeting notes, some recorded meeting notes, and others didn't."
Den and the team at iDeals decided to search for a tool that would help them structure meeting outcomes, track their task progress, and find common ground as the team grew.
"We didn't have a standardized process for meetings, and everyone thought that their way was the most efficient."
It was also important that their new tool had an intuitive interface, a collaborative meeting agenda function, task and note sharing, and integration with other platforms they were already using. That's when they found Fellow!
solution
The solution: Adopting Fellow to add clarity to meetings
Without a meeting agenda, employees may end up talking in circles. A lack of preparation can lead to dampened spirits, productivity, and inefficiency in everything a team does. That's why having a meeting agenda that everyone can collaborate on in advance is so crucial to a team's success!

Den and his team adapted to Fellow quickly. Soon after obtaining the tool, members of the team added their thoughts to an agenda in advance of every meeting.
"Before Fellow, we would spend a lot of time talking about things, but then in a week, we would have to regroup again to recall what was decided and who was doing what. Now everyone is personally responsible for the meeting outcomes."
Knowing that others are working hard on team initiatives is a great motivator! With Fellow, Den can see in real-time when his colleagues complete an important task that's part of a larger project.
"It's surprisingly nice to see the pop-up notifications when someone completes your action item."
Den also explained to us that Fellow helps him track his ideas throughout the week.
"When something pops up, I can go and put that thought in the Fellow agenda so I won't forget to discuss it when the meeting comes."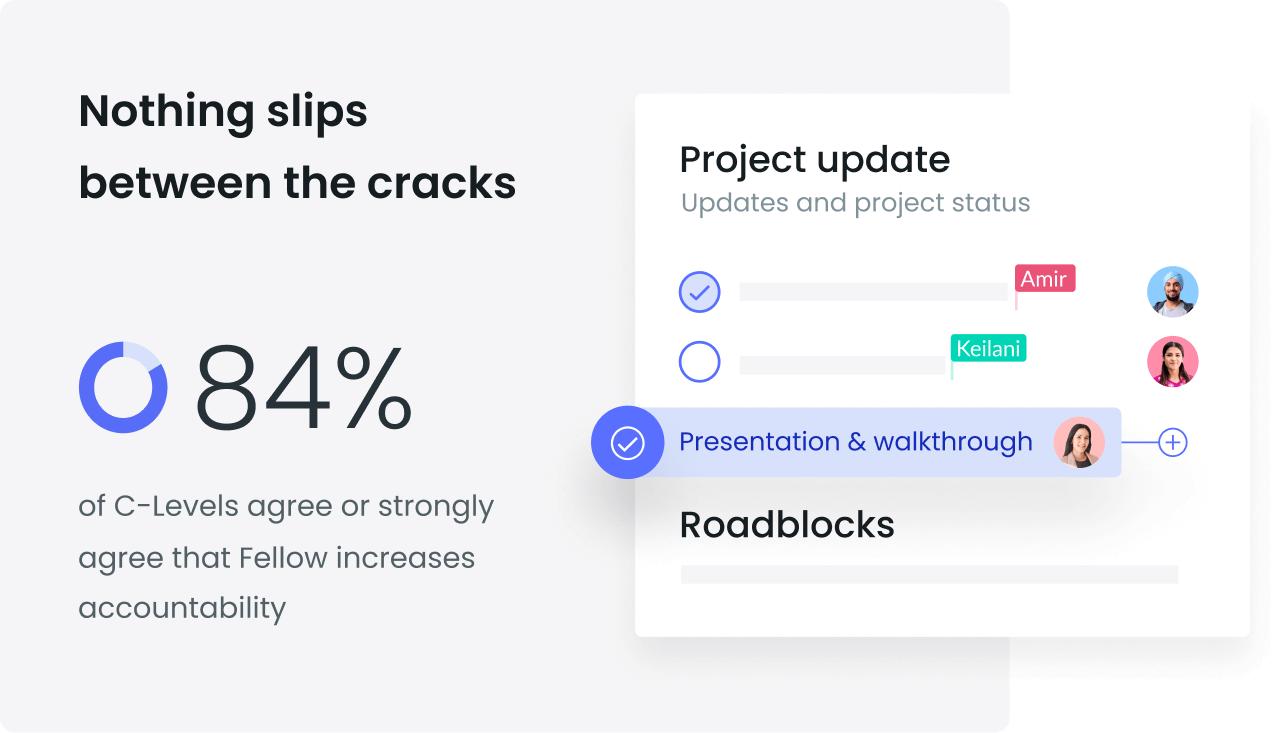 Effective communication is the key to a healthy workplace culture. Fellow helps iDeals employees collaborate across departments to ensure everyone is working together towards a common goal.
"It helps me align with my team members, especially when meeting with different teams."
"Fellow has become the place for everything such as tasks, action items, meetings, and team collaboration."
results
The results
Great teams host great meetings. When done right, meetings help teams share ideas with one another, make important decisions, build relationships, and work hard to reach their desired outcomes! 

Fellow helps everyone stay on top of projects by bringing everything into one place. You can access your meeting agendas right from your email calendar, messaging applications, and video conferencing tools using our seamless integration with other popular tools like Zoom, Microsoft Teams, Slack, and Google Workspace.
"Fellow has become the place for everything such as tasks action items, meetings, and team collaboration. Fellow brings more structure to the team and sets everyone up to get their tasks and initiatives done."
Fellow made it easier for Den and the team at iDeals to stay on top of their goals and track the progress of objectives as part of their meeting workflow.
"It also helps meetings to be more organized because you're not trying to discuss everything in a single sitting. You have an agenda and you go one by one."
To this day, Den and the iDeals team use Fellow to make meetings delightful. He told us that he is now able to challenge whether a meeting is necessary if he doesn't see an agenda in advance.
"More often, I see meetings with a real agenda now that we use Fellow."
Lastly, we asked Den how using Fellow has impacted the meeting culture at iDeals. He shared with us that the greatest benefit was learning when meetings were and weren't needed.
That's the power of Fellow! With consistent meeting practices, everyone is empowered to feel prepared before, during, and after every meeting.
"Now we are starting to say, "Hey, I can't see what we're supposed to be discussing for the meeting beforehand. Should we be spending an hour in this meeting if there's no agenda?". That has been the most positive outcome."