The Customer
Meet Andrea Bartlett
 Director of People Ops at Humi
Industry
Human
Resources
Location
Toronto,
Ontario

Use Case
Align internal communication
"I would say that we've really learned how to be more efficient. One thing that I've loved about using Fellow is that it's empowered people on my team, myself included, to know when a meeting might be able to be asynchronous for the first time."
Humi is an all-in-one human resources, payroll, benefits, and insurance platform that aims to save you time so you can get back to what matters most – taking care of your people. The company's tool serves as a hub for all employee data and strives to educate clients on best practices that keep employees happy and productive.
Andrea Bartlett, Director of People Ops, works across all levels of leadership at the company. She has four direct reports and spends her days overseeing Humi's people operations, employee experience, and talent acquisition.
Andrea explained that Humi employees struggled with document consistency when she joined the team.
Let's look at how Humi uses Fellow to streamline internal processes.
Challenge
The challenge: Keeping teams aligned as the organization grows
Before Fellow came into the picture at Humi, Andrea explained that everyone used different tools to manage their meetings.
"When I joined Humi, we were not really using anything. For the most part, I would say employees used Notes on their Macbook and Google Docs for meetings. But a big problem we were having was document consistency".
As a company grows, internal systems and structures must be updated regularly. In addition to document consistency, Andrea wanted to ensure that Humi's people managers were aligned.

"There came a point where we were growing as a company, and as we built up our management team, we wanted to ensure that all of our managers ask similar questions in their meetings."
Employees were comfortable with the tools they were already using and hesitant to switch to a new product. Cost also posed a challenge. As a venture-backed startup, deciding whether to incur the cost of additional software wasn't a decision that could be taken lightly.
Ultimately, the product's stickiness and intuitiveness persuaded teams at Humi to adopt Fellow.
"What ended up being the differentiator for choosing Fellow was the fact that if you have a quarterly cadence for your check-ins, you never lose that data; you could go back to that previous quarter without having to dig, and it's right there at your fingertips. Ultimately, the product's stickiness and intuitive nature of Fellow was kind of a no-brainer for us".
Process
The process: Helping Humi implement Fellow with Masterclasses
To get everyone at Humi onboarded as fast and as efficiently as possible, Fellow's Customer Success team held training sessions for all employees.




Departmental leaders at Humi also completed one-on-one Masterclasses with Fellow's Implementation Specialists to get set up with their teams and learn how the tool could help them build a culture of productive meetings.
"The Fellow team was fantastic in helping us understand how to roll out training. It's been four months since we've rolled out Fellow, and it's been a game-changer."
Andrea can now incorporate these training practices into Humi's onboarding process!
"What helps with adoption was adding Fellow to our tech onboarding sessions. We make sure that every new employee has Fellow's Chrome extension set up and that Fellow gets connected to Slack. This way, they learn to use Fellow for meetings from day one".
solution
The solution: Creating an excellent employee experience
In two years, Humi has grown from 40 to 150 employees while being completely remote. Andrea explains how Fellow has helped support the fast growth of the company:







"As a growing company, one of our biggest challenges was alignment on internal communications and change management. With Fellow, all conversations, decisions and notes are centralized, as opposed to one department using Notion and the other using Google Docs. From an employee experience standpoint, Fellow makes information more accessible for everyone".
Apart from centralizing and standardizing meetings across the organization, Fellow has helped employees at Humi better prepare for meetings to get more work done.
"Knowing what you're talking about and how to prepare for meetings is a key part of communication and efficiency. It has also reduced meeting anxiety for our employees. With Fellow, you can send reminders to employees to ensure they contribute to the agenda before the meeting. This has helped with the efficiency of managers and those reporting to a manager."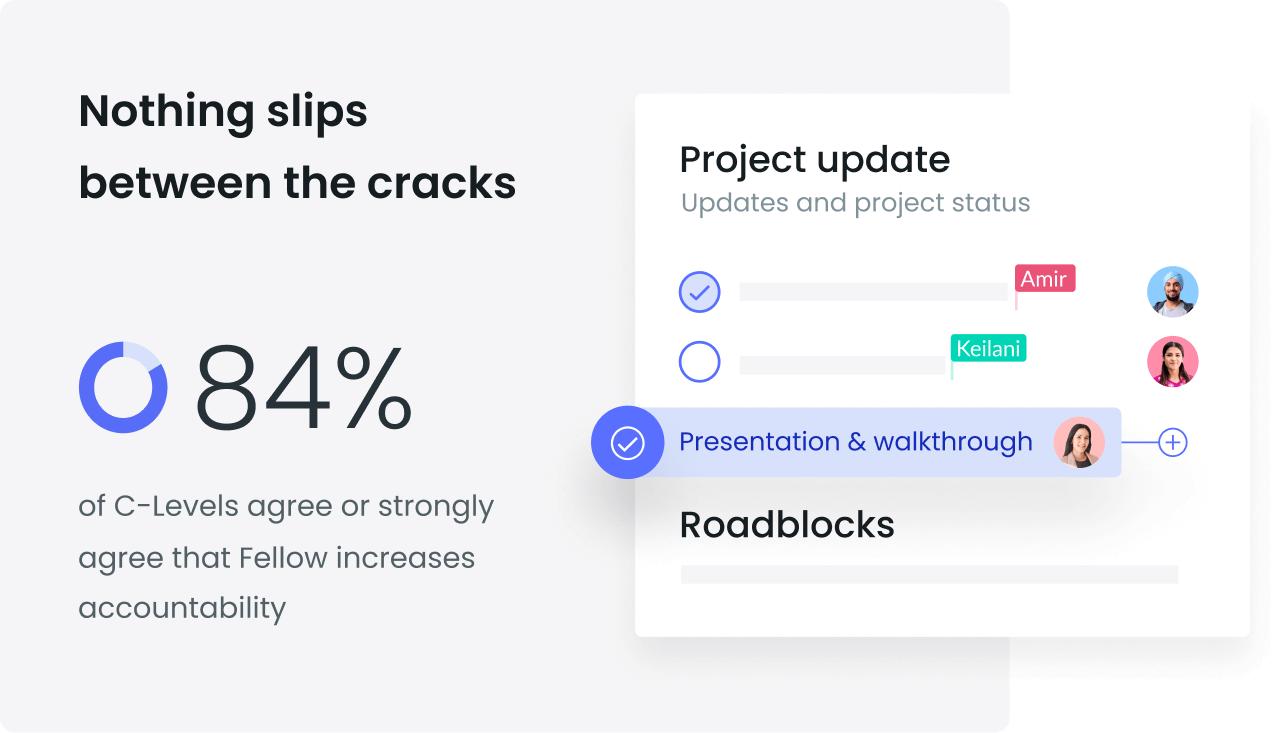 Andrea makes a good point when she says:
"Meeting preparation is a learnt trait, it is not something that we inherently know how to do." 💡
Fellow is built to help you and your teams practice great meeting habits, so everyone at the company is empowered to run efficient meetings, come to a decision, and get back to work!
results
The results
We asked Andrea how Fellow helped improve meeting culture across the organization.
I would say that we've really learned how to be more efficient. One thing that I've loved about using Fellow is that it's empowered people on my team, myself included, to know when a meeting might be able to be asynchronous for the first time. Based on what's in the agenda, our team can decide whether the meeting should take place or be an asynchronous touch point. So for me, it's helped everyone be more thoughtful and intentional about time."
Being a leader in many meetings throughout the day, Andrea expresses her appreciation for meeting preparation and how it helps her navigate busy days.
"I think we can all agree that remote work has led to more back-to-back meetings that require a context change. My meetings are always back to back, and there's never really time in between. But knowing I can pop in and see what we're going to talk about minutes before allows me to wrap my head around the next meeting. That's made my life a lot easier."
As for how Fellow fits the role of a People Ops or HR leader, Andrea tells us how Fellow helps her perform some aspects of her job.
"Fellow has helped reduce bias in conversations such as performance reviews, stay interviews and exit interviews. Let's say the person conducting those conversations is having a bad day – having the conversation mapped out in Fellow helps the host stick to the questions they have to ask."
Last but not least, Fellow can help make meetings fun and interactive! 😝
"Something that we've loved is the Mood-o-Meter which we add to the beginning of most of our meetings and recommend that managers do the same. It's a great way to have fun and get to know your team! It can also reduce the anxiety that people might have when they're building a new relationship in the initial stages. Sometimes we'll put funny emojis and then add a little blurb about what we did this weekend."