The Customer
Meet Rose, Nick, & Matthew

from Jacaranda Finance.

Industry
Financial Services
Location
Milton, Australia

Use Case
To transform meeting culture & accountability.
We're a growing business and we move quite quickly, so we needed something that would help us with our journey and keep us accountable. Fellow has transformed the way we meet and does the heavy lifting so we can focus on getting down to business and being 1.1% better every day."
Jacaranda Finance provides personal and car loans to consumers who value convenience and transparency.
Nick Yang and Matthew Wong, Head of Marketing and Growth at Jacaranda respectively, are responsible for customer growth.
Rose Green, on the other hand, is the Personal Assistant to CEO Daniel Wessels, and her job consists of organizing internal and external meetings, taking meetings notes, and tracking takeaways. Fostering proper communication during meetings is one of Rose's key priorities.
Being a fast growing business, we have lots of projects happening in the background, so everyone needs to be on the same page and understand what is expected of them."
Back in 2021, Rose started searching for a tool that would help her team do exactly that.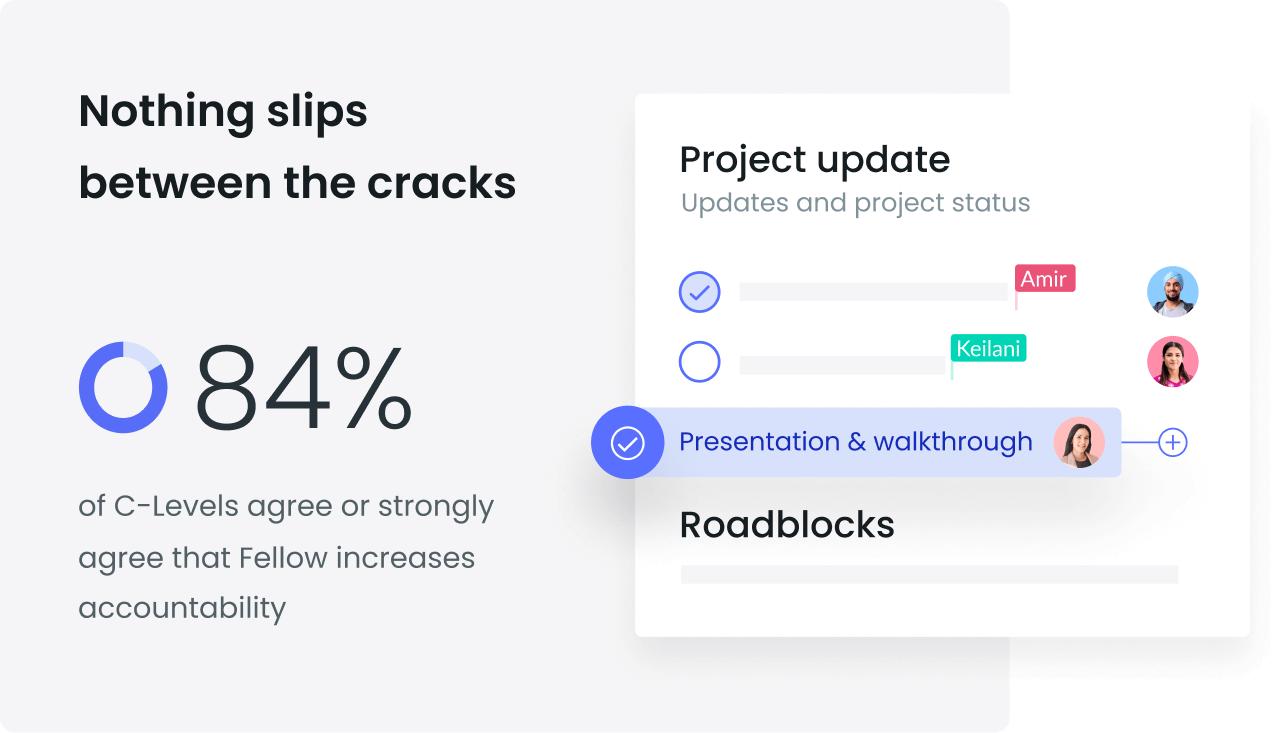 challenge
The challenge: Using too many different tools to track meeting decisions in a fast-paced, scaling environment
The biggest challenge for Rose and the company at the time was that there was no process to track meeting agendas and outcomes.
With many projects on the go, teams used various tools to streamline communication before, during, and after meetings.
When I started, we didn't have any process for meetings. I used a Google Doc to write down action items from meetings; then, I would save a PDF of every meeting transcript in a Google Drive. I created Trello boards to copy every action item to be visible to managers."
Needless to say, the process for meetings at Jacaranda was lengthy, time-consuming, and inefficient.
Trello and Google Docs have no structure for meetings. You create notes as you go along, but you end up writing notes for the sake of jotting them. Meetings weren't structured properly with these tools. You'd have to copy action items from one meeting and paste them into a different tool for visibility."



The scaling team at Jacaranda needed something that would house everything meeting-related. From recording meeting notes to tracking action items and storing every decision made in one place.
I was the first to come across Fellow after some constructive feedback I was given around meeting management. I was determined to search for something that would be a game-changer not just for me but for the whole organization."
According to Rose, adopting the tool was a smooth process for the team.
I was convinced straight away after watching a 30-second video about Fellow. I could already see how much time I would save as I didn't need to use various tools to achieve a simple task. Being able to assign action items to staff to keep them accountable was a selling point for me. I loved the reminders and how you can integrate them with programs like Slack and Email, so nothing slips between the cracks. Game-changer!"
As part of their onboarding, leaders at Jacaranda attended training sessions with Fellow's Customer Success team:
Fellow's training session was very informative, easy to follow, and their follow-up was fantastic. After the training session, they sent an email with a step-by-step video for us to use in the future if we needed to do any extra training. Implementing Fellow into our business has been smooth from start to finish, and I highly recommend the platform."
Solution
The solution: Centralizing meeting action items in one place to drive performance
A few weeks after Rose introduced Fellow to Jacaranda's leadership team, some leaders – such as Matthew Wong (Head of Growth) – started noticing a difference in the way meetings were run. 

According to Matthew, meetings with Fellow felt more productive and organized, which encouraged him to introduce the tool to his own team.
Within our wider team, we used Fellow for meetings and saw it naturally worked. So, when we went back to our Growth team meetings, we noticed they weren't as efficient without Fellow. They didn't have an agenda, and we were having meetings that lacked focus. That's when we started using Fellow for all our Growth team meetings, and we instantly saw an improvement. Having an agenda is great, but Fellow also got people to think about the meeting beforehand. The preparation gets us ready to go right when the meeting starts."
Once you build the habit of preparing an agenda for every meeting, creating action items, and documenting everything in one shared space, it's hard to go back to the way meetings were run previously. 😉
In a scaling organization, there's a lot happening on a daily and weekly basis. In such environments, teams benefit greatly from knowing who is responsible for what and being able to go back to their meeting notes to be reminded of exactly what was discussed.
For the folks at Jacaranda, Fellow helps boost productivity and efficiency across the organization. From action items to meeting templates, this team now understands the importance of meeting management and its effect on the business!
I couldn't live without assigning action items to staff. This functionality makes my life so much easier because I can track what has or hasn't been completed."

Rose Green, Personal Assistant to CEO at Jacaranda Finance
I like to create templates for meetings in Fellow, so it just gets applied to every meeting. If I want to change the template, I can go in and amend it to make sure we're always talking about the right things, and then it's done. It rolls over every day, so my team just fills out their section, which is very helpful."

Matthew Wong, Head of Growth at Jacaranda Finance
Yes, Fellow is a meeting management tool that helps you and your team become more meeting efficient, but it's much more than that. When everyone is responsible for running productive meetings at the organization, it changes the way people work together. Communication is more open and easy to track, and everyone is held accountable for their work.
We're a growing business, and we move quite quickly, so we needed something that would help us with our journey and keep us all accountable. to be 1.1% better every day. Fellow has transformed the way we meet and does the heavy lifting so we can focus on getting down to business and being 1.1% better every day."

Rose Green, Personal Assistant to CEO at Jacaranda Finance
results
Results: A team that takes ownership over meeting efficiency and productivity
As leaders at Jacaranda, we asked Nick and Matthew how Fellow has changed the way they work, and how it has helped them become better managers:

Visibility. I can go into Fellow before a meeting and see what my team or direct report has filled out. It also allows me to see what they're doing and what they say they need to do. The biggest problem that I ran into as a manager was forgetting what I assigned to my team. Having a tool like Fellow allows me to manage it much easier because I'm not spending time searching through my notes to figure it out."

Matthew Wong, Head of Growth at Jacaranda Finance
For me, it's around productivity. We add due dates to every action item in Fellow, so if I assign a task to someone, I can track the progress. When we recap action items in meetings, we can talk about uncompleted action items and figure out solutions. If something is still incomplete weeks later, I can have visibility on it and try to understand what's happening. Without this structure in Fellow, it would get lost."

Nick Yang, Head of Marketing at Jacaranda Finance

As the team at Jacaranda has become more familiar with Fellow and meeting management, they've been able to cut down on meetings, saving more time for productive work.
Rose explained that before Fellow, meetings used to go on for too long. Now, after using Fellow and becoming more meeting intelligent, teams recognize when there are too many agenda items or none at all.
Now we ask ourselves, do we need to make this meeting longer? Or should we have a separate conversation to save others time?"

Rose Green, Personal Assistant to CEO at Jacaranda Finance
Additionally, if the team sees that there's no agenda filled out before the meeting, they cancel and give all the attendees that time back!
Jacaranda's meeting policy is No Agenda, No Attenda. That's our motto here." 👏

Rose Green, Personal Assistant to CEO at Jacaranda Finance
Rose, Matthew, and Nick are great examples of leaders who took action to improve their company culture through more productive meetings.
Every morning, we have a company standup where we display Fellow and share wins, priorities and roadblocks. Then we go through open action items and capture any new ones from the standup. Fellow has improved the way we collaborate and communicate with each other. We are more productive in meetings which have helped drive our performance."

Rose Green, Personal Assistant to CEO at Jacaranda Finance