Fellow Chrome Extension
Streamline your meeting prep and note-taking
Fellow's Chrome Extension makes it easy to find and edit your meeting agendas by bringing your notes right inside of Google Meet and providing quick access via your Google Calendar. 
Trusted and loved by the world's best teams
Open your video call and agenda together
The moments right before a meeting can be a bit hectic – you might end up juggling multiple browser windows while trying to find all the relevant info, like your agenda and video call link.

Fellow's Chrome Extension makes it easy – you just have to think about opening up the Google Meet link and your meeting notes will follow.

Try for free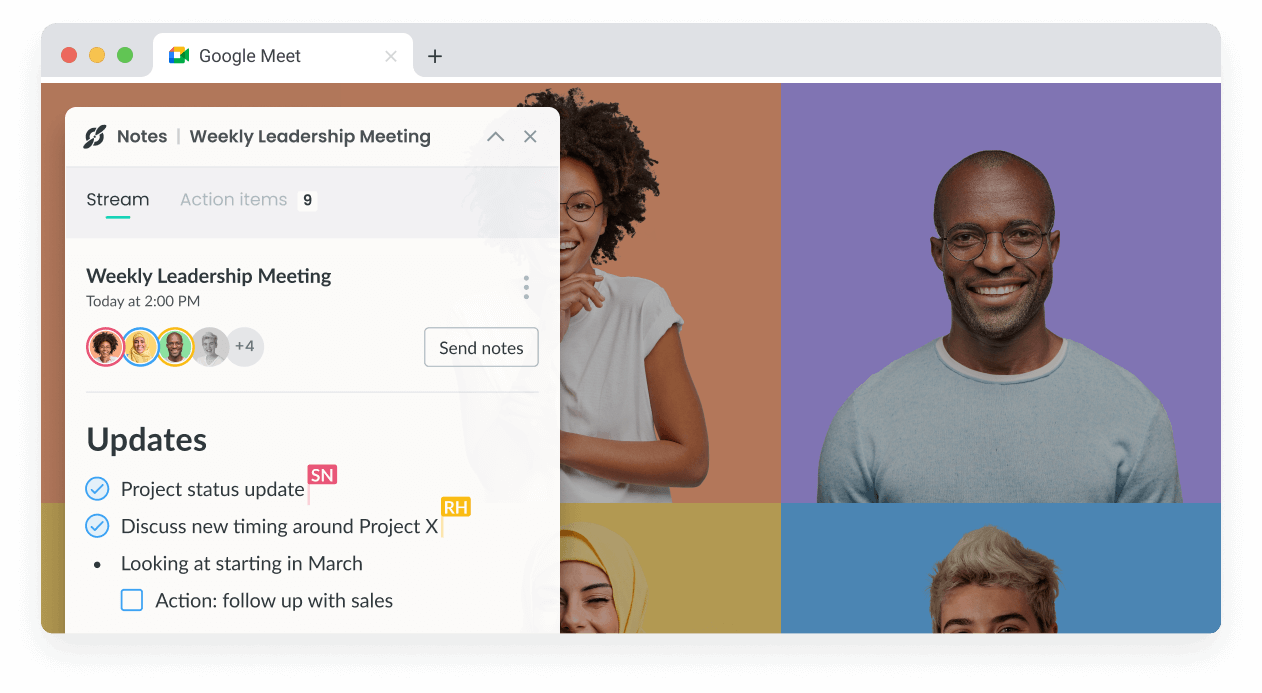 Never miss a due date
If your Google calendar is your main source for scheduling and planning, then it's vital for all relevant information to be accessible there.

With the Fellow Chrome Extension, you'll be able to view due dates and check off action items without ever leaving your calendar.

No excuse to leave action items incomplete!
Try for free
One screen for meeting notes and attendees
A common challenge of remote work is the reduced face-to-face communication. So don't reduce it even further by having your meeting notes block your team's faces!

Instead, the Fellow Chrome extension will add an intuitive overlay in Google Meet. Meaning that your meeting notes and attendees are side-by-side. No need to prioritize one over the other.

Try for free
Pro Tip
If an idea comes to mind while you're looking at your Google calendar, click on the Fellow icon located on the right-side panel of your calendar to create an action item or add that as an agenda talking point.
Make it easy to write notes and todos
Don't let your meeting notes be out of sight and out of mind …

Fellow's Chrome Extension makes it easy to take notes during your video calls because the notes are right there!

This is a great prompt for your team to document decisions, meeting outcomes, and action items. Setting the stage for a productive meeting.

Try for free
"Fellow solves three key problems around running meetings. First, creating the agenda. Then, with the ability to take notes, meeting management becomes much simpler. And finally, tracking the action items that come out of every meeting. Having everything in Fellow means we can track it and follow up on it."

Mychelle Mollot

Chief Marketing Officer
Run delightful meetings with Fellow
See why leaders in 100+ countries are using it today.
Log in