Fellow + Google Meet
Your meeting notes and action items right within your Google Meet calls
Use Fellow's Google Meet extension to collaborate on meeting notes and record action items, right within your video calls.
Trusted and loved by the world's best teams
Gain quick access to your meeting agendas
Finding your meeting agendas amongst a million browser tabs can be a productivity nightmare.

Fellow's Google Meet extension brings your meeting agendas into a convenient customizable overlay right in your video calls. You just have to show up and your meeting agenda will be there, right within Google Meet.
Try for free
Your meeting agendas and Google Meet attendees, side-by-side
If you're spending more time juggling browser windows than connecting with the people on your call, Fellow's Google Meet extension will help you stay focused.

The Google Meet extension adds an intuitive overlay to your video calls, making it easy to write meeting notes without losing human connection. The overlay is moveable and resizable so you can make sure that no faces get blocked.
Try for free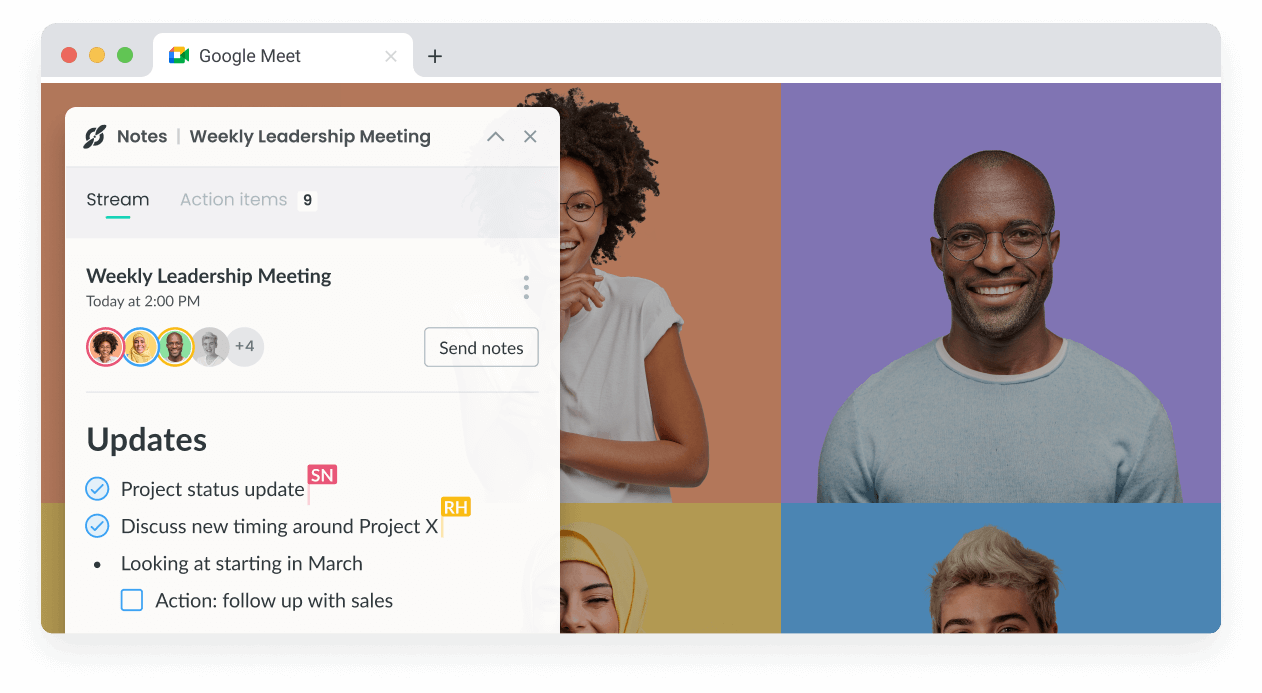 Pro Tip
Distractions are a common problem when working remotely. Use the Google Meet extension to see who is looking at the agenda during your call and keep your team accountable to track meeting notes and decisions!
Join Google Meet directly from Fellow
Back-to-back meetings can become a source of stress when you can't find the meeting link or agenda when going from call to call.

Reduce the frenzy by having the link for your next video call directly in Fellow. Navigate from your Fellow meeting agendas to your Google Meet calls by using the Join Google Meet button at the top of the meeting note.
Try for free
"Fellow solves three key problems around running meetings. First, creating the agenda. Then, with the ability to take notes, meeting management becomes much simpler. And finally, tracking the action items that come out of every meeting. Having everything in Fellow means we can track it and follow up on it."

Mychelle Mollot

Chief Marketing Officer
Run delightful meetings with Fellow
See why leaders in 100+ countries are using it today.
Log in