Meeting Agenda Software for Chiefs of Staff
Build a meeting culture that will level up the executive team
Fellow helps Chiefs of Staff track key takeaways from executive meetings, enhance alignment across scaling teams, and amplify the CEO's communication to help the company flourish.
Powering thousands of meetings at
Collaborative meetings
Keep attendees accountable for the success of the meeting
It's simple: when there's no agenda prepared in advance, people will not show up to the meeting ready to contribute. This is a bad habit that can be harmful to productivity and engagement.

With Fellow, you can automate reminders to keep participants accountable to fill out the parts of the agenda that require their input before the meeting occurs. No manual effort is required!
Try for free
Workspace wide templates
Enhance cross-functional communication
As the Chief of Staff (CoS), it's part of your job to make sure that cross-functional collaboration runs smoothly. One way to achieve this is to ensure that meetings are run effectively across teams.

Fellow's template library provides expert-approved agendas that your team can leverage to ensure progress is being made across all meetings.

Got a template that already works for your team? You can create your own and share it with everyone in the company!
Try for free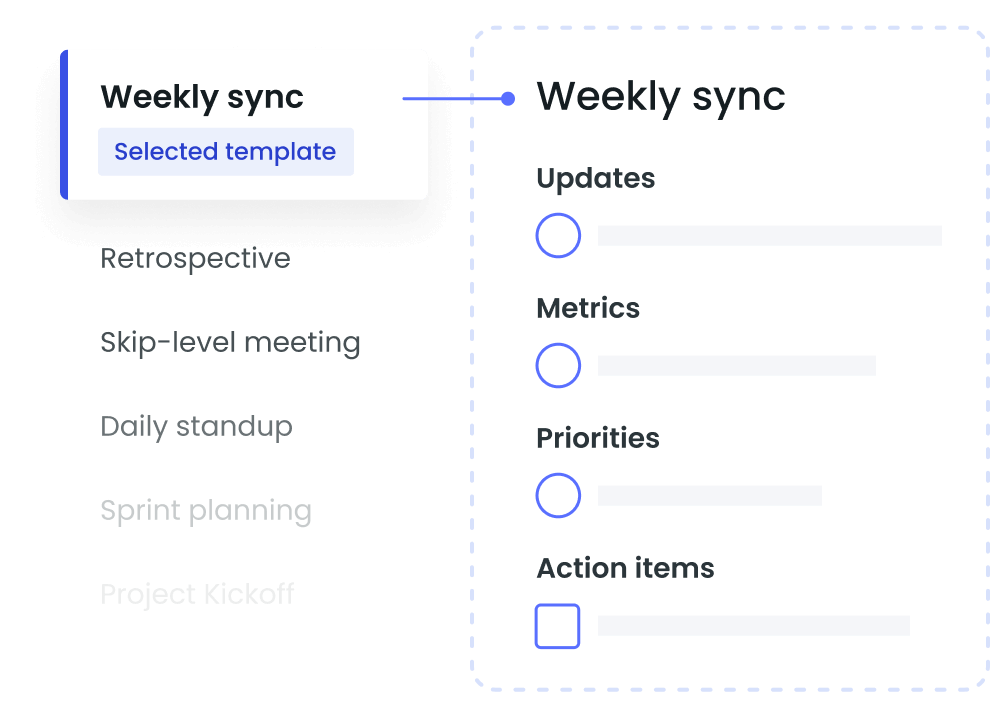 Central place
Create alignment among scaling teams and departments
As the company grows, alignment across the organization can become challenging, especially when meetings are already a consistent pain point.

As the CoS, you will need to keep track of action items that are assigned to members of the executive team, all while ensuring that the CEO has an easy line of sight into these activities.

Fellow makes it easy for teams to stay aligned by providing a central hub for meeting agendas, decisions, and action items.
Try for free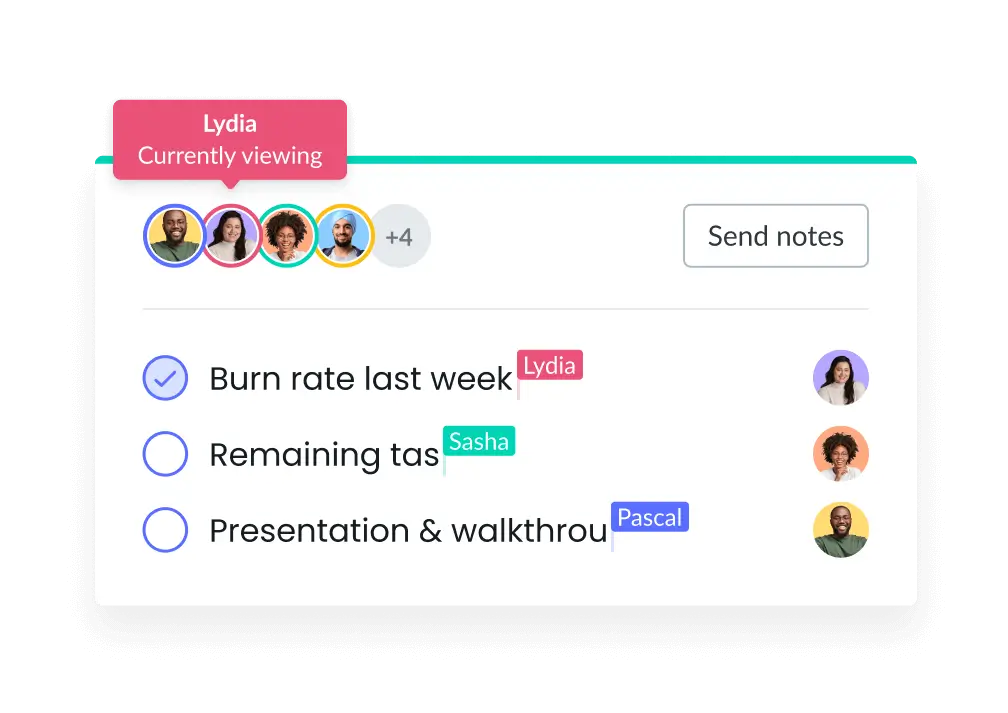 Meeting history and tags
Never lose track of what was discussed
As the team scales and new processes get implemented, there are tons of conversations happening throughout the organization that will require proper documentation.

Fellow helps CoS keep a record of every decision made, piece of feedback given, and action item assigned during executive meetings.

Pro tip: organize all your meeting data using hashtags to help you easily find any and all specific information!
Try for free
Integrations
Sync meeting notes and action items with your existing workflows
A great CoS is constantly monitoring processes and making specific recommendations on how to improve them. This includes the adoption of new technologies to improve productivity.

As the world's top-rated meeting management app, Fellow integrates with tools such as your Calendar, Project Management Software, HRIS and more! Making it easy for teams to implement great meeting habits into their existing workflows.
Learn more
Security & Compliance
Enterprise grade security
Security is our top priority and one of the core values at Fellow. We are proudly certified for Service Organization Controls (SOC2), which means that your data and information are continuously being protected. Our security commitment to you involves a biannual audit of our security systems.
Learn more
"Fellow solves three key problems around running meetings. First, creating the agenda. Then, with the ability to take notes, meeting management becomes much simpler. And finally, tracking the action items that come out of every meeting. Having everything in Fellow means we can track it and follow up on it."

Mychelle Mollot

Chief Marketing Officer
Get started with these
Executive Team Meeting Agenda Templates
Run delightful executive meetings with Fellow
See why leaders in 100+ countries are using it today.
Log in