Grab a cup of coffee, and loosen that top button, because catch-up meetings are all about relaxed professionalism and open conversations. The goal of these meetings is to form connections between you and your team members outside the rigidity of regular meetings.
Holding regular catch-up meetings can show your team members that you care about their well-being. They can also help you foster a healthy work environment built on free-flowing communication. To that end, you can find all kinds of tips below on how to hold a productive catch-up meeting.
What is a catch-up meeting?
A catch-up meeting is a conversation between two or more teammates who really haven't interacted beyond basic "work stuff" in a while. During this type of meeting, everyone present will discuss progress on projects, recent events in their personal lives, and all kinds of other topics. Very little is off the table.
Are catch up meetings informal?
Catch up meetings are like informal chats. They should feel casual so your attendees can feel more comfortable and willing to share what's on their minds.
To make your catch-up meetings especially personal, you might consider inviting only one person to each meeting. This intimacy can make your attendee feel more comfortable engaging in transparent conversations. The result is that you'll build trust with the person across from you.

Pro tip
Use a meeting management tool like Fellow for your catch up meetings to collaborate on talking points so nothing gets forgotten or to jot down any notes you want to remember!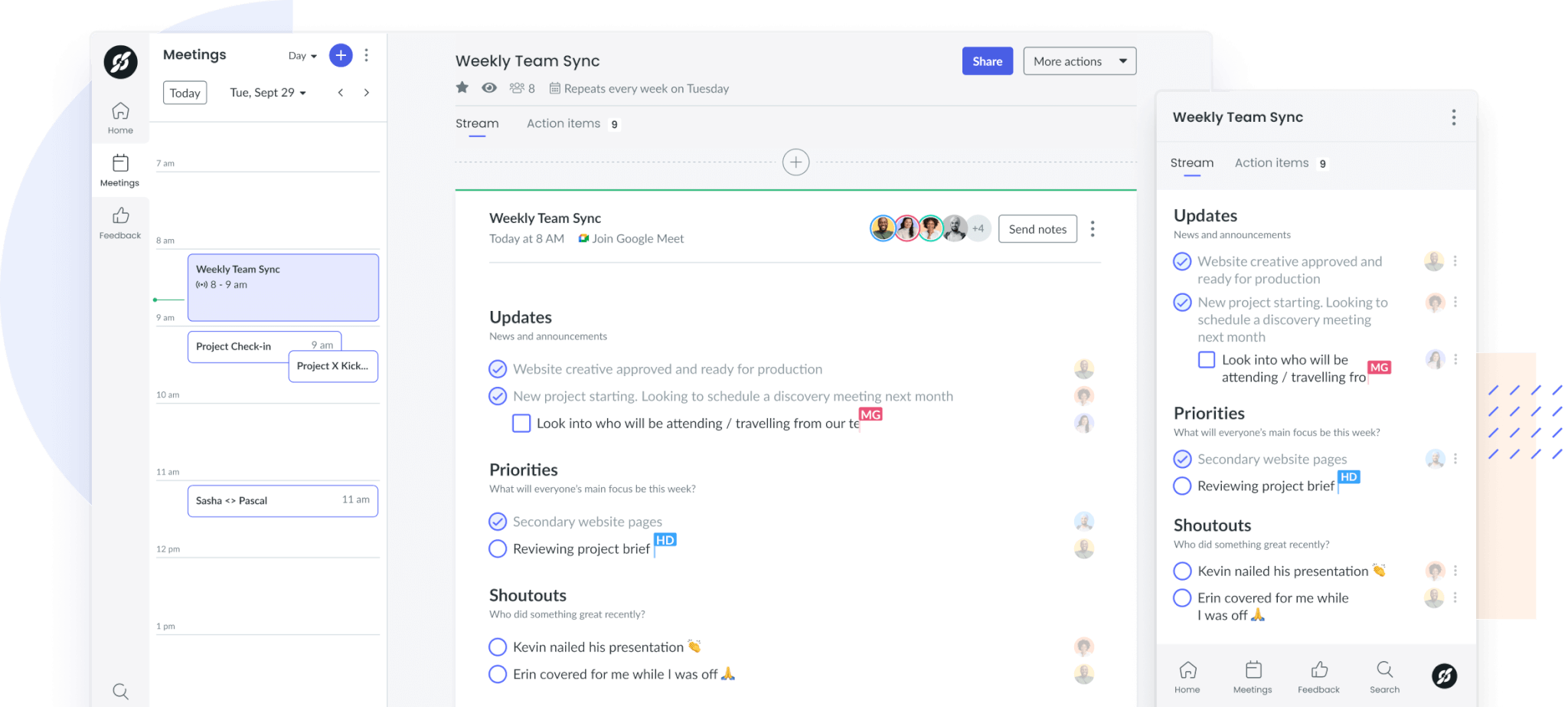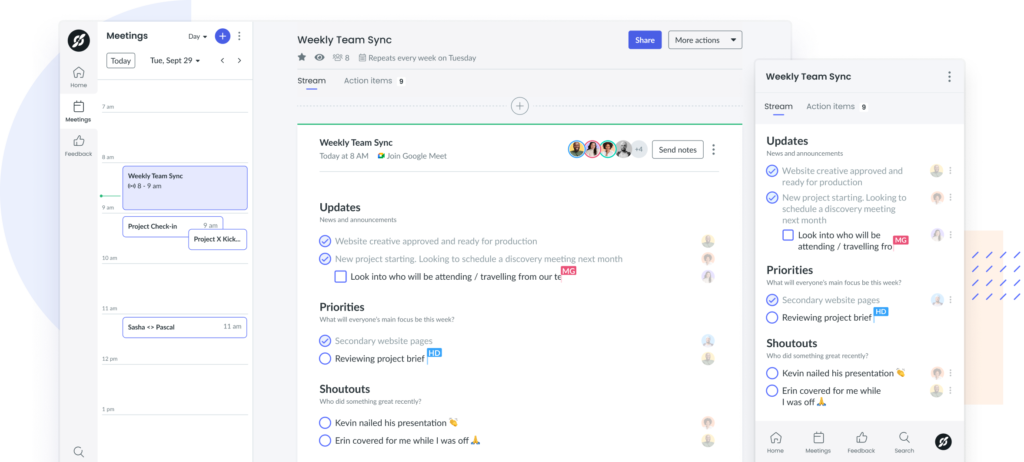 What do you talk about during a catch-up?
To get your conversation off to a good start, consider using some of the below topics and questions as points of discussion.
Personal feelings
How have the two of you been since you last talked? Not just regarding work – really, how have you been? What are some challenges you're facing? These questions will help everyone in your catch-up meeting really understand each other's current mindstate, whether related to work or not. And understanding your team goes hand-in-hand with their performance.
Relationships
How are your work relationships faring? Are you having any issues with your fellow team members? Can you communicate constructively with your colleagues? These questions can help you understand how well your team members are collaborating with one another and if there are any concerns you should address.
Goals
What are some goals you're working toward at work or in your personal pursuits? How close are you to achieving those goals? You and the other people in your catch-up meeting might have shared goals or interests. In that case, you can probably share resources with each other. This discussion can also serve as a reference point for future conversations, as you can later check in to hold each other accountable.
Best practices for catch up meetings
Below are some best practices to keep in mind to host a productive and insightful catch-up meeting.
1 Start with an icebreaker
A quick icebreaker can be a great way to open the discussion and help your team members feel comfortable engaging in the conversation. Ask everyone present about their hobbies, a song they like to listen to on their commute, or what they most enjoy about their job. You could also opt for a more engaging icebreaker and use a short activity to start the meeting.
An icebreaker can be just as effective if your catch-up meeting is happening via videoconference. In that case, icebreaker questions for virtual meetings should make for great openers.
2 Foster relationships
As you ask your team members about the quality of their working relationships, be sure not to encourage gossip or blame. Instead, you should center the conversation around how to increase cohesion among the team. It's very "united we stand, divided we fall," but it's also on point. Without gossip or blame, employees can more easily further their collaboration, progress, and efficiency in completing tasks.
You can also ask your meeting attendees to suggest how they'd encourage healthy communication in the workplace. This way, everyone present can tell you about any issues rising amid your team's collaboration and you can address those issues with productive solutions. With greater collaboration comes better relationships.
3 Review progress
A catch up meeting can be a great opportunity for attendees to share how they're progressing through their latest tasks or adhering to timelines. Using KPIs and OKRs, you can assess attendees' progress and evaluate how their work is contributing to your company's goals.
You can also ask the people across from you to reflect on their professional growth throughout their time at your company. From there, you can collaborate on new short or long-term goals for future growth.
4 Make sure to support the team
Receiving support from supervisors can increase feelings of competence and interest among your team. Ask your employee how you can best support your team members, and be open to hearing their responses.
5 Feedback opportunities
Your team members might have ideas or feedback to offer about your approaches or your involvement with the team as a whole. Similarly, you might have suggestions for how your team members can better prioritize tasks or accomplish their remaining goals. As you and the people at your catch-up meeting discuss points for constructive criticism, you should all remain receptive to each other's comments. These ideas can benefit the company as a whole.
6 Set a meeting cadence
Holding regular catch-up meetings can show your team that you value their feelings and opinions. You might decide to hold recurring meetings (for example, quarterly) to keep a consistent rhythm of meeting with your team. You might also decide to schedule standalone meetings for specific cases. Such moments could include the time after your team has completed a taxing project or gone through an exceptionally busy period.
7 Prepare in advance
While you want your catch-up meeting to be informal and free-flowing, unplanned meetings can lead to scattered and dead-end conversations, awkward silences, and wasted time. To be respectful of your team's busy schedule, take some time to prepare for your meeting. Make a list of questions you want to ask, and eliminate the ones you think won't lead to productive conversations. You don't want your meeting crammed with small talk.
You should also create a meeting agenda to organize the flow of your meeting and specify your meeting goals. Your agenda will also help you stick to the important questions and key points during your catch-up meeting. An effective agenda lists each of your talking points and gives your attendees a clear overview of the meeting and its purpose.
Catch-up meeting agenda template
To simplify the planning process, Fellow has a catch-up meeting template to help you and everyone present at your meeting make the most of it. You can customize this free template's outline and add each of your questions and talking points. With the tips from this article and a formatted agenda at your fingertips, you're well on your way to having conversational and productive catch-up meetings. The final step is the best part: meeting with your employees!