If you've ever had a work meeting that doubled as a dinner, you know the professionalism struggle. Before the meeting, you likely spent time asking yourself questions like, "is it appropriate to order the sloppy burger that I want, or should I go with the least messy menu option?" or "how do I ensure I remain relaxed while trying to eat and discuss important business?"
Meeting for dinner doesn't have to be stressful. If anything, it's an opportunity to get out of the office or the Zoom room and have a conversation in person. Everyone enjoys a good meal, so why not bring your work to an environment that is meant for both eating and socializing?
Let's discuss meeting for dinner, how to do so professionally, and best practices for this meeting format.
What is a dinner meeting?
A dinner meeting provides the unique opportunity to have a productive, work-related conversation in the casual atmosphere of a restaurant. Whether you're taking an employee, your manager, a potential client, or another individual from your company for dinner, this format is an excellent way to conduct business while getting to know someone. To make a good impression, remember to follow the rules of proper dining etiquette. How you behave during the meeting can tell others a lot about your social awareness and professionalism.

Run delightful meetings
Increase meeting engagement and productivity with a collaborative agenda that the whole team can contribute to. Try using a tool like Fellow!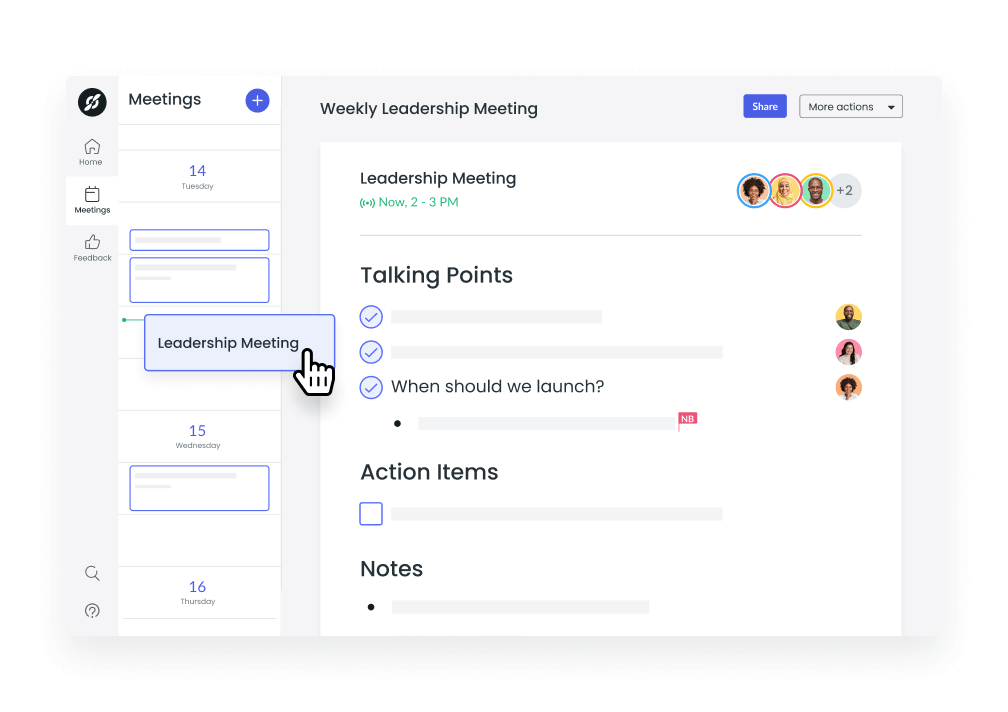 How to host a dinner meeting
1Choose an appropriate environment
Select a restaurant that will allow you to have a productive conversation in a comfortable environment. For example, if your plan is to take an employee for dinner to discuss their goals and professional growth opportunities, neither of you will be happy if a local rock band starts performing meters away from your table at the start of your conversation. Research the restaurant beforehand to get a sense of the restaurant layout, atmosphere and noise levels, and to check the reviews. You'll want to make sure that all parts of the meeting are positive, including the food! 
2Invite only those who need to be there
It's a dinner meeting, not a dinner party. If you're hosting a dinner with the purpose of having your teammates engage in casual, non-work-related conversation, feel free to invite the whole team. However, if the purpose is to discuss official business or work-related tasks while sharing a meal, only invite those who need to be there. It's simple: the fewer people, the fewer distractions and off-topic conversations.
3Be the first to arrive
Don't arrive an hour before the other attendees, but do aim to be the first one there. This way, you'll be able to select a table in the area of your choice, take a look at the menu, and settle in before anyone else arrives. Plan your travel well in advance so you can arrive a bit early. If you'll be a few minutes late, notify the other attendees and the restaurant to ensure the reservation isn't impacted by your delay.
4Confirm the reservation ahead of time
Call the restaurant a few days before the dinner meeting to make a reservation. Doing so will help you avoid any unexpected delays and issues with the venue. It would be disappointing to have the attendees travel to a specific location only to be told that there's a long wait time or no available tables. Make sure you check in advance that the reservation time works with the attendees so there aren't any scheduling conflicts once you've secured a spot.
5Prepare a meeting agenda
It may seem silly to prepare a meeting agenda for a dinner, but remember that you're hosting the meeting for a reason. Outline topics you would like to discuss, mention any items you need to delegate, and schedule plenty of time in the meeting agenda for casual conversation. Circulate this agenda at least 24 hours before the dinner. Use Fellow's collaborative meeting agendas so all attendees can feel prepared for an engaging conversation at the table.
6Be mindful of the food options
Just because you love a certain type of cuisine doesn't mean your meeting attendees will as well. Before you begin researching restaurants, ask the attendees if they have any allergies, dietary restrictions, or food preferences. If they let you know that they do, call the restaurant in advance to see if they'll be able to accommodate the guest. Ask attendees if they have any suggestions for spots that are convenient for them to visit. You don't want to make a bad impression by accidentally taking a prospective vegan client to a steakhouse because you didn't consult them first.
7Have good manners
You don't need to take an etiquette class before your meeting, but make sure you're aware of your body language and table manners during the meal. Your guests shouldn't have to spend the whole evening awkwardly staring at the pasta sauce stain on your mouth. If the attendees act in a formal manner, follow their lead and do the same. Otherwise, be relaxed and don't take things too seriously. If it wasn't already obvious, you should also treat the waiter and restaurant staff respectfully throughout the meeting and tip well if you pay for the meal.
8Inform meeting attendees of any resources they may need
Make sure your attendees are prepared by letting them know what they'll need in advance. The tools you're suggesting should be appropriate for the setting. For example, don't ask your employee to bring a laptop and a briefcase full of paperwork if you know the meeting will be in a pub at peak busy times.
9Pay for the meal
Hand the waiter your credit card ahead of time with a designated tip percentage. A good rule of thumb is that the person who invited the attendees to the dinner should pay. If it's a large group meeting, you're not expensing the meal to your company, and you don't have the means to pay, kindly let the attendees know beforehand that everyone will be expected to pay for their own meal. Never force your employees to attend a dinner meeting if this is the case!
Who should you invite to a dinner meeting?
1A smaller team of co-workers
Sometimes it's nice to get out of the office and meet in a new environment with your team. When hosting a small group meeting over a meal, invite no more than four individuals so you're able to gather around a single table. Every colleague in attendance should be able to listen and participate without distraction. Act as if you're hosting a meeting in your space or your manager's office. You shouldn't have more people at your dinner meeting than could fit in a small gathering space at work.
2Your business partners
Perhaps you're an entrepreneur and a neighborhood restaurant or café is your meeting spot of choice. Or, maybe you meet with stakeholders at a different company once a month over a meal to chat about specific partnership goals. Hosting a dinner meeting with business partners you typically only see on virtual calls is a great way to catch up and get a lot accomplished!
3Clients, if necessary
A dinner can be the perfect opportunity to build rapport with prospective clients and build your working relationship with existing ones. If you're gathering with clients to discuss important projects, limit the group to around four individuals who will be able to relay the contents of the dinner meeting back to their team. When meeting for the first time, visit your dinner guests' LinkedIn or company profiles to get a glimpse into their careers and interests so you're prepared with light-hearted conversation topics before you give your business pitch.
Dine your way to success
Picture this: you've just finished a long day of work and have one last meeting for the day.
You're meeting for dinner with two executives who are looking to purchase your company's product. If this dinner goes well, you could have a new client and a new opportunity for your team to shine. You arrive at the restaurant early, shake both of their hands, and thank them for their time as you go through the typical dinner motions. As you're waiting for your dessert to arrive an hour later, it occurs to you that you've successfully taken the prospective client through all of your agenda items and navigated your way through a handful of casual conversations surrounding local affairs, hockey, and the books you've all read this month. You have a good feeling that you'll be receiving a follow-up call sometime later this week. Talk about dining your way to success!
Don't let the small details stress you out. Your clients, teammates, and business partners are there to meet, share a meal, and discuss business objectives. They aren't there to judge you for ordering extra ketchup with your fries. Next time you have the chance to participate in this type of meeting, follow these tips, be your well-mannered self, and watch the relationship with your guests flourish as the conversation flows.