A survey conducted by Harvard Business Review concluded that out of the 182 senior managers surveyed, 71% said meetings are "unproductive and inefficient" and 62% said meetings "miss opportunities to bring the team closer together."
With such a high percentage of managers having negative outcomes from their meetings, you may wonder what the point of having a weekly sales team meeting is. However, team meetings are very important to keep your team engaged and updated on what is happening in the company. As Joe Fleming, Director of Sales at Fellow.app said:
"Sales team meetings are an opportunity for us to celebrate wins from the previous week, to bond as a team, and also to set our priorities for the upcoming week."
Follow the below tips to learn how to take your sales team meetings to the next level!
What is a sales team meeting?
The sales department is one of the most important departments in the company. After all, they are the ones selling the product! So, it seems fitting that they have regular meetings to get caught up on what is happening on the sales side.
Typically, sales team meetings are held weekly and include the sales reps and sales managers. These meetings are also typically at the beginning of the week to outline how the week will go.
Sales team meeting agendas are also followed, with key topics related specifically to the sales department.
Why are sales team meetings necessary?
In this virtual world we live in today, it is easy to distance ourselves from other team members. However, without communication, it is hard to get your team members on the same page.
Therefore, it is important to hold sales team meetings regularly. These meetings allow team members to get informed on what other members are working on and what is happening in the company.
The benefits of sales team meetings:
Informs the team on what's happening in their department
Ensures everyone is on the same page
Allows team members to ask questions or for help
Ensures everyone is staying on task and knows their next steps
Prompts accountability
Allows team members to get to know each other and collaborate
7 tips to running effective sales team meetings
1 Hold meetings weekly
One tip to having an effective sales team meeting is to hold your meetings weekly. Joe Fleming, the Director of Sales here at Fellow, suggests running your sales team meetings once a week. By having his sales team meet weekly, Joe can create a ritual with his team members and hold everyone accountable for each week. He also suggests holding them on Mondays so that each team member knows their responsibilities for the coming week:
"It really comes down to rituals. You want this to be a weekly ritual. Anybody who has worked in Sales knows that there's a series of activities that lead to success and you'll always have a lot of priorities… and it's really easy to get distracted. So the whole point of having the meeting on a weekly basis is to make sure that we have an opportunity to stay focused."
2 Keep your meetings short
Meetings that drag on forever are a waste of everyone's time. So rather than wasting time, assign time allotted to each talking point. This will ensure that you do not spend too much time on one specific topic.
Now, assigning times to the meeting agenda is easy work. The hard part is sticking to those times! So, a good tip to use is to assign a team member responsible for keeping track of time.
3 Begin the meeting on a positive note
Starting your meetings on a positive note can make or break the tone for the rest of your meeting. Therefore, a great tip to run an effective sales team meeting is to begin each meeting with an icebreaker. This is time allotted at the beginning of the meeting to bond, hang out, and catch up. Joe suggests implementing a "how was everyone's weekend?" talking point as an opportunity to connect with team members.
Joe also suggests beginning each meeting with a "Wins" talking point. This will give team members a chance to share what sales win they have from the previous week. Again, implementing these positive talking points at the beginning of your meeting will set the tone for the rest of your meeting.
4 Talk about priorities for the week
Setting your priorities for the week is an important step to having an effective sales team meeting. Using Fellow, users can assign people talking points. Joe suggests assigning each sales rep a talking point under "Priorities" before the meeting. This will let your sales reps know that you want them to fill in their priorities for the week directly onto the meeting agenda before the meeting begins.
Filling out your priorities before the meeting will ensure that each team member comes prepared with something to contribute. This will also save time during the meeting so that team members are not trying to think of their priorities on the spot.

Great meetings are just the start
Level up your meeting habits to boost engagement and productivity with a collaborative meeting agenda. Try a tool like Fellow!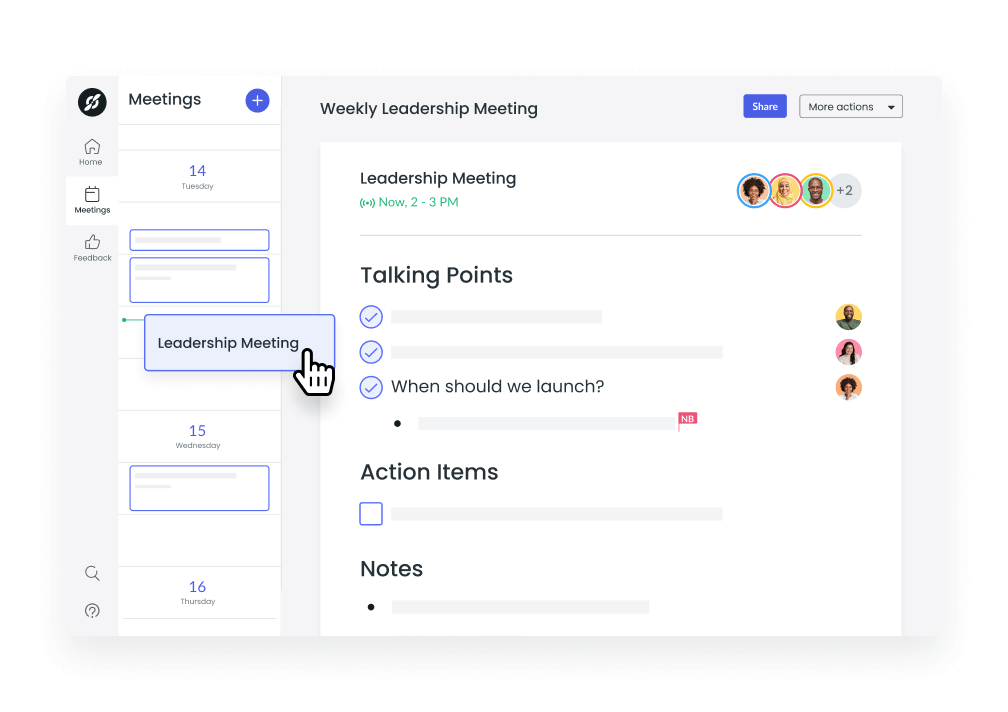 5 Implement role-playing scenarios
A fun way to run an effective sales team meeting is to implement role-playing scenarios into the meeting. These scenarios are a great way to get everyone involved, allow sales reps to practice their sales enablement content.
First, create teams of 2 and assign roles (one salesperson and one customer). Next, give a scenario and watch as each sales rep gives their best sales pitch to their team members. Finally, give feedback on what they did well and what could be improved. When they are done, switch roles. Depending on the size of your team, you can pick a different team each week to role-play or have everyone do a small scenario each meeting.
"Role-playing is a fun way to improve interaction or to come up with fresh ideas on how to upgrade their pitch which is a critical aspect of sales skill improvement."


– Shawn Finder
6 Share asynchronous metrics
As a sales rep, it is important to keep on top of metrics. With that being said, oftentimes sales reps are extremely busy and metrics often move in a trend. Therefore, this can become very repetitive discussing each meeting.
To cater to this, Joe suggests adding the metics to the end of each meeting agenda in an asynchronous format. This way, team members can look at the metrics on their own time rather than taking up time during the meeting.
A good rule of thumb to go by is if the metrics look similar from meeting to meeting, it is not necessary to discuss them. However, if the metrics look abnormal, taking a few minutes to address this abnormality should be considered.
7 Ask for feedback following the meeting
You've all heard the saying, "learn from your mistakes". However, to learn from your mistakes, you need to identify what those mistakes are. A great tip to identifying mistakes is to ask your team members for feedback.
Asking for feedback allows your team members to give you their input on how the meeting went and what could have been done differently. This may be things such as shortening the meeting or implementing/removing specific talking points. This is also a great way to ensure that your meetings cater to each member and include everyone's ideas.
Free sales team meeting template
Follow this sales team meeting agenda template to ensure an effective meeting each time.
Parting advice
The most important part of running an effective sales team meeting is to follow your meeting agenda. This will ensure that your sales reps come prepared, that your meeting stays on time and that you discuss everything you need to address.
Holding an effective sales team meeting can be difficult. However, if you follow these 7 tips, you can rest assured that your meetings will run smoothly and efficiently.
"At the end of the day, you want to make sure that everyone's excited to take on the week and that there's a clear focus after this meeting."


– Joe Fleming, Director of Sales at Fellow.app