Meetings are key to connecting with employees, direct reports, potential customers, and clients. Assuming you rarely schedule unnecessary meetings, let's say someone missed an important one and you want to follow up with them. But there's a problem: Sending an email to someone who missed a meeting can feel really awkward.
Of course, it can be done – people do it all the time, and you can too. That's true whether you're a sales rep emailing a flighty prospect or a manager checking in on a team member who missed a meeting. These tips and no-show email templates can make this sensitive situation a total breeze.
How to write an email to someone who missed a meeting
To start, these pointers will assist you in effectively nudging your no-shows.
1Stay professional
Obviously, no one likes to feel stood up or like their valuable time is being wasted. You might even feel angry about it. But remember: You're still at work. Rage and rudeness have no place here. Don't lose your cool, and if you feel too heated, step away for a while before hitting send.

Run meetings that your team will want to attend
Use a tool like Fellow to create structured, collaborative agendas and lead meetings that your team won't want to miss. Try it for free!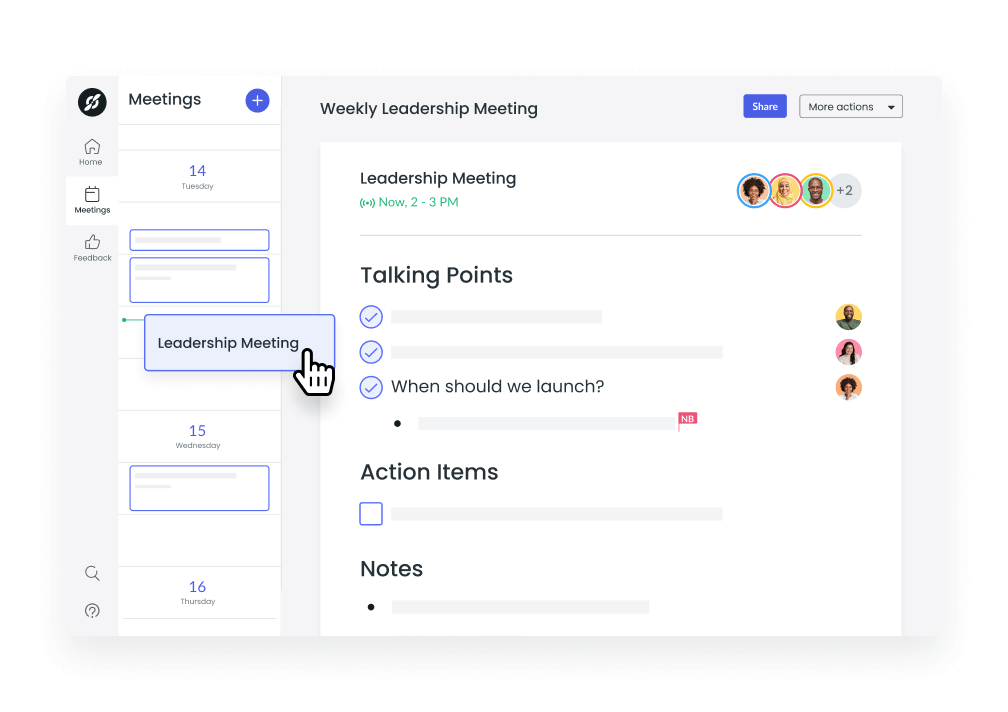 2Keep it respectful
Part of being professional is being respectful – no one wants to work with someone who's always flippant via email. So when sending out an email to someone who missed a meeting, don't be passive-aggressive or petty. Be kind and give them a chance to explain themselves instead.
3Don't harass, badger, or nag the other person
When has someone ever responded positively to harassment? Send one email, and then wait – you'll probably never need to send another. Chances are the person will respond and tell you missing the meeting was an honest mistake. If you're in sales, and there's radio silence, you can always give another gentle nudge, but do not harass anyone!
4Avoid the guilt trips
If you're going to take a client or employee somewhere, take them to lunch — not on a guilt trip. Though a tempting way to go after a missed meeting, guilt-tripping can trigger a person's fight or flight response. That response can cause them to clam up or become defensive.
If a direct report keeps missing meetings, get down to the reason why without making them feel guilty. It could be that they're unable to stop what they're doing to make time for a weekly one-on-one meeting in the middle of a Wednesday. The solution might be finding a time that works better.
Stefan Palios, the founder of Remotely Inclined, has additional insight into effective communication skills. "Ask 'why' a lot more. Or its less aggressive cousin, 'What was your reasoning behind doing it this way?'" he says. "If you focus on the actions being done and understanding why they are done, you might uncover the problem that's causing the problem."
5Always be honest
If you're a sales rep, you should always be clear and direct about your intentions for a meeting. You should also be honest with yourself about when it's time to let it go. Just because you want a meeting doesn't mean your prospects will too.
Honesty also pertains to managers. You can tell your team members why the meeting they missed was so important – no need to hide that. You can also emphasize that the other person should reschedule ASAP. You can do this firmly but kindly with the below tips.
Tips on how to structure your email
Maybe you're unsure of where to begin when emailing about missed meetings. These basic guidelines will point you in the right direction.
Briefly mention you would've covered
First, show prospects or team members what exactly they missed. Brevity is key here – you're not giving a full meeting rundown. An alternative route to a whole summary could be, "I'd love to discuss how I can help you save money on car insurance." Pique the prospect's interest or, for team members, show how this wasn't just another Monday one-on-one.
Attach relevant documents and a meeting agenda
If you have applicable documents or a meeting agenda to share for the rescheduled event, include those next. Doing so can help you tell the employee how to prepare for the rescheduled meeting. They'll also show that you put work into the meeting they missed – maybe they'll feel genuinely sorry for that. And that regret can get them to the next meeting right on time.
You should end the email with a chance for the person to reschedule. You can share your availability so the person can set a pre-scheduled time and date. This way, you're more likely to prevent no-shows next time.
How to avoid someone missing meetings
Accidents happen, but you surely want to avoid them more often than not. That's why most managers take the following steps for properly scheduling meetings – and getting people to actually show up.
1Use scheduling tools
All kinds of scheduling tools can help you, your team, and your prospects keep better track of upcoming meetings. For example, you can send meeting invitations via Google Calendar. Alternatively, you can use the popular meeting management tool Calendly to set your availability and share it with other people. (And during the meeting itself, you can use Fellow to take notes and assign meeting action items.)
2Send your meeting agenda in the invite
Including a meeting agenda with your event invites can explain why you're meeting and clarify your meeting objectives. Team members or prospects will know what to expect in the meeting – and why they should be there.
3Set appropriate reminders
Chances are you're familiar with how Google Calendar automatically reminds you 10 minutes before a meeting. That's great for busy people on the go, but if you're the meeting host, you should go further. You might want to send a friendly email reminder too. For in-person and video meetings, send a message an hour before the meeting time. For phone calls, reach out 10 minutes prior.
Using Fellow's meeting Meeting Automations, you can set pre-meeting reminders that also remind attendees to add talking points and review the meeting agenda.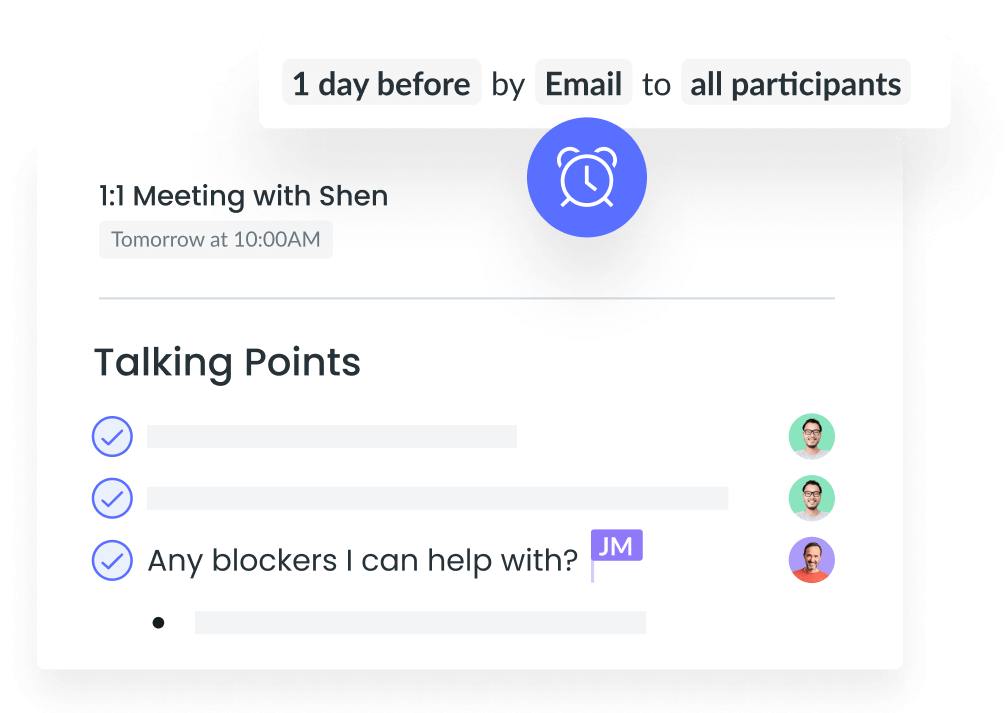 Templates for emails to someone who missed a meeting
The above guidance can certainly help you write a great email to someone who missed a meeting. But if you just need an easy email template to send in this scenario, there are four templates for you below.
1Quick check-in email
Hi [Employee's First Name],
We missed you in the meeting today with [client name] regarding the next steps for website design.
The client provided helpful feedback on the most recent round of edits. The notes are attached below, along with the meeting agenda, but let's regroup before you get started. I have a few ideas I'd like to share.
Please check my calendar to find a time that works best for you and let me know when you can meet.
Thank you,
[Your Name]
2Frequently missed meetings
Hello [Employee's First Name],
I wanted to check in with you to ask why you haven't recently been at our weekly one-on-ones. If Wednesdays at 10 a.m. don't work with your current schedule, let me know so we can find a better time.
I've also attached a recent meeting agenda below so you have a better idea of what I'd like to discuss with you each week. Let me know if you have any questions or items to add.
Please find a time that works best for you here [hyperlink your scheduling URL to the word "here"].
Thank you,
[Your Name]
3Prospect missed your appointment
Hi [Prospect's Name],
I'm sorry that today's meeting didn't work out. I'm sure your schedule is packed at the moment, but I'd still appreciate the chance for a quick phone catch-up. I'm certain that I can help you get exactly what you need.
You can find my availability for next week here [hyperlink a scheduling link to the word "here"]. Please pick a time that works best for you.
Thanks and looking forward to speaking with you!
[Your Name]
4The phone tag conundrum
Hi [first name],
It seems like we keep missing each other. I have answers to your pricing questions that I'd love to pass along.
Please pick a time that works best for you at this link [hyperlink a scheduling link to the phrase "at this link"], or let me know if our schedules aren't lining up. I'll see what I can do to work around your needs.
Thanks and looking forward to connecting!
[Your Name]
The solution to your missed meeting problem
Missed meetings can be stressful, but with these tips and templates, you have the tools to find a solution. With Fellow, you can also have more productive and meaningful meetings once you actually get the other person in the room. Collaboratively creating agendas, keeping each other accountable, taking notes – you can do it all right from one place.