Being able to follow the rules is a skill we learned as kids.
Back then, these rules looked like "don't throw your food in the cafeteria" or "don't push others on the swingset." As working adults, the rules look a little different, as we all hopefully know how to behave ourselves around others.
Instead, rules are now centered around being as productive as possible in our professional roles. One way to accomplish maximum productivity is to set ground rules when attending meetings. Whether you're a meeting host or attendee, establishing a certain set of ground rules can be the difference between staying on track or going off the rails.
What are ground rules?
Meeting ground rules could go by a few different terms — team agreements, meeting norms, or rules for success. Whatever you decide to call them, ground rules are the standards or guidelines set up ahead of time that the meeting attendees should follow for the meeting to be as productive and successive as possible.
11 ground rules for meetings
If you're looking to set ground rules for your team, you may be unsure where to start. Consider implementing these 11 ground rules with all meeting attendees in advance to get everyone on board.
1 Come prepared
It goes without saying that a ground rule you should have in place for your team to follow is to come prepared for every meeting. This could look different depending on the type of meeting and each individual's role within the meeting.
In general, your team should:
Read the meeting agenda beforehand
Come ready with talking points or potential questions
Consider what questions they may be asked, so they can be ready with answers
Be ready to contribute an update on their responsibilities or tasks

Pro Tip
Use a meeting management tool like Fellow to organize your meetings. Fellow allows all attendees to contribute to the agenda, take notes and record action items!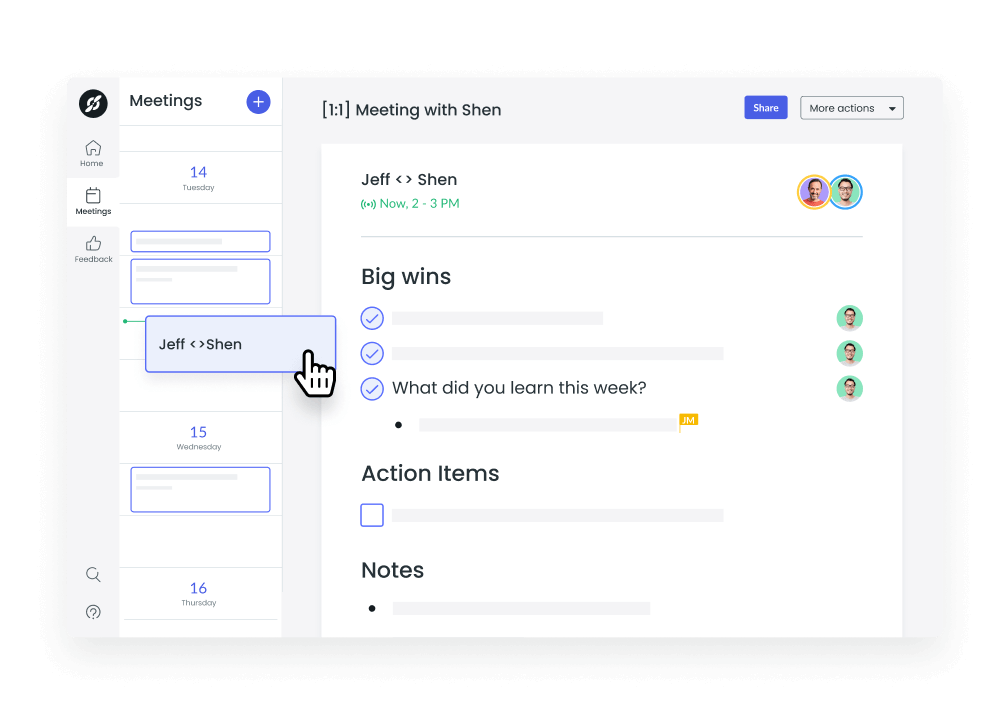 2 Show up on time
Another ground rule your team should be ready to follow is to show up to all meetings on time. Whether it's logging onto virtual meeting software, like Fellow, to attend a remote meeting or showing up a few minutes ahead of time to the conference room, it's crucial that everyone arrives on time so the start of the meeting isn't held up waiting on attendees.
Of course, if an attendee is running late and it's outside of their control, make it know that it's a priority to let their supervisor or meeting host know in advance that they won't be joining the meeting on time.
Being punctual is especially important for the meeting host, as they should always be the first to either start the virtual meeting or should be waiting in the meeting room for attendees to arrive. If the meeting is virtual, nothing sets the meeting off on a less-than-ideal foot than having to sit, wait, and wonder if the host has remembered to click "start meeting".
3 Be present
We've all been guilty of, at one point or another, letting our minds wander when attending a meeting. However, it's important to remain as present as possible in meetings. This means not letting your mind wander, listening attentively, being ready to answer questions, and not interrupting others when it's their turn to speak.
Additionally, if meeting attendees are remote, this also means fighting the temptation to check their email, send a direct message, answer a text message, or scroll through social media while a meeting is taking place.
4 Start on a positive note
If you'd like your meeting to get started on the right foot, consider making it a ground rule to kick things off on a positive note. Whether it's simply getting the conversation started talking about something work-related that went well or making small talk about the weekend or holiday plans, you always want to avoid diving into bad news.
One way to go about this is to start things off with a new, creative alternative. These ideas include celebrating a win or good news, sharing a fun fact, or shouting out a fellow coworker for their hard work or if they went above and beyond to get their job done.
5 Follow the agenda
No matter if it's a daily standup or quarterly board meeting, a ground rule that every meeting should have is to follow the agenda. Having this expectation in place ensures that the conversations stay on track, all necessary talking points are discussed, and that all voices are heard. It's also a great way to ensure that the meeting doesn't exceed its scheduled time and run too long.
An agenda usually includes details like:
The main theme of the meeting
Talking points to go over
Support documents for reference
Decisions the team comes to
Action items or what to accomplish next
Don't forget to send this agenda out ahead of time, so all attendees know the purpose of the meeting in advance, can prepare what they need to contribute, and clarify the expectations of all attendees before the meeting begins. When creating a meeting agenda, you don't need to start from scratch. Browse Fellow's library of 400+ meeting templates for guidance or just to get inspired.
6 Create an inclusive environment
If you want a meeting to be successful with a productive and thought-provoking conversation, then the meeting needs to be an inclusive space for everyone attending. To accomplish this, ground rules that can be set ahead of time include:
Making time for everyone to speak and participate
Being patient and not interrupting others
Respecting each others differing thoughts or opinions
Value everyone's different inputs
Remain open to new ideas
Embrace different communication styles
7 Be solution-focused
No matter what is being discussed in the meeting, it's important to remember to stay focused on finding a solution without making it personal. If an attendee comes to the meeting with a problem they need help with, all attendees should remain respectful if they have a constructive approach or comment.
After all, a brainstorming session where everyone feels heard and appreciated can go a long way in finding the right solution.
8 Always assume positive intent
No matter the size of the meeting, positive intent can go a long way. This makes it possible for all members to understand how their teammates have reached specific conclusions, see where opinions or reasoning differs, and not be afraid to ask the hard questions.
If you want your team to work together and achieve success, you'll need to make the effort to assume that everyone is working at their highest level, to the best of their ability, and with all of the resources at their disposal. Positive intent is all about believing in your team and what you can achieve together.
9 Record action items and decisions
Do you remember what your team member said in the meeting next Wednesday?
Chances are, the answer is no.
It can be difficult to remember each and every action item, decision, or question that was communicated in a meeting. Because of this, it's crucial that these be recorded as the meeting progresses. These meeting minutes will always come in handy if you need to circle back on a point, are missing evidence of a decided-upon deadline, or need to remember who was assigned which task.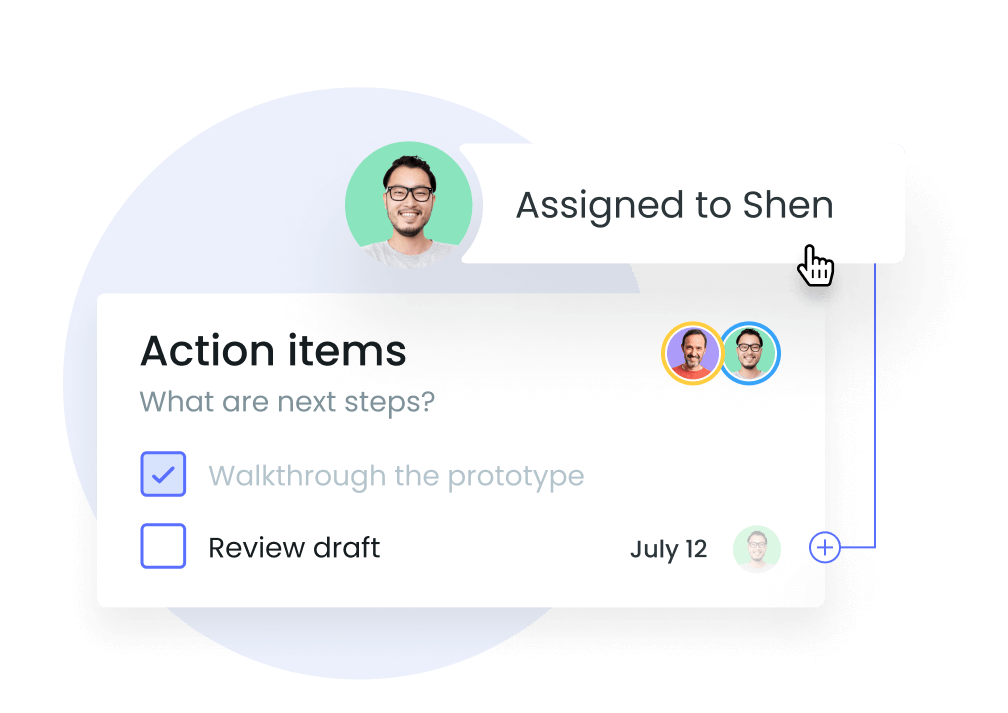 Learn more about Fellow's action items feature
10 Share meeting notes with stakeholders
No matter how many calendars you try and coordinate with to find the perfect meeting time, it's likely there will still be someone unable to attend. Take the meeting notes and records and share them with stakeholders, fellow employees, or those who had a conflict with the meeting time.
Plus, when you're able to share the meeting recap, there's no need to invite every single key stakeholder, especially if they won't be participating in the conversation. You can always share the notes with anyone interested in the discussion or conversation after the fact. With Fellow, you can send the meeting notes to attendees and stakeholders with the press of a button to keep everyone informed.
11 Don't extend the meeting
The final ground rule you should consider implementing is to never extend the meeting. If the allocated time slot for the meeting is 30 minutes, and you've crossed everything off the agenda, answered all of the questions, and established the next steps in just 20 minutes, end the meeting.
While you may be tempted to make small talk or chit-chat with the team about weekend plans, getting those extra ten minutes back can make a big difference — especially for a fully or partially remote team.
Some rules are meant to be broken
But not these 11 meeting ground rules! These agreements have everyone's best interest in mind and are established to ensure each meeting is as productive and efficient as possible. Even if you've never been one to follow the rules, you'll want to follow these.